Apple's latest Mac OS "Big Sur" took a step backwards on their "user experience" when adjusting the battery indicator from a simple icon to showing percentages. The instructions below work for an type of Mac that is running on MacOS Big Sur
How To show Battery Percentage on Mac OS Big Sur
From the menu bar click on System Preferences
Click over Doc & Menu Bar icon
Go to Battery tab
Mark Show Percentage check box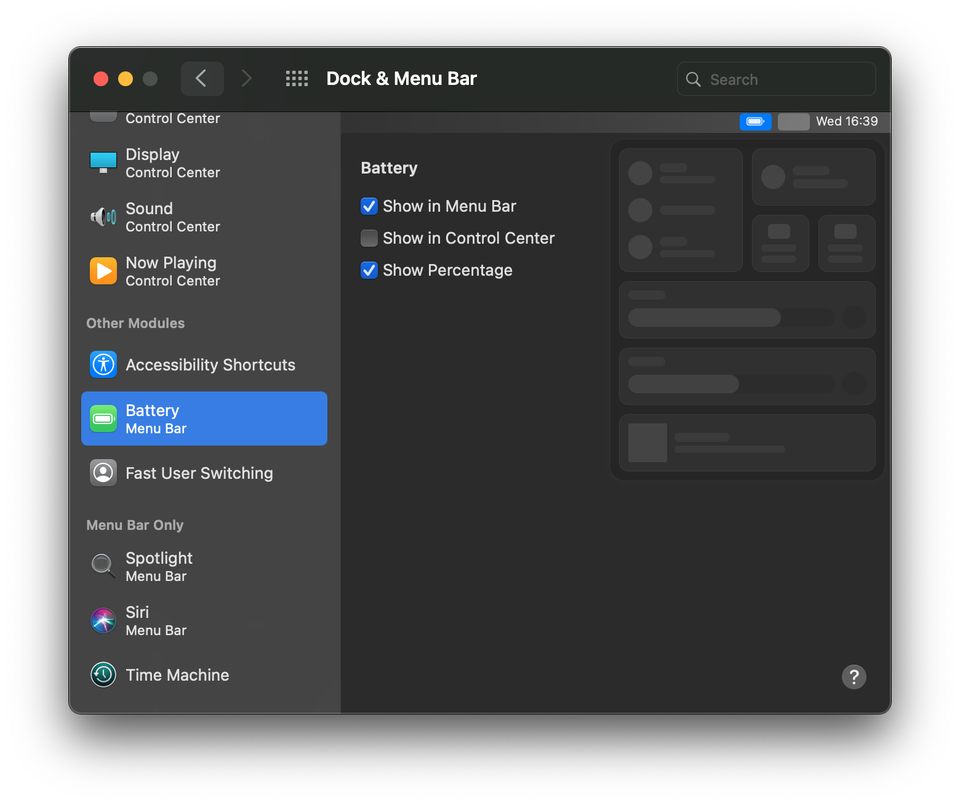 ---
Useful Battery options on Big Sur
Extend Battery life
Turn on "Slightly dim the display while on battery power". This allows your mac to adjust the brightness to a lower level, consuming less energy.
Turn off "Enable Power Nap while on battery power". This will prevent your Macbook from checking for mail or other iCloud services during sleep which improves standby time.
Turn on "Optimize video streaming while on battery". While using the battery, this will disable HDR video (high dynamic range) playback and play it in standard mode (SDR) which uses less energy.
Turn on "Automatic graphics switching". This setting lets MacBook Pro models with multiple graphics processors automatically switch between them to maximize battery life.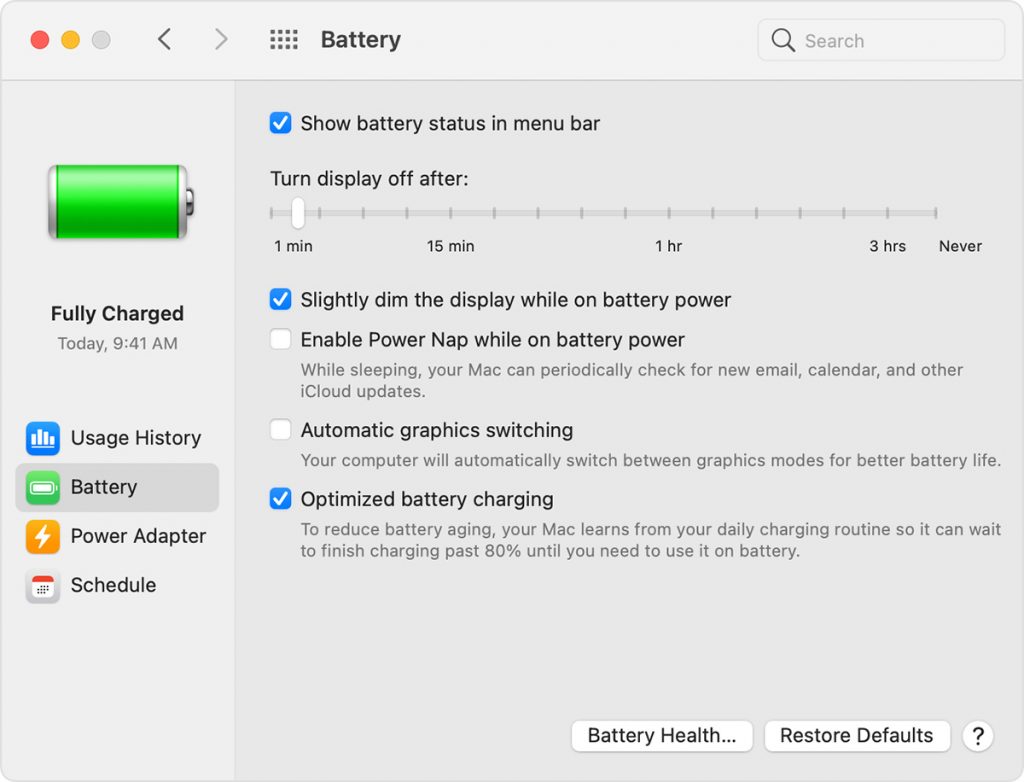 Show battery health
You can check the health of your battery in Battery preferences or the Battery status menu:
In macOS Big Sur, choose Apple menu > System Preferences, click Battery, select Battery in the sidebar, then click Battery Health.
In macOS Catalina or earlier, hold the Option key and click the battery icon in the menu bar to reveal the battery status menu.
Show Battery Icon
If you would like to switch back to the battery icon, you can use the instructions above to revert back.
Show Time left to Full Charge
While charging your macbook go to the battery icon, there it will show an estimation of the time it will take to fully charge
Run diagnostics
When in doubt run Big Sur's built-in diagnostics that are available on your Macbook to troubleshoot issues. Learn how to use Apple Diagnostics on your Mac.
Big Sur with M1 Silicon Battery
The percentage of macs on the new M1 chip will dramatically rise during the upcoming year. So far most reviews have shown a dramatic rise in battery life. Techcrunch has released an in-depth review on battery life with the new chip.
Martina Nikolova
Martina likes to get into nitty-gritty of tomorrow's tech, from product design across to security based solutions. A long time mac user and developer, she has the expertise and strives to give new insight