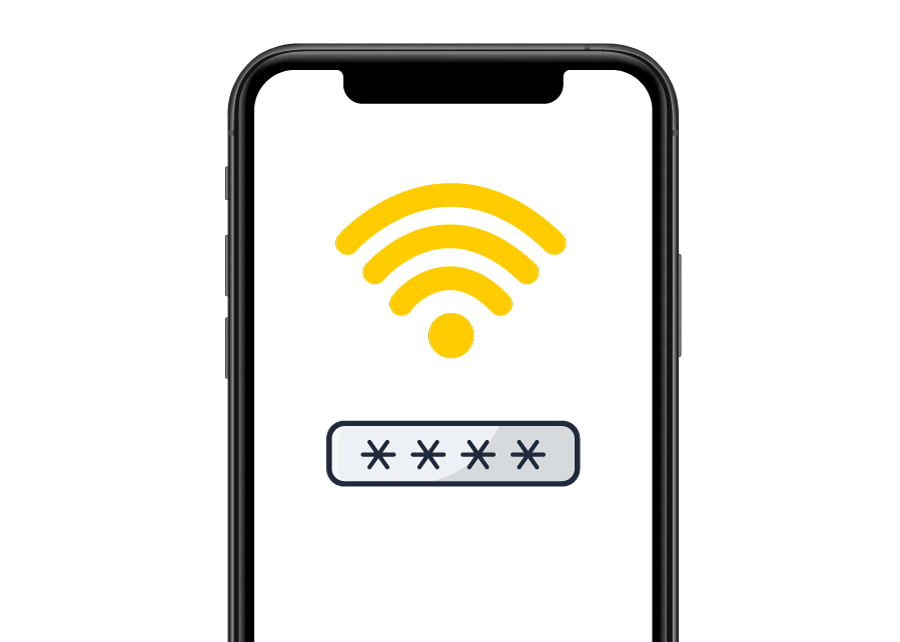 You may need to see the Wi-Fi password on your iPhone, or share it for a number of reasons. However, if you don't know where exactly to search for it, you may find yourself losing quite a lot of time digging in various menus.
Fortunately, in this article, we have a few tips that will save your time, so let's dive in.
How to see a Wi-Fi password on iPhone?
Normally, you won't be able to see a Wi-Fi network password directly on your iPhone, unless you have apps that are specifically allowed to display it. Apple simply has no feature in its iOS to display a Wi-Fi password.
However, we know some options that may let you share Wi-Fi connections with others and even look up passwords without having an app, and here we will share them with you:
Share Wi-Fi passwords on iOS 11 and higher
Even if you can't look for your Wi-Fi password directly on your iPhone, there is a simple way to share your password with other devices as long as you run iOS 11 or higher. This tip works also on macOS High Sierra (10.13) and higher versions and here is how to do it:
Before you start, make sure that you meet the following requirements:
• The iOS 11 or later should be operating on both devices.
• The Apple ID you are sharing your Wi-Fi password with must be in your Contacts app.
• Bluetooth must be enabled on both devices
Once you meet these requirements, do the following:
1. Keep your iPhone and the device you want to share a Wi-Fi password with close.
2. The iPhone that wants to use your Wi-Fi password should try to connect to your Wi-Fi network.
3. You should see a pop-up window with Share your Wi-Fi window on your iPhone. Select Share password.
4. The Wi-Fi password then should be shared from your iPhone to the iPhone that wants to connect.
5. Select Done on your iPhone.
How to find your personal hotspot Wi-Fi password?
Personal Hotspot is an iOS feature that allows you to share the cellular data of your iPhone through Wi-Fi with other nearby devices. Those who would like to connect to the Wi-Fi hotspot on your iPhone would need your Personal Hotspot password and here is where to find it:
1. On your iPhone, select Settings.
2. In Settings, select Person Hotspot and then look at Wi-Fi Password.
3. You should be able to see the password and tell it to people who you would like to connect via Wi-Fi to your iPhone.
Find Wi-Fi password in Router Settings
Another way to get a Wi-Fi password from your iPhone is to go directly to your Wi-Fi router. This is a roundabout way, but it still lets you find the details you need.
All Wi-Fi routers allow you to log in and adjust password and other settings, so here is what you need to do:
1. Check that your iPhone is connected to the Wi-Fi network that you need to find the password for.
2. Go to your iPhone's Settings menu and select Wi-Fi.
3. Click the "i" icon that is found next to the Wi-Fi network's name.
4. Look for the Router field and tap and hold on the IP address to copy it.
5. Open your iPhone's web browser and paste the IP address you've just copied.
6. The log in page to your router would be displayed. You need to enter the username and the password that you've used when you set up the router. If you have not updated the default password and username for your router (something that you should do!), google for the default password of your router model and use it to log in.
7. Different Wi-Fi router models may have different steps that lead to the Wi-Fi password. Search for settings or the name on the Wi-Fi network in order to find the information you need.
See a Wi-Fi password using iCloud Keychain on Mac
Maybe you don't know it, but your iPhone's passwords for pages, applications and Wi-Fi networks are stored in the Keychain, a program that keeps and protects the user details and helps with automatically filling in login forms.
If you have a Mac computer, a similar program to Keychain, known as iCloud Keychain can easily help you find your Wi-Fi password. It saves your login credentials in the iCloud account, and, as you know, data stored on iCloud could be synced with all devices that are compatible. This allows you to view a saved Wi-Fi Password on your iPhone on your Mac. Here's how to do that:
1. First, check that your iPhone has iCloud Keychain enabled by tapping on the Settings app.
2. At the top of Settings, select your name and then tap on iCloud.
3. After that, tap on Keychain and check if the iCloud Keychain slider is set to ON (green). If it is no, set it and wait for the sync to complete. This may take some time.
4. Now, open your Mac computer and head to the Apple menu (top right), and choose System Preferences.
5. Select iCloud. If you are using macOS Catalina(10.15), first press Apple ID.
Important! You have to be logged in to the same iCloud account on your iPhone and your Mac.
6. Next, in Keychain, click on the checkbox to sync iCloud Keychain from the iPhone to the Mac computer and wait for the sync to complete.
7. Next, on your Mac, press Command and Space keys from the keyboard, type Keychain Access in the search tool and then press the Return key. This will open the Keychain Access app.
8. Once in the app, type the name of the Wi-Fi whose password you are searching for in the search box.
9. Double-click on the Wi-Fi network when you find it in the search results and then click the checkbox next to Show password.
10. You will be prompted to enter your Mac login password in order to be allowed to view the field. Type it, and the Wi-Fi network password should become visible in the Show password field.
Do you know any other tips and tricks that can help you see your Wi-Fi password? We would love to know about them in the comments below.
Martina Nikolova
Martina likes to get into nitty-gritty of tomorrow's tech, from product design across to security based solutions. A long time mac user and developer, she has the expertise and strives to give new insight