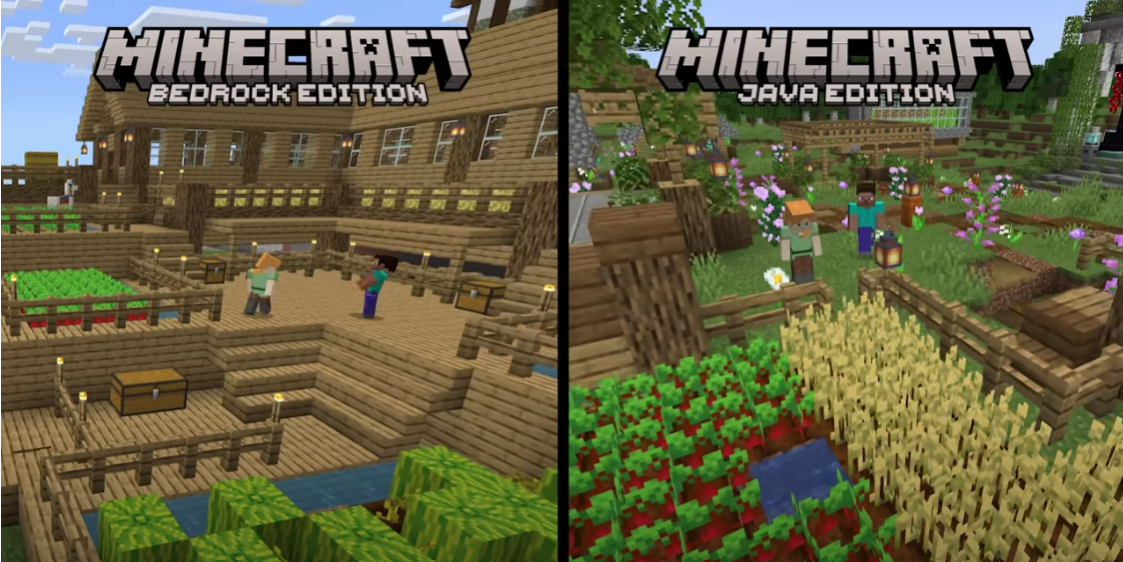 Minecraft: Java & Bedrock Edition on Mac
Minecraft is a sandbox video game that offers players the opportunity to challenge their creativity and achieve different goals by using simple building cubicles. The game is massive in terms of scale, detail, gameplay modes, and user-made content and, in the last decade, has extended into different gaming platforms and renditions.
Wonders and perils in a cubical world
The charm of Minecraft lies in its simplicity. Players decide what they want to do – build structures, construct complex machines, or explore around. They can also battle, and try to stay alive in a procedurally generated universe that is home to strange and hazardous creatures.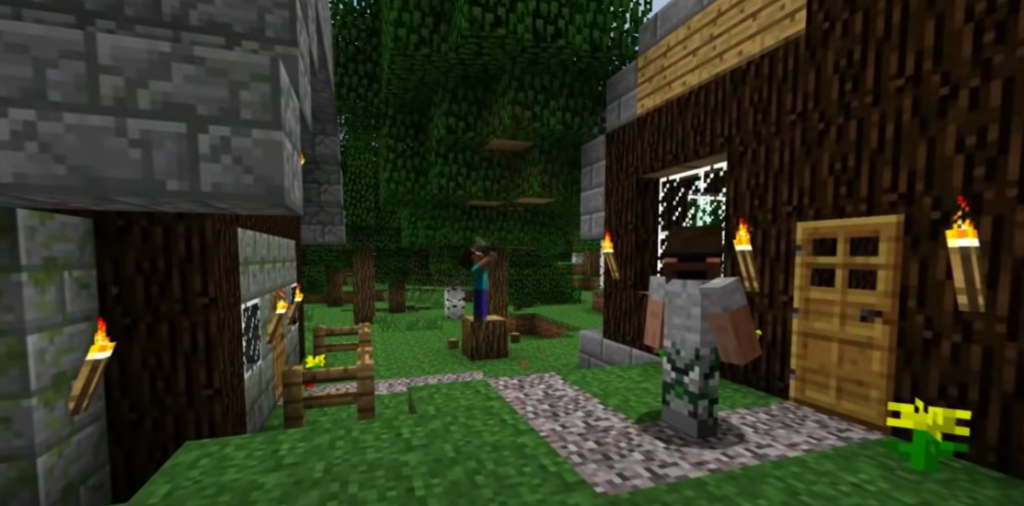 The world of Minecraft is composed of cubes and players can explore it in search of resources. There are many materials available, all with the potential to be shaped into something more useful, like a tool, a magical doorway, or something else.
Survival is essential in Minecraft and is the primary game mode where players must battle mobs, manage hunger, collect different resources and build items. At night, monstrous creatures get out, looking for defenseless explorers to feast upon. You'll need a light source, a shelter, and, ultimately, a weapon to face them.
Threats come in many forms, from monsters that can attack you at sight, to those that can explode and destroy everything in their way or those that can take your supplies.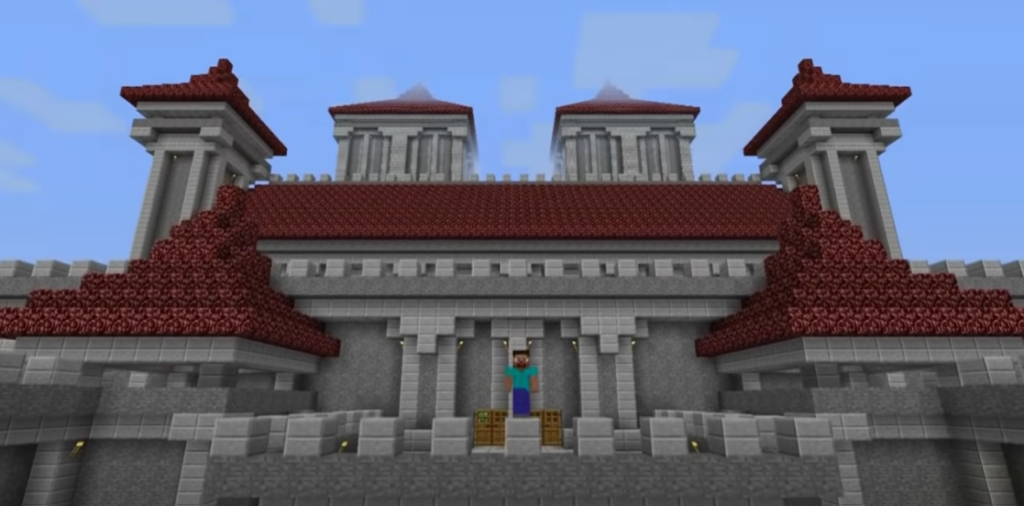 However, Minecraft also offers a more laid-back and carefree experience for those who want it. In addition to the survival mode, the game also has a "creative" mode, in which players may concentrate on construction and improving their building designs rather than fending off hostile mobs.
A spectator mode allows players to explore in a ghostly form, without engaging in the gameplay.
This game also has a multiplayer mode where players may have fun with friends or complete strangers.
Java or Bedrock
There are two main editions that have established themselves among gamers: the original Java Edition and the Bedrock Edition. Minecraft: Java and Bedrock Edition for PC combines the two versions of what is widely regarded as the most popular game of all time in one downloadable package and eliminates the need to weigh the pros and cons of both editions.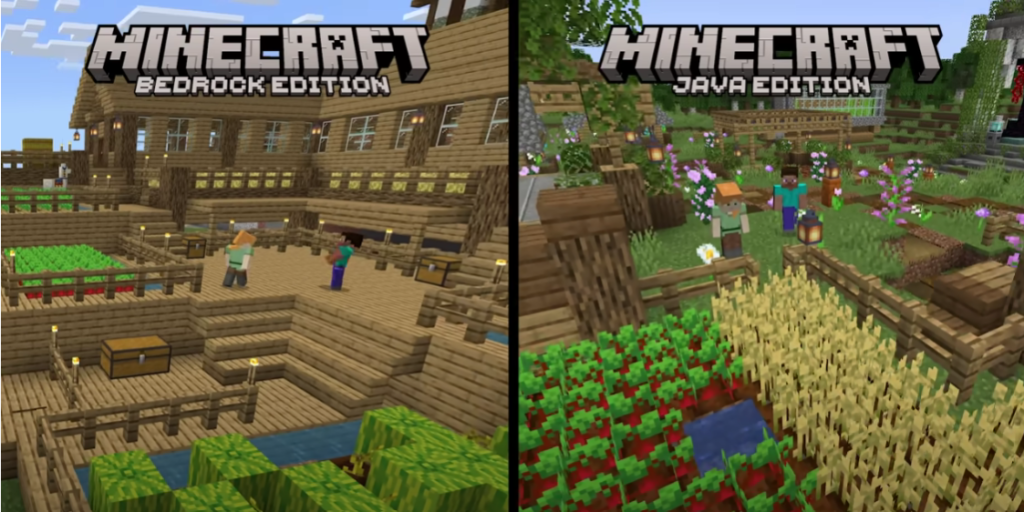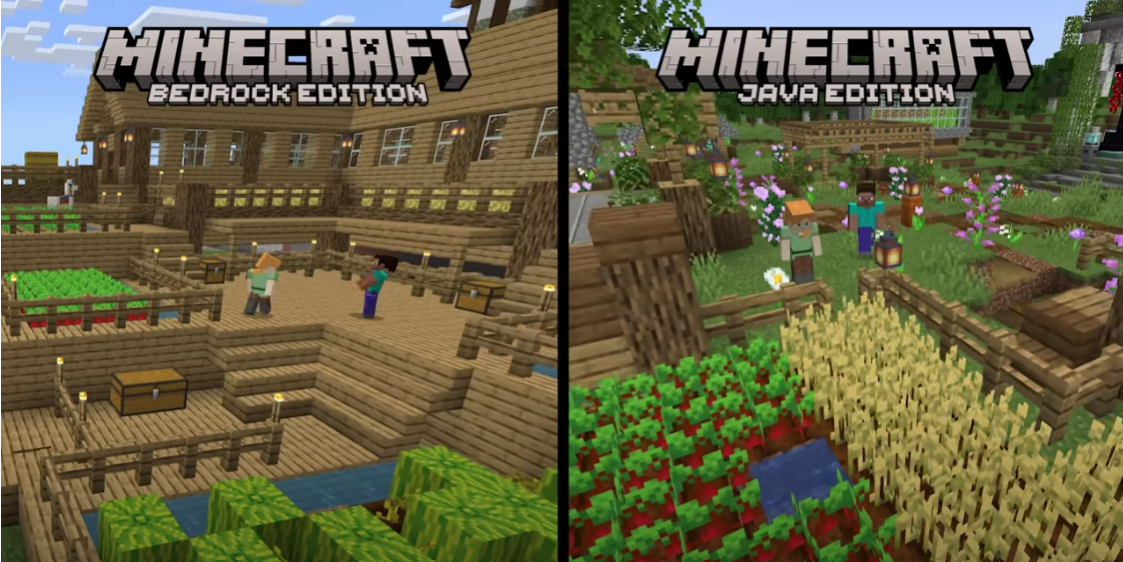 With this package, players can buy both versions of the game at once and cross-play with other players by launching either the Java or Bedrock version. Existing owners of either version can get the dual pack as a free upgrade.
Despite being accessible under one Minecraft Launcher for PC, however, Java and Bedrock still remain different games with their own specific features. The Java version supports playing across Windows, Linux, and macOS, as well as the installation of user-created modifications and additional game modes. Bedrock comes with improved graphics and is fantastic for cross-platform co-op gaming but can run only on Windows 10/11.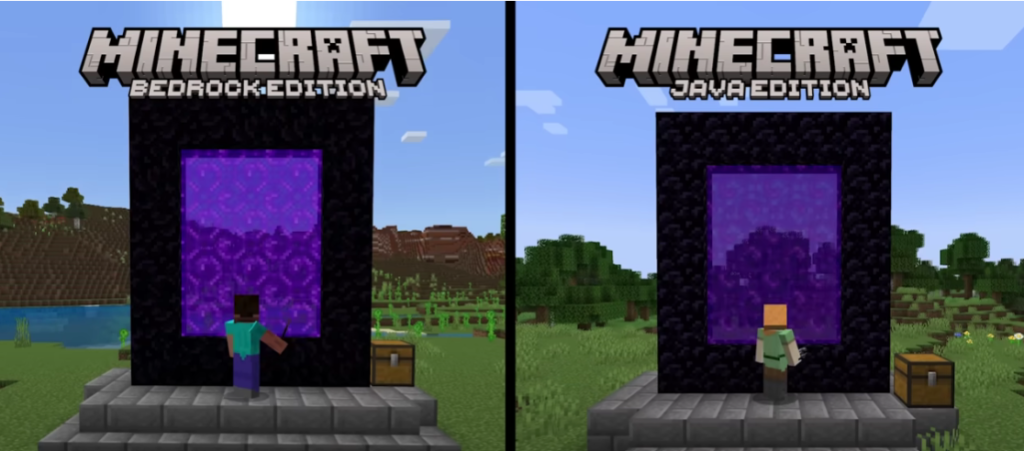 Some players prefer the Java version for various reasons, but the Bedrock Edition (which was rebranded to just "Minecraft" in 2017) has been the "standard" version of the game for several years.
No matter which version they're using, however, with Minecraft: Java and Bedrock Edition fans of Minecraft have all they need to create the most mind-blowing visual spectacles in this blocky and infinitely creative game.
Can you play Minecraft: Java & Bedrock Edition on Mac?
The Minecraft Java & Bedrock Edition for PC is available for purchase on the official Minecraft website. When you buy it, you're getting the same Minecraft you know and love—only this time, you're getting both Minecraft: Java Edition and Minecraft: Bedrock Edition, plus the comfort of switching between them in one launcher.
However, to be clear, Bedrock runs only on a Windows 10/11 device and cannot be played on a Mac natively while Java runs on Windows, macOS, and Linux. Therefore, to be able to enjoy the package and the switch between the games from one launcher, Minecraft: Java & Bedrock Edition needs a Windows-emulated environment to run on Mac.
You shouldn't get discouraged by this, however, since you can install Windows on your Mac using an application like Parallels and run Windows software and games with it. Parallels supports both Intel and M1-based Macs and, once you install it, you can use it to create a Windows virtual machine on which you can run Minecraft: Java & Bedrock Edition for PC.
How to download Minecraft: Java & Bedrock Edition on Mac?
To be downloaded on Mac, Minecraft: Java & Bedrock Edition requires a Windows virtual machine, which must be created before the dual edition can be downloaded and installed. You can run Windows applications and play games that weren't designed for macOS with ease using a third-party tool like Parallels.
Minecraft: Java & Bedrock Edition for PC can be downloaded from the official Minecraft website, installed on the Windows OS virtual computer, and played just like any other Windows game.
How to play Minecraft: Java & Bedrock on Mac?
There are 2 ways to play Minecraft on your mac, and they are both covered in this guide. You can get the game through an Xbox game pass subscription or purchase it separately if you don't want to pay for a service. However, we recommend the Game Pass method because the first month costs 1$ and you also get about 450 more games aside from Minecraft.
Xbox Game Pass Method
There are two ways you can use Xbox Game Pass on your Mac: with game streaming on the internet (so no installation needed) or by installing the game on your mac through Parallels. In both cases, you don't need to buy the game separately. Xbox Game Pass is a library of games you can play as long as you pay the monthly fee. Here is a quick rundown of the 2 tiers you can pay for:
| | | | | | |
| --- | --- | --- | --- | --- | --- |
| Tier | Streaming | Parallels | Number of games in the Library aside from this one | Additional content expansions in games | Price |
| Xbox Game Pass Ultimate | Yes (1080p/60 FPS) | Yes | 450 (380 for streaming) | Yes | First month 1$, then 14.99$/mo |
| Xbox Game Pass for PC | No | Yes | 450 | No | First month 1$, then 9.99$/mo |
We recommend Ultimate to everyone, because the first month price of 1$ is the same for both tiers. During that period, you can check both the Streaming service and running games through Parallels, and decide which one suits you better. Then you can downgrade if you want. Bear in mind, however, that Parallels is not a free program and carries a price tag as well, so we recommend the cloud gaming option in general.
To sign up for Xbox Game Pass, go to its website and join Ultimate unless you want to use it only for Parallels: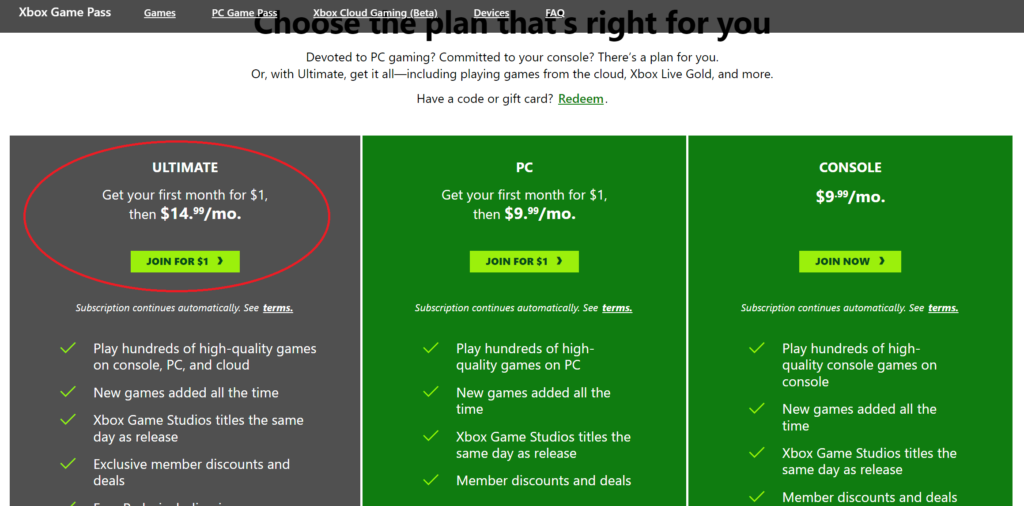 If you don't have a Microsoft account, you will be asked to create one. Once you join Game Pass, you will need to do 1 additional step if you are using the cloud solution:
The cloud solution only offers controller support. Since you likely don't want to buy an xbox controller just for this, you will need to download an extension that emulates it for keyboard and mouse, either for Chrome or Edge. We recommend using Edge since Microsoft owns the browser and optimized it for better image quality with Game Pass Ultimate's cloud streaming.
Download this extension for Chrome.
Download this extension for Edge.
After that just head on over to the game library and play the game.
Check Our Latest List Of The Best Free Mac Games in 2023
How to play Minecraft: Java & Bedrock on Mac M1?
Minecraft: Java & Bedrock Edition can run on a Mac M1 using a Windows virtual machine created in Parallels. Below, there are some instructions that will provide you with more details about the program and the way to use it.
Keep in mind that we can't promise that when playing non-native games on a Mac you'll have the same experience as you would have when playing on a Windows PC, even with the help of the workarounds we give. However, you may use the suggested software to run Minecraft: Java & Bedrock Edition and other games with adequate quality.
Play Minecraft: Java & Bedrock Edition using Parallels
If you subscribed to game pass, you need to follow the guide below, activate Parallels and just use Game Pass's installer. If you don't want Xbox Game Pass, you need to purchase the game now and install it once you are done with the guide below.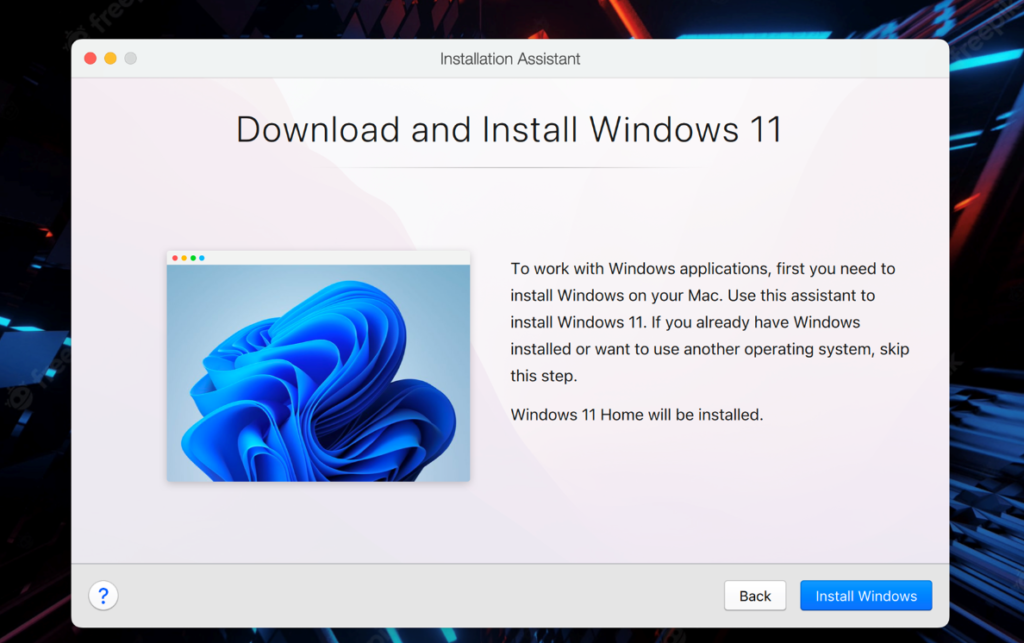 To play Minecraft: Java & Bedrock Edition on a Mac, you must first visit the Parallels website and download the virtualization software's installation file (both Intel- and M1-based).
Next, launch the Parallels virtualization software installer and install the program on your Mac.
To begin the process of creating a Windows virtual machine, launch Parallels and choose the "Install Windows" button.
You'll then need to launch the freshly installed Windows VM but first, you will need a Parallels account. New Parallels users may sign up for an account in one of the many ways listed by the program. Returning users can simply enter their login information.
Finally, download Minecraft: Java & Bedrock Edition for PC from the official website of the game and run it in the Windows VM to install it.
In case you need more information on Parallels, we've provided a comprehensive guide to the program.
Martina Nikolova
Martina likes to get into nitty-gritty of tomorrow's tech, from product design across to security based solutions. A long time mac user and developer, she has the expertise and strives to give new insight