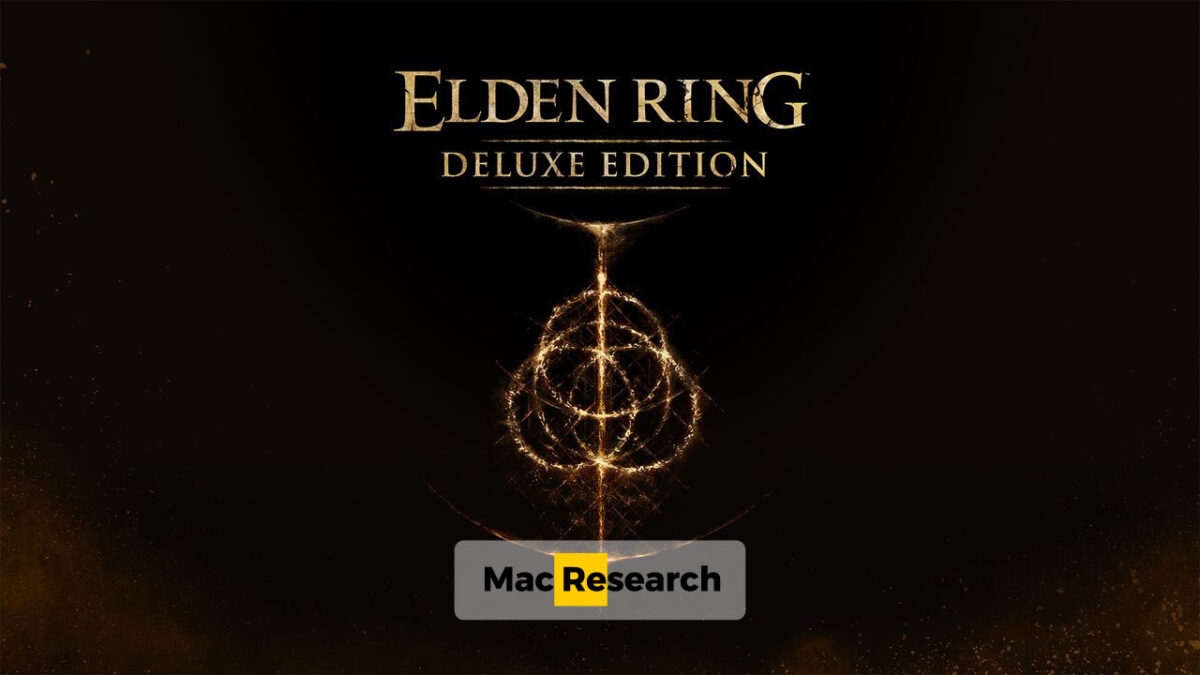 Elden Ring (Mac)
Martina Nikolova, 2 weeks ago
2
11 min

read
Elden Ring on Mac
Apple users eager to play Elden Ring on Mac have several ways of doing that despite the lack of a native macOS version for the game. It's not surprising that the game didn't receive a port for Apple machines, and it seems that it won't receive macOS support in the foreseeable future, yet time and time again, it's been shown where there's a will, there's a way when talking about wanting to play an unsupported game on an Apple computer. As for the specific methods to play Elden Ring on Mac, we've included in this article the three options we consider to be optimal. Those options are Boosteroid (the only cloud platform that currently supports Elden Ring), a combination of CrossOver and Apple's Game Porting Toolkit, and the well-known Boot Camp Assistant method.
Table of Contents: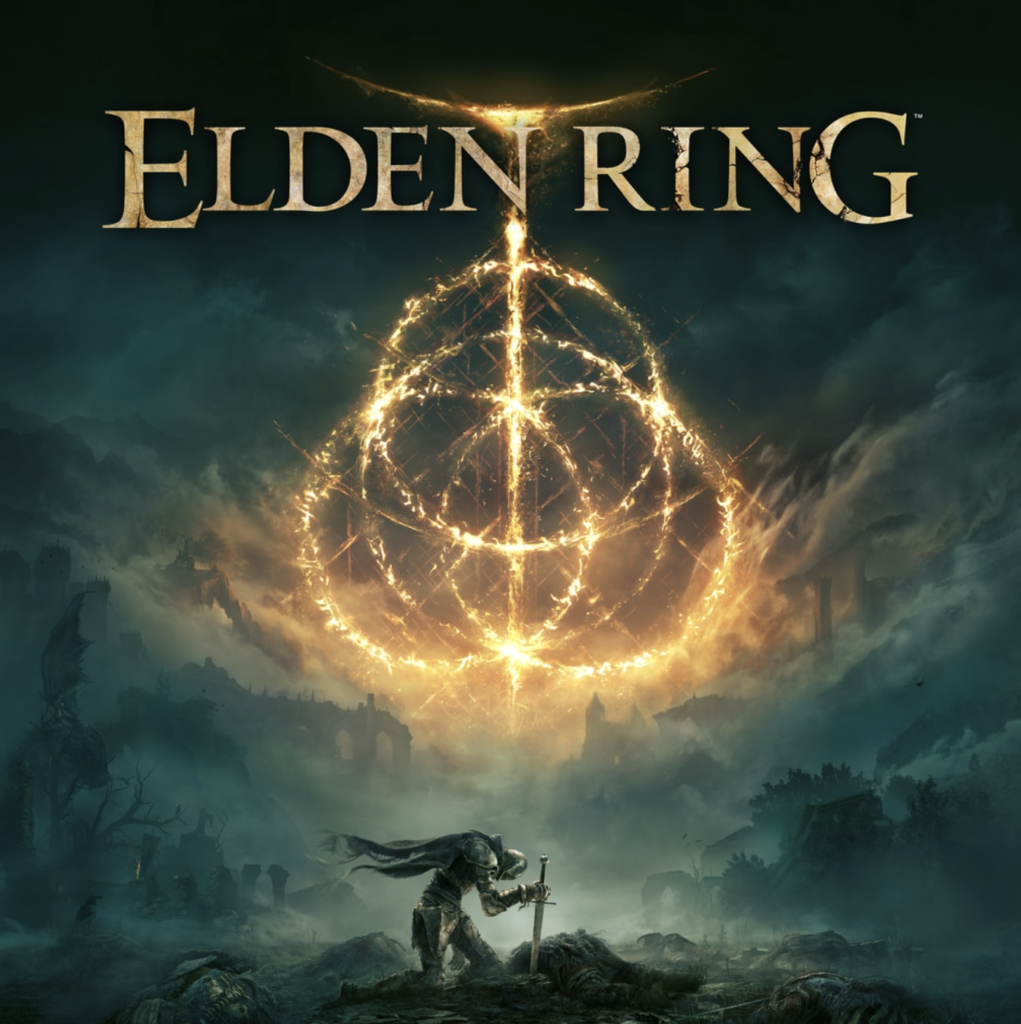 Is there Elden Ring macOS support?
There's currently no Elden Ring macOS version, and it's doubtful that there will be one unless there's a significant upswing in the field of Mac gaming in the coming years (which some users expect with temperate optimism). However, for the time being, if you want to enjoy FromSoftware's magnum opus on an Apple machine, you'll need to opt for a workaround that lets you circumvent the lack of Elden Ring macOS support. As we mentioned, the methods we recommend are cloud gaming with Boosteroid, using the combined strengths of CrossOver and GPTK, or to go for the tried and tested Boot Camp method. Each option is good for different reasons and is shines in different scenarios, so be sure to familiarize yourself with the suggested methods before deciding which one to pick.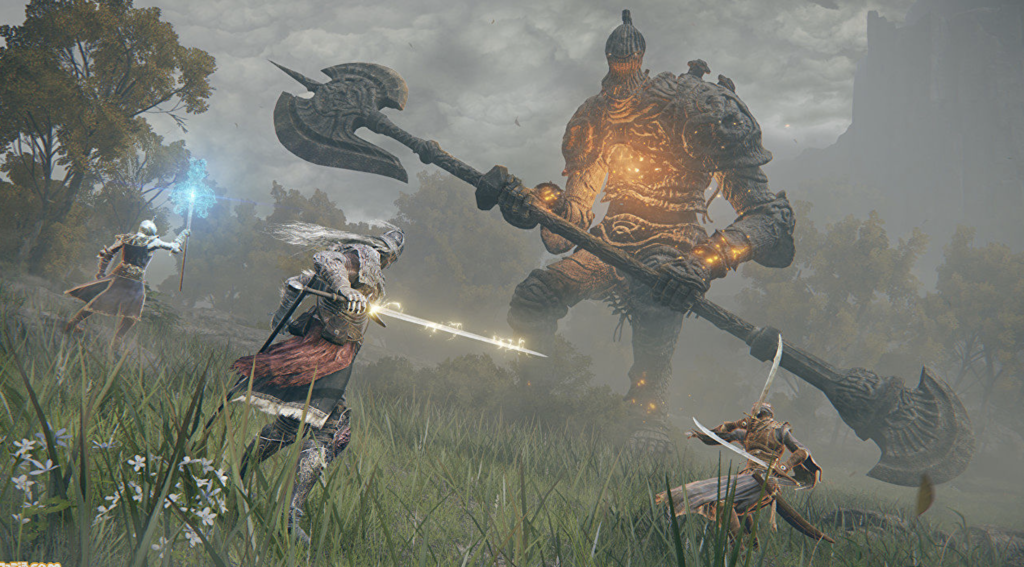 Can you play Elden Ring on Mac?
Albeit not natively, you can definitely play Elden Ring on Mac through methods such as Boosteroid cloud gaming, CrossOver and/or Apple's Game Porting Toolkit, as well as Boot Camp. The method we liked the best in our tests is Boosteroid, as it has a very minimal setup and works great on both old and new Macs. Also, it doesn't matter whether your Mac is Intel or M1/M2-based if you choose Boosteroid as your preferred option to play Elden Ring on Mac. In contrast, the other two options, CrossOver + GPT and Boot Camp, are specific to Intel and Apple Silicon Macs respectively, and both of their setups require considerably more time and effort. That said, they are still perfectly viable options if you prefer to play the game locally.
Elden Ring MacBook workarounds
The Elden Ring MacBook workarounds we are going to explain in our guide have different pros and cons. As mentioned, Boosteroid is really easy to set up and will work on any Mac, be it a new and shiny M1 or M2 model or an older and less potent Intel-based machine. However, to have the best experience with Boosteroid, a fast and stable Internet connection is required. The Internet requirement isn't as significant with CrossOver + GPTK and Boot Camp, but for those methods, your Mac will need to have decent hardware as well as enough free space to accommodate the game. And in the case of Boot Camp, additional storage space will be needed for the Windows installation that must be performed first.
What about Elden Ring Mac M1 and M2 workarounds?
The Elden Ring Mac M1 and M2 workarounds that we can suggest are Boosteroid and CrossOver in combination with GPTK. Boot Camp doesn't work here because it's only available for Intel-based Macs. Also worth noting is that if you want to download and play the game locally, through the CrossOver + GPTK method, it's advisable to do it on a machine with M1 or M2 Pro or Mac chip. The base M1/M2 chips won't provide you with good performance and the game will be nearly unplayable using this method. On the other hand, the Elden Ring Mac M1 and M2 workaround that involves the use of Boosteroid will work great even on base Apple Silicon models, provided you have a decent Internet connection.
Will there be Elden Ring for Mac?
There's likely not going to be Elden Ring for Mac anytime soon, though there's been some recent uplift related to Mac gaming in general. The release of Apple's Game Porting Toolkit has showed that many demanding AAA games can work surprisingly well on Mac even without being optimized for macOS. This means that we may (hopefully) see more gaming titles coming to Mac in the future. However, for the time being, a version of Elden Ring for Mac seems unlikely, which is why methods such as Boosteroid and other cloud gaming platforms, CrossOver, GPTK, or even the outdated Boot Camp, are great to have as they let Mac users enjoy their favourite games without needing to buy gaming PCs.
How to play Elden Ring on Mac
To play Elden Ring on Mac, be sure to check out our instructions for the three workaround methods that we covered and complete the guide for the one you think will work best for you. We'll first show how to set up your Boosteroid account and use it to stream the game. Then we'll guide you through the process of installing CrossOver, integrating the Game Porting Toolkit with it using an app called CXPatcher, and finally downloading and running the game. Finally, we'll show you how to play Elden Ring on Mac by installing Windows 10 with on your Mac with the help of Boot Camp and then downloading the game in a Windows environment.
Obviously, to play game using any of the mentioned workarounds, you must first purchase it if you haven't already done that.
Play Elden Ring with Boosteroid
Recommended Method
Boosteroid Cloud Gaming
Why we recommend Boosteroid over the other methods
Boosteroid has the best 'bang for buck' of all methods. It provides fast support for new big titles, hits a constant high performance level (60 FPS) that's rarely achievable except for native mac ports, and with graphics options reserved for high-end PCs. It requires only a good internet connection.
GeForce Now is a higher-value alternative, but to achieve better results than Boosteroid, the service wants 6-month payments to subscribe to its highest tier. We recommend starting with Boosteroid, then switching to GFN later if you feel like it.
Methods like Game Porting Toolkit or Crossover will not give you a good experience in general and will drain your battery fast.
Our Policy

Read why you should trust us.

Direct Link

Try Boosteroid
1. To begin your journey with Elden Ring through Boosteroid, kick things off by hitting the button below to create your Boosteroid account. You can either sign up with your email address or take advantage of the 'Sign up with Google' option for a faster process.
2. The following step involves setting up your subscription. Head over to your profile page by clicking on your username, positioned in the top-right corner, followed by selecting 'Subscribe'. Choose the subscription tier that aligns with your preferences, and furnish the required payment details to initiate your gaming adventure.
3. Next up is getting Elden Ring ready to go. Find the game by typing its title in the search bar at the top. As soon as the game shows up, simply press the 'Install and Play' button.

4. A prompt will pop up, requiring you to click OK. After a brief loading period and a Steam login page, you'll be all set to go.
Play Elden Ring with CrossOver + Game Porting Toolkit
1. Update your macOS to macOS Sonoma, visit the CrossOver site by clicking the button below, and download and install CrossOver.
2. Search for and download the Game Porting Toolkit from this Apple page and then open the downloaded file to mount it.
3. Download the CXPatcher from this page and install it in your Applications folder. Then run the following Terminal command: "xattr -cr /Applications CXPatcher.app".
4. Open the CXPatcher, turn on the Enable External Resources and the Allow repatch / upgrade options.
5. Click Locate External Resources and open the Game Porting Toolkit folder. Then drag-and-drop the CrossOver app into the CXPatcher.
6. Create a new CrossOver bottle and install in it Steam (or another game launcher if you own the game elsewhere).
7. Turn off DXVK, launch and log in to Steam, go to your gaming library, install the game, and launch it.
Play Elden Ring with Boot Camp
Finally, there's the reliable Boot Camp approach, a method that enables you to enjoy any Windows game on an Intel Mac device, as long as the computer satisfies the game's system prerequisites. To discover how to employ Boot Camp to play Elden Ring on a Mac, refer to the guide below:
Elden Ring Reviewed by a Mac User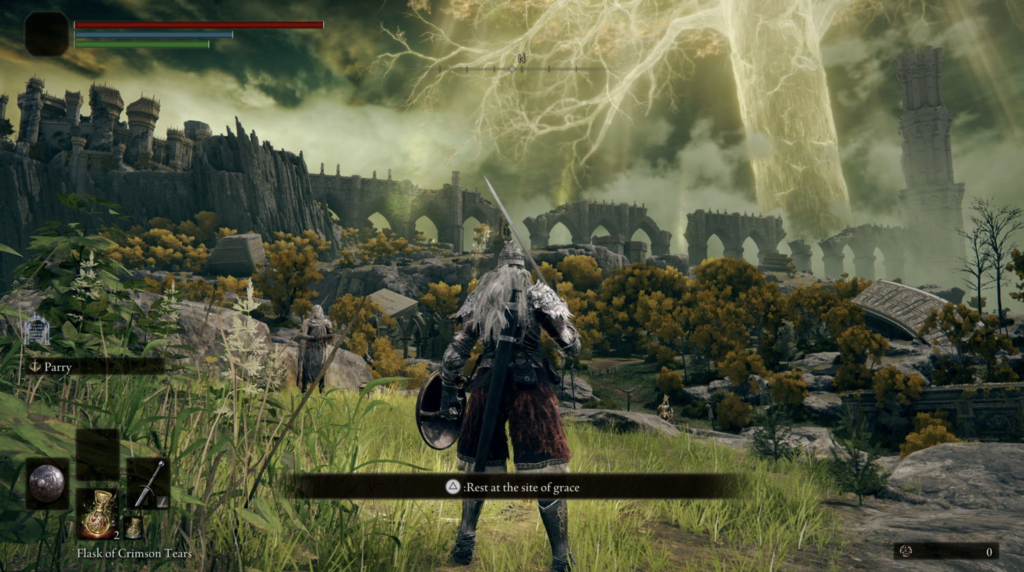 Amidst the golden swathes of the Altus Plain where time seems to slow down, you catch glimpses of a surreal yet oddly grounded world in "Elden Ring." It is here, under the gaze of a buttery sky, that you quickly learn that appearances can be fatally deceiving, a lesson sternly delivered through a haunting siren's song that transforms the poetical into the perilous. This captivating dichotomy of beauty and danger is a constant theme in this masterfully crafted universe, a brainchild of the legendary Hidetaka Miyazaki in collaboration with the narrative genius George RR Martin.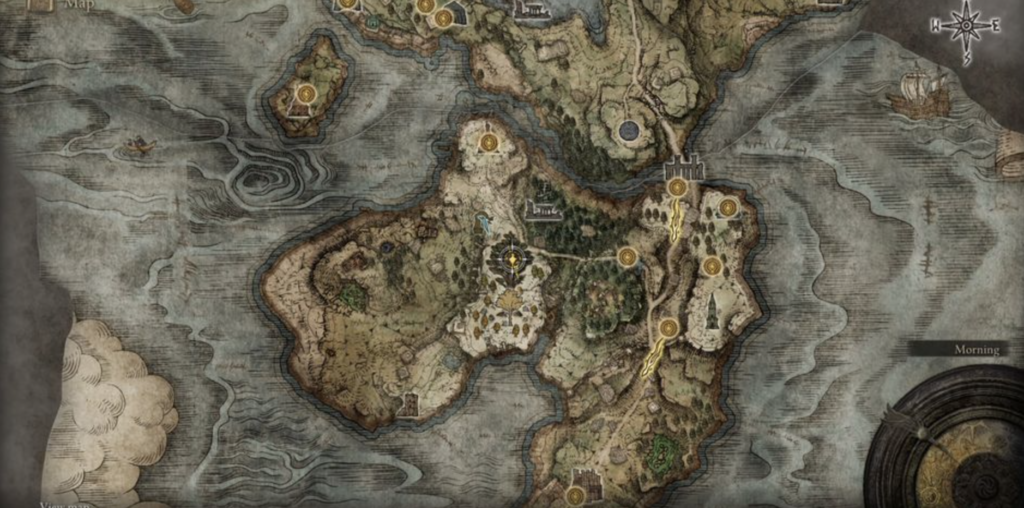 "Elden Ring" delivers not just a game but an expanse rich with mysteries that beg to be solved, paths that plead to be trodden, and enemies that await to test the mettle of every entrant into this realm of wonder and menace. It offers freedom, a vast canvas where your curiosity is your compass, urging you to witness the stories written in the ruins and to heed the silent tales whispered by the statues that punctuate the landscape. Yet, for those playing on Mac, this intricate world remains sadly out of reach — a masterpiece yet to be unveiled on their screens.
While the predecessors of "Elden Ring" have often been marked as unforgiving for newcomers, this latest iteration brings a refreshing accessibility without sacrificing the rich complexity that Miyazaki's games are renowned for. This is a realm where every weapon tells a story, where alliances forged can be your shield against the nightmares lurking in the depths of this beautifully hazardous world. A world teeming with intricate riddles and treasures that promise a playground for those who dare to delve deeper, embracing the intertwined narratives woven with meticulous attention to detail.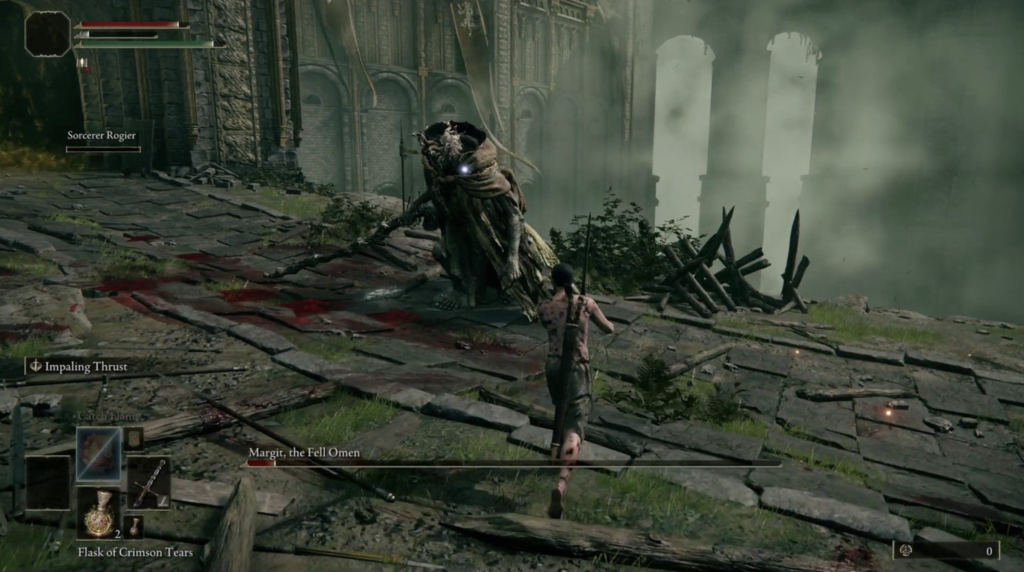 Yet this is not just a game of battles and exploration. The introduction of Torrent, your trusty steed, promises an evolution in combat dynamics, offering a seamless blend of strategy and action as you engage in heart-thumping chases, orchestrating perfect getaways, or engaging in strategic retreats. It is a dance of death and valor, of might and wits, where every move is a step in a deadly ballet choreographed with a precision that borders on poetic.
But what truly stands out in "Elden Ring" is its living, breathing world, a place where each element tells a tale, where the secrets beckon with a siren's call, promising delight and danger in equal measure. Here, every hill crest opens a new chapter, every path tells a different story, urging the players to forge their own legend in a land that balances precariously between the fantastical and the grim.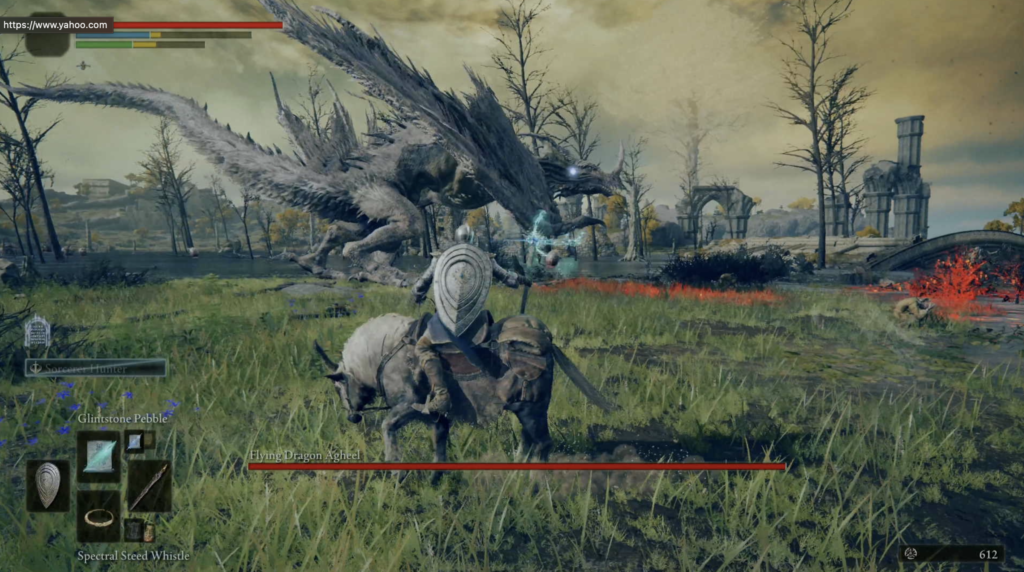 Despite its sprawling landscapes and seemingly unending horizons, "Elden Ring" refuses to sacrifice depth for size. Every nook and cranny of this detailed world pulses with life, offering a rich texture of adventure that feels as boundless as it is intimate. Sadly, the inability to explore this on a Mac stands as a glaring omission, a deficiency we hope is remedied soon.
As we take a step back to admire "Elden Ring" in its full glory, it becomes evident that this is more than just a game; it's a testament to the heights that collaborative artistic vision can achieve when unhampered by the limitations of technology. It encapsulates the very essence of video gaming at its pinnacle, offering not just a playground, but a rich canvas of mysteries, enchantments, and opportunities that span a spectrum of experiences, from the solitary exploration to collaborative endeavors against a rich tapestry of backdrops that promise a journey of a lifetime, with every login. It's not just a game; it's an experience, a masterpiece in the truest sense of the word.
Martina Nikolova
Martina likes to get into nitty-gritty of tomorrow's tech, from product design across to security based solutions. A long time mac user and developer, she has the expertise and strives to give new insight