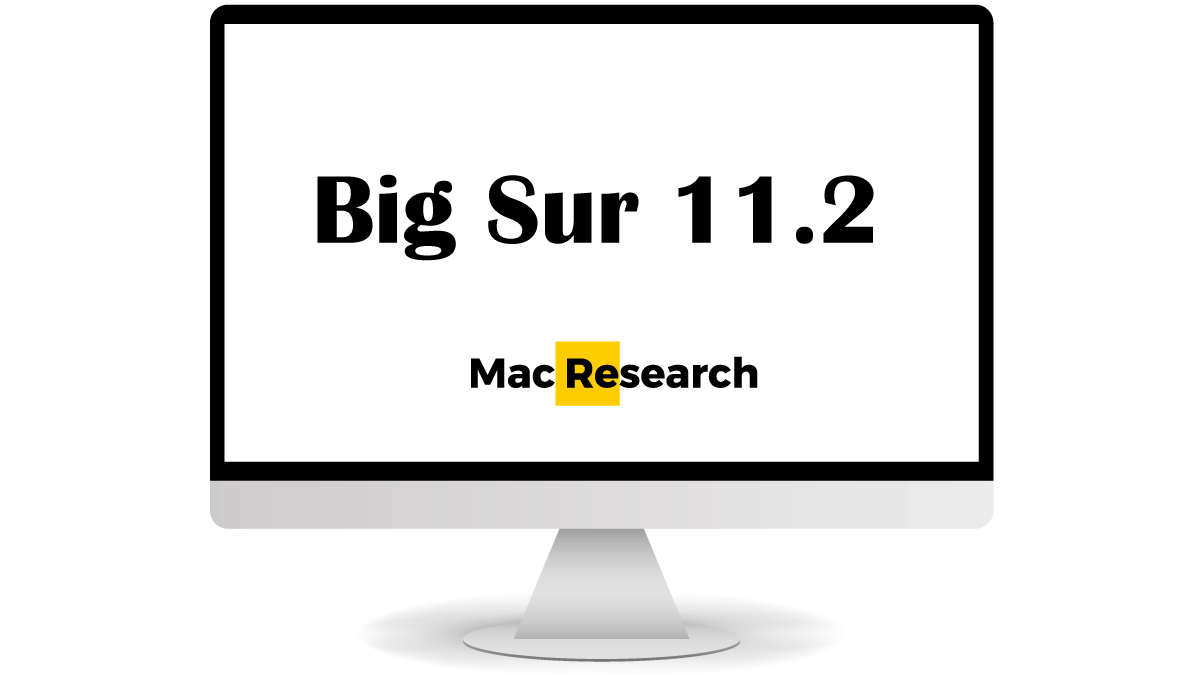 macOS Big Sur 11.2 is an upcoming macOS update, and it is set to primarily bring under-the-hood improvements, focusing on resolving lingering macOS issues from earlier versions. macOS Big Sur is still in development and is currently only available for beta testers and developers.
In the following article, we will share with you what we know so far about the release date and time of the new update and about the improvements it will bring to the latest major release of the macOS family of operating systems – macOS Big Sur.
macOS Big Sur release date and time
There's currently no official statement from Apple regarding the release date of the latest macOS version, so we cannot tell you when it is going to become the current latest stable version of the macOS system. However, 11.2 is already available in its beta state and developers and users who are part of the Apple's Beta Software Program can already download it and try it out. However, since macOS Big Sur is still in development, it is not recommended installing it for daily use unless there's a concrete reason for that, and you know what you are doing. As with most software and software versions that are still in their beta state, macOS Big Sur 11.2 is bound to have a number of bugs, problems with performance, and other issues that may negatively impact your experience with your Mac.
As for the release time of the update, as with the previous macOS updates, macOS Big Sur 11.2 will most likely be released around 10 AM PST (Pacific Standard Time). The same will likely be the case with updates to the beta version of 11.2 (Apple beta updates usually release once every two weeks).
Changes that will come with macOS Big Sur 11.2
As we pointed out earlier in this post, the focus of this update to the macOS system will mainly be focused on under-the-hood improvements rather than the addition of new features. For the most part, 11.2 will fix problems in macOS that are present in the earlier versions. One notable example of this is an issue with the resolution of MacBook models that have the new Apple M1 chip.
The log of changes introduced with the 11.2 beta is rather generic with nothing significant that stands out, so it's currently safe to assume that there won't be anything huge that would come with the new update. We will keep you updated if this changes with the new beta versions of 11.2 that will be released but for the time being there's really not much else to say about what will be different with the new update.
Problems with macOS Big Sur 11.2 Beta
It is rather early to talk about what problems the beta version of macOS Big Sur 11.2 has because there's still not enough user feedback on the matter. Since this is a beta versions, issues are expected and many of them will need to be fixed during the development and polishing of the 11.2 update. However, if you have already installed the beta version, are facing problems with it and are wondering whether there's anything that you could do to make things better, there are several things that you can try such as reset the SMC or the NVRAM/PRAM of your Mac. You can also try the fixes on this page if your Mac is inexplicably experiencing sudden freezes. Follow the links we provided which will take you to guides that will show you what you need to do. If those fixes do not work, you may have to wait until Apple fixes the problems when they finalize the development of 11.2. Until then, you can downgrade to 11.1 (current stable version) if you don't want to put up with the problems present in 11.2.
Issues with the new Apple M1 chip
Apple M1 is a system on a chip (SoC) processing unit developed by Apple and integrated within the latest Apple products, including the latest MacBook Pro and MacBook Air. According to Apple, the M1 chip brings major improvements and processing power to their latest products and Apple fans all over the world are excited about it. However, as with most new technology, there are certain problems with the M1 chip that users who already have MacBooks with it have reported.
One of the bigger problems with M1 is linked to the compatibility of different apps with the chip. Many major third-party apps (apps that are not developed by Apple) seem to have serious compatibility problems with the M1 chip. The compatibility problems range from anything like local app errors to system unresponsiveness and crashes whenever the user tries to run an application that's not compatible with the M1 chip.
Some notable examples are the Google Chrome and Microsoft Edge browsers, different Adobe products, and more. Many of these software developers have decided to develop new versions for their major apps just so that those apps would be compatible with machines that use the M1 chip.
Another problem that has been reported concerning M1 is with the Bluetooth connectivity. Bluetooth mice, keyboards, and earbuds seem to have difficulties connecting to M1 MacBooks and in this case, it even seems that it doesn't matter if the Bluetooth device is from Apple or from a third-party developer – the problems seem to be consistent across all kinds of Bluetooth devices regardless of their manufacturer.
A third issue reported by many is the somewhat mediocre battery life of the new M1-equipped MacBook models. According to Apple, MacBooks that use the M1 chip should be able to last to offer over 10 hours of browsing and video streaming on a single battery charge yet thus far users report that the battery barely lasts for half of that amount before it needs to be recharged. Of course, this isn't a huge problem and there are a lot of variables at play here, but it may be yet another indication that certain improvements and fine-tuning are needed before the M1 chip can reach its full potential.
The reason we are mentioning all this here is that we hope that the macOS Big Sur will come to be the answer to at least some of these problems, especially since the update will be focused on fixing bugs and other issues with the OS and won't be introducing any major changes and/or new features.
If, however, you own a M1 MacBook and you hope that installing the beta version of macOS Big Sur 11.2 will resolve the aforementioned problems, we do not advise you to install 11.2 just yet seeing as how it is still in development. Installing the beta version is more likely to bring more instability to and bugs to your Mac rather than fix any existing problems, so our suggestion is to wait until 11.2 gets released as the next stable macOS Big Sur version.
Martina Nikolova
Martina likes to get into nitty-gritty of tomorrow's tech, from product design across to security based solutions. A long time mac user and developer, she has the expertise and strives to give new insight