How To Update Zoom on Mac
Martina Nikolova, 3 years ago
0
3 min

read
New versions of the Zoom desktop client and the Zoom mobile app are released regularly. These updates provide users with new functionalities and patch glitches. That's why, once available, we highly recommend users to update to the latest edition of Zoom in order to get the best and the safest experience.
Zoom Automatic Update Notifications on Mac
Every time Zoom releases a new version of there software, by default you will receive a message notifying you to install the new update. The process is seamless and only takes a few steps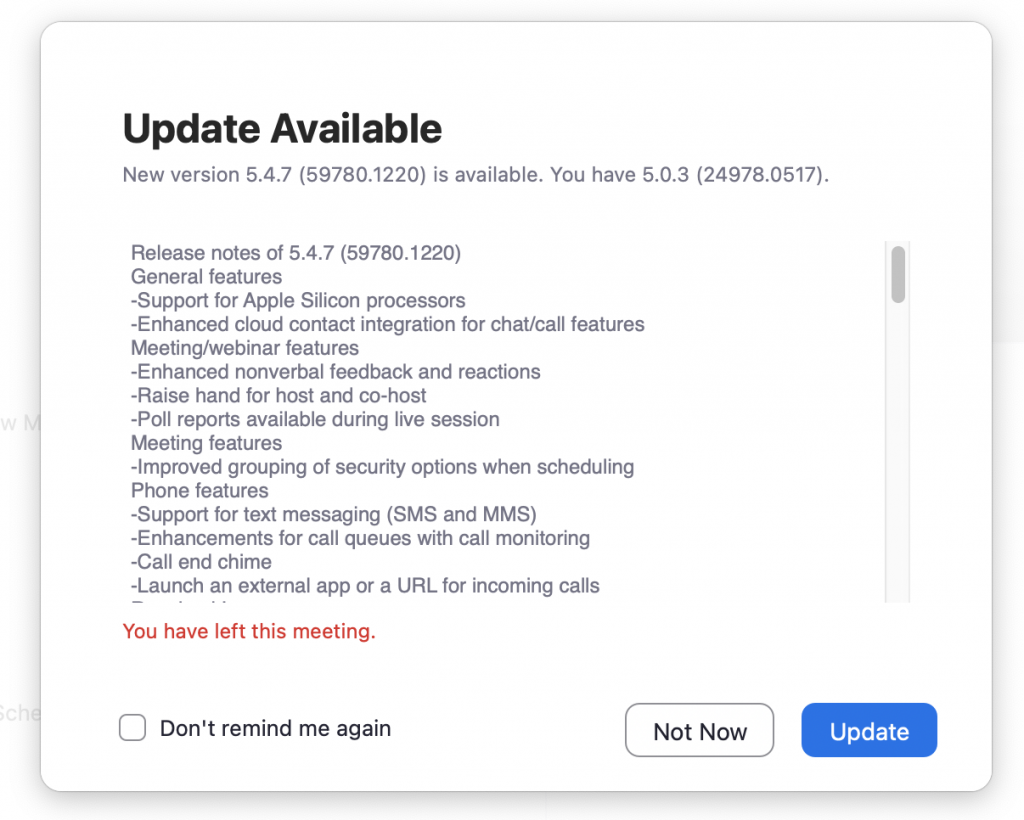 Manually Update Zoom on Mac
Automatic updates can be annoying so manually updating your Zoom can be an alternative for you.
Those who don't know which version they are currently running can check that to ensure that they aren't using an outdated edition.
Keep in mind that Zoom has seen far from few security vulnerabilities. We highly recommend updating to the latest version in order to update any security patches.
In this article we will show you the steps that will help you to stay updated to the latest Zoom release, whether they are using Zoom Desktop Client or  Zoom Mobile App.
Update Zoom Desktop Client for PC, Mac, or Linux
In case there is a new optional or a mandatory update, Zoom users typically get a pop-up warning that informs them about the new release within 24 hours of logging in.
The latest update can quickly be accessed by clicking on the download button at the https://zoom.us download page.
However, the latest Zoom Desktop Client edition can also be downloaded from one of the following direct links:
In case that Zoom Desktop Client has already been installed on your computer, and you are not sure which version you are using, here is how to check for available updates:
How to Update Zoom on Mac
Log in to Zoom Desktop Client.
Go to your profile picture and click it.
From the menu that pops-up, select Check for Updates. In case that a new version of Zoom is available, it will be automatically downloaded and installed.
Three kinds of Zoom updates are available: web-only, optional and mandatory.
Web-only updates are available typically for new fixes that are being tested.
Optional updates typically start the moment you click on Update. They can be postponed for later and can be activated manually the moment you want them to. In case you choose to postpone the optional updates, you will be prompted to update again the next time you login.
Mandatory updates start immediately, the moment you click on Update. They cannot be postponed and you have to wait for the updates to be installed before you continue to use the program.
Update Zoom Mobile App for iOS or Android
Zoom Mobile App can be downloaded from the Apple Appstore or Google Play. Whenever a fresh upgrade is available, Zoom shows a smartphone warning, so it will be impossible to miss it.
Martina Nikolova
Martina likes to get into nitty-gritty of tomorrow's tech, from product design across to security based solutions. A long time mac user and developer, she has the expertise and strives to give new insight