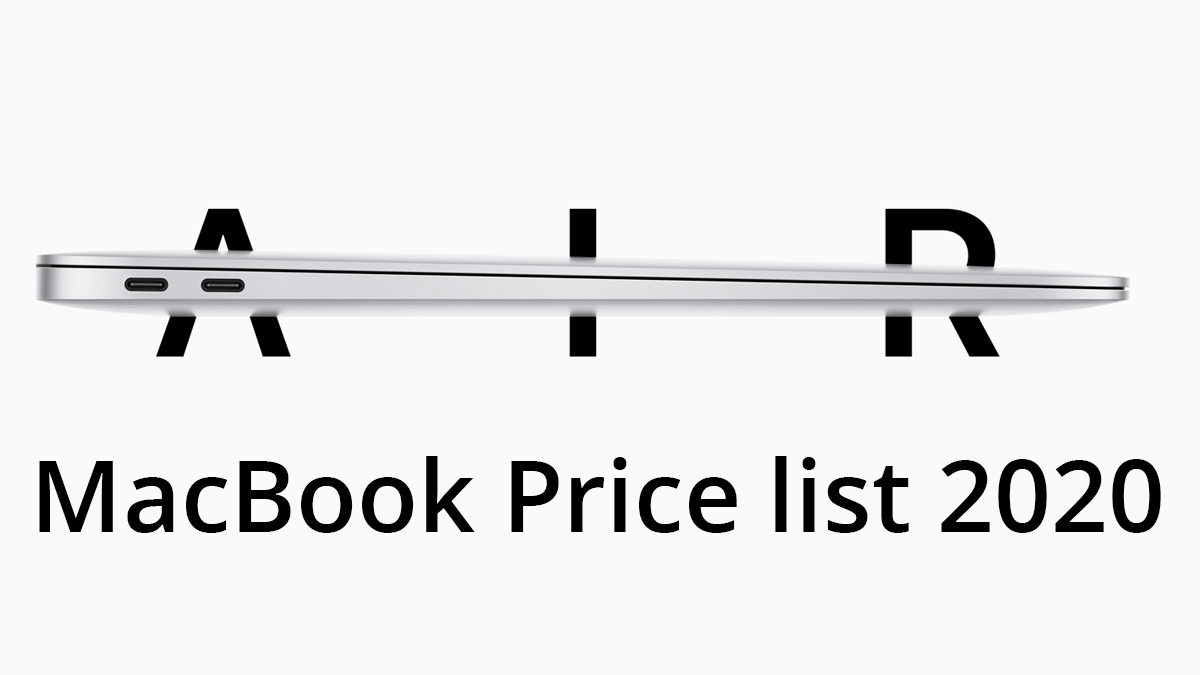 How Much is a MacBook 2020
Martina Nikolova, 4 years ago
0
4 min

read
How Much is a MacBook?


MacBook Air
256 GB – $999.00 | 512 GB – $1,299.00

MacBook Pro 13 inch
256 GB – $1,299.00 | 512 GB – $1,499.00 | 1 TB – $1,999.00

MacBook Pro 16 inch
512 GB – $2,399.00 | 1 TB – $2,799.00


Where is it cheapest to buy a MacBook?


Based on the research conducted for MacBook Pro 13" and 16" and MacBook Air 13", the cheapest starting price is different depending on the model. The MacBook Air 13" comes cheapest in South Africa, whereas both MacBook Pro models are cheaper in certain provinces in Canada.

Pros: The obvious advantage of purchasing a MacBook in a country where the price is cheapest is that you can save up to several hundred US dollars.

Cons: The warranty in both South Africa and Canada is 1 year. This may be shorter than the warranty in your home country, especially if it is an EU member state. Furthermore, importing electronics into your own country may be subject to additional tax.

Apple fans are always on the lookout for the latest product, what's new in every new release of their favorite line of smartphones or computers, and how they can get their hands on them as quickly as possible. But with Apple products especially, cost is often a sensitive subject. And in the context of globalization, consumers can compare the costs and prices of desired products across borders.
In this article, we would like to have a look at what it costs to purchase a MacBook Pro in different countries around the world. Namely, we will be looking at three particular models: the MacBook Pro 16-in, the MacBook Pro 13-in and the MacBook Air (13-in).
And for the purposes of this article, we will compare the prices in the USA and the Commonwealth countries of Canada, UK, Australia and South Africa. This is for those of our readers who are curious to know why and how much prices may vary depending on where you are in the world. And hopefully you may find this information useful when making a decision of where to purchase your next MacBook.
Duty Free and 'Cheaper' Countries
One question that seems to be on the minds of many buyers is whether or not it is possible and/or even worth making a purchase in duty free zones. And the answer to that will vary depending on what country you're from and where you are making you will be buying your MacBook. VAT may need to be paid upon importing your purchase to your country of residence. And obviously, the cost of the product itself will also be different in different regions.
Hence, these are all factors that need to be considered for each case individually.
Then there's also the subject of buying your MacBook in a country where it is cheaper than it is in your own. The USA has long been known for selling electronics at lower prices than most places around the world. However, while you may pay less for the device itself, you could end up missing out on other benefits.
For example, the US warranty for Apple products (and specifically for MacBook computers) is 1 year, while in EU member states the standard warranty is 2 years. Should there happen to be any issues with your laptop in that second year, repairs could easily add up to exceed the amount you saved during the initial purchase abroad.
So whether or not buying in a 'cheaper' country is in fact cheaper is still up for debate. Below is our list of prices by country for the three different MacBook models we mentioned earlier, including additional costs like VAT and other taxes or fees. For ease of reference, beside the costs in the local currency, we have also included their USD equivalent.
"How Much is a MacBook?" by Country
United States:
· VAT costs: N/A
· Extra costs: The US doesn't have VAT. Instead, each state has a sales tax ranging from 0% to ~9.5%
· Warranty: 1 year
· MacBook Air 13-in starting price: 999 USD
· MacBook Pro 13-in starting price: 1,299 USD
· MacBook Pro 16-in starting price: 2,399 USD
UK:
· VAT costs: 20%
· Extra costs: N/A
· Warranty: 1 year
· MacBook Air 13-in starting price: 999 GBP (1,229.95 USD)
· MacBook Pro 13-in starting price: 1,299 GBP (1,597.42 USD)
· MacBook Pro 16-in starting price: 2,399 GBP (2,950.13 USD)
Canada:
· VAT costs: 5%
· Extra costs: Some provinces have a Provincial Sales Tax that is added to the VAT for a total of up to 15%
· Warranty: 1 year
· MacBook Air 13-in starting price: CAD 1,299 (925.40 USD)
· MacBook Pro 13-in starting price: CAD 1,699 (1,210.33 USD)
· MacBook Pro 16-in starting price: CAD 2,999 (2,136.42 USD)
Australia:
· VAT costs: 10%
· Extra costs: N/A
· Warranty: 2 years
· MacBook Air 13-in starting price: AUD 1,599 (1,037.88 USD)
· MacBook Pro 13-in starting price: AUD 1,999 (1,297.52 USD)
· MacBook Pro 16-in starting price: AUD 3,799 (2,465.94 USD)
South Africa:
· VAT costs: 15%
· Extra costs: N/A
· Warranty: 1 year
· MacBook Air 13-in starting price: ZAR 16,999 (926.748 USD)
· MacBook Pro 13-in starting price: ZAR 24,999 (1,362.89 USD)
· MacBook Pro 16-in starting price: ZAR 55,999 (3,052.94 USD)
Martina Nikolova
Martina likes to get into nitty-gritty of tomorrow's tech, from product design across to security based solutions. A long time mac user and developer, she has the expertise and strives to give new insight