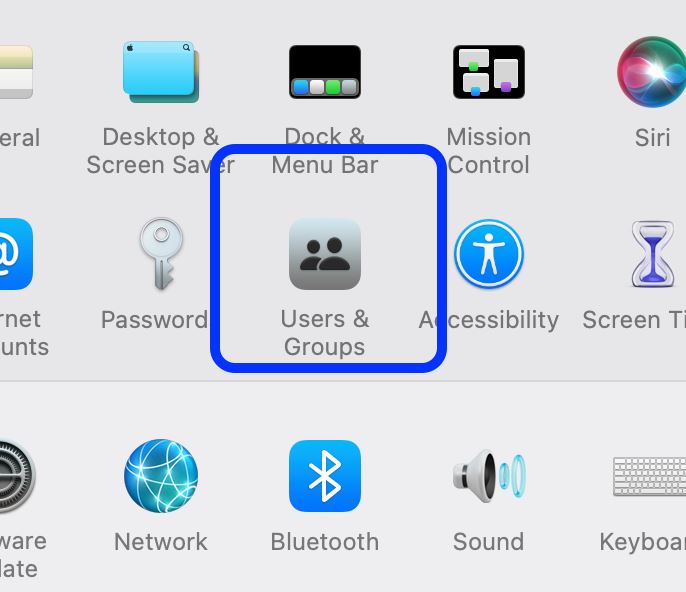 Delete User (Mac)
Martina Nikolova, 8 months ago
0
2 min

read
Your Mac probably has more than one user accounts, especially if it's being used or has been used by multiple people. Having several accounts can be useful to provide each person with their own customized experience, but if you are currently the only person using the machine, multiple user accounts can be confusing and unnecessary, which is why we'll now show you how to delete the ones you don't need.
How to delete user from Mac
So you're looking to delete a user account from your Mac? We've got you covered. Just follow these simple steps, and you'll have that account (or group) removed in no time.
First, let's open up System Preferences by clicking the Apple menu in the top left corner and then choosing "System Preferences."
Next, you'll want to find "Users & Groups" in the sidebar (you might need to scroll down a bit to see it) and click on it.
Now that you're in the "Users & Groups" section, click on the user you want to delete from your Mac in the left panel.
After that, just select the minus ("-") button below the left panel. Keep in mind, though, if someone's currently logged into the account you're trying to delete, you won't be able to select it.

Once you've clicked on the minus button, you'll have a few options to choose from:

If you want to save the home folder as a disk image (which can be handy if you might want to restore the user later), just choose "Save the home folder in a disk image." This will create an archive of all the user's files and info, and you'll find it saved in /Users/Deleted Users/.
If you'd rather not touch the home folder, select "Don't change the home folder." This means all the user's stuff stays put, and you can still restore them later if needed. Their home folder will still be in /Users/.
To completely remove the user's home folder and free up some storage space, go for "Delete the home folder." This will get rid of all their info and files.


Now, if you're deleting a sharing-only user or a group, things are even easier. Just click confirm the deletion and you're done. Sharing-only users don't have home folders, so you won't need to worry about that part.
Finally, click "Delete Account" one more time, and you're all set! The user account or group should now be removed from your Mac. See, that wasn't so tough, right? Just follow these steps, and you'll have no problem managing user accounts and groups on your Mac.
Martina Nikolova
Martina likes to get into nitty-gritty of tomorrow's tech, from product design across to security based solutions. A long time mac user and developer, she has the expertise and strives to give new insight