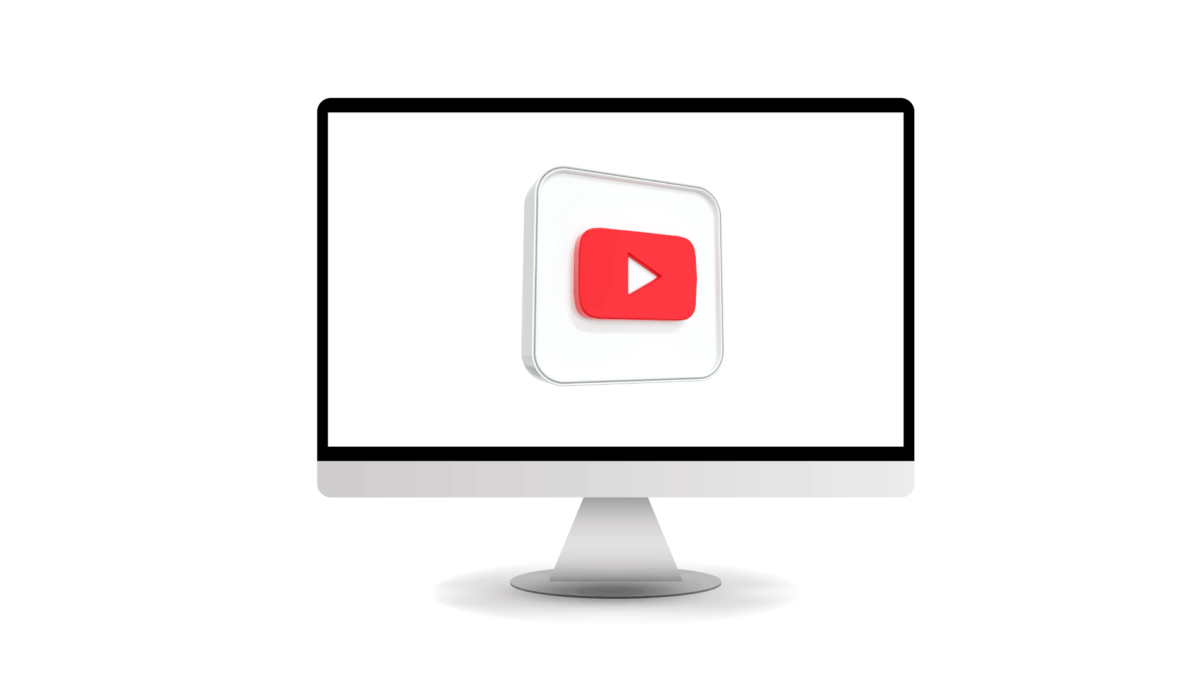 Best YouTube video downloader for Mac
The best video downloader for Mac is an app that balances quality, ease-of-use, and functionality. Possible contenders for the best video downloader for Mac are the 4K Video Downloader, YTD Video Downloader, and iTube HD Video Downloader.
There are many video-downloading tools available on the Internet, and it can be difficult to figure out which one is the best one for you. First and foremost, we must warn you that many such apps tend to cause more harm than good. A lot of video-downloading tools are filled with aggressive, misleading, and even potentially hazardous ads, and some of them may even be regarded as lower-level malware. Therefore, you must be careful when picking a good video-downloading app for your Mac. In this post, we will tell you about three such apps that we consider to be the best video downloaders for Mac computers. Those apps are the 4K Video Downloader, YTD Video Downloader, and iTube HD Video Downloader. The first tool that we will review here is YTD Video Downloader
YTD Video Downloader
YTD Video Downloader is a versatile app for downloading videos from YouTube, Daily Motion, Vevo, and even Facebook (as well as other popular video-sharing platforms). Compared to the other two suggestions on this page, this is a relatively lightweight app, and it's best suited for users who don't need any overly advanced features. The app has an intuitive (albeit, not particularly elegant) interface, that's easy to use and lets you quickly make some adjustments to how the video would be downloaded. Here are the main features of the program:
Download format and quality – YTD Video Downloader lets you pick between several commonly-used video and audio formats in which the video will be downloaded. It also lets you choose the video quality (this is limited by the maximum quality of the video that was uploaded). This feature is only available with the Pro version of YTD.

Converter – YTD Video Downloader can also be used as a simple video converter for video files that are already on your Mac. The settings you can adjust here are the same as the ones you have access to when downloading a video, with the addition of an audio-adjustment option that lets you increase or decrease the base volume of the video you are about to download. Note that, while increasing the volume level from its base value will make the video louder, it will also likely significantly decrease the sound quality.

Playlist download – You can download entire playlists rather than single videos from YouTube, but this function is only available in the Pro version. The Pro version also lets you download multiple videos simultaneously.
Other than those two features, there isn't much else to be said about YTD Video Downloader. The main perks of getting the paid version are that it lets you download an unlimited number of videos, that it lets you download videos directly in the format you prefer, and that it increases the download speed (4 times according to the app's developers).
If you are interested in purchasing YTD Video Downloader, it would cost you $9.99 per month if you pay for a single month, or $47.76 for a two-year subscription, which equals $1.99/month. There's also a 2-yer bundle plan which costs $95.76 ($3.99/month) and includes both the YTD Video Downloader and Vuze VPN.
The free version of the app is quite restrictive, mainly due to the one-video-per-day limitation, so we don't recommend it. Also, its free version has pop-up ads that can be quite annoying. The free versions of the other two apps mentioned here also have ads, but ones that aren't intrusive and can easily be ignored. For a video downloader with a good free version, check out the next section of this article.
Best free Mac video downloader
The best free video downloader for Mac is likely 4K Video Downloader – it's a versatile downloader app with a good variety of advanced features. The reason we consider it to be the best free video downloader for Mac is its generous 30 videos-per-day limit.
The problem with most free video downloaders is that they are often linked to aggressive and potentially unsafe online-advertising campaigns. Also, many such free tools don't function very well and/or gain extensive privileges on the Macs they get installed on – privileges that are used to gather user data and subsequently sell it to third parties, rather than improve the user experience.
There aren't many quality video downloaders that have a functioning free version and, expectedly, the ones that do have an actual free variant would provide limited functionality. That said, our suggestion for the best free Mac video downloaders is an app called 4K Video Downloader.
4K Video Downloader
4K Video Downloader comes with a variety of features that can't be found in most other apps of its type. As its name implies, this tool lets you download videos from YouTube and other popular video-sharing sites in 4K resolution. Furthermore, it even lets you download videos in 8K!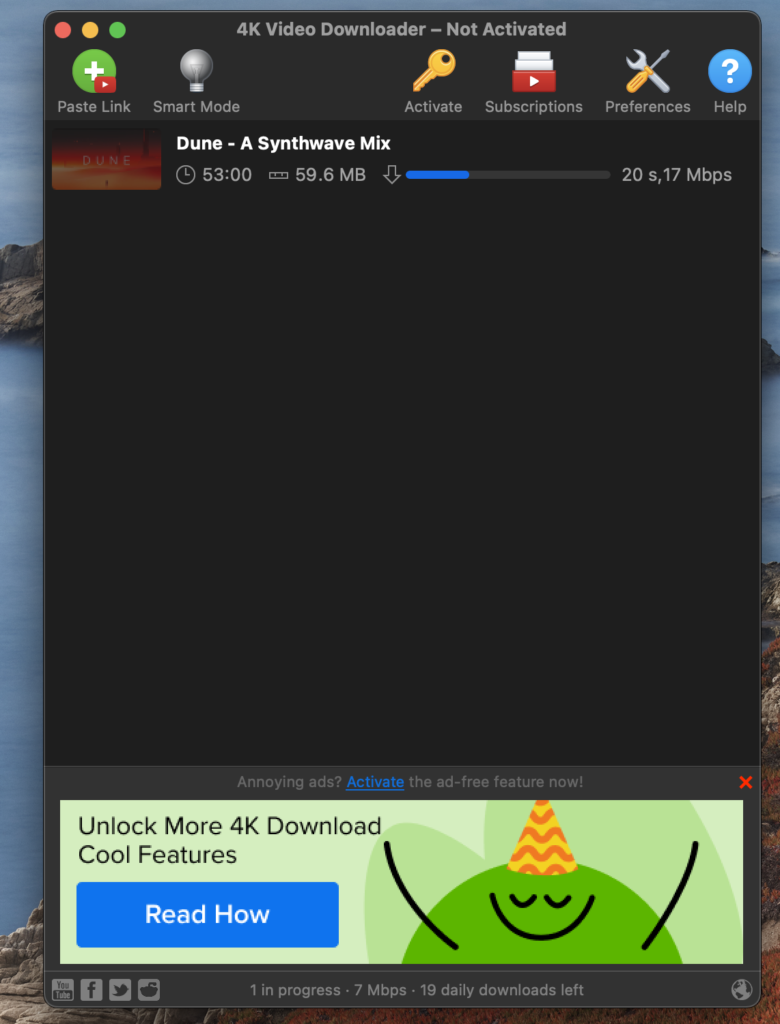 Other features of this app include:
Subtitles download – 4K Video Downloader also lets you download subtitles together with the video you want in a language of your choosing (so long as subtitles in that language are available for the video). With the free version, you can download subtitles only when downloading single videos and not when downloading entire playlists or channels.
Playlist download – Instead of downloading a single video, you can download an entire YouTube playlist by using the playlist URL in the downloader app. Furthermore, 4K Video Downloader even lets you download the content of entire YouTube channels. The playlist limitation with the free version is that you cannot download playlists with more than 10 videos in them.
Smart Mode – This feature lets you set custom settings for future downloads and use them by default the next time you download a video.

Choose format – Before you download a video, you can specify what format you want it to be in, and the video will be downloaded in that format.

Customization – There's a helpful Preferences section of the app that provides a lot of ways to customize your experience with 4K Video Downloader so that it best suits your needs.

Free vs Paid – 4K Video Downloader has a free and a paid version and, as expected, the free version has some limitations. However, many of the advanced features of the full version are also available in the free one. Also, as mentioned earlier, this is likely the free video downloader that has the most generous videos-per-day limit compared to other similar ads – each day, you can download up to 30 videos using the 4K Video Downloader.
There are two paid versions of 4K Video Downloader, and they are offered as one-time purchases – no subscriptions and monthly payments to use the paid versions of 4K Video Downloader! Both of the paid variants come with additional perks, such as the ability to download private YouTube content, import and export of URLs, simultaneous downloads, and no limits on single-video or playlist downloads, but the free version is solid as well.
If you'd like to try either of the paid versions, the first one of them, called Personal, costs $15 – this is not per month, six months, or a year – you just make a single payment and get to keep the app for good. The other paid version, Pro, costs $45. The main difference between the two versions is that Pro provides you with advanced features such as In-app YouTube Subscriptions, YouTube Premium HQ Audio, and Permitted Commercial Use.
iTube HD Video Downloader
iTube HD Video Downloader is another feature-packed video-downloading tool that, according to its creators, works with over 10,000 video-sharing sites, including popular ones like YouTube, Amazon, and Vimeo. Rather than just letting you download videos from YouTube and converting them to the desired format, iTube functions as an app with multiple purposes, video-downloading being only one of them. The interface of the app is split into several tabs, each of them corresponding to one of iTube's core functions.
Download – As the name suggests, the download tab handles your video downloads from YouTube and other video-sharing sites. It's easy to use, has a Download and Convert function (only for Pro users), even gives you the option to add a browser extension to Chrome and Firefox for quicker and easier downloads. There's also a Turbo Mode that increases the speed of your downloads with up to three times, but it's also only available with the Pro version of the program. As with the other apps on this page, iTube, too, provides the option to download entire YouTube playlists – this is yet another feature only available to Pro users. Something else we must note here is that, with the Free (Trial) version of iTube, users are limited to 2 downloads per day.

Record – The record tool lets you record videos of what's happening on your screen. This feature is very easy to use, but is not available with the free version. Note that Mac computers already have a built-in way of creating screen record videos – this is done with the help of the Quick Time Player app that comes preinstalled on macOS and is free to use.

Convert – Like YTD, iTube, too, has a conversion tool that can be used separately from its download function. It gives you all the expected conversion options and settings that you'd expect, but has a ⅓ length limit with the free version.

Transfer – This tool lets you transfer data over a USB cable to iPhone, iPad, iPod Touch, and Android devices with Android 2.2 or later. The main advantage of this tool is that it lets you transfer data to Android devices – transferring data to Apple products doesn't require a third-party app.

Online – This feature may be interesting at first, but it generally functions as a glorified browser that can only let you visit media-sharing sites. You can use the Online tab of iTube to quickly access YouTube, Vimeo, SoundCloud, Vevo, Facebook, and others, without needing to open your browser, but that's about the extent of its functionality.

As you can see, the free version of iTube is highly restrictive, so you may want to either use the 4K Video Downloader instead if you want a free app with better functionality or upgrade to the paid iTube variant. There are three payment options here – the first one costs $24.95 for a one-year subscription. The second one is a lifetime license that costs $34.95 and is, in our opinion, the best of the three plans. The third option is a family license – it, too, is a lifetime license, and it can be used on up to 5 Macs. There's also an option to buy a license for a larger number of Macs, but that option is for commercial use of the app.
Best overall video downloader for Mac
The best overall video downloader for Mac is, in our opinion, the 4K Video Downloader due to its great free version, unintrusive interface, and variety of features. Another reason we consider 4K to be the best overall video downloader for Mac is its one-time purchase policy.
If you are looking for a lightweight video downloader tool with some basic functions that can still let you quickly download videos and playlists from popular video-sharing sites, YTD Video Downloader is a good choice, though not particularly impressive in any specific aspect.
For users who are looking for a more advanced video downloader that doubles as a screen-recording tool and that can be easily integrated into Chrome and Firefox for one-click video downloads, iTube Video Downloader is a great option for Mac users.
For those looking for an all-around video-downloading tool with a satisfying number of extra features, a great free version, and an unintrusive design, you should give a try to 4K Video Downloader, which is currently our favorite video-downloading tool for Mac.
Martina Nikolova
Martina likes to get into nitty-gritty of tomorrow's tech, from product design across to security based solutions. A long time mac user and developer, she has the expertise and strives to give new insight