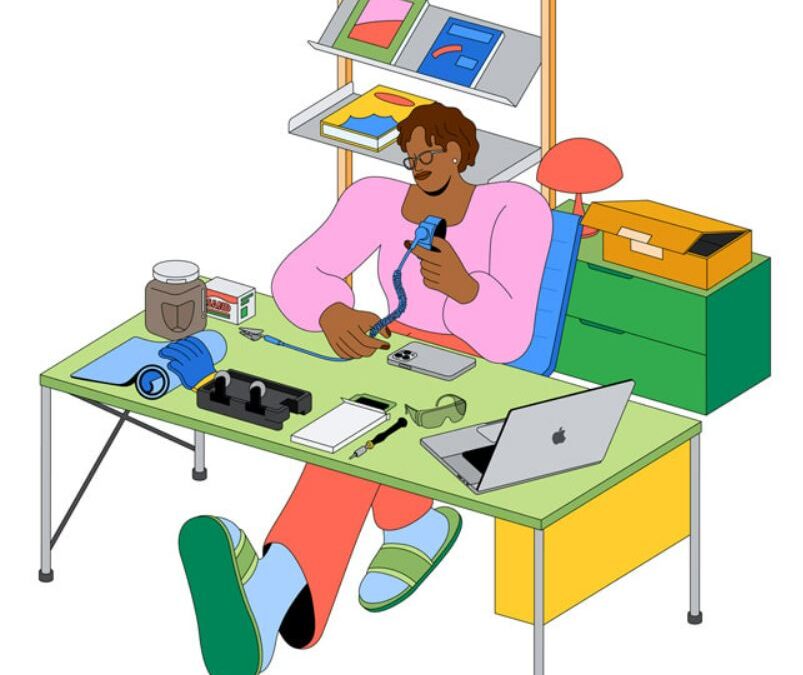 Towards the end of April, a Self Service Repair program was launched by Apple, which is currently available for several of its iPhone models. The service would allow users of the included iPhone models to gain access to self-repair manuals and iPhone schematics, order the necessary replacement parts from Apple, and purchase or rent specialized Apple-designed tools required to perform the repairs.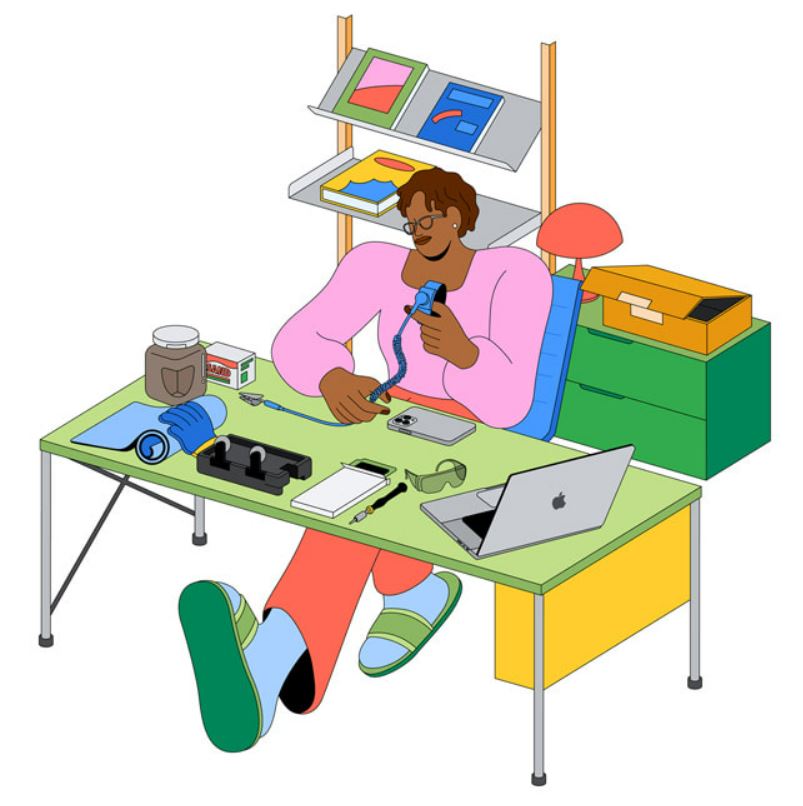 The Apple Self Service Repair Program
Apple's Self Service Repair program is certainly an interesting opportunity for Apple users who do not mind a more hands-on approach to potentially saving some money by personally repairing their damaged devices instead of sending them to get repaired at an Apple Store or a licensed third-party Apple Service Provider. On this page, you can learn all about the specifics of this service and hopefully figure out if it's something that you may be interested in, or if you'd rather take care of any necessary repairs the conventional way.
What can you repair?
First and foremost, we should clarify what devices and which of their components can be repaired via this service.
iPhone models
Currently, only a limited number of iPhone models can be repaired through the Self Service program. Below is a list of the iPhones for which you can order parts and gain access to repair manuals through the Self Service program. Each entry on the list links to the official Apple manual page, where you can learn everything you need to know about the repair process. If you have either of those iPhone models and want to repair it via the self-repair service, the first thing you should do is visit the link provided for it and read through the manual to familiarize yourself with the repair process.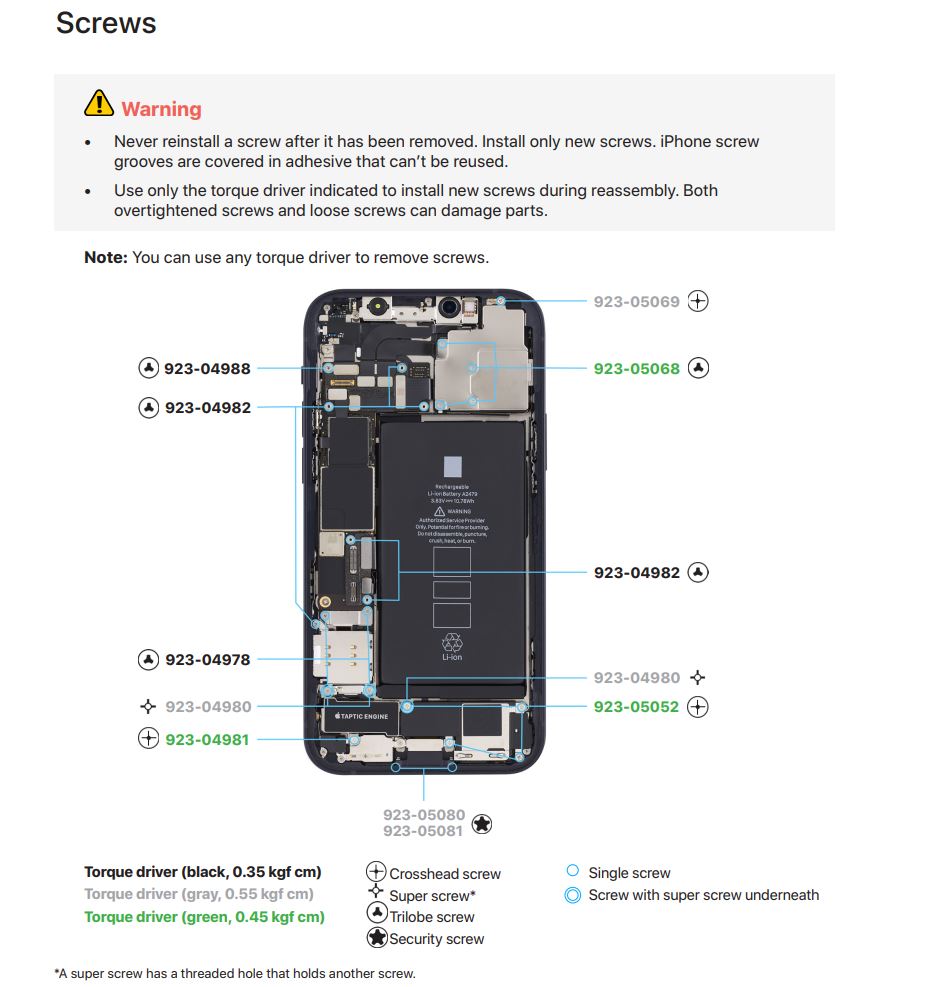 Components
Another limitation of the service is which of the device's components you'd be able to self-repair. Not everything in your iPhone can be repaired using the tools and parts made available with this service. For instance, if the device's chip or drive somehow gets damaged, you won't be able to repair them yourself. Here are the six components that, if damaged, could be repaired (or replaced) via the self-repair program:
Battery
Bottom Speaker
Camera
Display
SIM Tray
Taptic Engine
If there's a broken component in your iPhone that's not featured in the list above, your only option would be to send the device to an Apple Store or to an Apple-authorized Service Provider.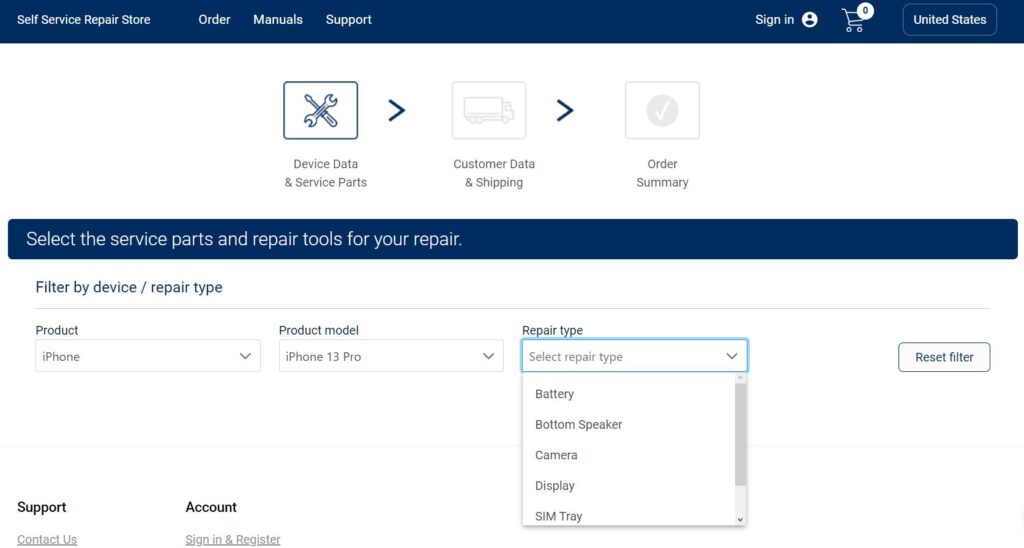 Specialized Tools
Most if not all repairs of iPhone components that could be done through the self-service program require the use of special Apple-designed tools that you can only get from Apple. Those tools are typically quite expensive, so purchasing the ones you need for a single repair would almost certainly not be cost-effective. For this reason, Apple gives its customers the option to rent an entire repair kit that includes all the tools you may need to perform a repair. Renting such a kit costs $49 and the renting period is one week, after which the kit must be returned. In addition to the renting price, the user would also need to provide a $1200 deposit as a form of insurance that the kit would be returned undamaged, on time, and without missing any of the included tools. If any of the tools are damaged or missing, the user would be charged accordingly.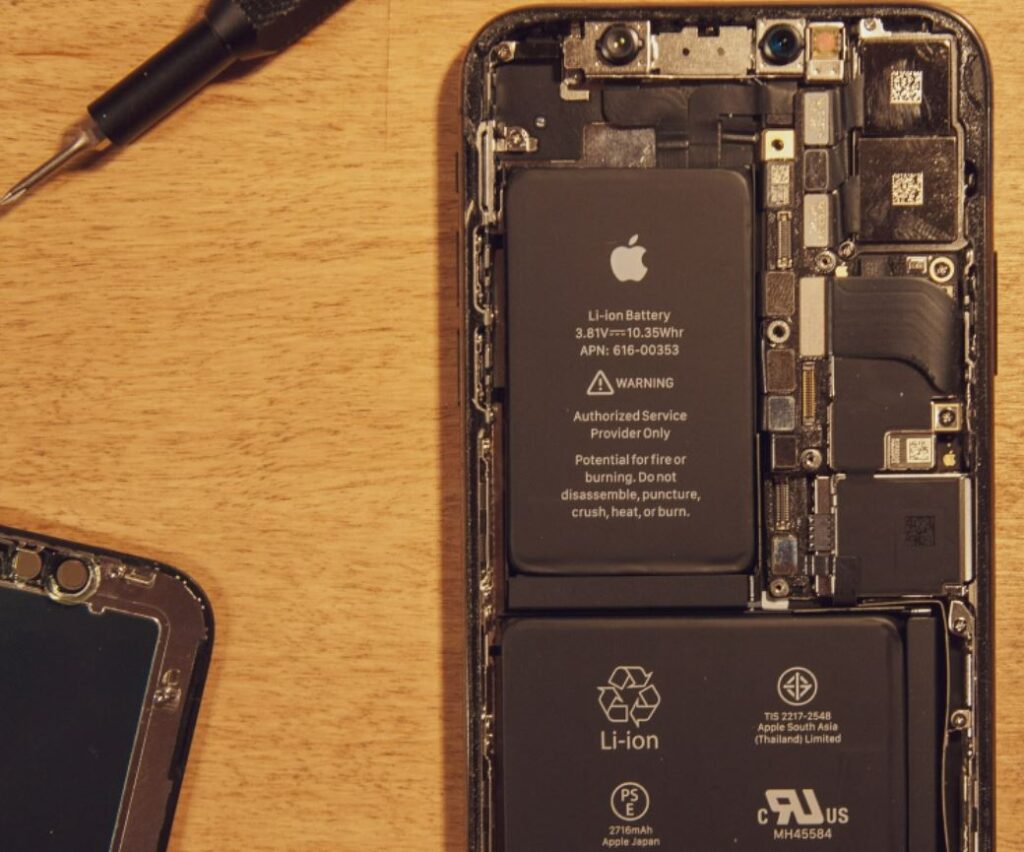 For the majority of instances, the rented repair kit would include all tools necessary to perform any type of iPhone repair. The rare cases where a certain needed tool isn't available in the kit are when that tool is something common that you likely have at home or that you can easily get at a hardware store. One thing to note here is that there's a specific kit with specific tools for each of the aforementioned iPhone models, which is something to keep in mind when renting a repair kit.
An important note that must be made here is that the repair kit itself is quite large and heavy. It comes in two parts – one that weighs 43 pounds and one weighing 36 pounds. The entire kit weighs 79 pounds and has a height of 47 inches and a width of 20 inches. In other words, those kits are rather unwieldy, so be prepared to do some heavy lifting to get everything in place before you could start working on the repair.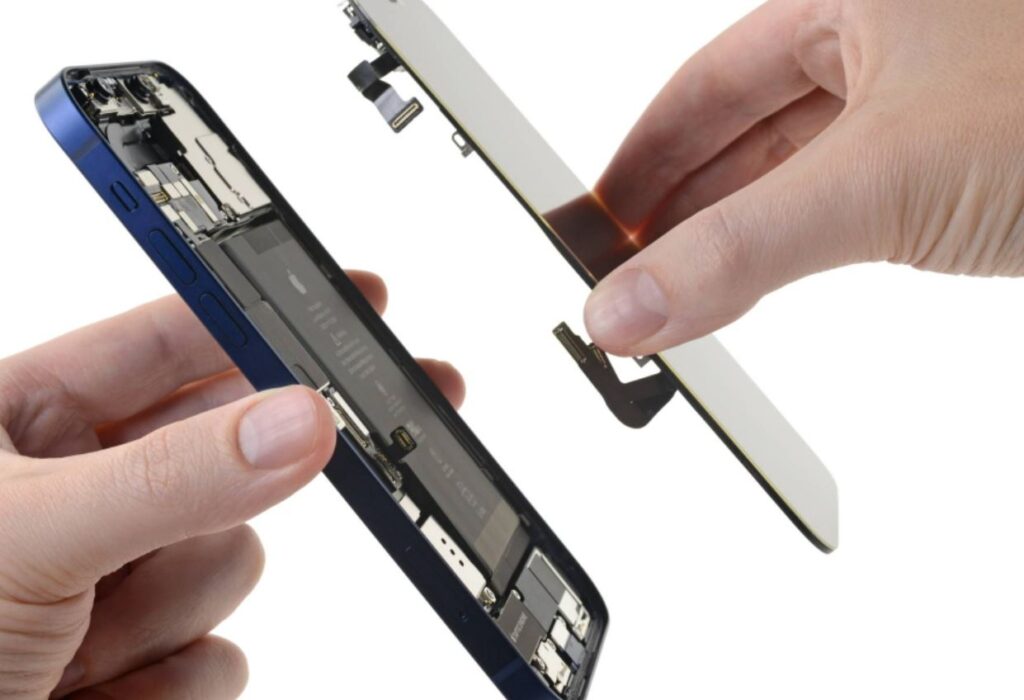 Is the Self Service program really cost-efficient?
The answer to this question would depend on many variables, but the truth is that there would likely be many instances where going for this type of repair won't really be worth it. Again, it really depends on what you are seeking to repair and also how much free time you have on your hands.
For instance, if you want to replace your iPhone's battery, it would cost you $69 to get it replaced at an Apple Store (if the device is out of warranty), and around $100 to replace it yourself through the self-repair service, so it's actually cheaper to have the replacement done for you rather than to do it yourself. The situation is similar with a display repair – even if your iPhone doesn't have a warranty any longer, it would still cost you $279 to get its display replaced, which is about the same amount of money it would cost you to repair it through the Self Service program. Additionally, you'd need to spend quite a bit of time reading through the manuals and making sure that everything is done correctly, and even then the risk of getting something wrong is significantly higher compared to sending your phone to a certified technician at an Apple Store.
There are, of course, many instances when it would be cheaper to repair the device by yourself rather than send it to an Apple Store, which is why it is important to weigh the two variants against one another and choose the one that's best for you. Obviously, if you have enough time on your hands and are confident that you can perform the repair yourself, and your calculations show that using the Self Service program would be cheaper, it would make sense to go for it. Just make sure that you are well acquainted with the pros and cons of both options before you decide what to do.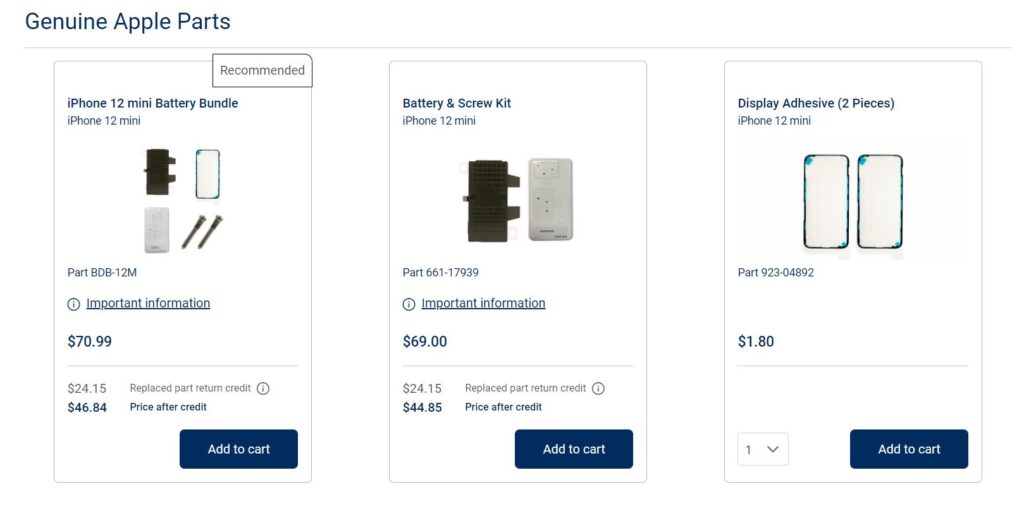 Requirements
There are several requirements that need to be met if you are to purchase any iPhone parts and repair tools (or rent such tools).
Since all repair purchases are linked to a specific iPhone model, you must already own that model to place an order for that specific purchase. When placing an order, the repair store will require you to fill in the serial number of your iPhone or its IMEI. In other words, if you do not own a specific iPhone model, you cannot purchase repair parts for it or rent its repair kit.
Additionally, for many of the repairs, the user must contact Apple to verify the part they've replaced in their iPhone.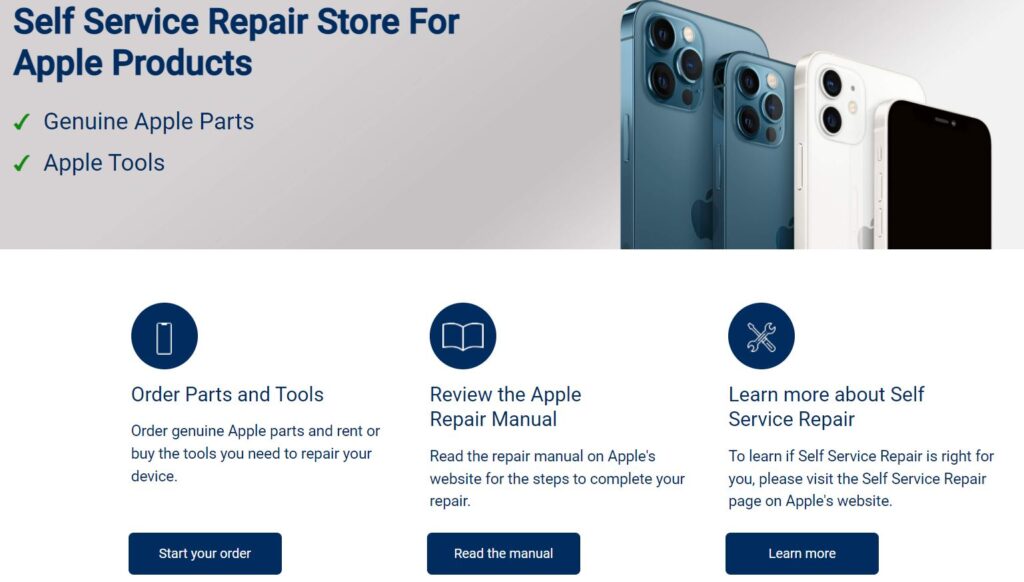 How to initiate a repair
As was mentioned, the first step before you even attempt to order any parts and tools and begin a repair is to have a careful look at the repair manual for your specific iPhone model.
The next step is to go to the Self Service Repair Store, specify the model of your device, and the part that you need to repair, and then add to your cart the parts and tools that you will need for the repair.
Note: The repair store isn't operated by Apple. Instead, it's outsourced to SPOT – a third-party company.
Once you've added everything you will need to the cart, purchase (or rent) the items by providing the device's serial number or IMEI, and they will be sent to you. Once they arrive, perform the necessary repairs with the help of the manual, and finally return any rented tools to the store.
Service availability and plans for the future
This service is only available in the US but is said to expand to other countries, including the EU, before the end of 2022.
Regarding the future development of the service, Apple has stated that there are plans to add more devices to it, including M1 Mac computers.
Martina Nikolova
Martina likes to get into nitty-gritty of tomorrow's tech, from product design across to security based solutions. A long time mac user and developer, she has the expertise and strives to give new insight