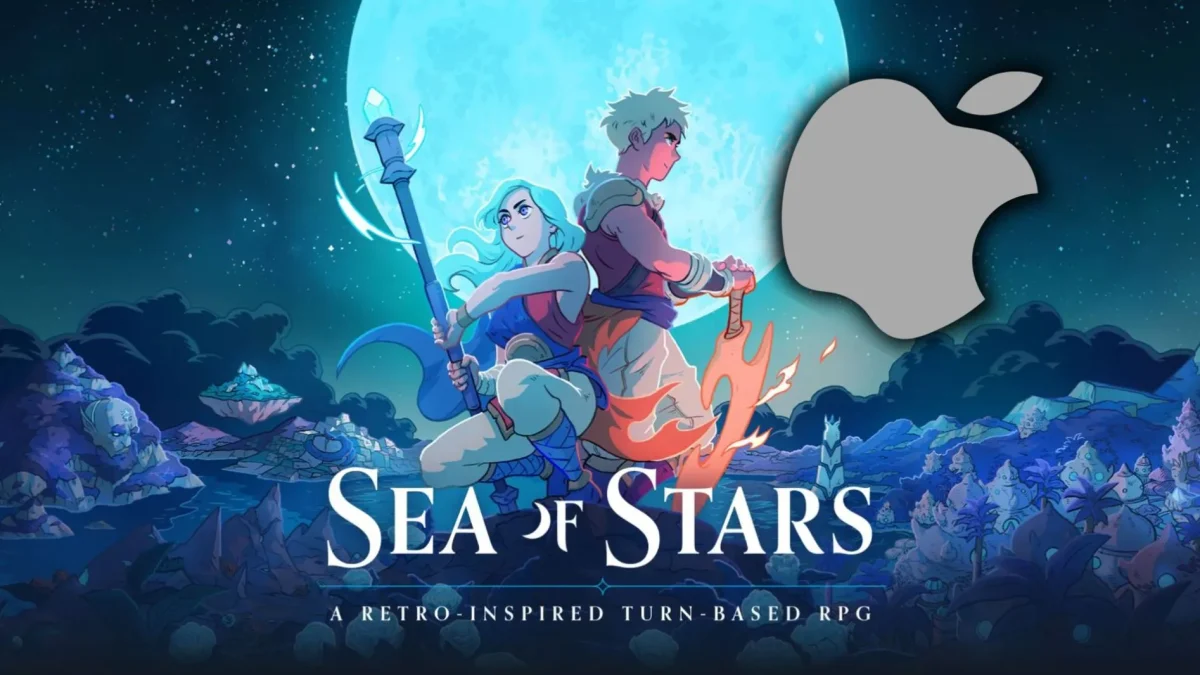 Sea of Stars (Mac)
Martina Nikolova, 4 weeks ago
0
9 min

read
Is Sea of Stars on Mac?
Sea of Stars is not on Mac, but if you are eager to dive into this newly-released pixel graphics RPG adventure, we are here to show you multiple ways you can do that. On this page, we'll cover methods, such as cloud gaming or using a Windows virtual machine, both of which will allow you to play Sea of Stars on Mac. We'll even show how to install Windows in a separate part of your hard drive as another way of running the game on your Mac. So, if you really want to play this game on your Apple machine, keep on reading to learn more about the different ways to do that.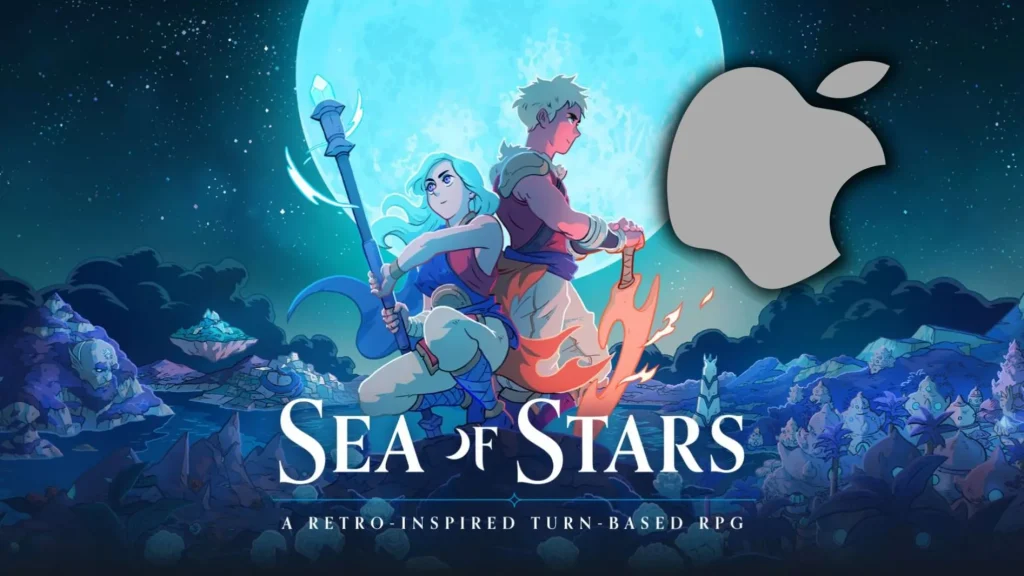 Sea of Stars on macOS
Since there isn't a native version of Sea of Stars on macOS, you'll need to get creative in order to play it on your Apple computer. The first option we can suggest is to use the Xbox Cloud Gaming or GeForce Now services – online platforms that allow you to stream the game without needing to have it installed on your Mac. Another way to enjoy Sea of Stars on macOS is through Parallels Desktop – an app which creates a Windows virtual machine on your Mac and lets you run Windows software in it. Finally, the Boot Camp method is another well-known option for getting Windows installed on an Intel Mac in order to be able to run games that aren't available for Mac.
Can you play Sea of Stars on Mac M1?
The Xbox Cloud, GeForce Now, and Parallels methods will allow you to play Sea of Stars on Mac M1 and M2 models. The cloud variant will generally work on any Mac, as it has very low system requirements and is used directly through the browser. Parallels requires a Mac with decent hardware, but all Apple Silicon models fit that description, so it shouldn't be a problem. Of the three methods mentioned here, the only one that won't let you play Sea of Stars on Mac M1 is the Boot Camp option as it's only available for older Mac models that have Intel chips.
Can you download Sea of Stars on MacBook?
You can download Sea of Stars on MacBook computers in two ways. The first and more universal one is the aforementioned Parallels Desktop option. Once you create a Windows virtual machine with its help, you can access the VM and download the game there. The second option to download Sea of Stars on MacBook is with the help of Boot Camp. With this tool, you can partition your hard drive, install Windows 10 in one of the partitions, and then download and install the game there. However, as was already pointed out, this method is not available for Apple Silicon machines, leaving Parallels as the only workaround for downloading the game. And as for XCloud and GeForce Now, these methods simply remove the need to download anything, and the game is played directly through the browser.
How to play Sea of Stars on Mac
Now it is time to show you our tutorials on how to play Sea of Stars on Mac. We will start with the Xbox Cloud and GeForce Now methods, as they are the most universal ones, and have the quickest and easiest set-ups, which is why we recommend them. You can use them on any Mac as long as the Internet you are using is stable and has a decent speed. Then, we'll move on to Parallels Desktop and show you the process of creating a Windows virtual machine in which the game can be installed. Finally, we'll also explain how to play Sea of Stars on Mac by using the Boot Camp Assistant tool.
If you choose to play the game with Xbox Cloud Gaming, you won't need to purchase it separately, as it will be included in the Game Pass Ultimate Plan, for which you need to be subscribed to have access to the cloud platform. For each of the other three options, you will need to own the game separately:
Play Sea of Stars with Xbox Cloud Gaming
Step 1: Subscribe to the Game Pass
To play Sea of Stars in this manner, you'll first need to subscribe to the Xbox Game Pass Ultimate plan. Click the button below, then click the Join button, and sign in with your Microsoft account (if you aren't registered yet, you'll be given the opportunity to create an account). Click Join once more, follow the on-screen instructions, select your payment preference, and enter your details to activate the subscription.
Step 2: Play Sea of Stars with Xbox Cloud Gaming
Subsequently, to experience the game via the Xbox Cloud Gaming platform, navigate to the Xbox website, click the Game Pass section, tap on Xbox Cloud Gaming, and choose Play Now. Search for Sea of Stars, click on it when listed, and then select Play with Cloud Gaming.
Note 1: The XCloud platform is most compatible with Microsoft Edge and Google Chrome browsers. Thus, we advise downloading them onto your Mac and accessing the platform through them.
Note 2: Gaming on XCloud mandates a controller. If you're without one, add this extension to your Edge/Chrome browser, activate it, and once the game launches, tap the middle of your screen to employ it.
Step 3 (alternative to Step 2): Download Sea of Stars from the Xbox Game Pass
Another method to enjoy Sea of Stars via Xbox Game Pass is to get its PC version from the Xbox client. But to be able to do that, you'll first need to set up Windows on your Mac with the help of Parallels or Boot Camp (check out the guides below).
After you've installed Windows, enter the Parallels VM or the Boot Camp Windows partition, revisit the Xbox website, head to the game's section, and tap Install To. This allows you to download and set up Sea of Stars on Windows and indulge in the gameplay.
Play Sea of Stars with GeForce Now
Similarly to Xbox Cloud, GeForce Now allows Sea of Stars to be streamed to your Mac, removing the need to have the game downloaded locally. The difference here is that, as mentioned, you'll need to first have purchased the game to play it through this service. If you already own Sea of Stars, here's our guide on how to stream it using GeForce Now:
Play Sea of Stars with Parallels
Now, if you want to play Sea of Stars locally, Parallels is a great way to download and install it on your Mac. Instructions on how to set up your Parallels Virtual Machine can be found in this tutorial:
Play Sea of Stars with Boot Camp Assistant
Lastly, we want to show you how to play Sea of Stars on your Mac after partitioning its hard drive, installing Windows on one of the partitions, and then installing the game in that partition. The process is a bit lengthy, so be sure to carefully follow the steps provided in the following guide:
Sea of Stars Review by a Mac User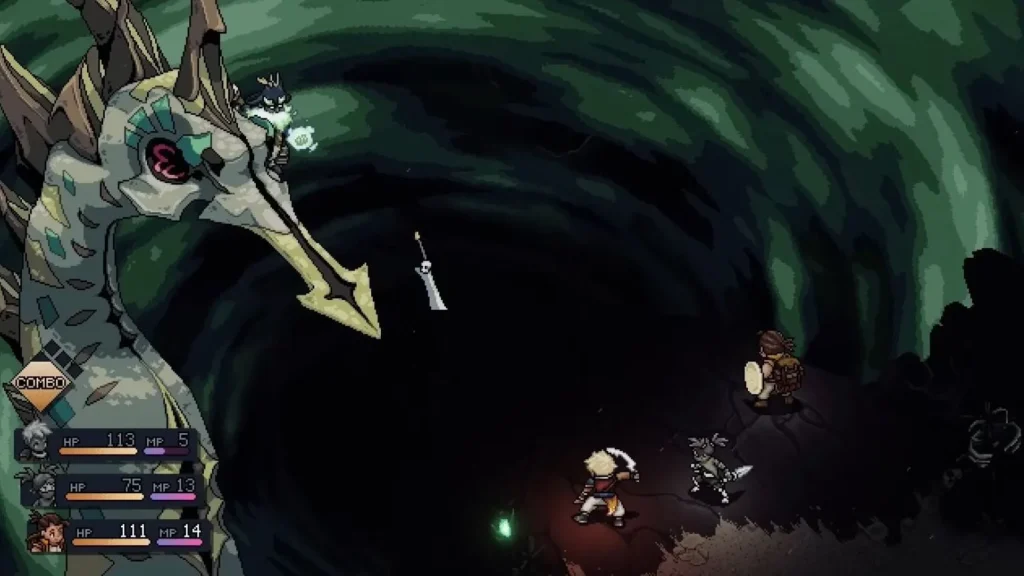 While the RPG landscape is littered with titles attempting to recapture the magic of yesteryears, Sea of Stars positions itself as an earnest homage to the genre's classics without mimicking them. The Chrono Trigger influence is undeniable—from the real-time battles to the combo techniques, and the iconic Yasunori Mitsuda's musical touch. Yet, the game boasts a unique identity that distinguishes it from countless other retro-inspired RPGs.
The game's animation quality is immediately arresting. Vibrant worlds sway and dance, bringing to life even the most mundane moments. The central characters, with their intricate animations, venture through their environments effortlessly—a departure from their pixelated predecessors. Navigating through this world is an immersive experience, thanks to versatile character movements that seamlessly blend with the environment.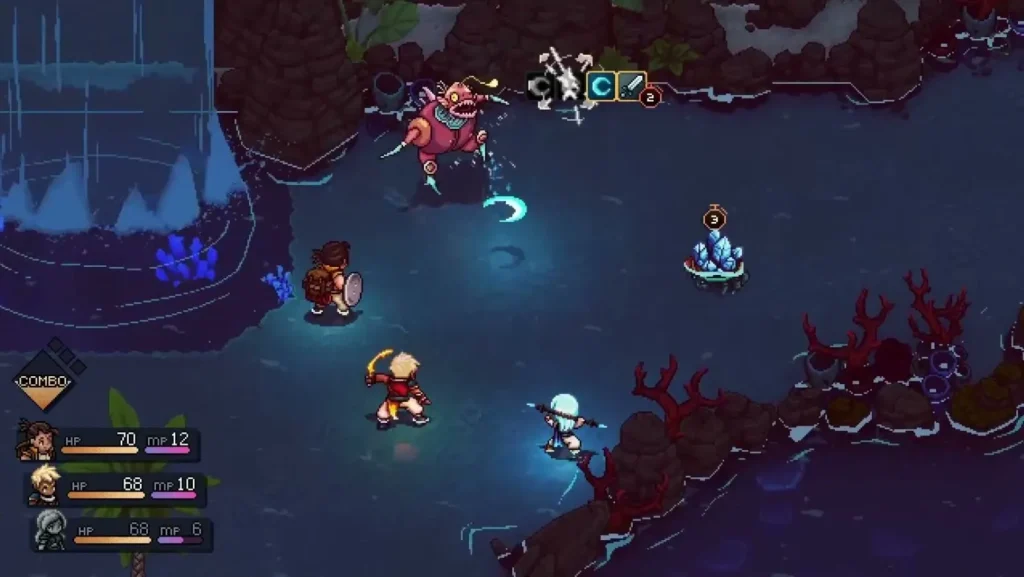 Combat, a core feature of any RPG, is both familiar and innovative in Sea of Stars. Battles are strategically layered, employing a unique turn-taking mechanic that allows players to interrupt or weaken potent attacks, contingent upon executing the right sequence of moves. This dynamic playstyle keeps players on their toes, ensuring that victory is as much about tactics as it is about stats. Player immersion is deepened with quick-tap enhancements for various abilities, ensuring that even in the heat of battle, players are always engaged.
However, the game is not without its hitches. While the character placement on the battlefield brings a strategic edge, it occasionally obstructs some timing-dependent animations. Moreover, while the visually captivating bosses offer awe, the repetitiveness in their battle patterns can be more tedious than thrilling.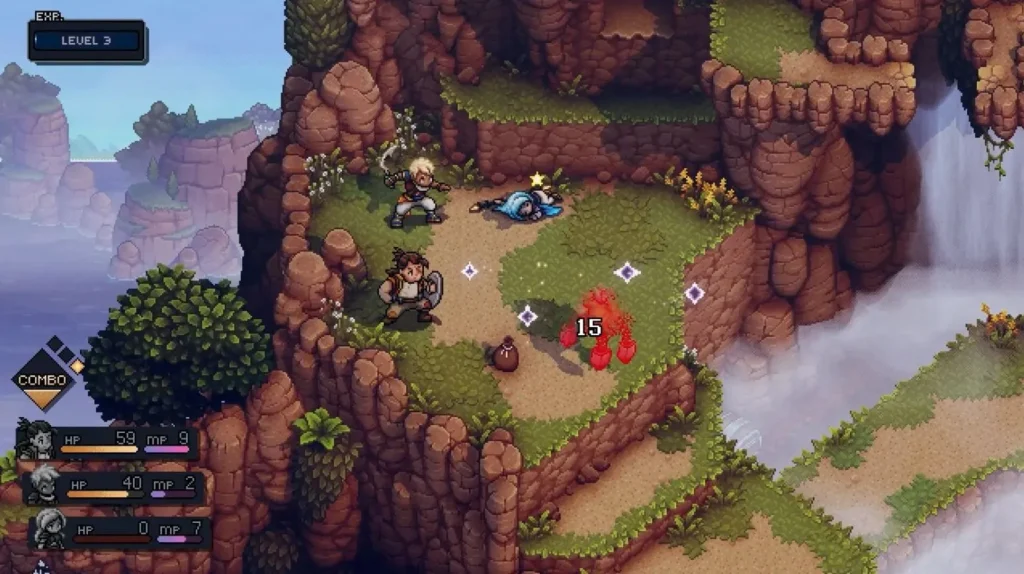 One of the game's standout features is its adjustable difficulty setting. Optional relics offer unique tweaks, such as damage reduction or double attacks, allowing players to customize their experience. While these are appreciable, the lack of any substantial disadvantage to using them dilutes the strategic value they could offer.
Narratively, Sea of Stars offers a mixed bag. While the characters are visually rich, they sometimes fall back on the one-dimensional dialogues reminiscent of old RPGs. The predictability of the storyline—villages in distress, labyrinthine dungeons, and vibrant-haired heroes—could leave seasoned players yearning for more. Nevertheless, the game's genuine narrative voice, devoid of sarcasm or irony, ensures that the storyline remains engaging.
The game judiciously uses meta-humor, which, in many indie games, tends to overwhelm the plot. Here, it is subtle, never threatening to overshadow the main story. Sea of Stars refrains from the pitfall of using its retro aesthetics as a device for parody or sarcasm, instead offering a genuine RPG experience that is both familiar and fresh.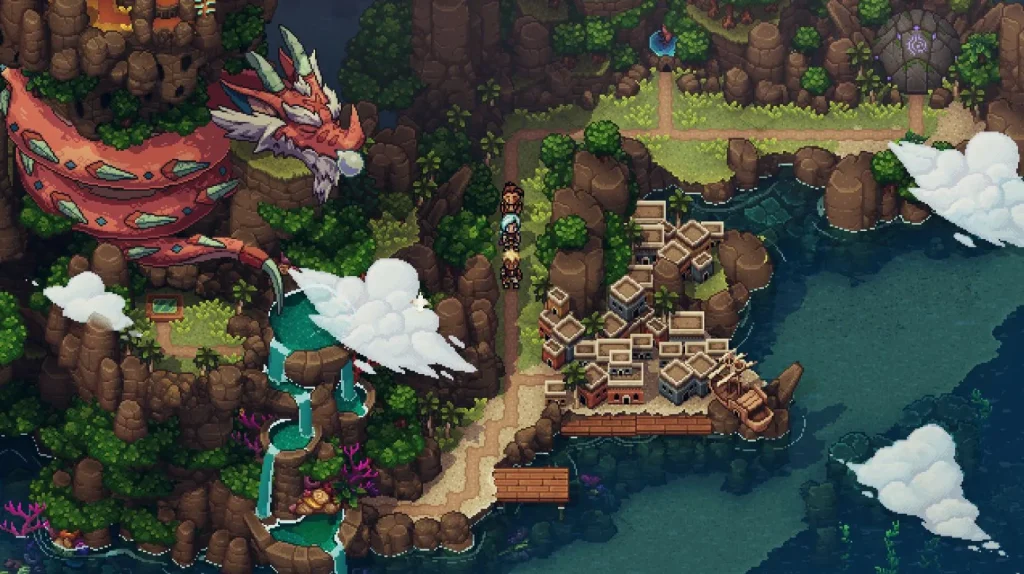 In conclusion, Sea of Stars stands as a testament to what modern indie RPGs can achieve when they approach the classics with reverence and innovation. Its vibrant animation, intricate combat system, and genuine narrative voice make it an engaging journey, even if it occasionally stumbles over its own ambition. While it may not eclipse the iconic titles it draws from, it crafts a niche of its own in the vast RPG universe, making it a must-play for both aficionados and newcomers to the genre.
Martina Nikolova
Martina likes to get into nitty-gritty of tomorrow's tech, from product design across to security based solutions. A long time mac user and developer, she has the expertise and strives to give new insight