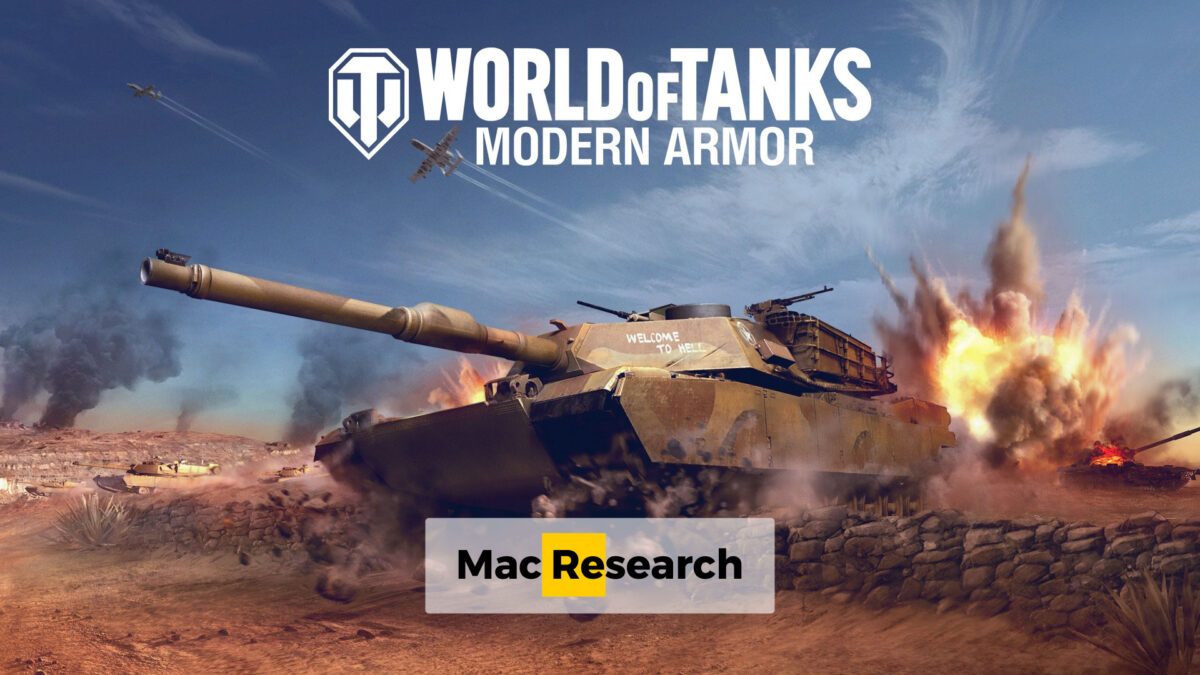 About World Of Tanks On Mac
World of Tanks is a free-to-play online historical (mid-20th century) armored tank battle game developed by Wargaming. A team's primary objective is to eliminate the opposing force or to seize control spots on the map. Even though World of Tanks is a free-to-play game, it contains an online store that sells premium stuff and offers incentives for players to purchase premium time.
Strategic planning relies heavily on communication between the team members, so the risk of unmoderated language is considerable. Despite the game's violence, no blood or gore is depicted, instead, immobilized, igniting, and exploding tanks serve as visual cues. Players can battle in an arena with their friends or random strangers.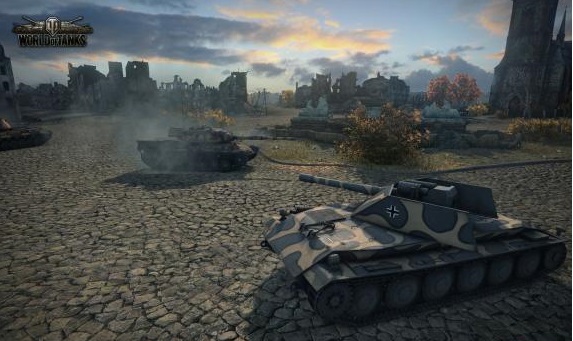 Gameplay
World of Tanks is an online multiplayer competitive strategy game where players control mechanized tanks in a team-based armored-warfare battle arena. Light, Medium, and Heavy Tanks, as well as Tank Destroyers and SPGs (Self-Propelled Guns), are all at the disposal of the players as they navigate the conflict zone, shooting at enemy vehicles.
Up to 15-vs-15 battles are fought in which the goal is to destroy the other team's tanks or to capture and keep control locations on the battlefield so that players can take the victory. Large explosions, smoke, and flames are common during battles, as is the destruction of tanks and other structures. Battles net you points, experience, and gold, which can be spent to improve your tank, unlock new tanks, and develop your commanders.
The game's specifications
World of Tanks is available for Microsoft Windows, the Xbox 360, and the Xbox One platforms. A software solution developed by CodeWeavers and supported by Wargaming is available to those who want to join the army of World of Tanks players on Mac OS X.
The mid-20th century armored vehicles of this mechanized-combat game are placed in an action-packed environment that keeps players on their toes. The tanks are recreated historically correctly, and the battles are typically kept within 30 minutes. However, learning the more complicated commands requires a great deal of practice. As a team, players can use various tactics, such as ambushes, clever flank attacks, and head-on clashes, to deliver a fatal blow to their opponents.
To put it simply, the game delivers an immersion into the history of tanks and their places of origin. The United States, Japan, Russia, China, Germany, and the United Kingdom all have armored vehicles in World of Tanks. As with all Wargaming titles, this is a fun game for military fans of all ages. Parents should be aware of the unmoderated language that may be used during games when teaching their children how to play.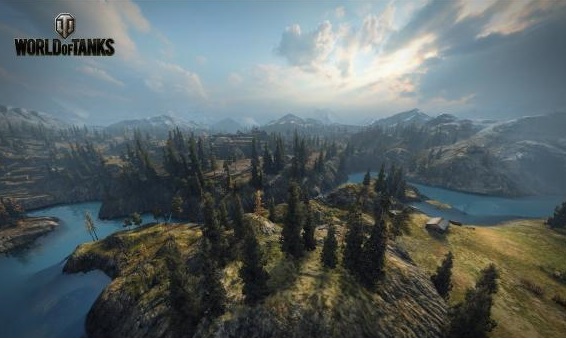 Aside from its entertainment value, playing World of Tanks is a wonderful experience because of its amazing visuals, acceptable gameplay sessions, and intriguing gameplay that can be enjoyed by a solo player or with family and friends for long periods of time. World of Tanks can help families talk about working together and communicating effectively in order to synchronize actions and achieve a common goal.
Is it worth it?
The battle arena game is historically-based and develops skills like applying information, making decisions, logical conclusions, prediction, and problem-solving, as well as reasoning skills. Combining knowledge and creating unique solutions are the hallmarks of creativity that players can put into use in this game.
The abilities to direct one's actions towards specific targets, identify strengths and weaknesses, set targets, manage time, and work efficiently to accomplish one's goals are also developed in the game. The game also offers a ground for friendship building, asking questions, listening, teamwork, and sharing strategies and ideas.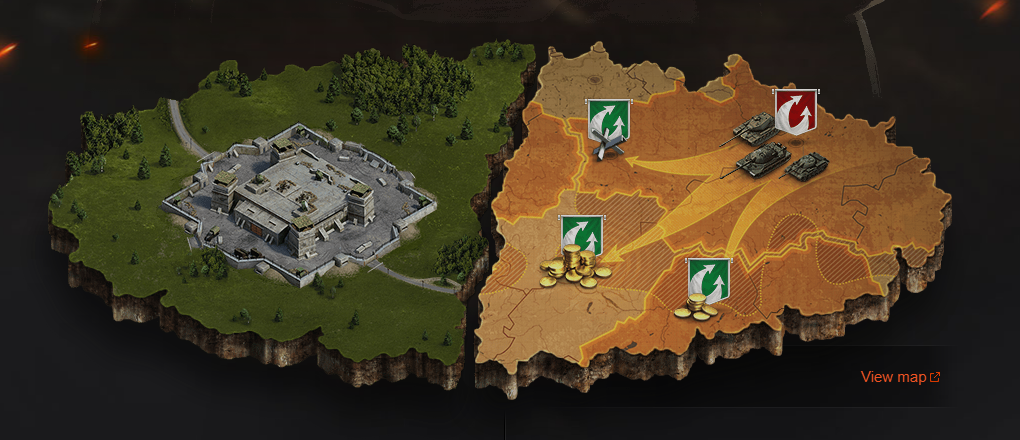 World of Tanks also promotes taking responsibility for one's actions, making sound judgments, and showing consideration for others.
The game embraces a fee-based pricing model and can be downloaded and played for free. For a cost of $8 to $46 a month, however, players can gain 50% more experience and gold in the game. Optional disc purchases are available (the price varies) for consoles.
Available to play since April 12th, 2011, this Multiplayer Online Game (MMOG) has mild violence and is assigned a T (Teen) rating by the ESRB.
Presently, the community of World of Tanks players consists of more than 160 million people. The players can choose from multiple game modes. If you are a fresher, you can choose to play solo or with a group, compete for dominance and move up the leaderboards, or form a clan and prepare for war on the Global Map.
Tank battles are brought to life with high-quality visuals and sound effects. Players can learn where the greatest places are to place their tanks by looking at maps and developing a winning 15v15 battle strategy by considering the roles of the opposing vehicles.
Players who want to engage in their first battles can benefit from the guides in the game's website that provide helpful information and learn more about their team's abilities, view the list of attainable achievements, or learn about premium accounts.
Once you join the game, over 600 mid-20th century tanks are at your command in World of Tanks. When you dive into the realistic battlefield, you can take on players all around the world with some of the most powerful military machines of the era. There is a choice of a wide range of vehicles at your command: from iconic war machines like Shermans, T-34s, and Churchills to ones that never made it to the manufacturing line. Armory combat can be learned and honed across a wide variety of settings in World of Tanks that bring historic locales from around the world to life. Over 160 million people around the world are already dedicated to the game. Bring It On!
How to play World of Tanks on Mac
To play World of Tanks on Mac, simply download the game from its official site and install it on your Mac. Two alternative ways you can play World of Tanks on Mac is using the Boosteroid or GeForce Now cloud-gaming service.
World of Tanks has an official macOS version, meaning that Mac users can run it natively on their computer without the need for resorting to elaborate and time-consuming workaround methods. Additionally, the game isn't particularly demanding (see system requirements below), so even if you own an older Mac that doesn't have the most powerful hardware, you should still be able to run World of Tanks on it.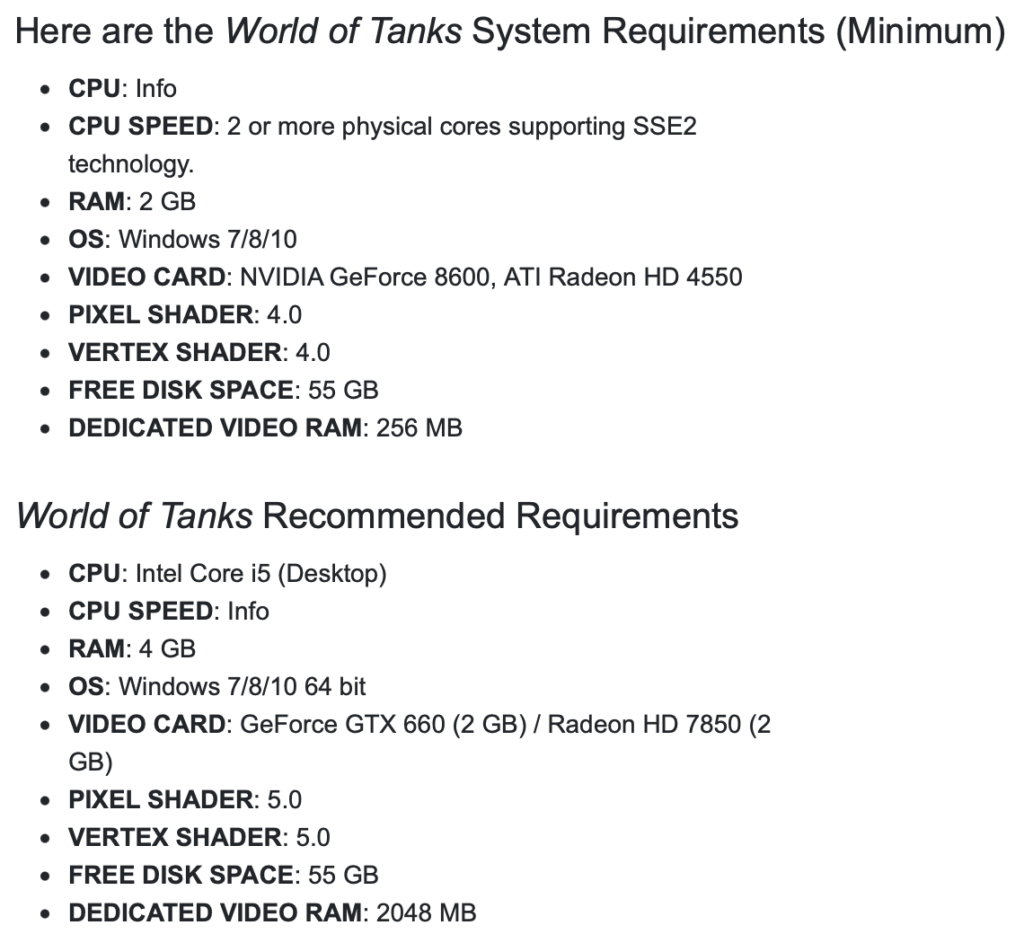 If you don't have sufficient space on your Mac or simply want to keep its storage free for more necessary data, it's also possible to play World of Tanks using cloud technology, without even needing to install the game. Nowadays, cloud-gaming services are very popular among Mac users as they allow for quick and easy access to many games, including ones that cannot natively be played on a Mac. In addition to showing you how to install World of Tanks on your Mac, we will also provide you with instructions on how to play the game through two such cloud-gaming services, namely Boosteroid and GeForce Now.
World of Tanks Set Up Methods
Methods
Advantage
Disadvantage
Cloud Gaming
– No set-up required – Register and Play
– Access to a Library of over 70 top-rated free Games
– Smooth performance even on old Macs
– Monthly Fee
– Requires Decent Internet Connection

BootCamp
– Free to use any time
– Windows 10 Environment

– Painful Setup
– Mediocre Performance
– Only Compatible with Intel Macs

Parallels Virtual Machine
– Easy Set-up
– Adequate Performance
– Play almost any PC game
– Windows 11 environment
– Compatible with M1 and Intel Macs
– 14-day free trial
– Yearly Fee
Native Version
– No Compatibility issues
– Optimized for Mac
– Slow Performance on old Macs
World of Tanks with Cloud Gaming
World of Tanks is now available to play on cloud gaming servers. This assures NO
compatibility issues while playing on your Mac as well as top-notch performance.
Step 1. Register for World of Tanks
You can go straight ahead and . You can register at Wargaming.net. If you feel the game graphics are under-performing, you can proceed to step two where you can upload the game to the cloud gaming library for better performance.
Step 2. Play World of Tanks on Boosteroid
All you need to do now is register for Boosteroid. This allows you to add World of Tanks to their Cloud Gaming Library. Once signed in you can seamlessly play the game from your Mac or any other device.

When Registered you will have additional access to more than 70 top-rated games for free. Pricing varies depending on the subscription plan.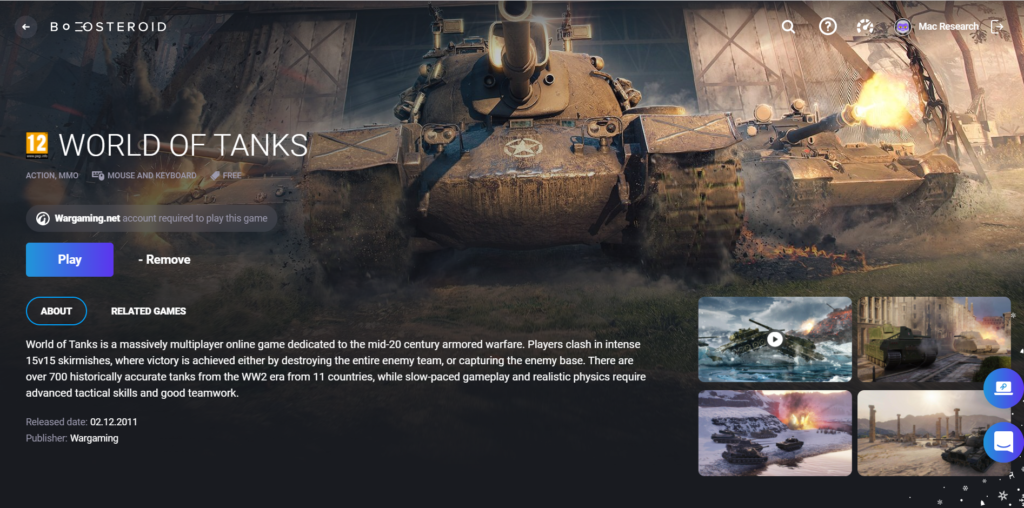 How to install World of Tanks on Mac
This is the intended way of playing the game – you simply download its .dmg installation file, perform the installation, and then start the game.
Here are the specific instructions:
You first go to the World of Tanks website, click on Game, then click on Create an Account, and fill in the details to create a new account. Alternatively, you can pick from one of the several sign in options.

After you create a World of Tanks account, log in to it, go to this page and click on Download Game.

Download the .dmg file on your Mac.

Install the Wargaming.net Game Client by dragging its icon onto the Applications folder icon in the window that shows up.

Once the installation is performed, go to the Applications folder, start the Wargaming.net Game Client from there and log in to your account. If you are required to give your confirmation that you want to run the program before it opens, select Open.

After that, select All Games from the top, then click on World of Tanks, and select Accept and Install.

Let the installation complete and after that you will be able to start the game from your Applications folder as well as from the Wargaming.net Game Client.

How to play World of Tanks Cloud Gaming
Boosteroid lets you play a wide variety of games directly from your Safari or Chrome browser, without the need to install the games on your Mac. In addition to saving space on your Mac, another huge advantage of this, and other similar services, is that they can enable Mac users to play games that are normally unavailable for macOS. In the case of World of Tanks, the game does have a Mac version, but you could still play it through Boosteroid. If you want to play World of Tanks but also want to play other games that aren't supported for macOS, using Boosteroid could be a great way of gaining access to all the games you want without needing to install anything on your Mac. Here is how you can quickly set up your Boosteroid account and start using the service for gaming on Mac.
First, you will need a World of Tanks account, so create one on the World of Tanks website.
After you already have an account, go to the Boosteroid site and register there as well.

Log in to your Boosteroid account, click the search button at the top, and search for World of Tanks.

Select the game once you find it and then click on Play.

You will now be told that you need to have a paid subscription to Boosteroid in order to use the service – click on Subscribe.

Next, choose a payment plan, pick a method of payment, provide the required details, and pay for the selected plan.
After that, Boosteroid will tell you that you must connect to your World of Tanks account – select OK, let's go, and wait for Boosteroid to load the game.

Next, enter your World of Tanks username and password and log in – the game should now start, and you can begin playing.

Play World of Tanks GeForce Now
GeForce Now is a service similar to Boosteroid, which lets players use cloud technology to play games that aren't installed on their machines. The two noteworthy differences between the two cloud-gaming services are that GeForce now offers a free version, with certain limitations, and that GeForce Now requires you to install a client app in order to use the service, and it doesn't work directly from the browser. Other than that, the difference between it and Boosteroid isn't significant, and choosing which service to use would normally boil down to what games are available in the library of either one. In the case of World of Tanks, the game is present in both service's libraries. Here are some quick instructions on setting up and using GeForce Now:
Register on the World of Tanks site.
Register on the GeForce Now site and download and install the GeForce Now client.
Start the client app and log in with your GeForce account.
Find World of Tanks in GeForce Now, start it, log in with your World of Tanks account in the game, and start playing.
If you prefer to read more detailed instructions on how to set up and use GeForce Now, you will find them on this page.
World of Tanks on Mac M1
World of Tanks can easily be played on Mac M1 – all the user needs to do is download and install the game from the World of Tanks official site. Alternatively, World of Tanks can also be played on Mac M1 through Boosteroid and GeForce Now.
The only time when there's any significant difference between the methods used to play games on Intel and M1 Macs is when we are talking about games that aren't officially available for macOS. However, since World of Tanks has a macOS version, the way to play it on a Mac computer is always the same regardless of whether it's an Intel-based Mac or an M1 model. The same applies to the cloud-gaming solutions – the cloud-gaming instructions shown on this page apply to both M1 and Intel Macs.
Martina Nikolova
Martina likes to get into nitty-gritty of tomorrow's tech, from product design across to security based solutions. A long time mac user and developer, she has the expertise and strives to give new insight