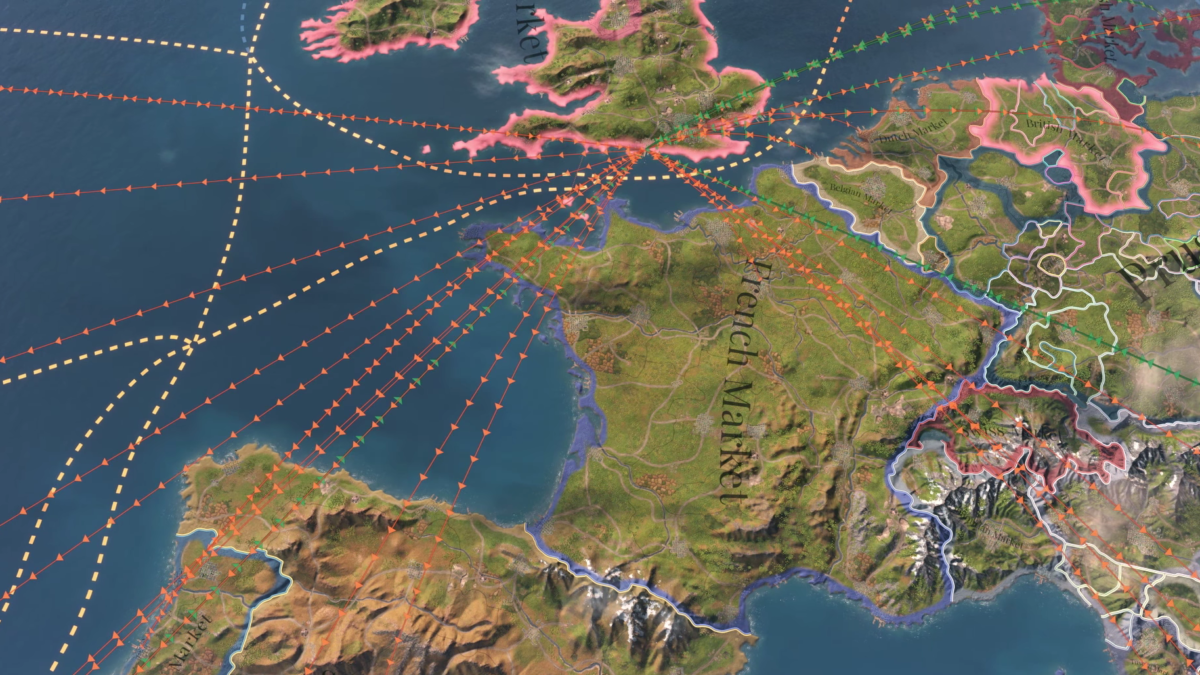 Victoria 3 (Mac)
Martina Nikolova, 11 months ago
0
8 min

read
Methods
Who is it for?
Cloud Gaming
For those who want smooth performance with the ability to casually play all games with the highest visual quality in minutes. Works on most devices, including phones.
Native version
For those who want to download and play the game locally to get a native experience.

Victoria 3 on Mac
Victoria 3 is a historical grand strategy game that came out in 2022 as the follow-up to 2010's Victoria II.
The gameplay does not follow a specific story and revolves around diplomacy and social development. Players take leadership of one of the more than 100 different nations that existed between 1836 and 1936 and focus on developing large groups of people (called "pops") with shared ideologies and interests into a thriving society.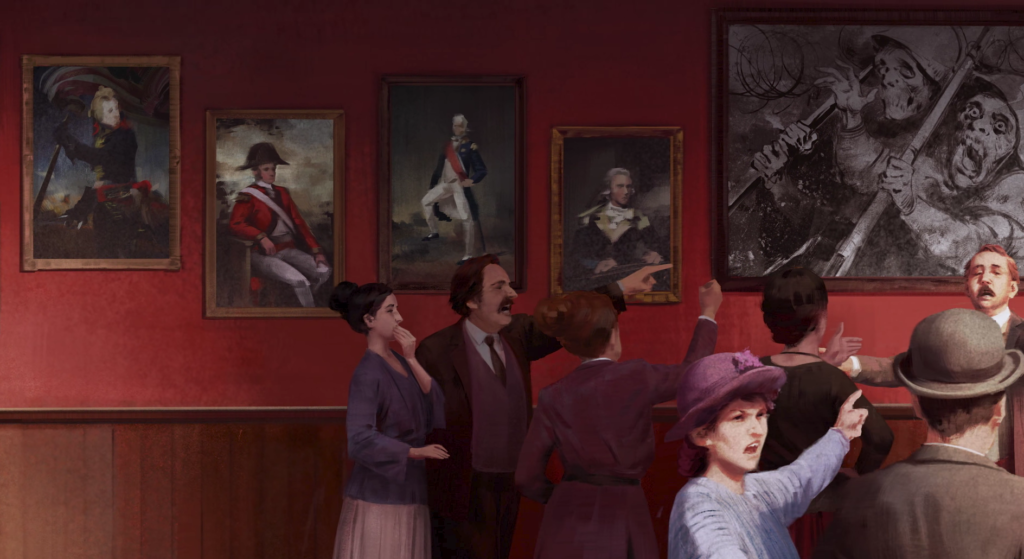 Society
Compared to its predecessors, Victoria 3's society simulator is far more in-depth and realistic. You can explore the social opinions, political leanings, and economic situations of each Pop, which helps you understand how and why your nation functions the way it does.
The amount of detail put into the creation of the Pops, and their economic requirements and political priorities is impressive. At the start of the game, you get to decide whether your society will be Agrarian, Industrial, Traditional, Radical, Peaceful, or Expansionist.
As you play, you can make reforms to your constitution and government, take advantage of social improvements, or defend your nation's status quo by sticking to old ways of doing things and suppressing revolutionaries. You can also do research on game-changing ideas or technological innovations that will help your country move forward.
The game uses very intuitive systems to simulate social development that is almost identical to that of real people in their genuine environments. For instance, if players invest heavily in education, there will be fewer peasants in their nation. Training people to become engineers and employing them in industries will cause barons to go bankrupt and lose their political influence.
The game features a detailed economic model in which everyone has their own needs to fulfill and is divided into groups according to their ethnicity, religion, occupation, and location.
Economy
Victoria 3's economy takes a central part of the gameplay. To develop a nation's economy, you'll start with the construction of a wide variety of structures, followed by the research of technologies. Next, you'll establish laws allowing for the construction of even more buildings and the adoption of innovations in production. It's a fun gameplay cycle that pays off well when everything goes as planned in the game. A sophisticated system of buy and sell orders (that imitates supply and demand) regulates everything from food and clothes to machinery and power. There are many challenging trade-offs to consider when making economic decisions such as whether or not to reduce prices so that people can afford more goods.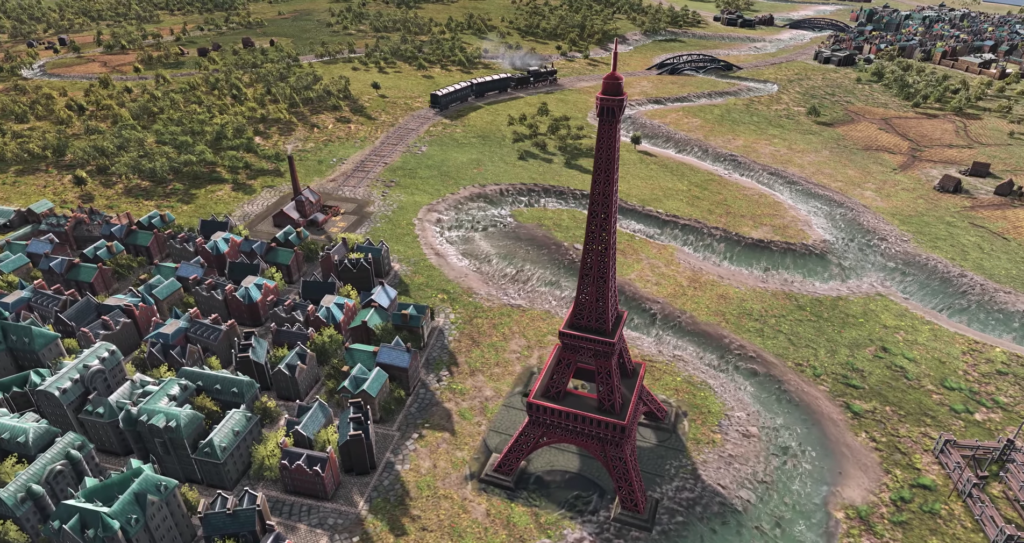 Diplomacy
The introduction of Interest Groups (people with specific views on social and political matters) in Victoria 3 makes politics exciting and enjoyable to follow. The Diplomatic Plays, which take inspiration from Victoria II's crisis system, are another addition to the latest installment. If a player wants to force another nation into giving up territory or opening its markets, they must first make a demand to that country outlining their wants and needs.
After both sides have had an opportunity to make their demands known, a clock will start ticking and they will have a limited amount of time to negotiate, find allies or mobilize their armies. If the deadline passes without a peaceful agreement, war will be declared.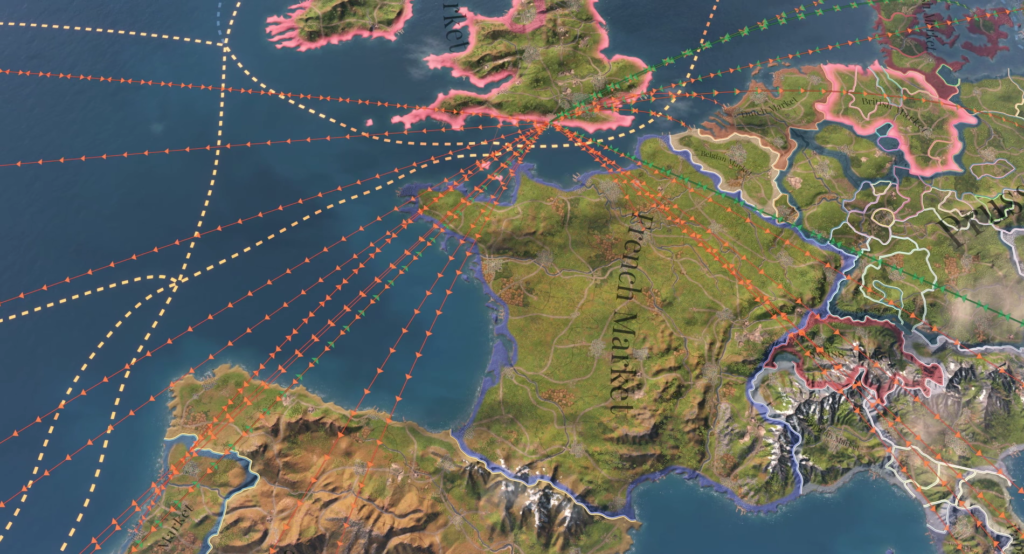 Visuals and sound
The map in Victoria 3 is a work of art. Small touches like the faded background image behind the politics screen create a unique look. The fire effect is a little rough, but the rest of the visuals are fantastic.
The graphics of the battle scenes are not packed with details, but the representation of the characters is more lifelike compared to the small icons representing the nations' leaders in Victoria 2.
The soundtrack has optimistic tunes that capture the sense of development. Listening to the songs can transport you to a challenging yet fascinating era in history and can make you feel hopeful for a brighter future.
Conclusion
Victoria 3 focuses more on social and economic elements than military engagements. Players are tasked with trying to find a balance between diplomacy and resources. The game has everything you need in a grand strategy, but it's up to you to reveal its full potential, as it certainly has a steeper learning curve than other games in the genre.
Can you play Victoria 3 on Mac?
Victoria 3 has an official macOS version, so you won't need any hacks to play it on your Mac. Just keep in mind that Victoria 3 requires a Steam client, which can be downloaded for free, to be played on a Mac.
In case you don't want to go through the whole process of downloading and installing the Mac OS version, you can give the game a try with Boosteroid – a cloud gaming service with a rich game library.
It's crucial to remember that the source of your game download matters. Thus, you should stick to reliable game stores and restrain from downloading games from unknown sites.
How to download Victoria 3 on Mac?
Downloading Victoria 3 on Mac is possible without resorting to any complex procedures, additional software, or workarounds. Getting the Steam client and downloading Victoria 3 are all required to play the game on Mac.
Since Victoria 3 game has native macOS support, it's equally easy to get the game installed and running on either an Intel- or an M1-based Mac. Before you proceed, check out the system requirements for an optimal gaming experience to get the game working smoothly.
How to play Victoria 3 on Mac
If you want to play Victoria 3 on Mac, you can do that by downloading the game's Mac version. As an alternative, you can play Victoria 3 via cloud gaming with Boosteroid and skip the downloading steps. First, however, don't forget to purchase the game from Steam.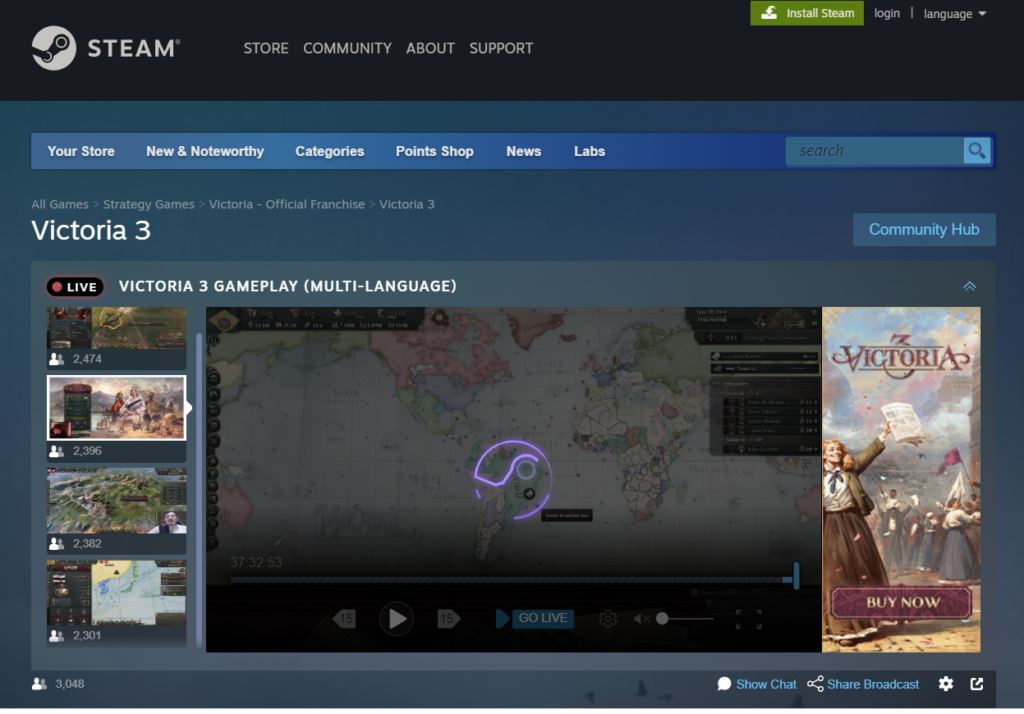 The first thing to do is to create a Steam account and log in.
On Steam's official website, find the Install Steam button and download the installer.
Install the Steam client from the installer and once the program launches, search for the game in the Store section.
After clicking the "Buy Now" button on the Steam page of the game, you will be required to input your payment information and complete the purchase.
After that, Victoria 3 can be found in the Library of your purchased games. Click it and then select "Install" on Steam's page for the game.
Click Next on the installation window that appears and wait for the game to get installed. Finally, launch the installed game in the Steam library.
Play Victoria 3 on Mac with Boosteroid
Cloud gaming with Boosteroid is a quick and easy way to play Victoria 3 on your Mac without installing anything on your system. To launch the game, you first need to create a Boosteroid account and subscribe to the streaming service. After that, you can start Victoria 3 on Mac by clicking the Play button on the game's Boosteroid page.
The advantages of using Boosteroid to play games online are numerous. A lot of users enjoy the fact that there's no need to download and install the game or any other additional software. This not only saves physical space on your drive but also is quick and convenient. The model of your Mac and its specifics also doesn't play a role because the quality of your online gaming session relies only on the stability and the speed of your Internet connection.
To stream Victoria 3 via Boosteroid, please follow these short instructions: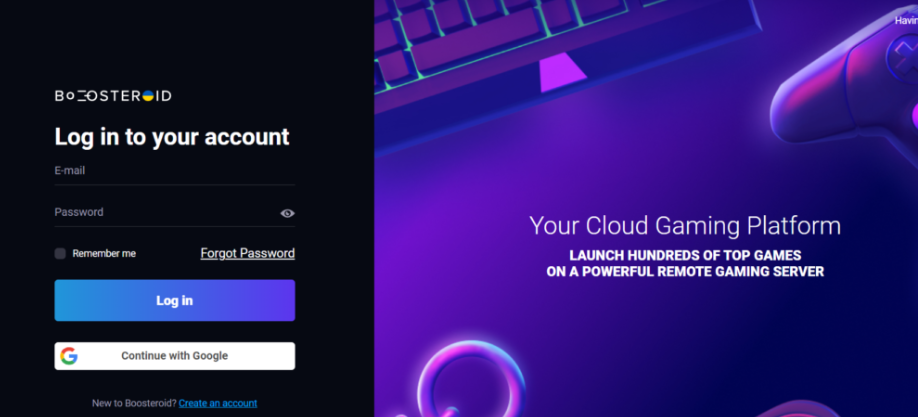 Once you log in, click on your account's name at the top right corner and go to your profile settings.
You'll see a list of options where you need to select Subscribe, then select a subscription plan, add your payment details, and activate your Boosteroid subscription.
With your subscription activated, search for "Victoria 3" in the search field and select the game.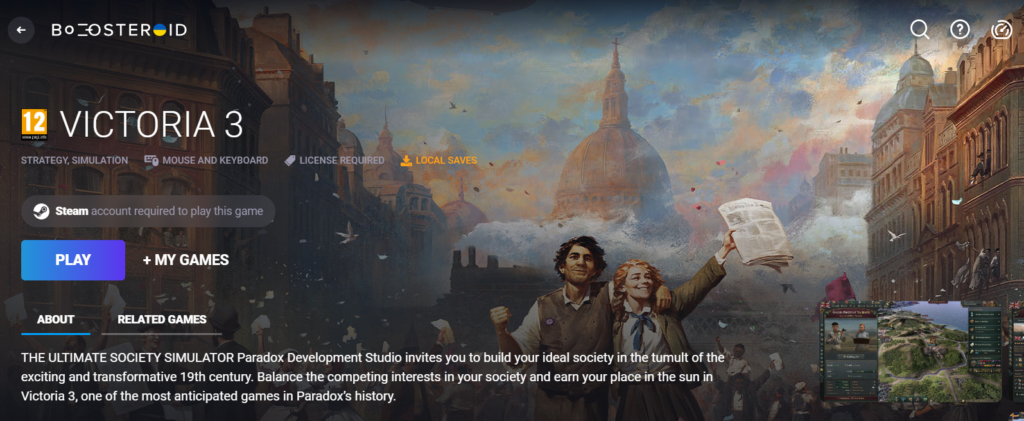 Click the Play button, then click the OK button to connect Boosteroid with your Steam store account.
Log in with your username and password on the store's login screen.
Victoria 3 should start in a few seconds. If for any reason, the game doesn't load, you can start it from the Library section of Steam.
Play Victoria 3 on Mac with GeForce Now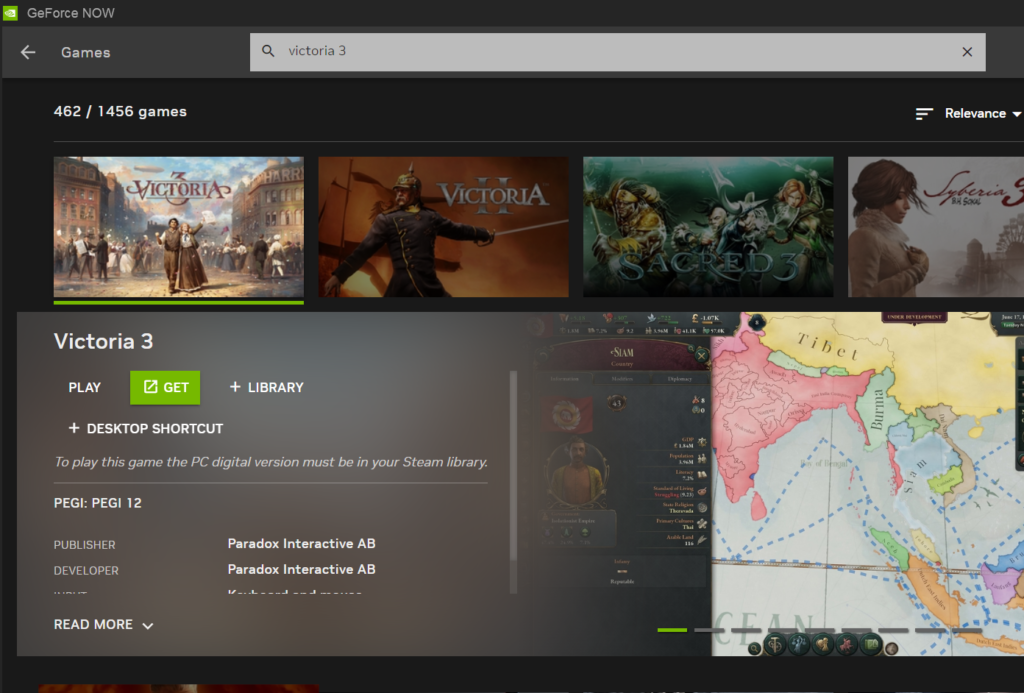 First, you need to go to the GeForce Now website and create an account
After that, sign in and go to the GeForce Now downloads page.
Download the Mac version client of the program from the page and install it.
Log in to the client and search for Victoria 3 in the search field.
Choose Steam and then click Play.
Enter your login information for Steam and confirm that you accept to connect your GeForce account with your Steam account.
Victoria 3 should start in the GeForce Now client as soon as this step is completed.
How to play Victoria 3 on Mac M1?
In order to play Victoria 3 on a Mac M1, you must first download and install the Steam client, launch it, and sign in using your account information. Next, look for Victoria 3 in Steam's library, click "Purchase" (if you haven't purchased the game already) and then launch the game in order to play it. Alternatively, you can use a cloud gaming service like Boosteroid or Geforce Now.
Martina Nikolova
Martina likes to get into nitty-gritty of tomorrow's tech, from product design across to security based solutions. A long time mac user and developer, she has the expertise and strives to give new insight