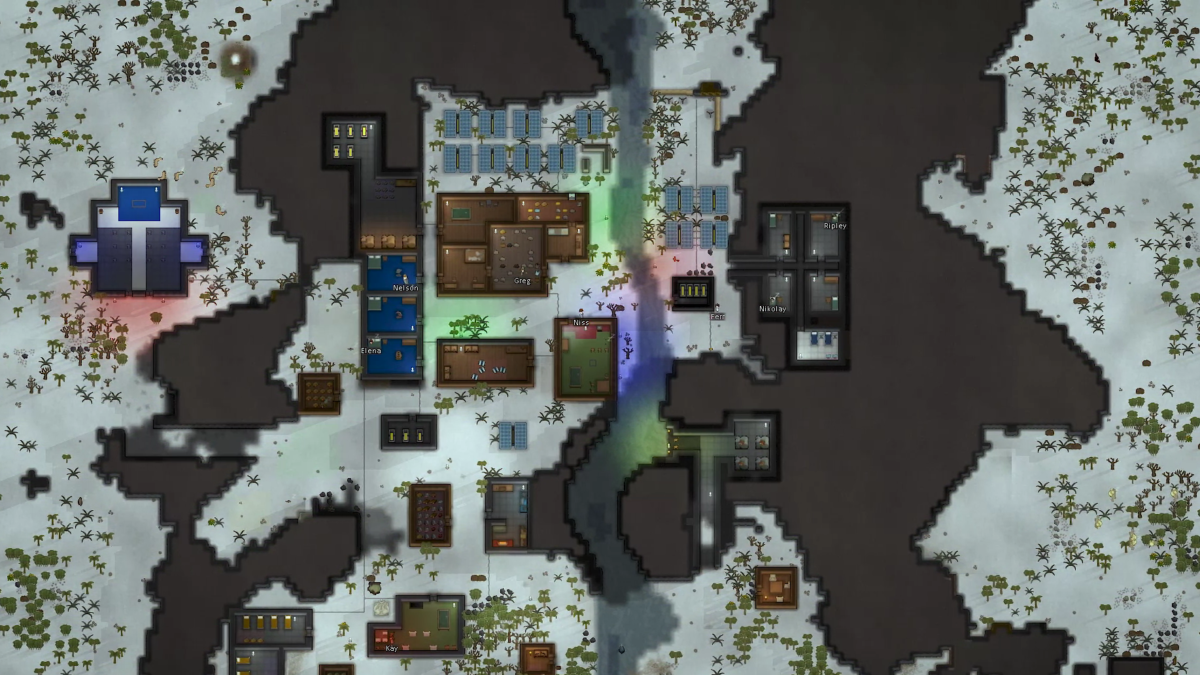 RimWorld (Mac)
Martina Nikolova, 1 year ago
0
8 min

read
RimWorld on Mac
RimWorld is a sci-fi simulation video game that focuses on building and managing a colony in a distant world. At the heart of the gameplay is an AI storyteller, which generates in-game events that are based on the game level, event difficulty, and difficulty of progression. As the player advances in the game, the AI storyteller analyses the player's present position and chooses events based on what it thinks will be the most fascinating tale.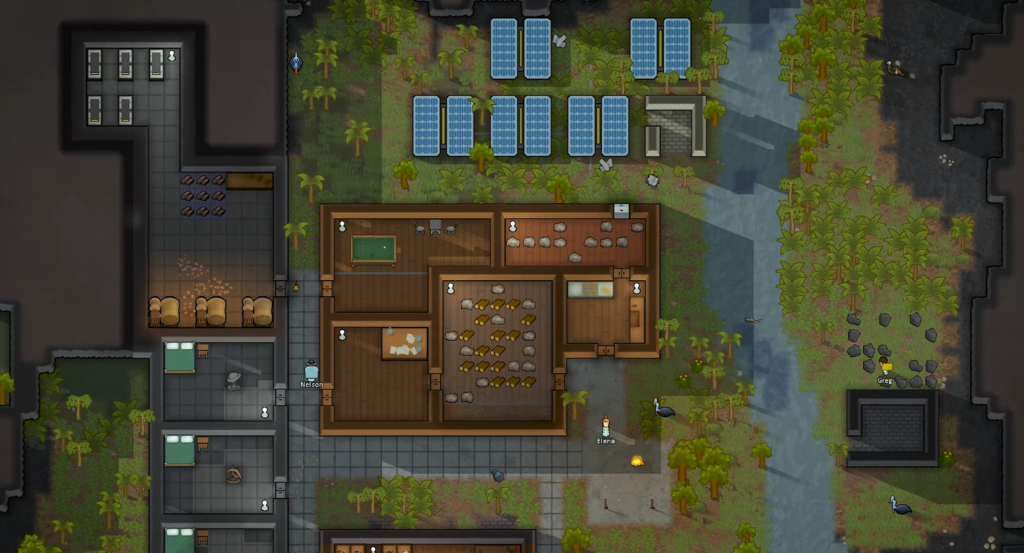 The whole game works by effectively managing the "random" events that the distant environment throws at you. The events in RimWorld take place in the future when people have spread over the cosmos but are limited to traveling at the speed of light. Every planet and the solar system develop individually, and there are some that grow technologically, while others get destroyed as a result of conflict or sickness. Because of this, in the game, you'll see a wide variety of technical levels in society, from very basic tribes to extremely advanced technological communities.
The main plot of Rimworld is the same, however, there are a few starting situations to pick from. "Pawns" are the game's characters that the player controls. At the start of the game, these characters are stranded on a randomly generated planet in a region of known space called a "rim world".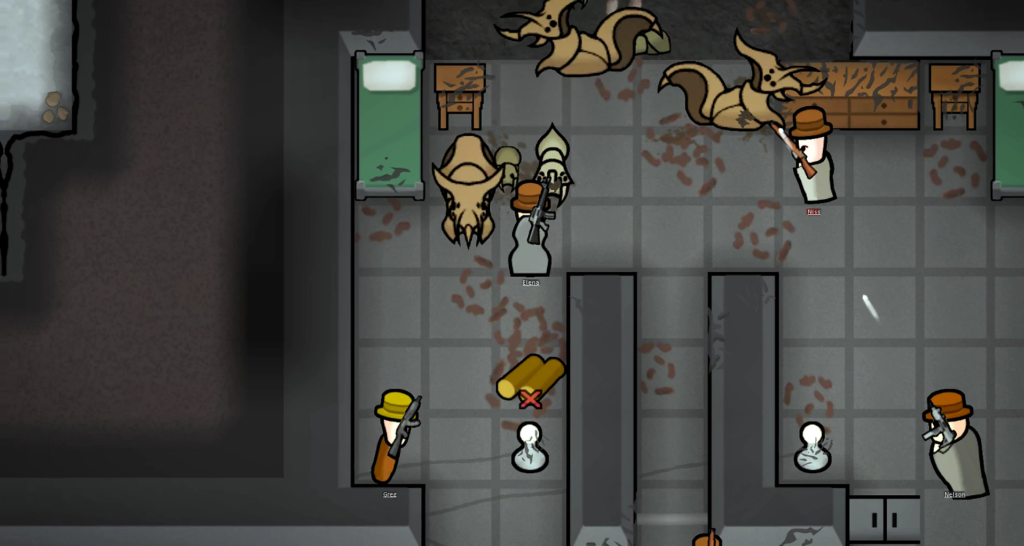 Each character has a set of attributes that may either help or harm the colony. The decisions the characters take also gave a direct impact on the life in the colony as a whole. More characters can be added to the colony as the player makes progress in the game. You may be able to rescue characters when they crash-land on the player's map, let them wander around, or capture them.
Characters have a mood meter that measures how stable their mental health is in relation to their needs, personality attributes, and backstories. Food, rest, and shelter are essential for characters, but they may also want a place to sit while eating, well-made and undamaged clothing, or enough time for fun such as stargazing or cloud watching, as well as other necessities.
The end goal of RimWorld is to either find a broken-down spaceship or Research and build his own spacecraft from scratch. Then, he needs to protect it from other hostile inhabitants of the planet who are constantly trying to take control of the spacecraft once it has been started. The game ends after you succeed to escape the planet with at least one colonist on board. Additional game DLCs offer different endings.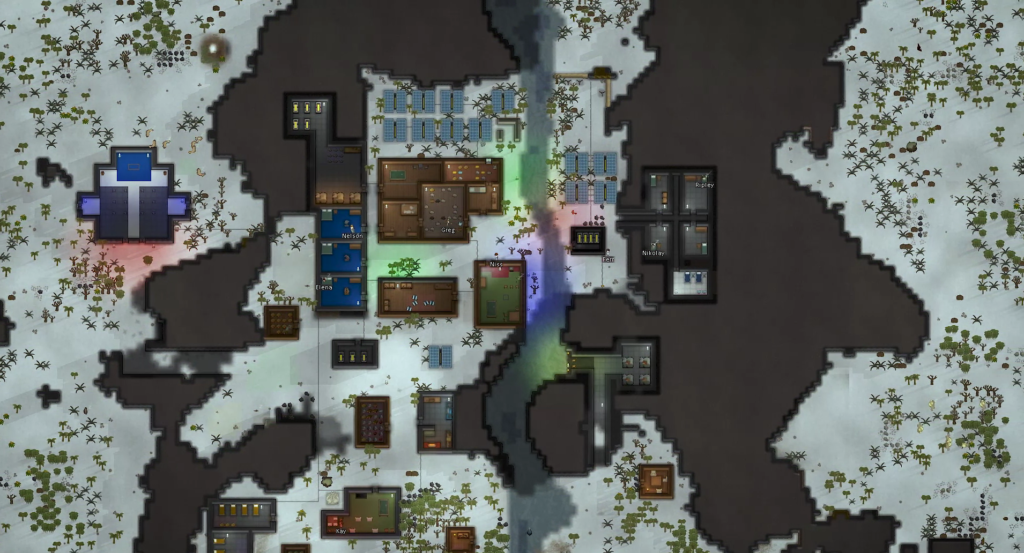 RimWorld is a construction and management game where the player must keep a human colony alive by ensuring their own survival while battling different external and internal occurrences in an infinitely-customizable universe. As the game develops, completing tasks becomes more challenging but players may gain more advanced technology through doing research. The game is played from a two-dimensional perspective from the top down.
If you are into sci-fi colony management simulation games, RimWorld is definitely worth a look. Your world will come to life just how you want it to thanks to the combination of a beautiful pixel graphic style with some of the most comprehensive management available.
Can you play RimWorld on Mac?
RimWorld has a macOS version, that's why there's no need to muck about with hacks or workarounds to play the game. All you need to do to play RimWorld on Mac is to make sure your Mac computer satisfies the game's minimal system requirements before purchasing it to ensure a decent gaming experience.
To download RimWorld on your Mac, you can use Steam or Epic Games, which are two popular online gaming shops that offer the Mac version of the game in their libraries. Search for RimWorld in the Steam or Epic Games search box, purchase the game, and then download it to play.
How to play RimWorld on Mac
RimWorld may be installed on your Mac simply by downloading and installing the Steam client. If you don't want to install the game on the system, then you can still play RimWorld via Boosteroid or GeForce Now which are two popular cloud-based gaming services that allow Mac users to play RimWorld and other games through live streaming.
If you prefer to play RimWorld on your Mac via Boosteroid, you'll need a subscription that allows you access to a wide selection of games, including many game titles that aren't available for Mac natively but still can be played via cloud gaming. To learn more about the cloud gaming method of playing RimWorld on Mac, please follow the step-by-step instructions provided below.
RimWorld Set Up Methods:
Methods
Advantage
Disadvantage
Cloud Gaming
– No set-up required – Register and Play
– Access to a Library of over 70 top-rated free Games
– Smooth performance even on old Macs
– Monthly Fee
– Requires Decent Internet Connection

Native Version
– No Compatibility issues
– Optimized for Mac
– Slow Performance on older Macs
To play RimWorld with Cloud Gaming:
First, you will need to purchase the game on Steam.
Now you will need to register for Boosteroid. This allows you to add RimWorld to their Cloud Gaming Library. Once uploaded you can seamlessly play the game from your Mac, TV, or Mobile Device.
When Registered you will have additional access to more games for free. Pricing varies depending on the subscription plan.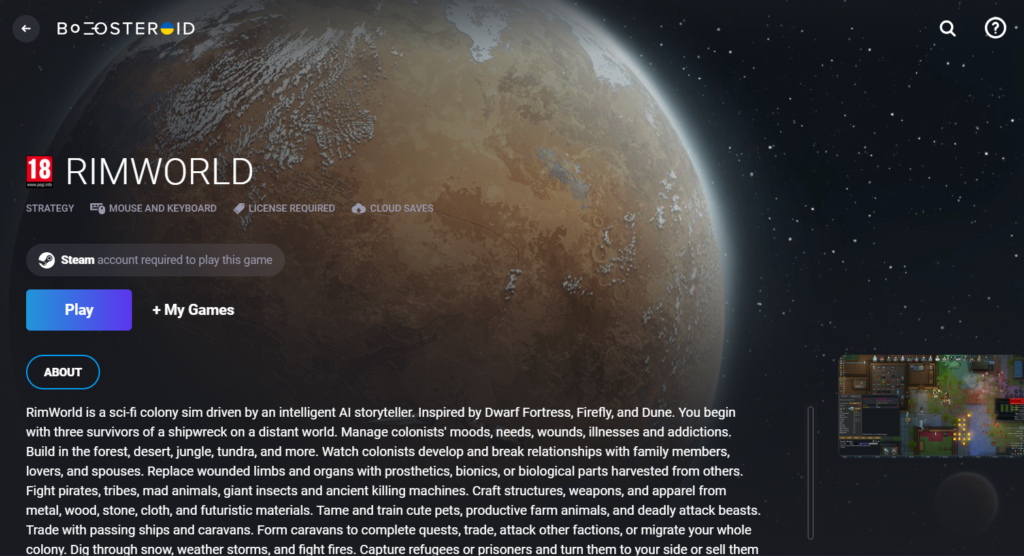 Play RimWorld on Mac with Boosteroid
To create a Boosteroid account, go to the Boosteroid website and enter the necessary information for new account registration.
Next, log in to your newly created account and select the Subscribe option by clicking on your profile name in the upper-right corner of the page.
You may start using your Boosteroid subscription immediately after picking a subscription plan from the website's offer and filling in your payment method.
Next, go to the magnifying glass symbol at the top of the website, enter "RimWorld" in it, and then select the game from the list of results on the Boosteroid search page.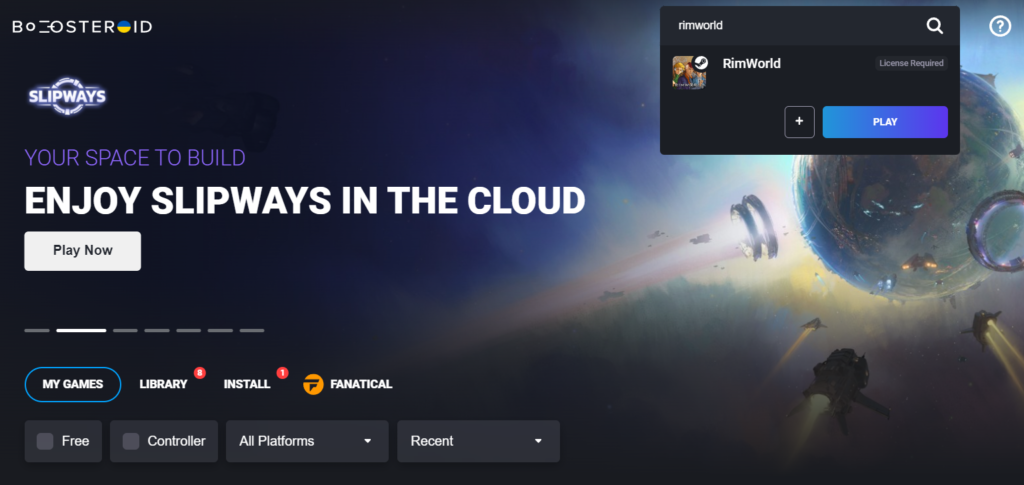 On the RimWorld page, click the Play button. A Steam account is required to play this game in Boosteroid.
Click the OK button and then the "Let's Go" button to connect your Steam account to Boosteroid. Next, please log in to your Steam Store to finish the process.
Once the game loads, you'll be able to play RimWorld in a matter of seconds. Using the browser's Full-Screen mode will let you immerse yourself in the game.
Play RimWorld on Mac with GeForce Now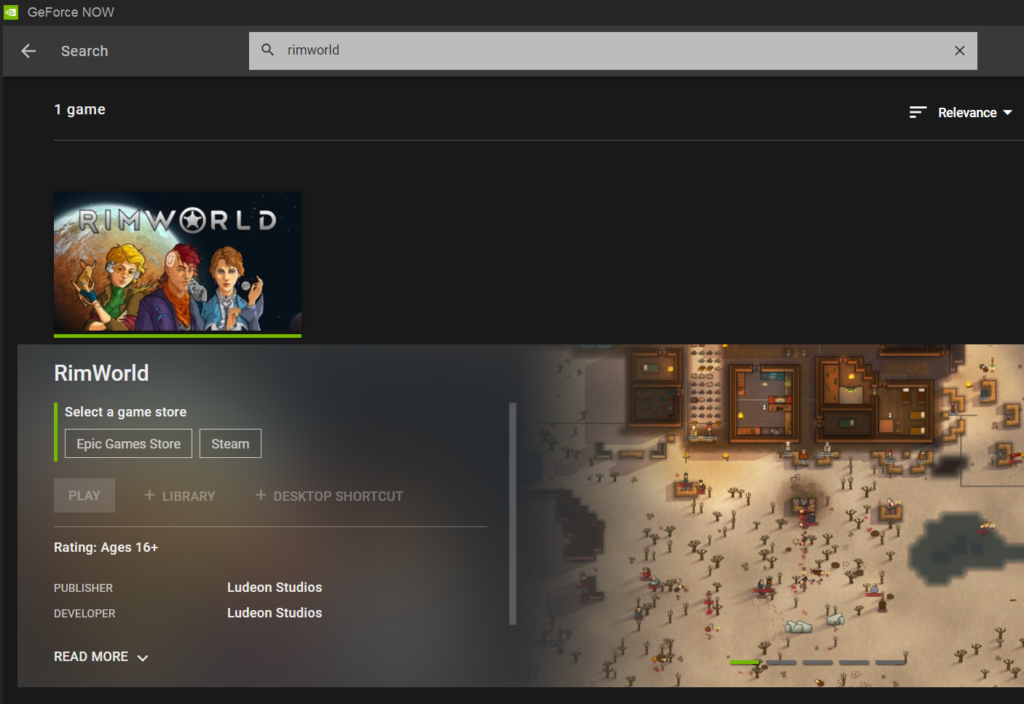 To play RimWorld with GeForce Now, you need to go to the GeForce Now website, log into your current GeForce Now account, or create a new one.
Install the GeForce Now Mac client on your Mac by going to the GeForce Now downloads page in your web browser.
Log in to the client and search for the "RimWorld" game in the library.
Click the Play button after selecting the game's version from the Steam Store or the Epic Games Store.
Next, go to the Steam Store or the Epic Games Store and log in. A message will pop up on the screen and ask you to connect your GeForce account to your Steam/Epic Games account, confirm it and RimWorld should begin in GeForce Now in a few seconds.
How to download RimWorld on Mac?
If you have the macOS version of the Steam client installed, you may download and play RimWorld on your Mac directly. Log into your Steam account and search for "RimWorld" in the search field, then buy and download the game from that page on Steam's website
In most cases, it's simple to download and play games designed for the Macintosh and you don't need any special skills to do that. You'll just have to wait for the game to download before you can play it, but that shouldn't take long if you have a good and fast download speed. To play RimWorld on your Mac, just follow these simple instructions:
Create a Steam account on the Steam website and sign in using your credentials.
Then, once logged in, click the green "Install Steam " button in order to install the Steam client on your Mac.
Log in with your Steam credentials in the Steam app and choose Store from the menu.
Type "RimWorld" in the Steam Store's search box and select the game from the results. Then, click "Add to Cart".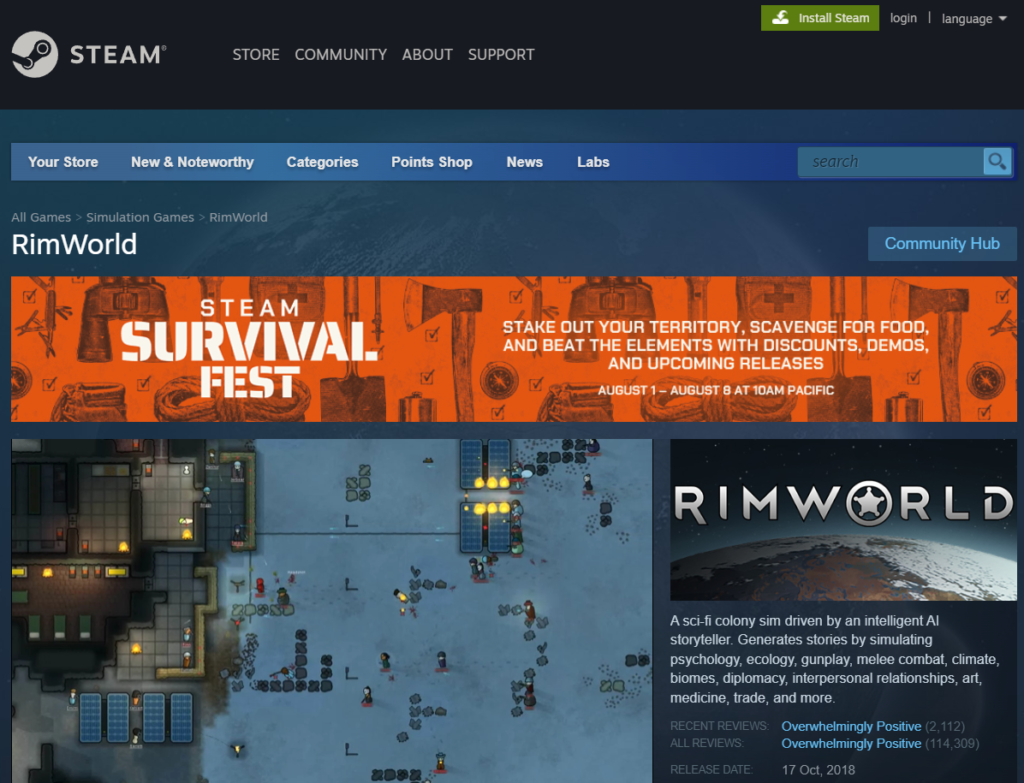 In order to complete the purchase of the game, you'll need to input your payment information for the method you selected.
Select Play Game from the RimWorld page in the Steam client. Wait for the download to finish before you can start playing then click on the game's icon in your Applications folder, or use Steam's client's library.
RimWorld on Mac M1
RimWorld should run flawlessly on Mac M1 Macs with M1 chips or Intel CPUs. There shouldn't be any issues playing RimWorld on an M1 Chip if the game is compatible with your Mac OS version. If you run into any problems, make sure your computer meets the game's minimum system requirements and is compatible with it by visiting the game's Steam page.
It's worth noting that Apple's Rosetta 2 emulation software allows Macs with M1 CPUs to run programs originally developed for Intel-based Macs. You'll be prompted to install Rosetta 2 the very first time you open an application developed for Intel Macs. As soon as Rosetta 2 is installed, you won't have to do anything more since the software will automatically activate anytime an Intel Mac software is run on an M1 chip Mac machine.
Martina Nikolova
Martina likes to get into nitty-gritty of tomorrow's tech, from product design across to security based solutions. A long time mac user and developer, she has the expertise and strives to give new insight