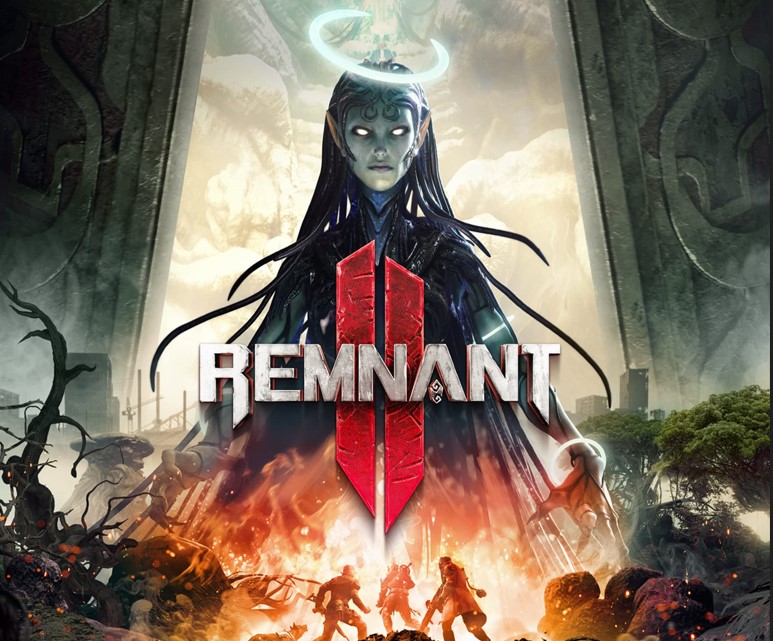 Remnant 2 (Mac)
Martina Nikolova, 2 months ago
0
9 min

read
Remnant 2 on Mac
Those of you who love action-packed video games with third-person shooter elements might be curious about learning how to play Remnant 2 on Mac. The good news is, even though there's no official macOS version of the game, you still have several options to enjoy this title on a Mac machine. If you stay with us, you will find information about solutions like cloud gaming, BootCamp, and CrossOver, as well as detailed instructions showing you how exactly to play Remnant 2 on Mac. So, get ready for a exciting battles with plenty of tense moments and deadly creatures across terrifying environments.
Is Remnant 2 crossplay?

No, unfortunately, Remnant 2 does not have crossplay support between PS5, Xbox Series X|S, and PC. Unlike the first game, which had crossplay between certain PC storefronts and Xbox, you won't be able to play with friends from different platforms in Remnant 2.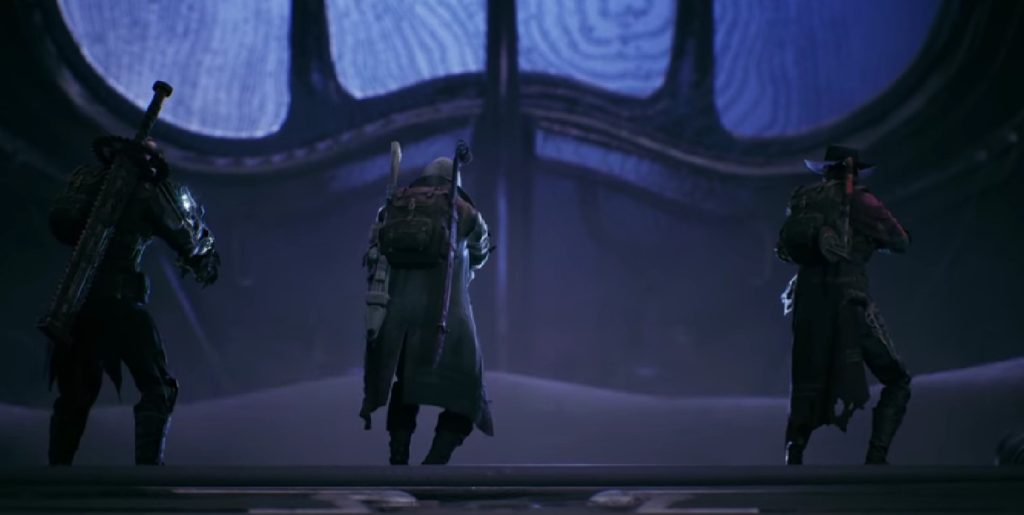 Remnant 2 on Mac OS
If you're eager to play Remnant 2 on Mac OS, be aware that there's no official macOS version available that you can get directly from the Apple App Store. However, don't lose hope just yet! There are alternative ways to enjoy the game on your Mac. Cloud gaming and BootCamp are the two main routes to explore, depending on your Mac's specifications. With cloud gaming, you can directly stream the game in your browser, while BootCamp lets you set up a Windows environment on your Intel-based Mac, granting access to the game. There is also another option to play Remnant 2 on Mac OS and it involves a combination of CrossOver and Apple's Game Porting Toolkit, a detailed guide of which you can find below.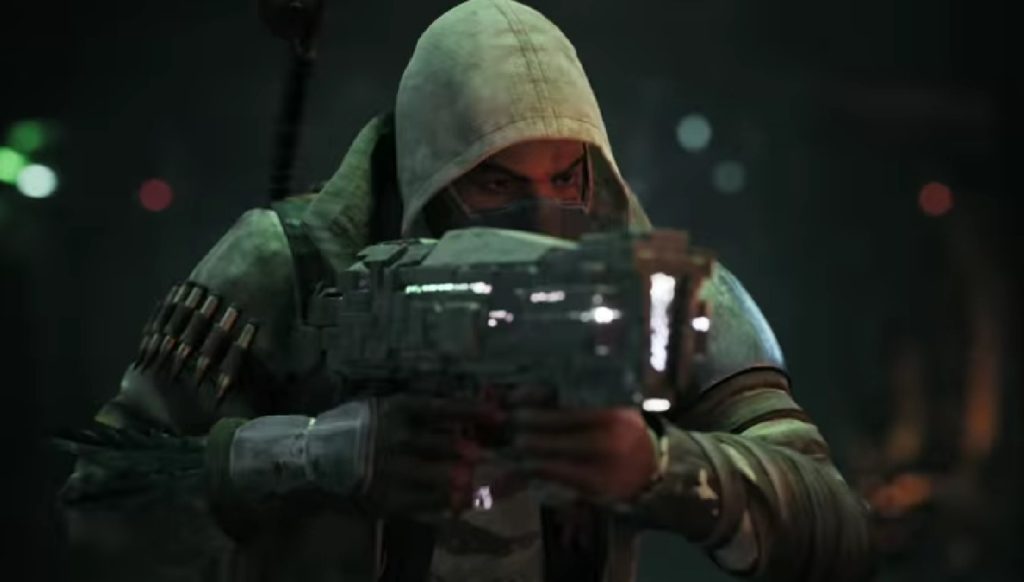 Can you play Remnant 2 on Mac M1?
If you're hoping to play Remnant 2 on Mac M1, there are a couple of options you can explore. One method involves using CrossOver, which integrates with Apple's Game Porting Toolkit. This toolkit allows M1 Mac users to enjoy directX 12 games on macOS, although it may require some technical knowledge and patience. For a more user-friendly experience, you can pair CrossOver with the toolkit and simplify the setup process. Alternatively, cloud gaming services like Boosteroid or GeForce Now offer the option to stream the game directly, allowing you to play Remnant 2 on Mac M1 with ease, as long as you have a stable internet connection.
Can you download Remnant 2 on MacOS?
Unfortunately, you cannot download Remnant 2 on MacOS directly, as there is no official native version available on the App Store. However, don't lose hope! There are alternative methods that require a bit of effort but will allow you to enjoy the game on your Mac. One option is to set up a Windows environment using BootCamp, or you can use CrossOver with the Game Porting Toolkit to run the game as if you were on a Windows machine. With these setups, you can download Remnant 2 on MacOS from platforms like Steam and dive into its captivating gameplay in no time.
How to play Remnant 2 on Mac
To play Remnant 2 on Mac, there are several methods you can try, each with its own steps. One option is to use Boosteroid or the GeForce Now game streaming service, both of which allow you to play the game directly in your browser. Another method involves installing Windows on your Mac using Boot Camp Assistance and then playing the Windows version of the game. Additionally, you can explore the CrossOver method, which might provide a way to play Remnant 2 on Mac. However, it's important to ensure you have a copy of the game before proceeding with any of these methods.
Next, select a method that best fits your needs and follow its instructions.
Play Remnant 2 on Mac with Boosteroid
Mac gamers who are seeking a seamless way to play Remnant 2 on Mac without the hassle of setting up a separate Windows partition should look no further than Boosteroid. This cloud gaming platform comes to your rescue, allowing you to revel in the first-person shooter adventure without any cumbersome downloads. Here's a brief explanation of the steps:
1. Start with a click on the "Play with Boosteroid" button below. This will land you on the Boosteroid website where you have the option to create a new account or log in using your Google Account.
2. Once you login, click on "My account", which is located at the top-right corner of the screen.
3. Next, select and activate a plan of your choice under the "My subscription" tab to begin using Boosteroid.
4. As soon as your Boosteroid subscription is active, type the name of the game you want to play in the search field.
5. On the game's Boosteroid page, click the "Play" button to launch the game.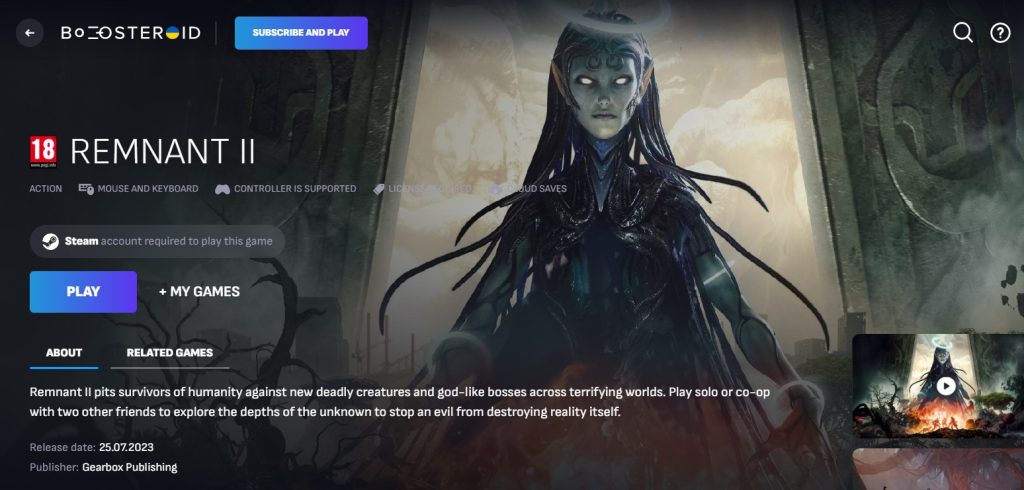 6. As a final step, you will need to follow the on-screen prompts to connect your Boosteroid and Steam accounts, then start to play.
Play Remnant 2 on Mac with GeForce Now
GeForce Now is another cloud gaming alternative that can help you embark on your thrilling Remnant 2 adventure. You can seamlessly stream the game directly from its powerful servers, delivering smooth gameplay experience. However, you will first need to create an account on GeForce Now and download their client software. If you need a step-by-step guide on that, click the button below.
How to play Remnant 2 on Mac with CrossOver
Playing Remnant 2 on Mac with CrossOver paired with the Game Porting Toolkit is another method that is available. While the Game Porting Toolkit is primarily tailored for game developers, the combination of CrossOver and the Toolkit opens a new world for regular Mac users like you, granting access to a plethora of Windows games on your Apple computer in a very easy-to-use manner. We've prepared an in-depth guide below to assist you in harnessing the power of both tools to play Remnant 2 on Mac.
Play Remnant 2 on Mac With BootCamp Assistant
To play Remnant 2 on your Intel-based Mac, you can utilize BootCamp Assistant and follow these steps:
Locate and open BootCamp Assistant in the Utilities folder within your Applications.
BootCamp Assistant will facilitate the download of the latest Windows 10 ISO file, essential for running Windows on your Mac.
Carefully follow the on-screen instructions in BootCamp Assistant to partition your drive, ensuring you reserve at least 64GB of free space for Windows.
Once the drive is successfully partitioned, proceed with the installation of Windows on the newly created partition.
After the installation is completed, during Mac startup, press and hold the Option key to select between macOS and Windows as the operating system.
Upon entering the Windows environment, access the Steam website, locate the Remnant II download page, and acquire the Windows version of the game for installation.
With all the necessary steps completed, you are now prepared to launch Remnant II on Mac and embark on your gaming adventure!
For further detailed explanations on any of these steps, please refer to the link provided for additional guidance. Enjoy your gaming experience!
Remnant 2 Review
Remnant 2, the thrilling sequel to the 2019 hit Remnant: From the Ashes, takes the unique blend of third-person shooting and Soulslike gameplay to new heights. Developed by Gunfire Games and published by Gearbox Publishing, the game promises more action, flexibility, and surprises. Let's dive into what makes Remnant 2 a standout title and what it brings to the table for Mac gamers.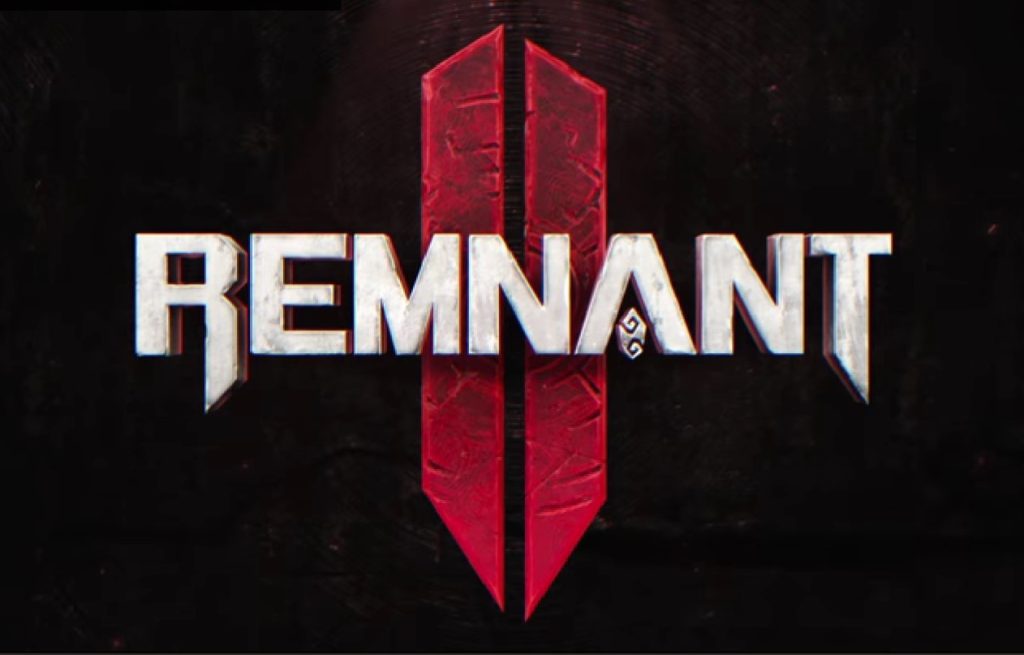 Character Archetypes
Starting with the character archetypes, Remnant 2 presents an exciting mix that offers different play styles. If you love guns, then the Gunslinger class, replacing the Ex-cultist from the first game, will be right up your alley. Or perhaps the shockwave-wielding Challenger or the dog-companion Handler is more your style. Each class comes with unique abilities which offer diverse gameplay experiences.
For instance, the Gunslinger focuses on the use of firearms and has a unique ability called "Loaded," instantly reloading all weapons. The Challenger is the shockwave specialist that has the ability to unleash a shockwave that disintegrates enemies and clears your path. The Handler class comes with a loyal dog companion who will aid in combat and even revive you with the prime perk ability called "Bonded". The option to dual-class further broadens your options, adding depth and personalization to your character's development.
Expansive Gameplay
1. Combat: Methodical and Frenetic
Remnant 2 offers an intoxicating mix of ranged and melee combat. The gameplay is both methodical and frantic, with cunning enemies and large-scale boss battles that will test even the most skilled players. Gear and weapon optimization play a crucial role in adapting to different biomes and challenges, creating a rich and varied combat experience.
2. New Worlds: A Journey into the Unknown
Throughout the game, players can travel through strange, mythical worlds overrun by fearsome creatures and deadly foes. The ability to explore solo or with friends enhances the game's appeal, providing different types of creatures, weapons, and items to discover and utilize.
3. Replayability: Never the Same Game Twice
Remnant 2 guarantees a fresh experience in every playthrough with branching quest lines, augments, crafting, and loot rewards. The dynamic generation of levels, enemies, aesthetics, and storylines creates endless possibilities, encouraging exploration and multiple revisits.
4. Progression: Evolve and Adapt
The expanded Archetype system not only provides unique passive bonuses and powers but also allows for various play styles. Players can unlock, level up, and equip multiple Archetypes, ensuring that character progression remains engaging and adaptable.
Cooperative Multiplayer: Team Up and Conquer
Whether going solo or teaming up with two other friends, Remnant 2 delivers a robust experience. The three-player cooperative multiplayer mode enhances the game's appeal, allowing players to combine their skills and archetypes to overcome humanity's toughest challenges together.
Conclusion
Remnant II takes what made the original game a success and builds upon it with fresh classes, more intricate gameplay mechanics, and a renewed emphasis on replayability and exploration. Its mix of combat styles, character customization, and dynamically generated worlds offers a continually evolving experience. For Mac gamers looking for a game that pushes boundaries and offers both depth and excitement, Remnant 2 stands as a testament to innovation in the third-person shooter genre. It's more than a sequel; it's an evolution. So, grab your guns, or your shockwaves, or your trusty dog companion, and prepare to explore new worlds and battle god-like bosses. Your adventure awaits!
Martina Nikolova
Martina likes to get into nitty-gritty of tomorrow's tech, from product design across to security based solutions. A long time mac user and developer, she has the expertise and strives to give new insight