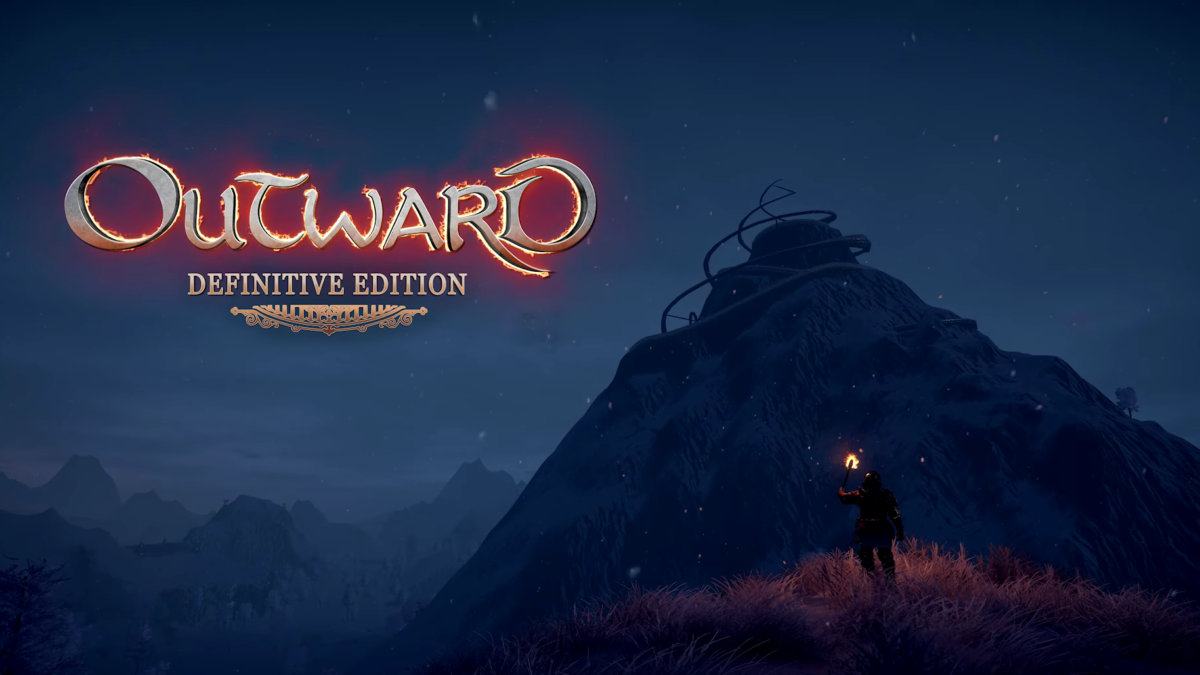 Outward Definitive Edition (Mac)
Martina Nikolova, 1 year ago
0
11 min

read
Outward Definitive Edition on Mac
Outward is an open-world survival game that combines fantasy role-playing and open-world exploration. Playing fantasy games may be a lot of fun at times. It's a thrill to be a legendary hero or even just a proficient hunter with access to enormous weaponry. Not everyone, however, is cut out for the role of hero. As a matter of fact, heroes are rare in the realms they inhabit. They have a unique perspective on the world that is not like that of a typical explorer who is simply trying to make ends meet. This is exactly what the creators of Outward are trying to change by giving you a completely different experience in a very unusual way.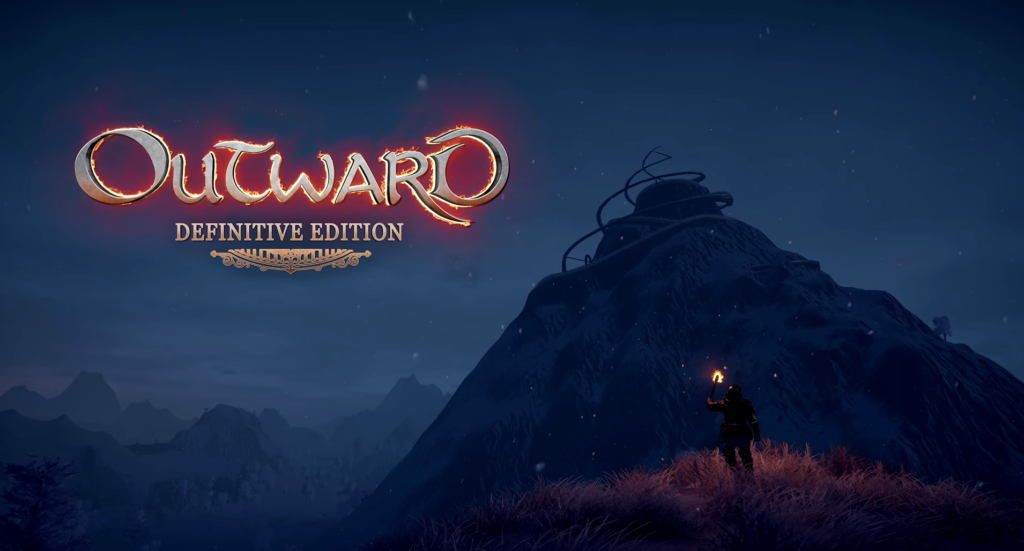 Instead of selected heroes, players in Outward take on the role of normal people who must deal with the world in the same way everyone else does. To combat a deadly monster, they must plan meticulously and appropriately, otherwise, they would almost certainly fail in a straight-up confrontation.
To make things more realistic, players should also take good care of their character if they want to stay alive. Just like in any survival game, they'll need to keep their hunger and thirst in check, and that means finding a safe place from the harsh conditions. Summoning the game's otherworldly power requires tedious ceremony and chanting which brings down features like Magic to a more human-like level, rather than what we are used to seeing in a superhero.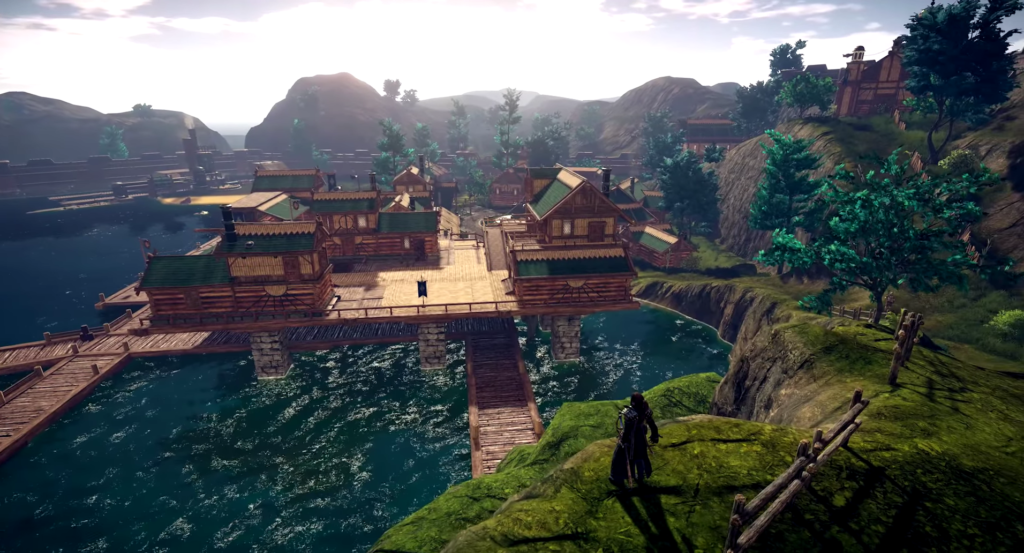 The start of Outward begins with the main character, an inhabitant of Cierzo, who is shipwrecked off the shore of his hometown. The predecessors had left him a debt known as the Blood Price, which he must pay back. You, playing the main character, have just five days to pay off this debt and save the family's property, despite the fact that you've barely survived the deadly wreck.
In many ways, Outward is a mashup of different gameplay concepts packaged together as one. If you die, you'll wake up someplace else, and you'll have to find a way to get your things back. Dying and restarting may be a pain, but this game's Souls-like aspect is heightened by the fact that your recovery location is occasionally a jail from which you must escape. While dying might be frustrating or annoying, it is done on purpose and is not necessarily an attack on the game (although it may depend on how patient you are with grind-type games).
As you encounter other NPCs and begin dealing with the encumbrance, the RPG aspect comes into play. A nice touch in Outward that we've not seen in a video game before is the magic system. When you use a fireball, for example, you need to use an igniter and a spark to get it going.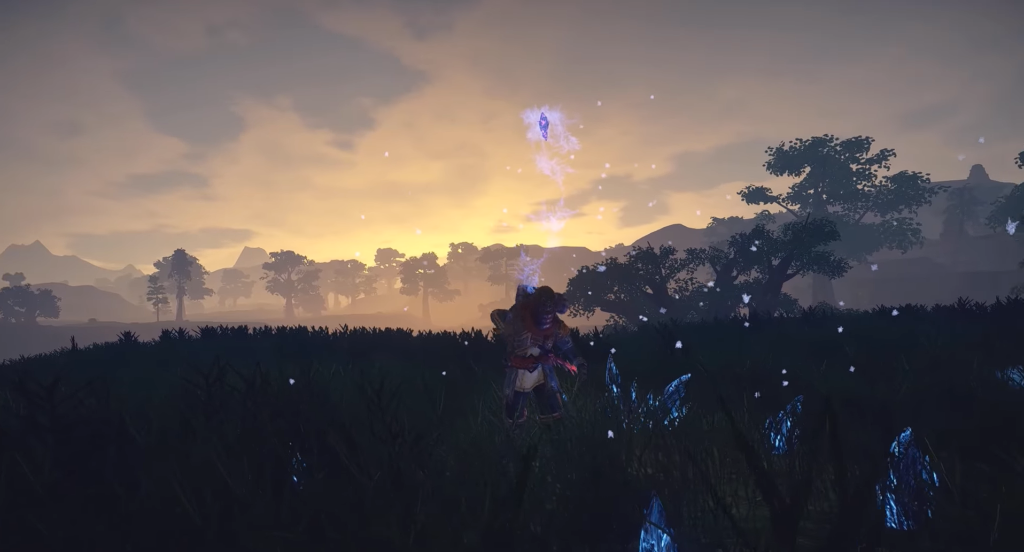 Play in co-op or split-screen
The good news is that players won't be forced to tackle the adventure alone, as the game supports online co-op and local split-screen play. Despite this, they still have to be cautious and plan properly and endure the consequences of bad decision-making.
The Soroboreans and The Three Brothers DLCs are included in the Outward Definitive Edition, making it seem like a whole new game. In addition to the new weapons, dungeons, and DLC's unique gameplay, you may be amazed by a new quality of life enhancements. In Outward, cold and infection may be as deadly as a creature hiding in the shadows, so in this world, whether it is a fantasy one or not, nothing can be taken for granted.
Can you play Outward Definitive Edition on Mac?
It is possible to play Outward: Definitive Edition on a Mac, but you will need to resort to using workarounds in order to do so since the game isn't really designed to run on a Mac. Cloud gaming or installing Windows on a Mac are the two options for playing Outward: Definitive Edition on a Mac that we can offer you.
Since the Outward Definitive Edition does not come in a version compatible with Macs, players will need to find another way to play the game on their computers. The good news is that there are a number of workarounds, and some of them are relatively simple to set up and make use of. In the next sections of this page, you will find information about four different ways to play Outward: Definitive Edition on a Mac. To be able to play the game, you will need to choose the method that you believe will give you the greatest results and then carefully follow the instructions for that method.
How to play Outward Definitive Edition on Mac
If you have a Mac and want to play Outward: Definitive Edition, we suggest subscribing to Boosteroid or another cloud gaming service and streaming the game to your Mac. This will allow you to play the game without downloading it. On a Mac, you may also play Outward: Definitive Edition by utilizing Parallels or Boot Camp Assistant. These are your alternative choices.
The term "cloud gaming" refers to a simplified and user-friendly method of playing a broad range of games on a Mac computer, including titles for which there is no macOS version. Using a cloud gaming service, you can connect your Mac to a remote gaming PC that already has the game you want to play loaded on it, and then you can start playing the game on the remote computer instead of on your own Mac. Through the service, the video game is streamed to your Mac, and in this way, you are able to play it without even having to install it on your own computer. You will find instructions for two different cloud gaming platforms further down this page. Both of these platforms have Outward: Definitive Edition in their game libraries and give you the option to play it.
Outward Definitive Edition Set Up Methods
Methods
Advantage
Disadvantage
Cloud Gaming
– No set-up required – Register and Play
– Access to a Library of over 70 top-rated free Games
– Smooth performance
– Compatible with M1 and Intel Macs
– Monthly Fee
– Requires Decent Internet Connection
– No Free Trial
BootCamp
– Free to use any time
– Windows 10 Environment

– Painful Setup
– Mediocre Performance
– Only Compatible with Intel Macs

Parallels Virtual Machine
– Easy Set-up
– Adequate Performance
– Play almost any PC game
– Windows 11 environment
– Compatible with M1 and Intel Macs
– 14-day free trial
– Yearly Fee
How to Get Outward Definitive Edition on Mac:
First, you will need to purchase the game. Limited time offer on CD.Keys.com for a discount – 61 % Outward Definitive Edition for $ 17.99
Now you will need to register for Boosteroid. This allows you to add Outward Definitive Edition to their Cloud Gaming Library. Once uploaded you can seamlessly play the game from your Mac, TV, or Mobile Device.
When Registered you will have additional access to more games for free. Pricing varies depending on the subscription plan.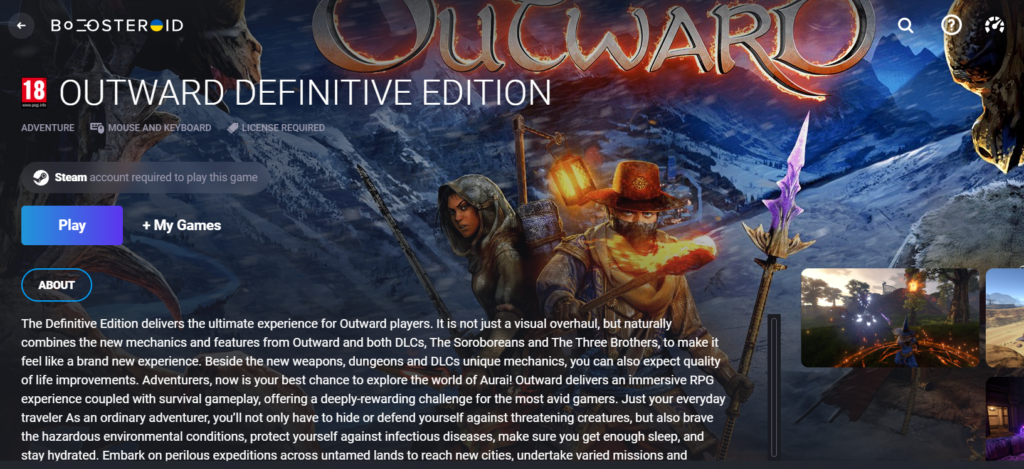 Play Outward Definitive Edition on Mac with Boosteroid
To get started, go to Boosteroid.com and sign up for a Boosteroid account.
After that, sign in and then click on your profile name, which is located in the upper-right section of the screen.
Select the subscription plan you want to use, select a form of payment, and input your details to start your subscription by clicking the Subscribe option in the My Subscription area.
After you have subscribed to Boosteroid, choose the magnifying glass icon located at the top of the page, type the name "Outward" and then select the search result for "Outward Definitive Edition".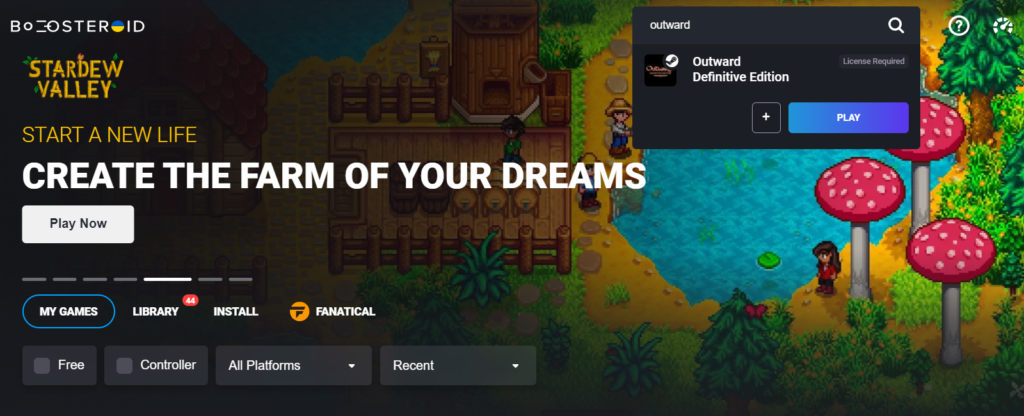 Start loading the game by clicking the Play button, and then the OK button. After the loading screen is finished, you will be prompted to input your Steam Store credentials before the game can begin inside the browser.

Play Outward Definitive Edition on Mac with GeForce Now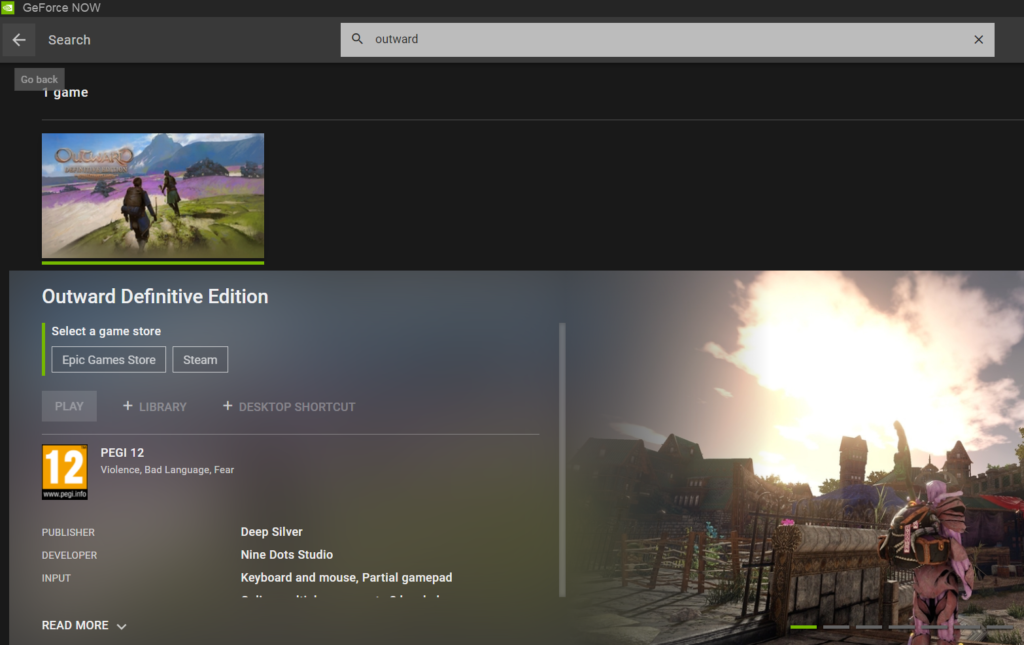 To begin, you will need a GeForce Now account; thus, go to GeForceNow.com and register for one.
When you have successfully logged into your new account, go to the profile page for your account, choose the Downloads tab, and then download GeForce Now for Mac.
After the GeForce Now client has been installed, launch it and then log in using the credentials associated with your account.
Search for "Outward Definitive Edition" in the client and when the game's tile appears, select it with your mouse.
Click Play, then Continue, then wait for the game to load before logging in to your account with the Steam or Epic Games Store so that you may start playing.
For a more in-depth guide on using GeForce Now, visit this page.
How to download Outward Definitive Edition on Mac
If you want to download the Definitive Edition of Outward on your Mac, you will first need to create a Windows virtual machine or install Windows on a different partition on your hard drive. You will be able to download and play Outward: Definitive Edition on your Mac once you have Windows installed or emulation of Windows running.
Note that setting up any of these techniques requires substantially more time and effort compared to the choices for game streaming that we presented above. In addition, in order for you to be able to play the game, the system requirements set out by the developer must be met by your Mac while there is no such requirement with the game streaming methods. The advantage of this setup is that your Internet connection won't have any impact on the quality of your gaming experience. If you use cloud gaming, your gameplay performance would suffer unless you have access to a reliable and speedy Internet connection.
If you want to install or emulate Windows and download the game, we would suggest that users of Intel-based Macs go with the Boot Camp alternative, while users of M1-based Macs use Parallels. A quick description of the two methods is shown below.
Play Outward Definitive Edition with Parallels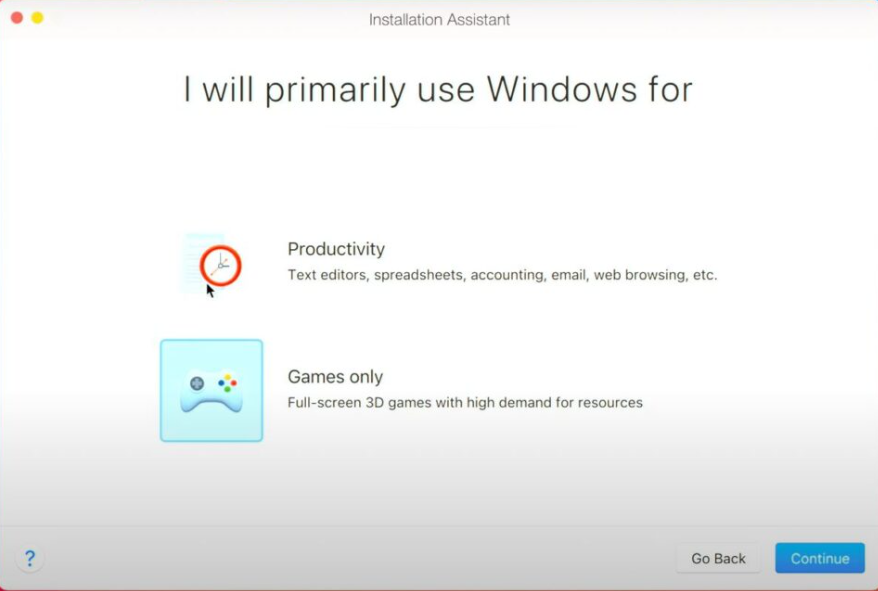 The Parallels app may be downloaded and installed from the Parallels website.
Playing Risk of Rain 2 on Mac with Parallels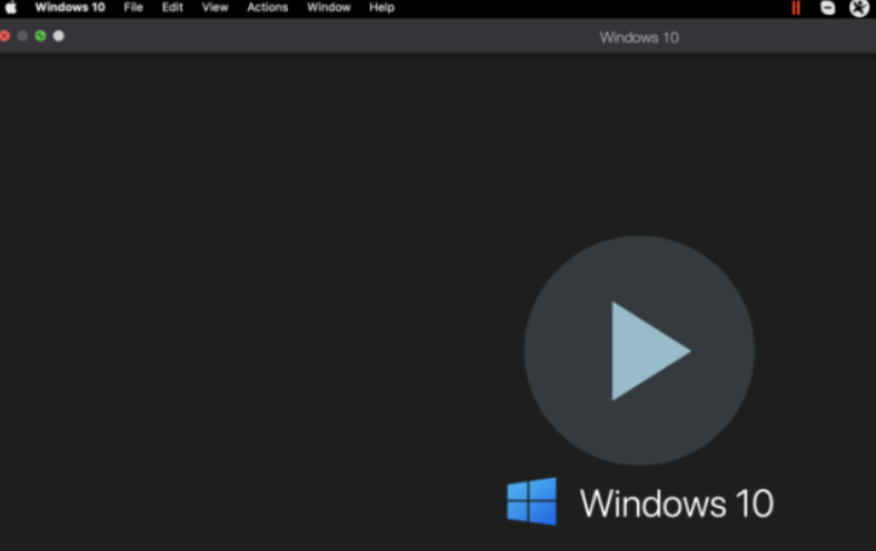 Getting Parallels installed on your Mac is as simple as going to Parallels.com and downloading the appropriate file.
Install Parallels on your computer by running the .dmg file and following the directions on the screen.
Once Parallels has been installed, open it and select the "Install Windows" option to begin the process of creating a Windows VM.
Create a Parallels profile or sign in to the virtual machine using one of the other available sign-up options.
Once you enter the VM, download the Steam or the Epic Games client and use it to install the game on the virtual machine.
If you need more in-depth steps for Parallels with screenshots, check out our Full Parallels Guide.
Play Outward Definitive Edition with Boot Camp Assistant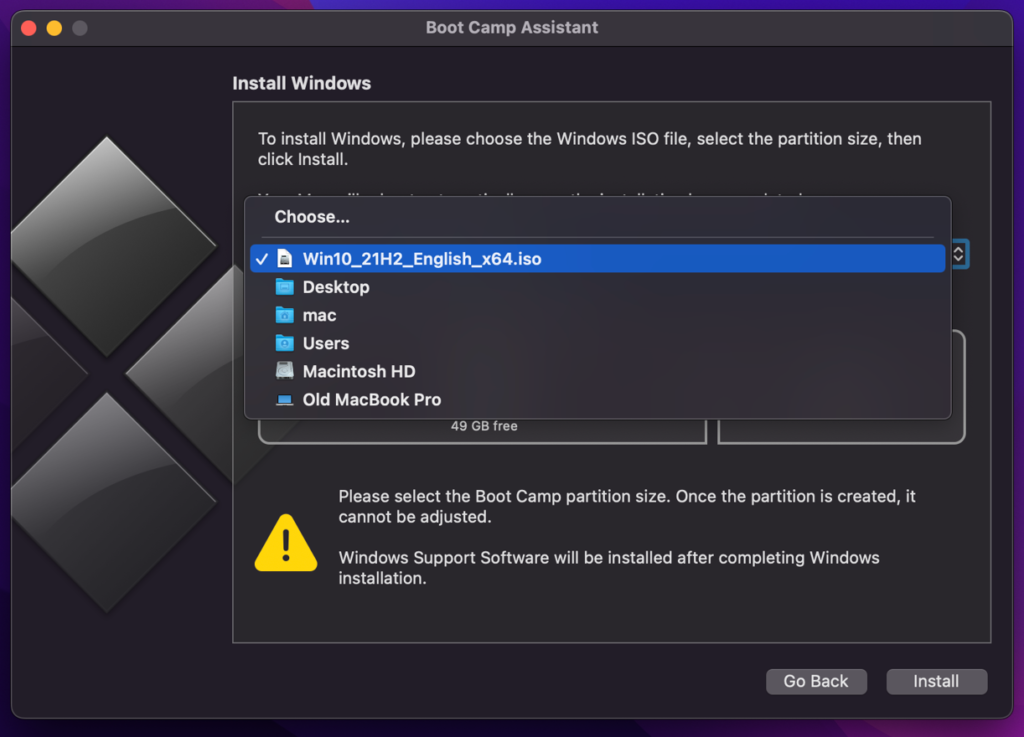 Go to Microsoft's website and get a copy of Windows 10's ISO image (64-bit).
Boot Camp Assistant can be found under Applications > Utilities, so open it and choose the ISO file.
Create a Windows partition and click Install to start the installation process.
Install Windows by following the on-screen instructions, starting the installation, customizing your Windows settings, and creating a Windows account.
Use the Boot Camp Assistant window on your screen to install any missing Apple drivers for the new OS after you've logged in
Download and install the Steam/Epic Games Launcher, then buy, install, and play the game from inside the launcher.
Full guide on how to use Boot Camp Assistant
Downloading Outward Definitive Edition on Mac from Steam: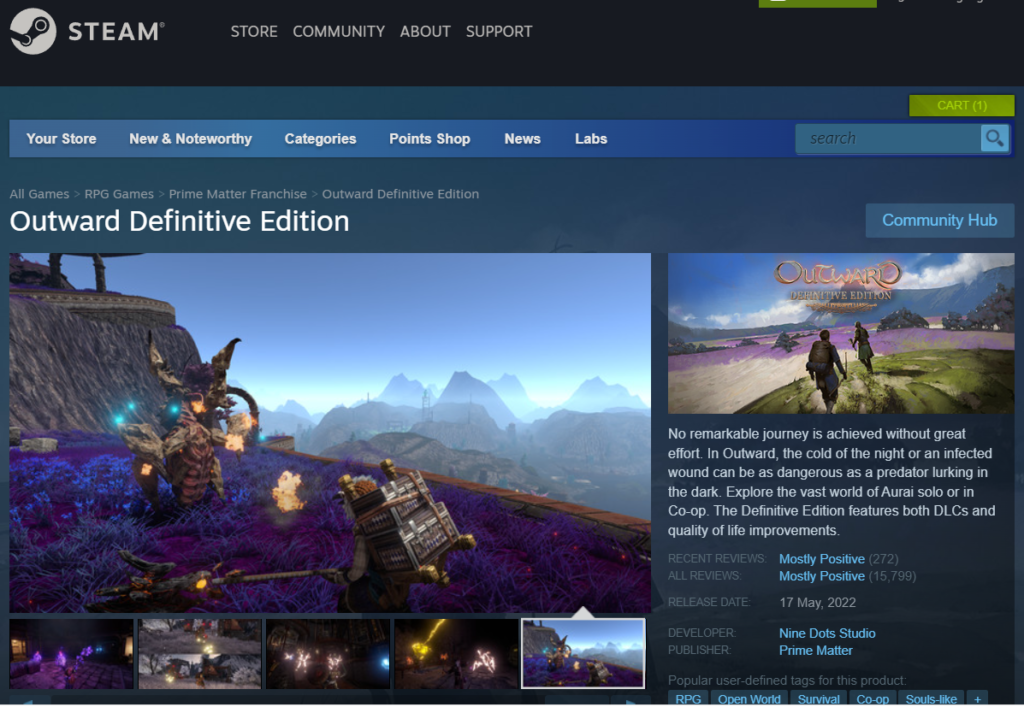 Create a Steam account and log in to it. You may do this by visiting the official Steam website and clicking on the "Install Steam" icon at the very top.
In the client's Store area, look for "Outward Definitive Edition".
As soon as you click the "Buy Now" button on a Steam page for a game, you'll be asked to input your payment information.
Find Outward Definitive Edition in the Library and click on it. Then, on the game's Steam page, click Install.
Clicking on the Next button in the pop-up window will begin the process of installing the game. To begin playing, locate Stray in your Steam library.
Outward Definitive Edition on Mac M1
You can play Outward Definitive Edition on Mac M1 using a game streaming service such as Boosteroid. You may also play the Windows version of Outward Definitive Edition on your Mac M1 using Parallels, by creating a virtual machine with its help.
The Boot Camp Assistant technique is not available to M1 Mac users, however, the other three options for playing Outward Definitive Edition on Mac are still available. Outward Definitive Edition may be streamed to your M1 Mac without the need to download anything, or you can build a Windows 11 virtual machine on your Mac using Parallels and then download and play the game.
Martina Nikolova
Martina likes to get into nitty-gritty of tomorrow's tech, from product design across to security based solutions. A long time mac user and developer, she has the expertise and strives to give new insight