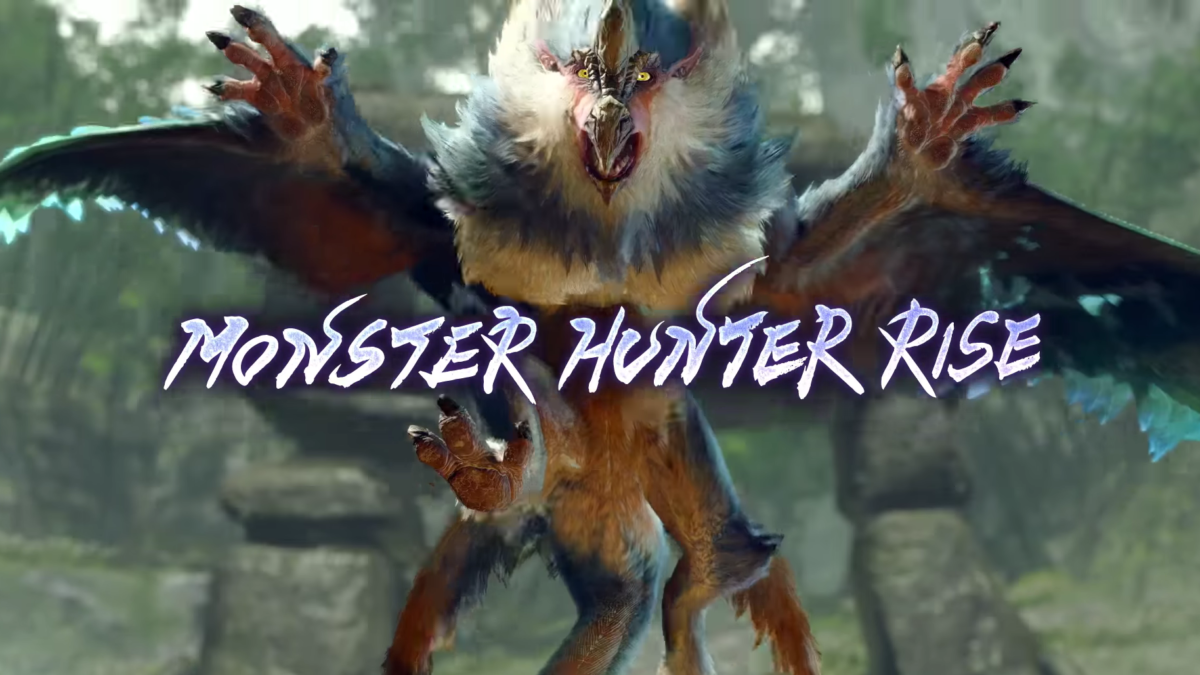 Monster Hunter Rise (Mac)
Martina Nikolova, 1 year ago
0
10 min

read
Monster Hunter Rise on Mac
Monster Hunter Rise is a computer role-playing game that is part of the Monster Hunter series, which is developed and published by Capcom. For newcomers to the Monster Hunter series, the basic gameplay is exactly what the title implies. In Monster Hunter Rise, you can build your own Hunter character and go on a variety of adventures to hunt different monsters. It goes well beyond that, though, as the game has a great deal of complexity that will have you going back for more, time and time again.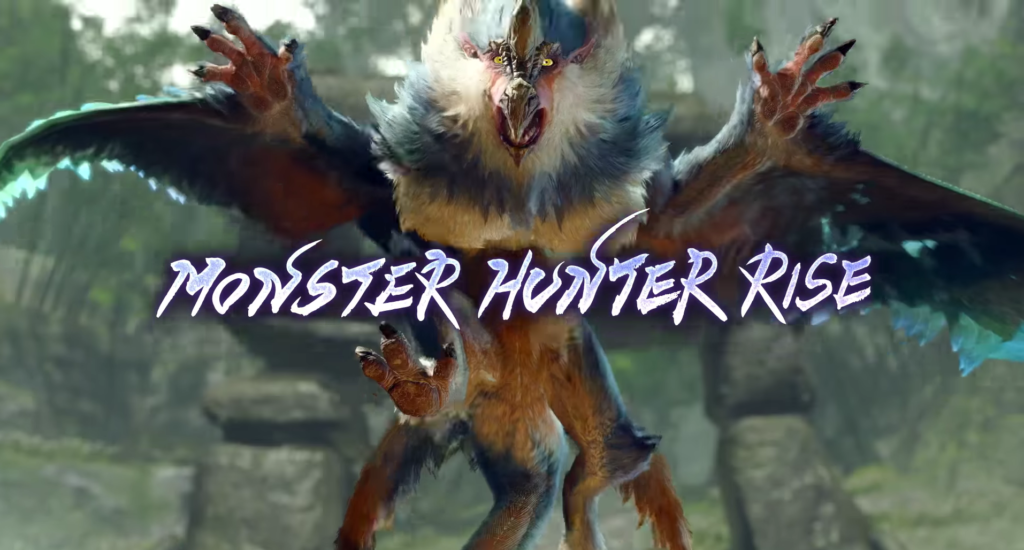 A wide variety of monsters
A wide variety of new Japanese folklore-inspired monsters, each with a unique personality and lethal fury, are at your disposal in the game. You'll need to think quickly and learn each monster's distinctive abilities if you intend to reap any of the rewards from defeating them.
Have fun with your chosen weapon
The Great Sword, Dual Blades, Bow, and many more weapons are available to players in Monster Hunter Rise, each of them giving a wide range of alternatives for being used. Dual Blades are useful for beginners, but weapons like the Charge Blade or Insect Glaive offer more complex move sets that are suitable for more experienced players. This enables players to customize the game based on their level of expertise and how comfortable they are with leveling up in the game. If you want to perfect a single weapon, you may do it by focusing your attention on it, or you can shake things up and try them all.
Forge, gather, and craft
There are no loading screens in Monster Hunter Rise, and each map is a single region that you may explore to your heart's delight without interruption. When monsters flee from you, you'll feel the urgency to chase them since you'll feel that you're on the verge of catching them up.
As you slay down monsters, you'll get resources for making new weapons and armor as well as improving what you already have. To get even higher prizes, return to the area and hunt even more dangerous beasts there. You can change your weapon at any moment at any of the Equipment Boxes, which means the options are endless!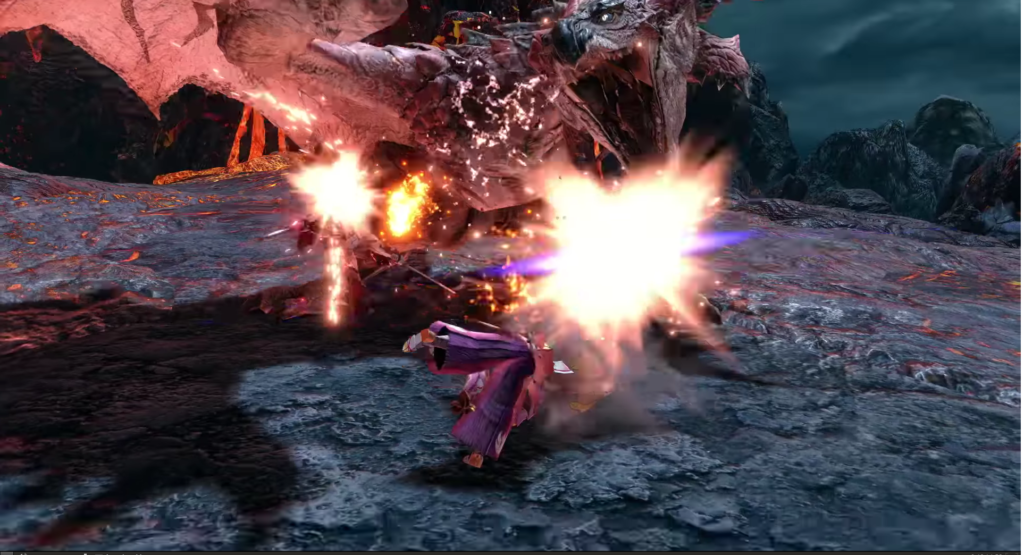 Slay down creatures alone or with a group of allies
In Monster Hunter Rise, as many as four players may join forces in the Hunter Hub to take on targets together. Beautiful graphics and other computer-optimized features are all included for maximum fun.
An immersive monster-hunting experience is achieved thanks to gorgeous visuals at up to 4K resolution, HDR with support for features such as ultrawide displays, and an unlocked frame rate.
Kamura Village is the setting for an intriguing new plot.
In Monster Hunter Rise, there is a particular framework for missions that create the heart of the game. Aside from the fact that you have to go out and kill monsters for the people in your town or defend it from larger-scale invasions, there isn't much of a plot here.
A variety of NPCs in the town of Kamura provide various types of missions. Many of the people in this peaceful location have long been terrified of the Rampage, a cataclysmic occurrence in which an untold number of monsters attack the community at once. You and the townspeople must get together to tackle this challenge, 50 years after the previous Rampage. These are the game's "narrative missions", which range from "Level 1" to "Level 5", based on the difficulty. Key quests must be performed in order to advance in the game, but there are also side tasks that may be accomplished only for the sake of earning reward money and resources.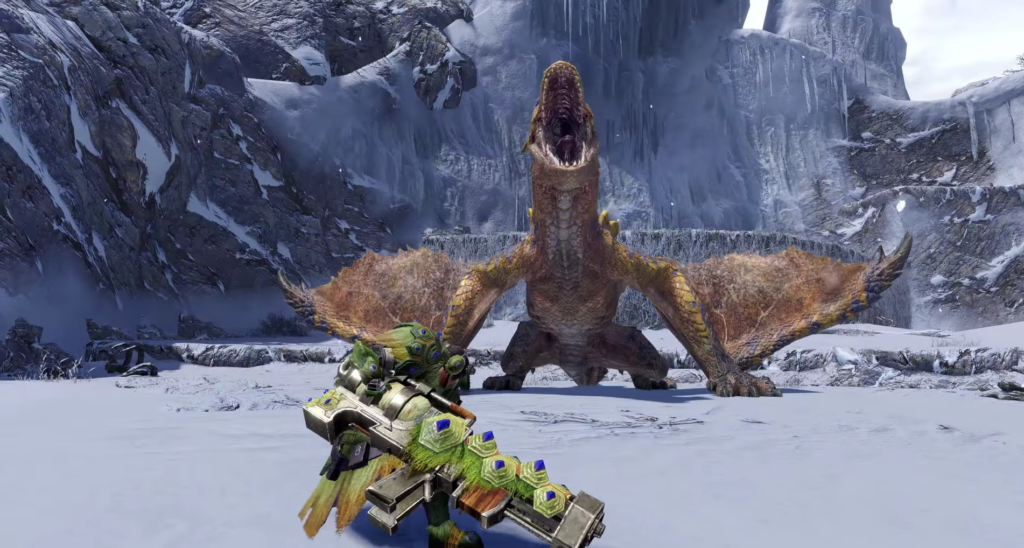 Try out different hunting techniques with the Wirebug
A hunter's toolset in Monster Hunter Rise has a new addition called Wirebug. The Wirebug may be used for both exploration and combat throughout the game. When you begin a mission, you are given two Wirebugs that may be activated by pressing a button on your controller. In Monster Hunter Rise, the Wirebug may be used to climb cliffs and walls without vines around, as well as to wall run. This gives the game a feeling of scale that has never been seen before.
It's possible to use the Wirebug in the open to avoid an enemy attack by moving fast from one location to the next. You may use a Wirebug to execute a Wirefall to fast recovery after being sent out into the air by an attack. The Wirebug-related Silkbind attacks are also included in each of the weapons, although the number of these attacks you may use is restricted.
Can you play Monster Hunter Rise on Mac?
Monster Hunter Rise can be played on a Mac, but you'll have to use workarounds to do so. You could install Windows on your Mac if you want to play Monster Hunter Rise on a Mac.
Monster Hunter Rise isn't available for macOS systems right now, which is bad news for Mac users who like this game. On the plus side, there are at least four other ways to play Monster Hunter Rise on a Mac. Each of these ways will be shown and explained in the next few paragraphs. It's true that playing the game on a PC may not feel as polished as playing it on a Mac. But each of the alternatives we're about to show you is a good way to play Monster Hunter Rise, and you can still enjoy the game and get a pretty good performance.
How to play Monster Hunter Rise on Mac
If you want to play Monster Hunter Rise on a Mac, you will need to install the game, you can also use a virtual machine with a Windows setup such as Parallels or Boot Camp Assistant, but that takes more time and space on the system.
If will find detailed instructions on how to download Monster Hunter Rise to your Mac and play it using Bootcamp or Parallels.
Monster Hunter Rise Set Up Methods
Methods
Advantage
Disadvantage
BootCamp
– Free to use any time
– Windows 10 Environment

– Painful Setup
– Mediocre Performance
– Only Compatible with Intel Macs

Parallels Virtual Machine
– Easy Set-up
– Adequate Performance
– Play almost any PC game
– Windows 11 environment
– Compatible with M1 and Intel Macs
– 14-day free trial
– Yearly Fee
Play Monster Hunter Rise with Cloud Gaming
Monster Hunter Rise is now available to play on cloud gaming servers. This assures NO
compatibility issues while playing on your Mac as well as top-notch performance.
Step 1. Get Monster Hunter Rise
Before playing Monster Hunter Rise make sure you get the game through the official websites. At the moment the Steam version is compatible with cloud gaming services such as Boosteroid.
Update: Limited time offer now available at CDkeys.com, – 69% Discount Monster Hunter Rise Deluxe Edition for just $23.39
Step 2. Register and Add Monster Hunter Rise To Boosteroid Cloud Gaming Library
All you need to do now is register for Boosteroid. This allows you to add Monster Hunter Rise to their Cloud Gaming Library. Once uploaded you can seamlessly play the game from your Mac, TV, or Mobile Device.

When Registered you will have additional access to more than 100 top-rated games for free. Pricing varies depending on the subscription plan.
Play Monster Hunter Rise on Mac using Boosteroid
The first step is to create an account and sign up for a subscription to Boosteroid on their official website.
Second, choose a subscription plan and enter your payment details by clicking on your profile name in the top right and then selecting the Subscribe button under My Subscription.

After signing up with Boosteroid, the next step is to search for the game you want to play in the search bar on the site and then click the Install and Play button.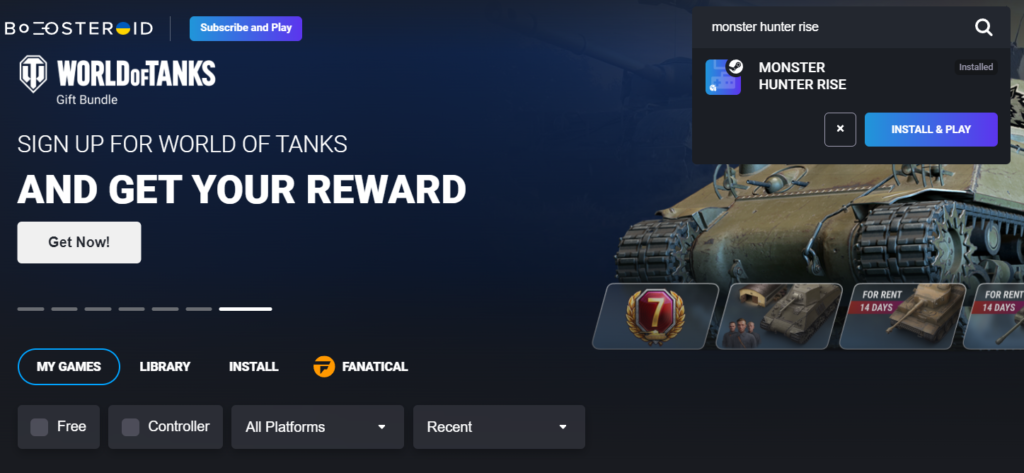 A prompt asking you to log in to your Steam account will appear. Just hit the OK, let's go button and proceed to the loading screen.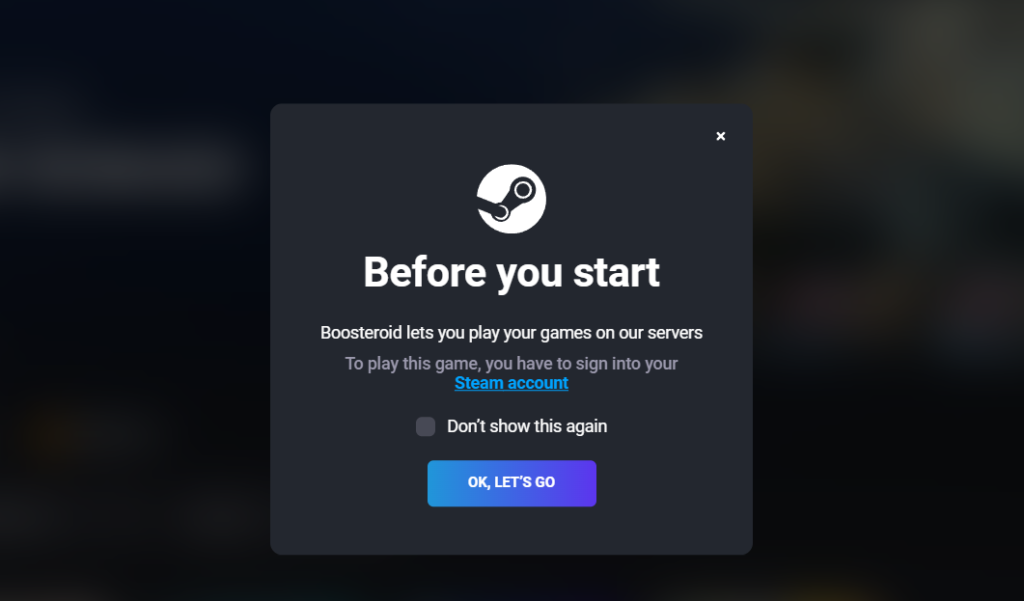 The game will be installed via the Boosteroid-provided virtual machine when the loading screen appears. Click "Accept" to proceed. Your computer will not get any installation files or downloads, this is just for the virtual machine.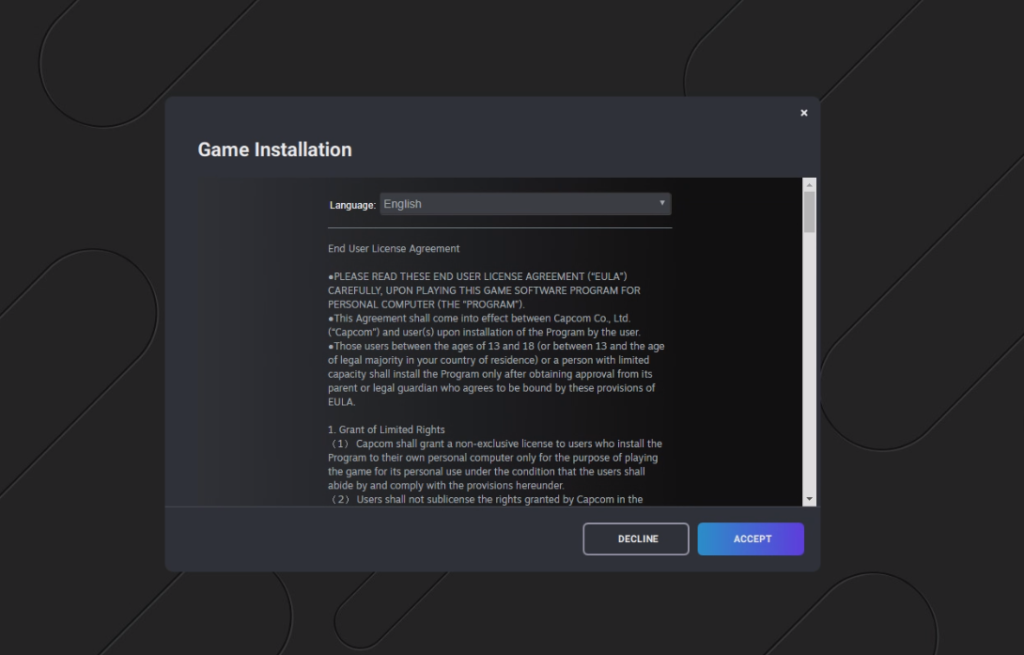 Once the installation is complete, you'll be sent to the Steam Store page. Launch the game from your Library. Once that's done, the game will start on the screen.
How to download Monster Hunter Rise on Mac
You have to be in a Windows environment to download Monster Hunter Rise on a Mac. You can install Windows on your Mac by using either Apple's Boot Camp Assistant app or the virtualization tool Parallels.
Both of these ways let you download and play a Windows game, but they do it in different ways and have different pros and cons. If you have an Intel Mac, we usually recommend the Boot Camp method, and if you have an M1 Mac, we recommend the Parallels method. Here is a brief summary of what you need to do for each method. If you click on the links below, you can also see a more detailed guide for each.
Downloading Monster Hunter Rise on Mac from Steam
First, if you don't already have one, you'll need to sign up for a Steam account. You can directly follow this link and register.
On the Steam site, search for the Install Steam button and click it or just go to this page, and download and install the Steam client for Mac.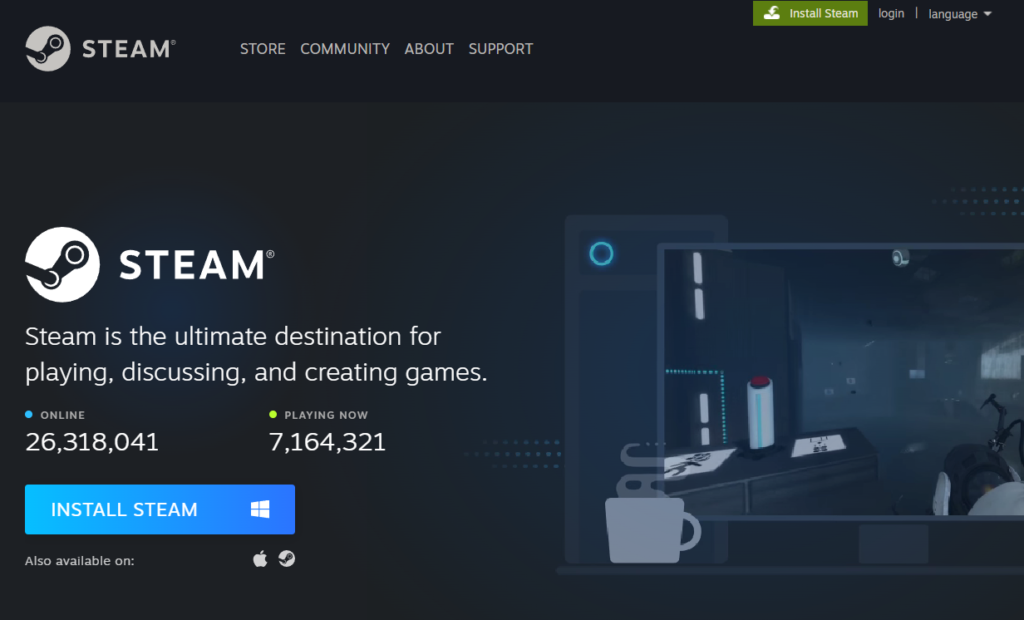 To play Monster Hunter Rise on the client app, navigate to the Store section/tab and enter "Monster Hunter Rise".
After clicking Add to Cart on the Monster Hunter Rise page and selecting Purchase, choose a payment option, then fill out the relevant information to make the purchase of the game.
Back to the game's page, click Play Now, and then click Next to begin the download and installation of Monster Hunter Rise on your Mac.
Go to the Library area of the Steam client and click on the game you just installed. Then press Play.
Playing Monster Hunter Rise on Mac with Parallels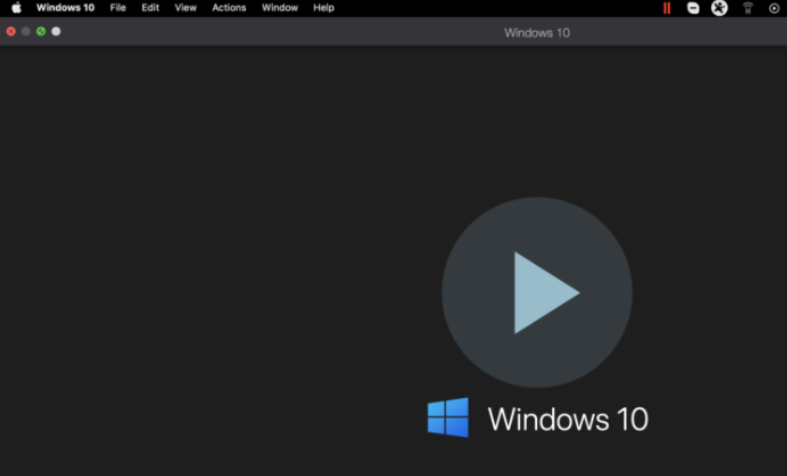 The first thing you need to do is go to Parallels.com and locate the file that will allow you to download and install Parallels on your Mac.
Install Parallels on your computer by running the .dmg file and following the directions on the screen.
Once Parallels has been installed, open it and select the "Install Windows" option to begin the process of creating a Windows VM.
Create a Parallels profile or sign in to the virtual machine using one of the other available sign-up options.
Once you enter the VM, download the Steam or the Epic Games client and use it to install the game on the virtual machine.
If you need more in-depth steps for Parallels with screenshots, check out our Full Parallels Guide.
Playing Monster Hunter Rise on Mac with Boot Camp Assistant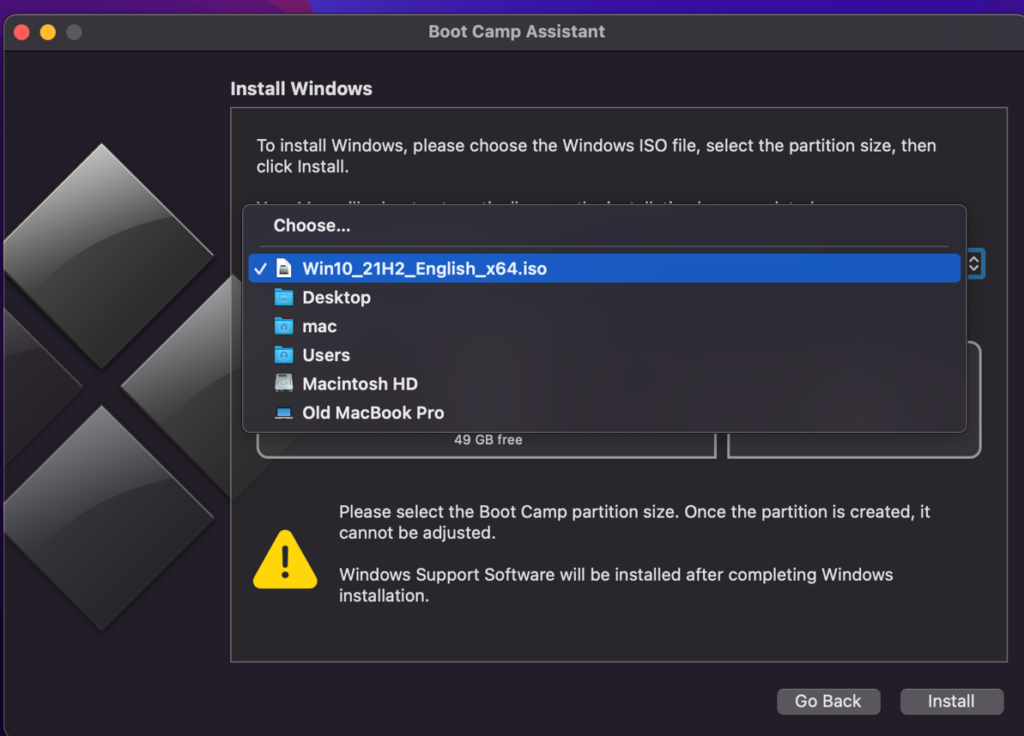 Go to Google, type Download Windows 10 ISO, click on the first result from Microsoft and download a Windows 10 ISO file for free (the 64-bit variant).
Next, go to the Utilities folder on your Mac, start the Boot Camp Assistant app, and load in it the ISO.
Provide the Windows and the macOS partitions with enough space, click Install, and complete the installation prompts after your computer restarts.
After you've installed Windows, customize its settings, create an account, log in, and use the Boot Camp window on your screen to install the needed Apple drivers for Windows.
Lastly, download Steam in the Windows partition and install with its help Monster Hunter Rise.
Monster Hunter Rise on Mac M1
Even though there is no macOS version of Monster Hunter Rise, you may still play it on your Mac M1 through a Parallels virtual computer.
Users of M1 Macs have the option of running Monster Hunter Rise on Parallels, which may be even more efficient on M1 Macs than it is on Intel Macs. The Boot Camp Assistant approach is exclusive to Intel Macs because Windows 10 is incompatible with the M1 architecture and it cannot be installed on Macs equipped with M1 processors.
Martina Nikolova
Martina likes to get into nitty-gritty of tomorrow's tech, from product design across to security based solutions. A long time mac user and developer, she has the expertise and strives to give new insight