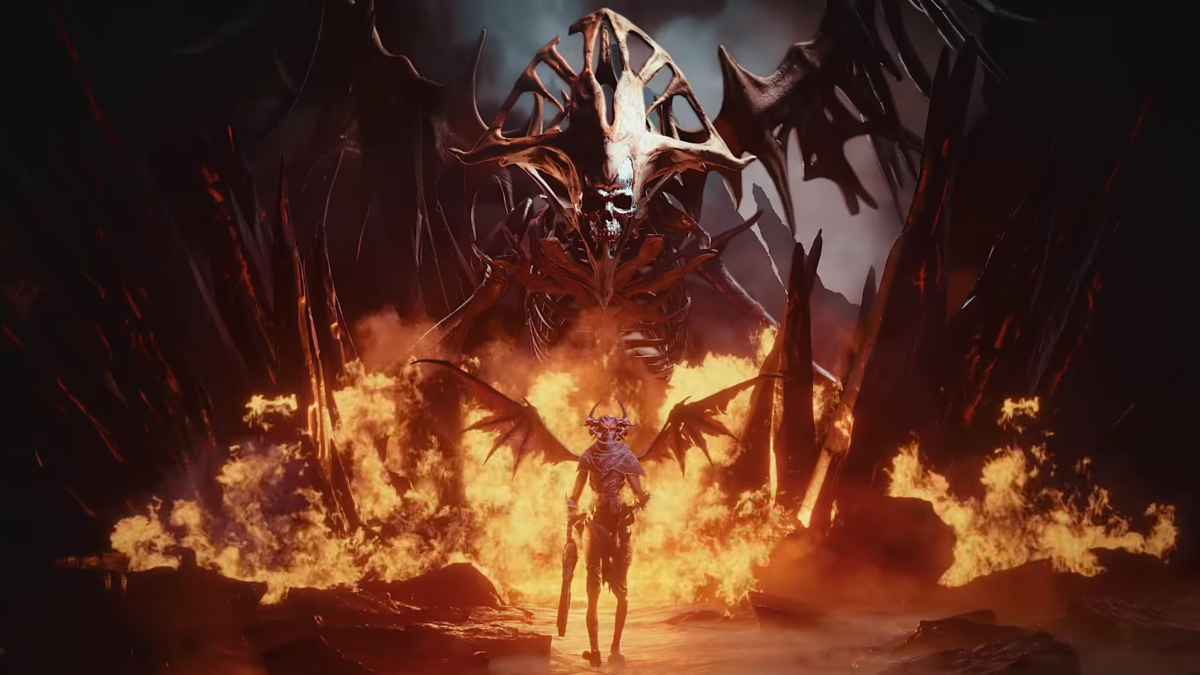 Metal: Hellsinger (Mac)
Martina Nikolova, 8 months ago
0
11 min

read
Metal: Hellsinger on Mac
Metal: Hellsinger is a first-person shooter video game where metal music and killing monsters are connected – quite literally. The gameplay is based on music controlling the action in such a way that the player must use the beat to defeat demons.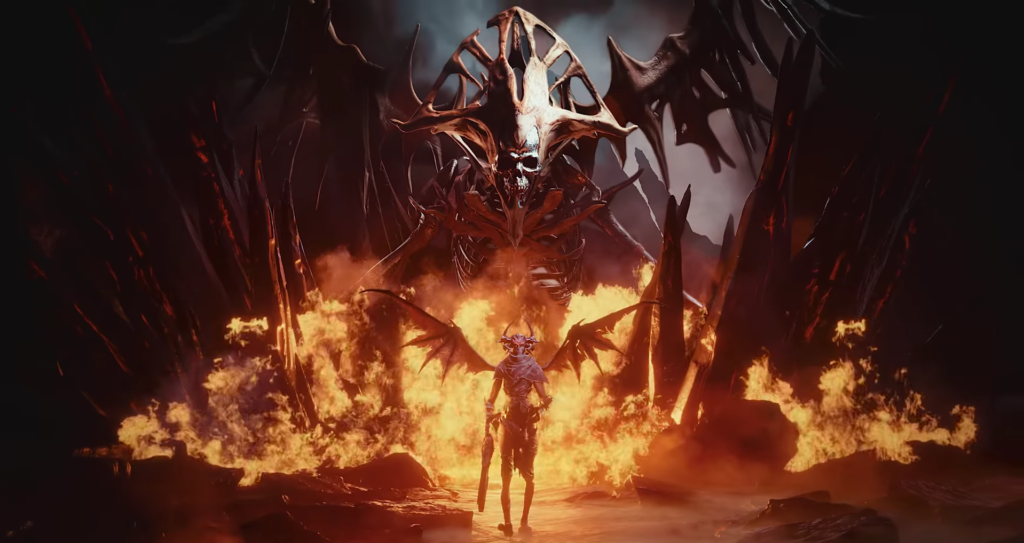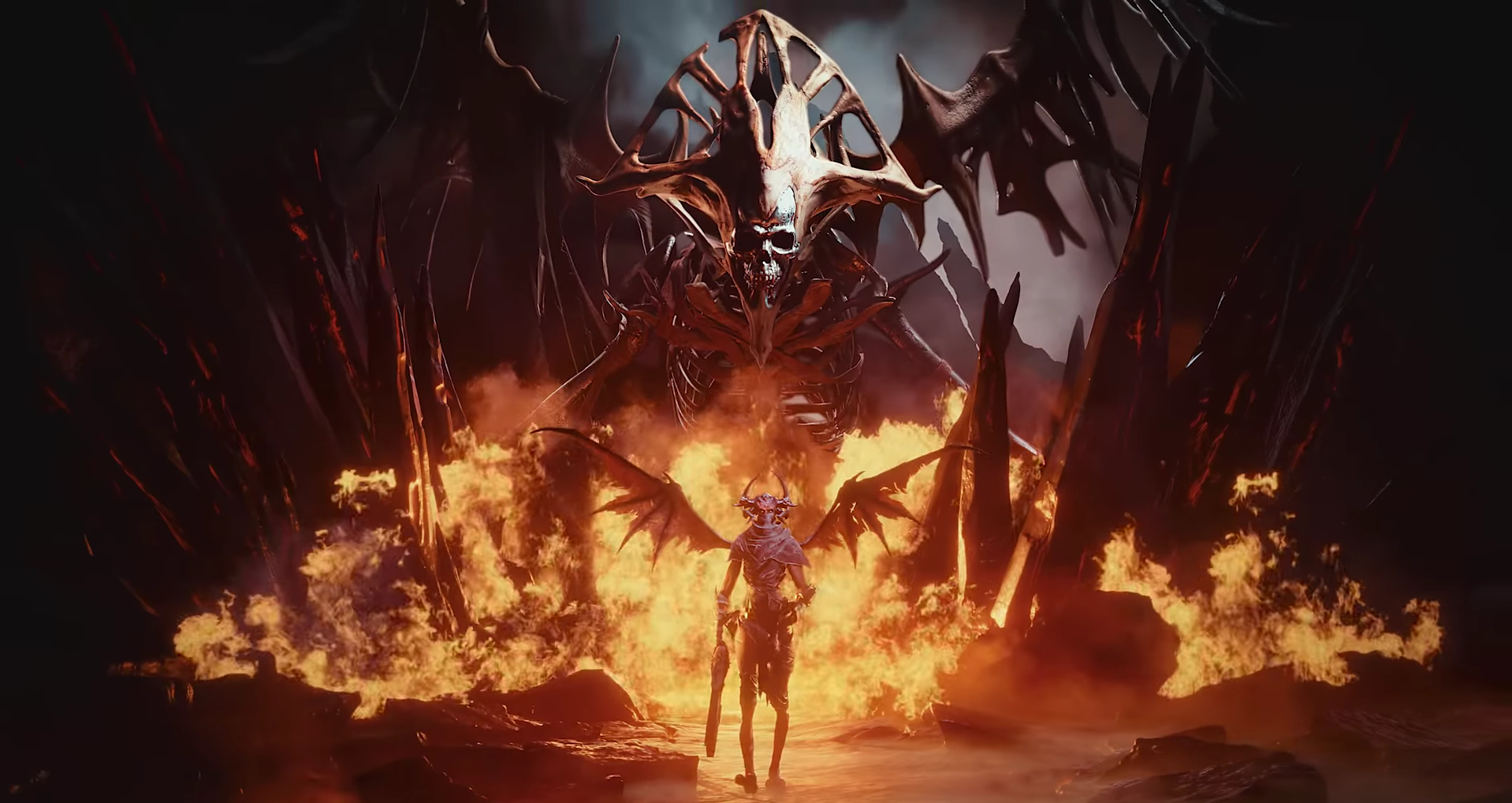 To excel, you have to have an ear for rhythm because hitting enemies in time with the music in the background deals more damage than hitting them randomly. This means that even the strongest bosses from the highest levels may be defeated with only a few well-placed bullets at the right time.
But if the intensity of a gunfight distracts you to the point you lose your rhythm, the results may be disastrous. It may take you several seconds before you sync back with the beat to deal very serious damage, during which your score may rapidly decrease.
Soundtrack
The soundtrack in Metal: Hellsinger is a definitive winner. Experts in the field of video game music have developed original tracks for each of the game's many levels.
Each song has clever instrument layering that adapts to your skills. The opening sound of a level is a basic beat. As you kill enemies with shots in sync with the music, the game slowly adds in bass, rhythm guitar, lead guitar, and finally soaring vocals.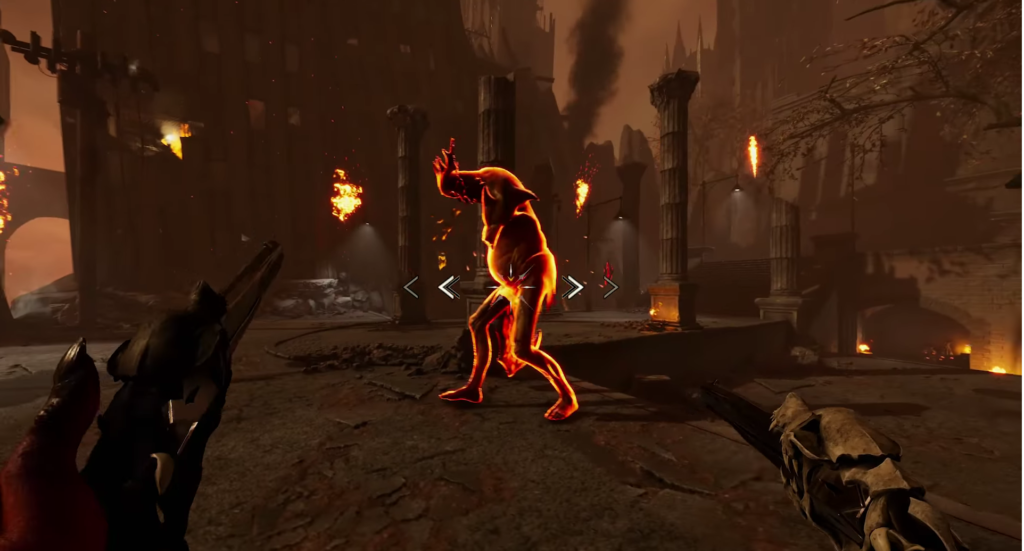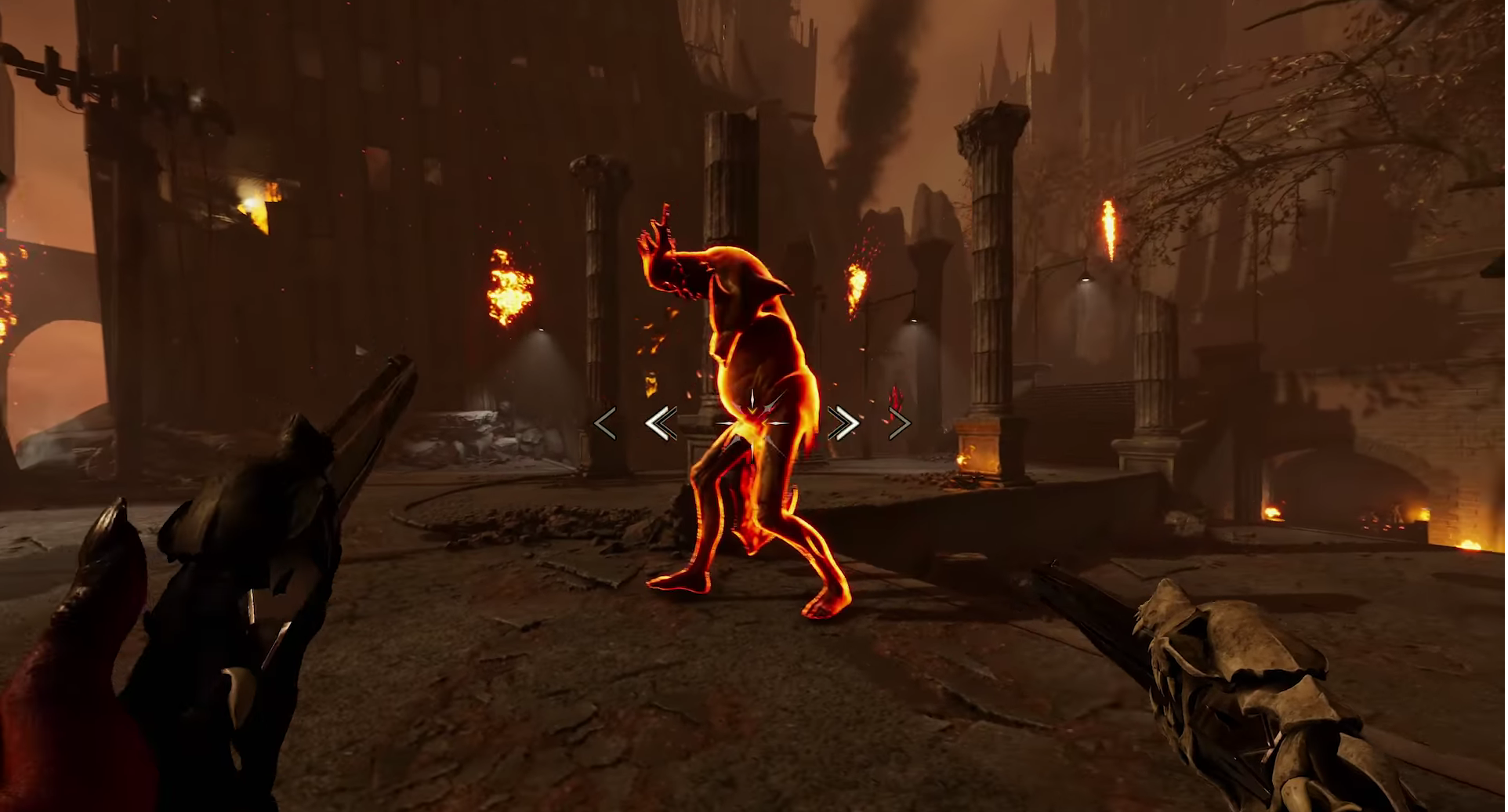 All the parts of the music and gameplay come together in the midst of the fight. At some point, you may find yourself oblivious to the on-screen instructions and even the screen itself, allowing the music to be the only source of motivation for your actions. You'll know you're doing a great job once you hear roaring metal vocals over a background of furious guitars.
Weapons
The weapon selection in Hellsinger is not only fun to use but also perfectly fits the rhythmic shooting of the game.
Although the arsenal isn't very diverse, each weapon has a unique feature and shooting interval that helps in dealing with different foes. While you have access to an infinite supply of ammunition for all of your weapons, it's important to remember that some of the weapons will need to be reloaded regularly. Doing so in time with the music will make the process of gun reloading much quicker.
Combat
There is a strong focus on speed and momentum in battle. Midair dashes and double leaps let you come close to the arenas, and some of the weapons are so far-reaching that you can use them to attack enemies even from very far away.
The bosses at each level are far from boring. In fact, they're usually the most difficult, exciting, and rewarding elements of the game.
Torments are another way to test and enhance your skills. These single-boss rush arenas let you fight enemies under specific conditions, such as not being able to heal but getting stronger as you get hurt. Completing all the torments in the game is not only entertaining but also incredibly useful, as you will enter the finale with a significant advantage. You can join them after each battle through another ring of Hell.
If you go back and finish certain tasks in each level, you'll have access to powerful loadout bonuses. Even though these bonuses aren't required to finish a campaign, they are very helpful for anyone who wants to make their mark on the leaderboard. For example, you can get more fury from shots or keep your multiplier from falling below a certain level.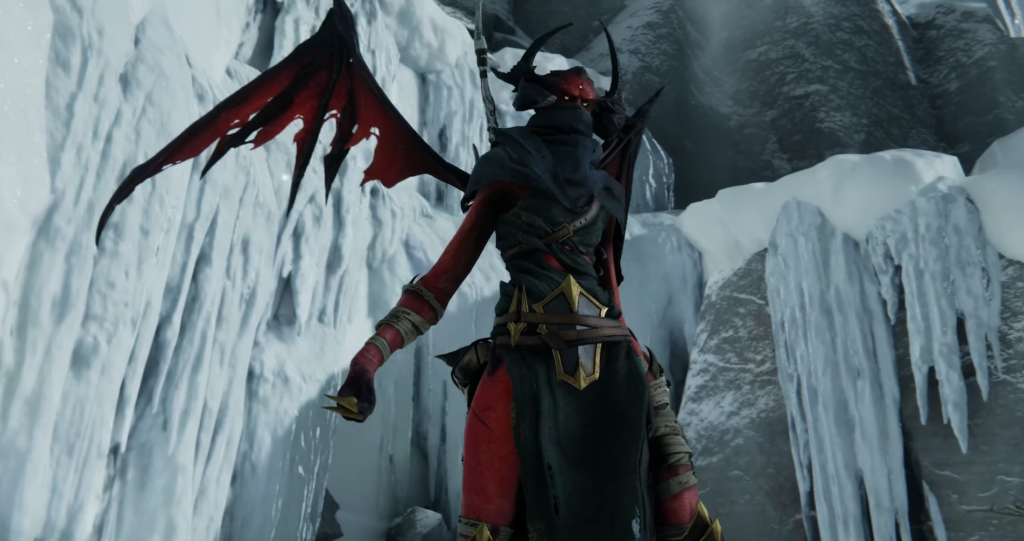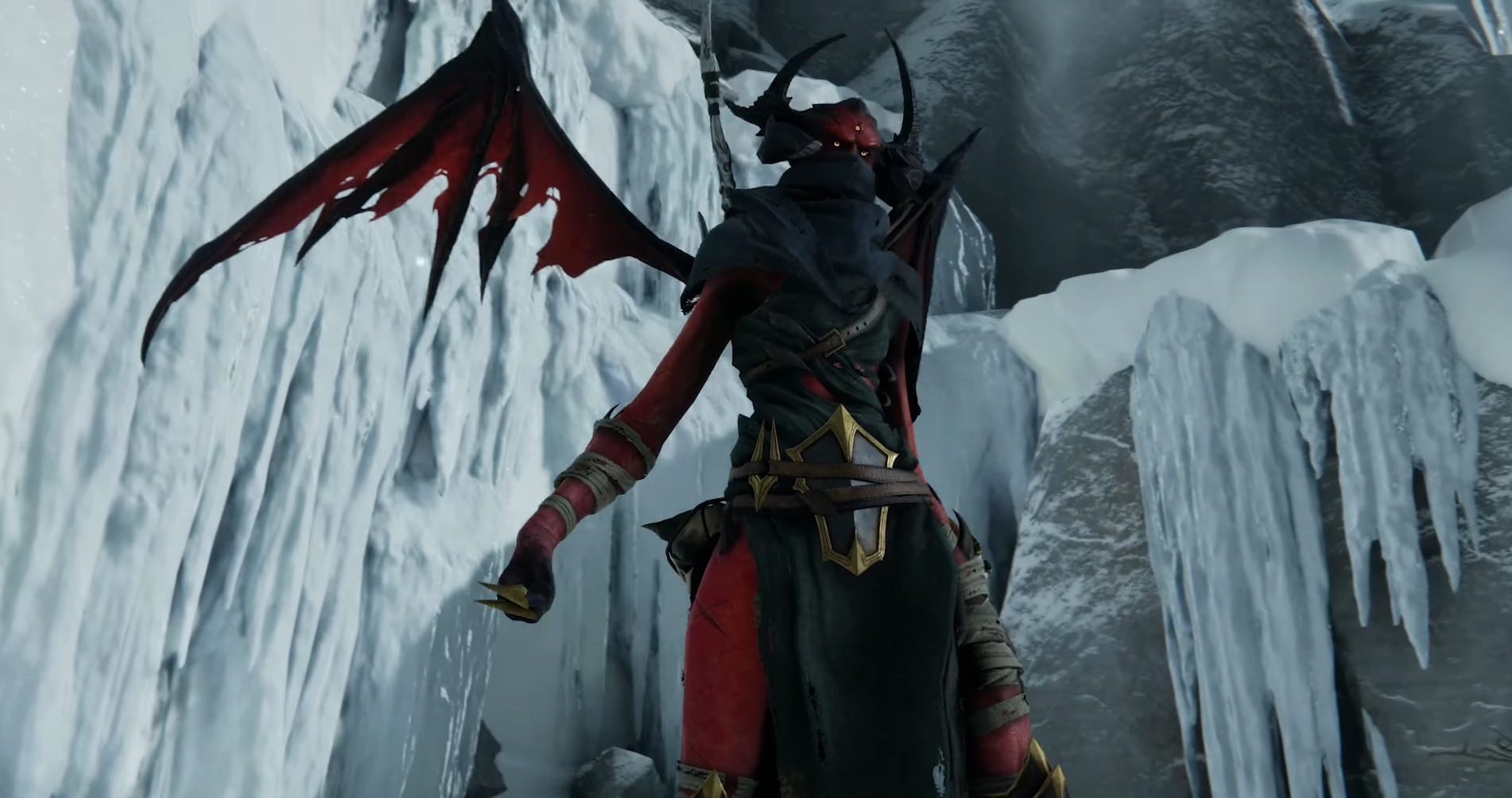 Despite the fact that there are plenty of unlockables, the main story of Metal: Hellsinger isn't very complex or long. You play as a winged demon woman who is attempting a fiery escape from the lowest level of Hell. Your demonic character, known as The Unknown, draws strength from the music's rhythm as she fights the servants of the Red Judge, a rebranded version of the devil.
The game may be completed in a total of nine levels, with the tutorial included. Some players may find this too short for a monster shooting title, but the majority of the game's duration comes from replaying the levels to get a better score or restarting the game on harder settings.
What Metal: Hellsinger shines with is the rhythm-based gunplay that is thrilling. The metal enthusiasts will also appreciate the game's layered soundtrack. Ultimately, the game's combat and sound design come together to create an experience that speaks volumes and blends in a way that few games can brag about.
Can you play Metal: Hellsinger on Mac?
Metal: Hellsinger isn't officially available for macOS. However, there are a few methods to play it on a Mac. You can use a cloud gaming service like Boosteroid or GeForce Now, or install Windows using Parallels or Boot Camp, and you can start playing Metal: Hellsinger on your Mac in a matter of minutes. If you need help, in the following paragraphs, we'll break down each of the methods for you.
How to play Metal: Hellsinger on Mac
Streaming games like Metal: Hellsinger to your Mac is easy when using a service like Boosteroid or GeForce Now. If you choose not to use a game streaming service, it is possible to download and play Metal: Hellsinger on a Mac by using an emulator, such as Parallels or Boot Camp Assistant. For your convenience, we've explained the advantages and disadvantages of each method in the table below.
Metal: Hellsinger Set-up Methods
Methods
Advantage
Disadvantage
Cloud Gaming
– No set-up required – Register and Play
– Access to a Library of over 70 top-rated free Games
– Smooth performance
– Compatible with M1 and Intel Macs
– Monthly Fee
– Requires Decent Internet Connection
– No Free Trial
Parallels Virtual Machine
– Easy Set-up
– Adequate Performance
– Play almost any PC game
– Windows 11 environment
– Compatible with M1 and Intel Macs
– 14-day free trial
– Yearly Fee
BootCamp
– Free to use any time
– Windows 10 Environment

– Painful Setup
– Mediocre Performance
– Only Compatible with Intel Macs

How to get Metal: Hellsinger on Mac
To play Metal: Hellsinger on Mac, first purchase the game. Once you do that, you can play the game without downloading it by signing in with your gaming store account and using Boosteroid or GeForce Now. Or you can download Metal: Hellsinger on Mac and run it with the help of Parallels, or Boot Camp.
Once you have the Steam version of Metal: Hellsinger, you can register in the Boosteroid cloud gaming service and use it to stream the game to your Mac, iPhone, iPad, and Apple TV.
Play Metal: Hellsinger on Mac with Boosteroid
Boosteroid is a game streaming service that can help you play Metal: Hellsinger on a Mac after you sign in for a subscription. To activate the service, you need to create an account, select a subscription plan, search for Metal: Hellsinger in the games library, and then hit the Play button on the game's page.
One of the best things about Boosteroid is how simple and streamlined the service is. You don't have to wait for a download to complete or clear up space on your Mac to begin playing a game. What's more, it makes no difference what model of Mac you have in terms of its technical characteristics. The quality of your online gaming session depends only on your Internet connection speed.
If you're interested in trying Boosteroid, here's what you need to do: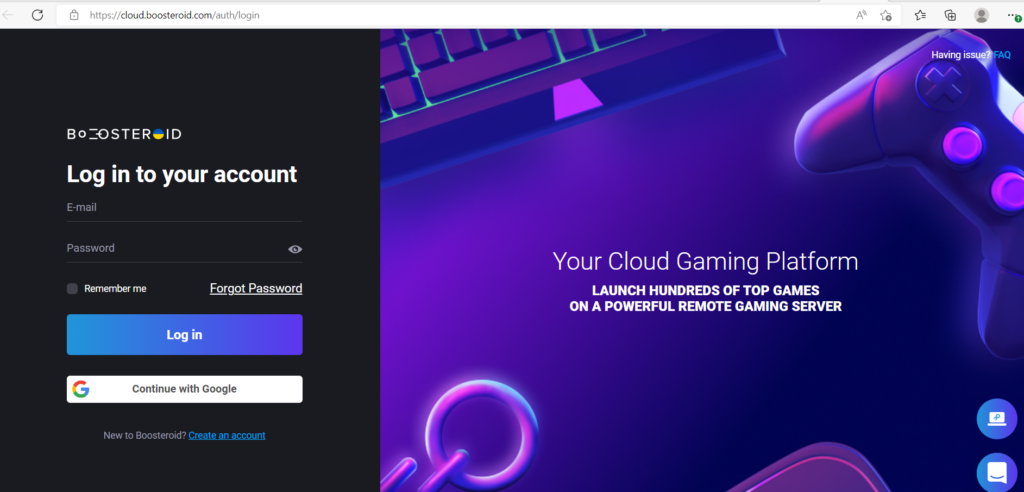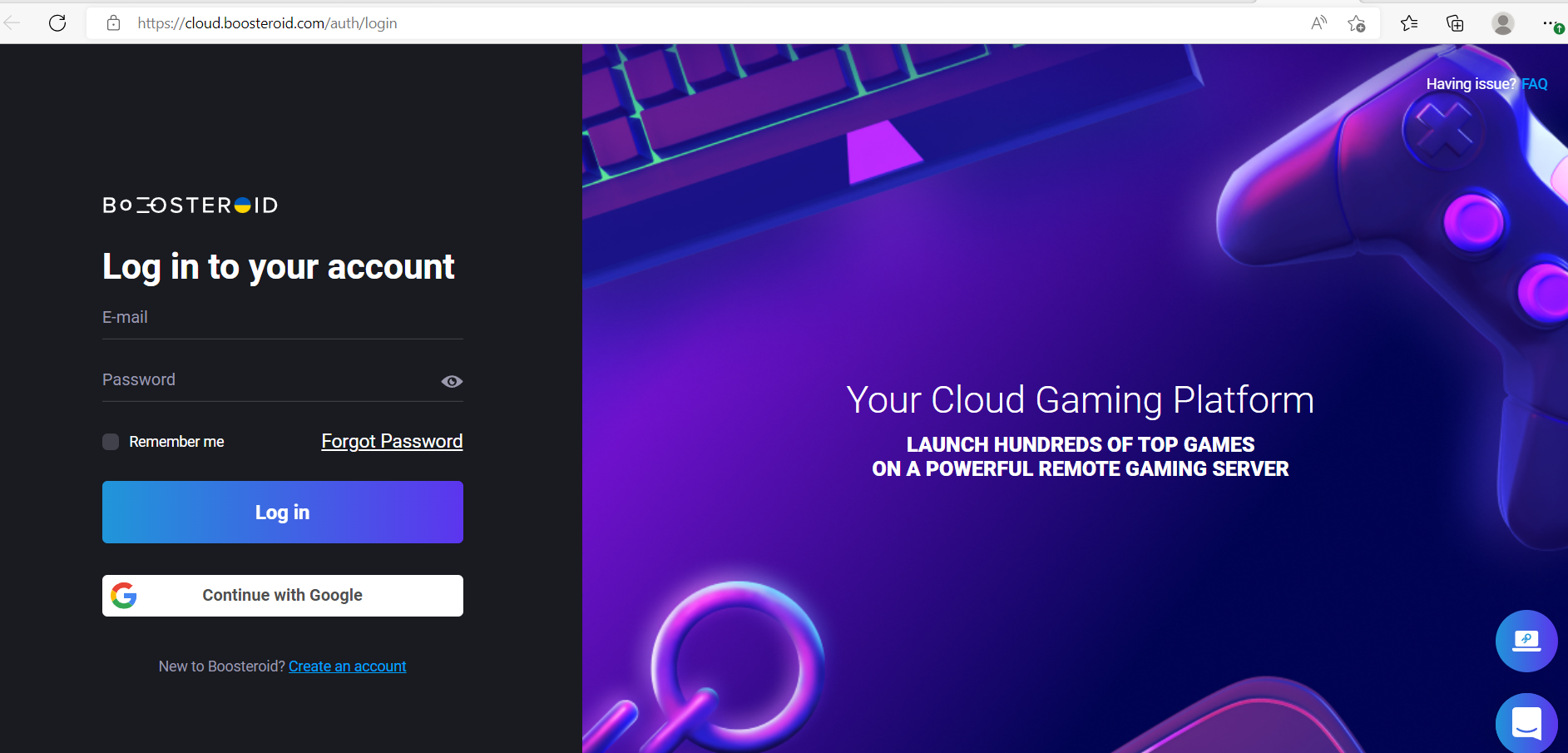 To subscribe, sign in and click your profile name in the top right corner of the screen.
Getting started with a Boosteroid subscription is as easy as selecting a plan, deciding on a payment method, and filling out some basic information.
Type "Metal: Hellsinger" in the search box at the top of the screen, then choose its tile from the resulting list.
The Metal: Hellsinger Boosteroid page will load. Select Play, and then confirm that you are happy to connect your account to the Steam store.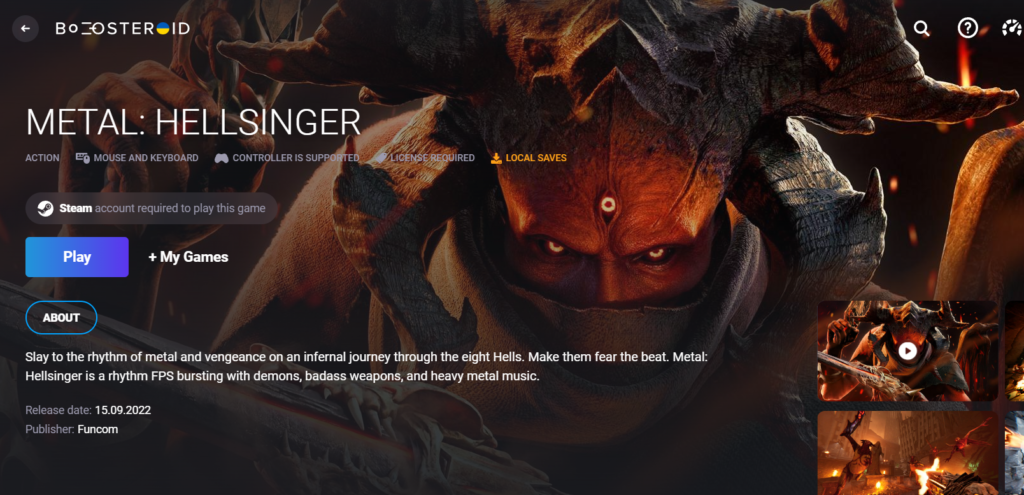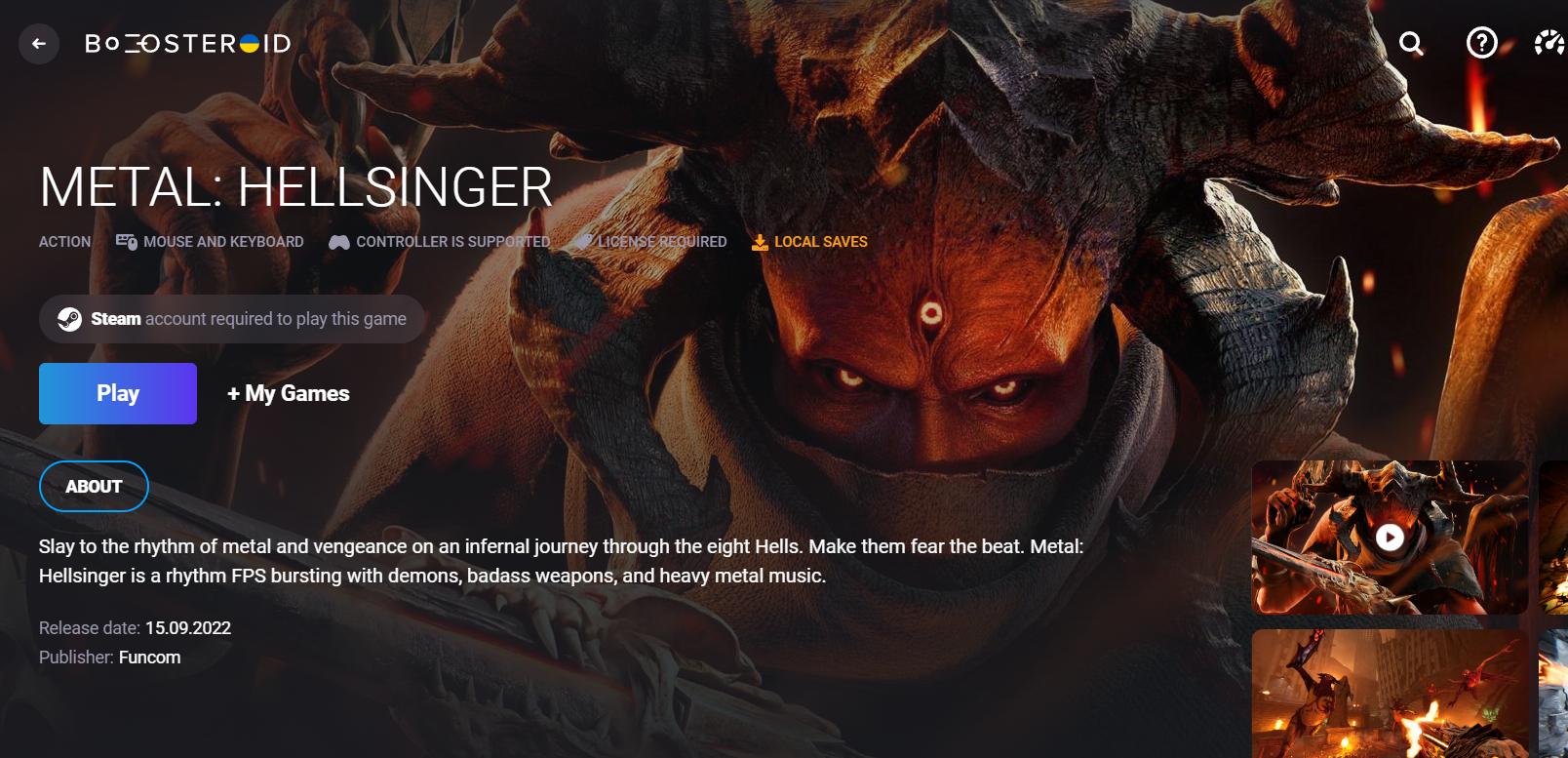 Metal: Hellsinger will launch in a few seconds. Start the game from the store's Library if it doesn't start automatically.
Play Metal: Hellsinger on Mac with GeForce Now
Metal: Hellsinger can be played on a Mac using GeForce Now after creating an account with GeForce and downloading the service's client program for macOS.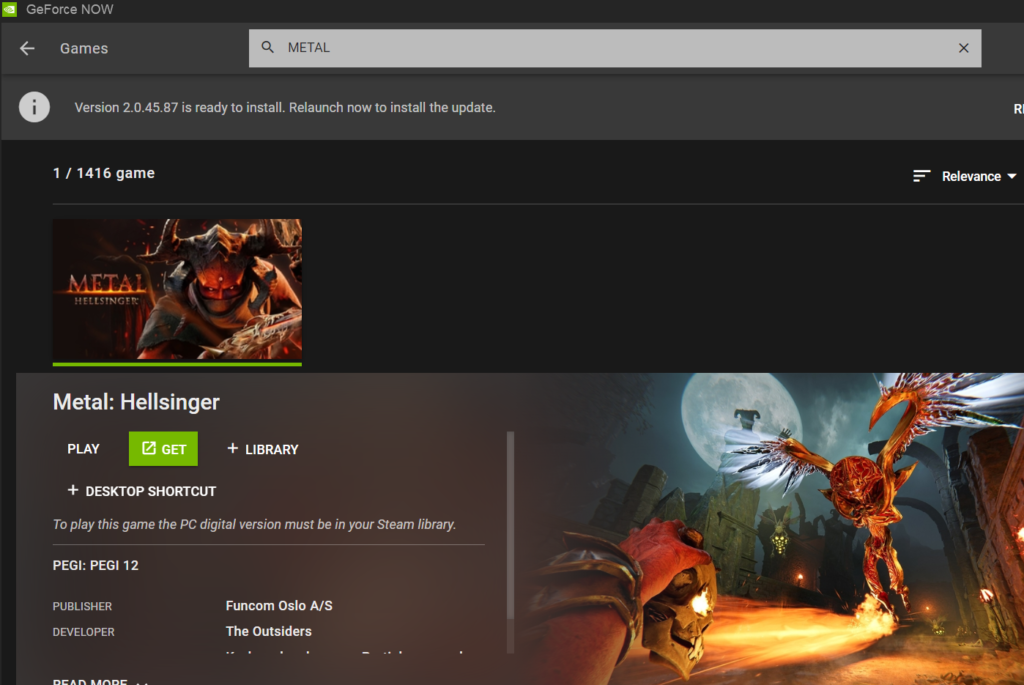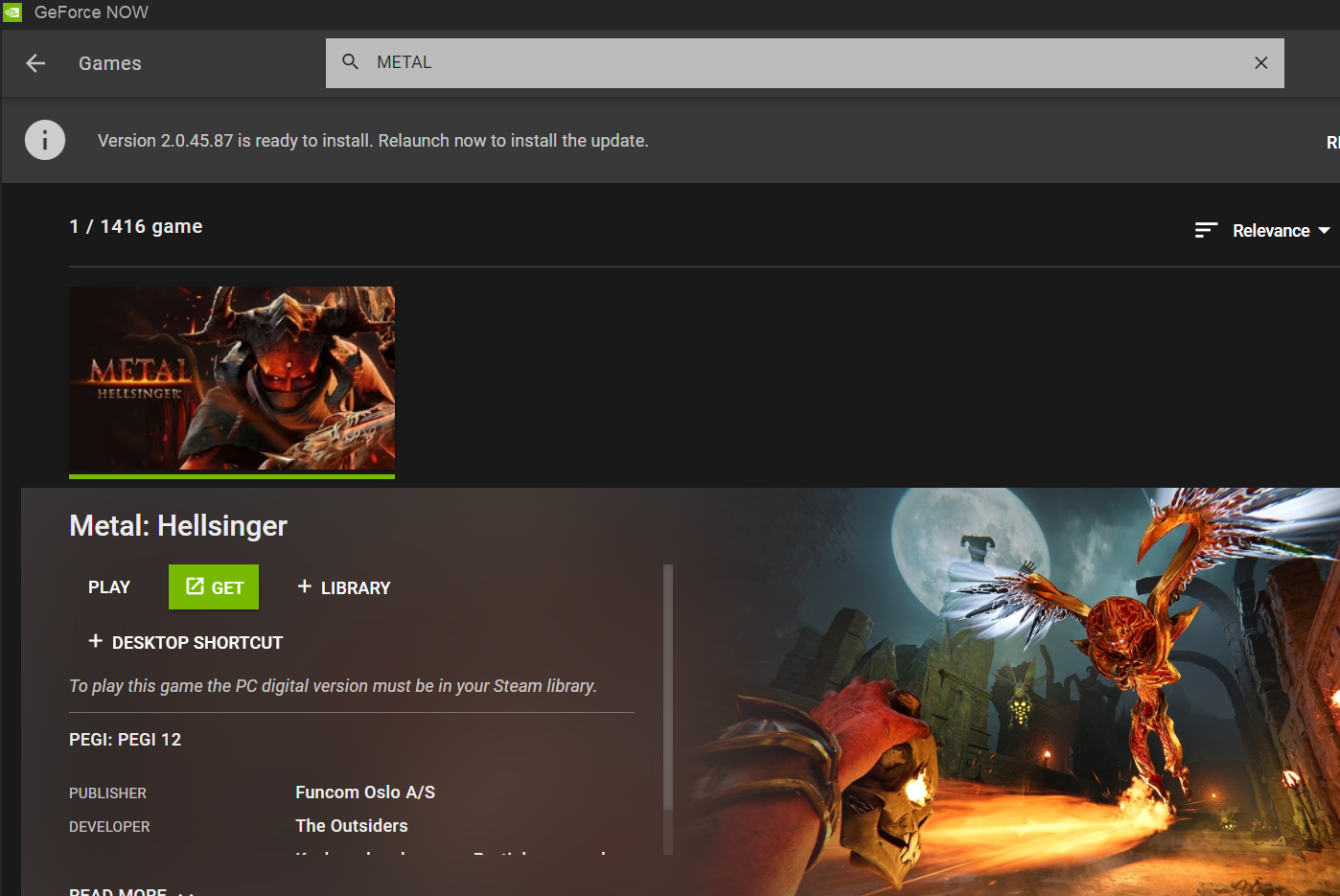 It's possible to play games on your Mac without downloading them using GeForce Now, just as with Boosteroid. GeForce Now users will require a Steam account to access Metal: Hellsinger. Please find below our quick instructions for setting up and using this service.
It's easy to join GeForce Now; all you have to do is go to the site, click the "Join Now" button, and choose a subscription plan that works for you.
The GeForce Now client for Mac OS is available for download from the official page.
Third, download the client software and enter your GeForce Now login details to begin using it.
Type "Metal: Hellsinger" in the app's search bar, choose the result, then hit the Play button to begin playing.
Click Continue to accept linking your Steam account to the service, and then sit tight while the game loads.
If you want to know more about GeForce Now, check out this page with detailed instructions.
How to download Metal: Hellsinger on Mac
To play Metal: Hellsinger on a Mac, you'll need either the Parallels program or Boot Camp to create a Windows partition. Metal: Hellsinger may be played locally on a Mac when one of those two options is selected.
Metal: Hellsinger cannot be downloaded directly on a Mac since the game is not supported on Mac OS.
Parallels enables you to run Windows inside macOS by creating a virtual computer on your Mac. With this program, your Mac's hardware resources will be shared across the two operating systems, but otherwise, most Windows games should run OK on Parallels.
Boot Camp is a great way to turn your Mac into a Windows PC by installing Windows 10 on a separate disk, but it's only compatible with Intel-based Macs.
Metal: Hellsinger on Mac M1
To play Metal: Hellsinger on a Mac M1, you need to sign up for a cloud gaming service like Boosteroid or GeForce Now. Streaming the game will not need any preparation or expertise on your part. If you don't like cloud gaming Metal: Hellsinger may be played on Mac M1 by installing it on a virtual machine created in Parallels.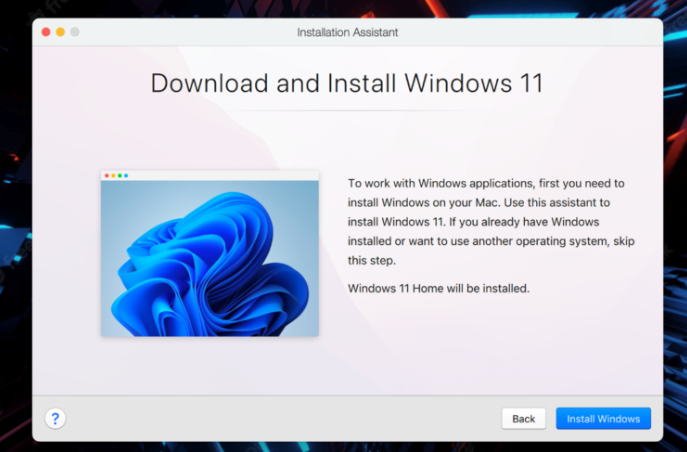 You shouldn't have any issue running Metal: Hellsinger in a Parallels virtual machine, despite the fact that doing so may put a major load on Mac's hardware.
If you want more detailed information on setting up and using Parallels, you should read our comprehensive guide. If you only need a brief overview of the steps, you can see them below:
To begin, visit the Parallels website and download the software.
To install Parallels, open the Parallels.dmg file and double-click the Install Parallels Desktop button.
Step three is to choose Install Windows and watch as the Windows virtual machine is constructed. Expect the process to be quick.
In order to use the virtual machine, you must first create an account on the Parallels website.
Download Metal: Hellsinger on the virtual machine through the Steam client and then run it.
Play Metal: Hellsinger on Mac with Boot Camp
If you have an Intel Mac, you'll need to use the Boot Camp Assistant program to set up Windows before you can play Metal: Hellsinger on a Mac. Start Boot Camp and switch to your Windows partition so you can download and install Steam and play the game.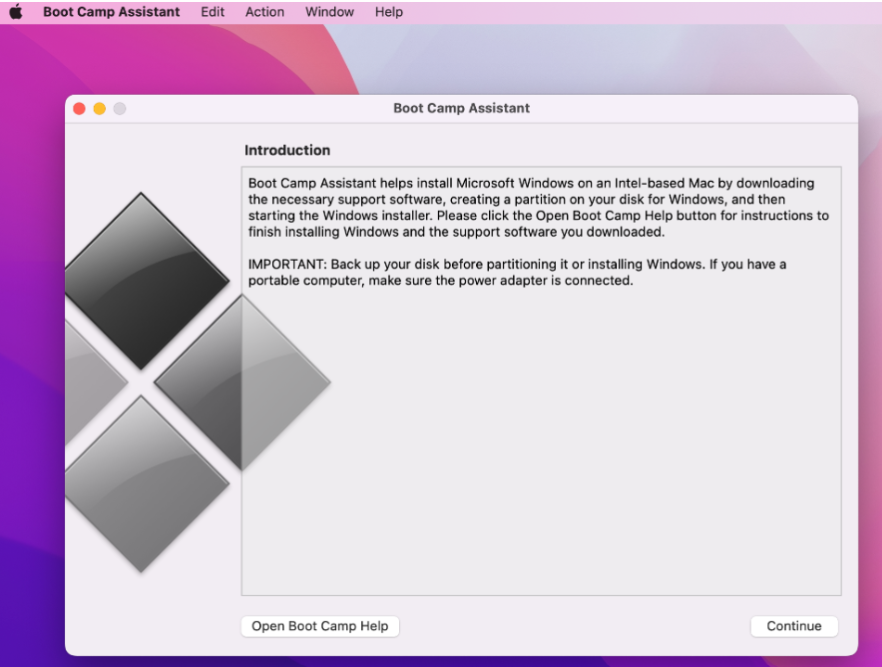 With Boot Camp, you may split your hard drive in two, each housing a different operating system. Booting into Windows and using your Mac in Windows mode allows you to run Windows-only software and games like Metal: Hellsinger. This is not possible on M1 Macs since they do not support Boot Camp.
If you own an Intel-based Mac and want to play Windows games like Metal: Hellsinger, check out our detailed guide on how to install Windows. Otherwise, read on for a brief explanation of the Boot Camp setup process:
Download the 64-bit Windows 10 ISO file from the Microsoft website in order to install Windows 10 on an Intel-based Mac.
Search for Boot Camp in the Utilities section of your Mac's Applications folder. Launch the program and load the ISO file in it.
Next, make the necessary changes to the disk partitions for both Mac OS and Windows, and then click the Install button.
To install Windows 10, just adhere to the on-screen prompts.
After the OS is installed, you should set up Windows and install any necessary drivers and updates.
Last but not least, get the Steam client for Windows and use it to download Metal: Hellsinger on the Windows partition of the drive.
Martina Nikolova
Martina likes to get into nitty-gritty of tomorrow's tech, from product design across to security based solutions. A long time mac user and developer, she has the expertise and strives to give new insight