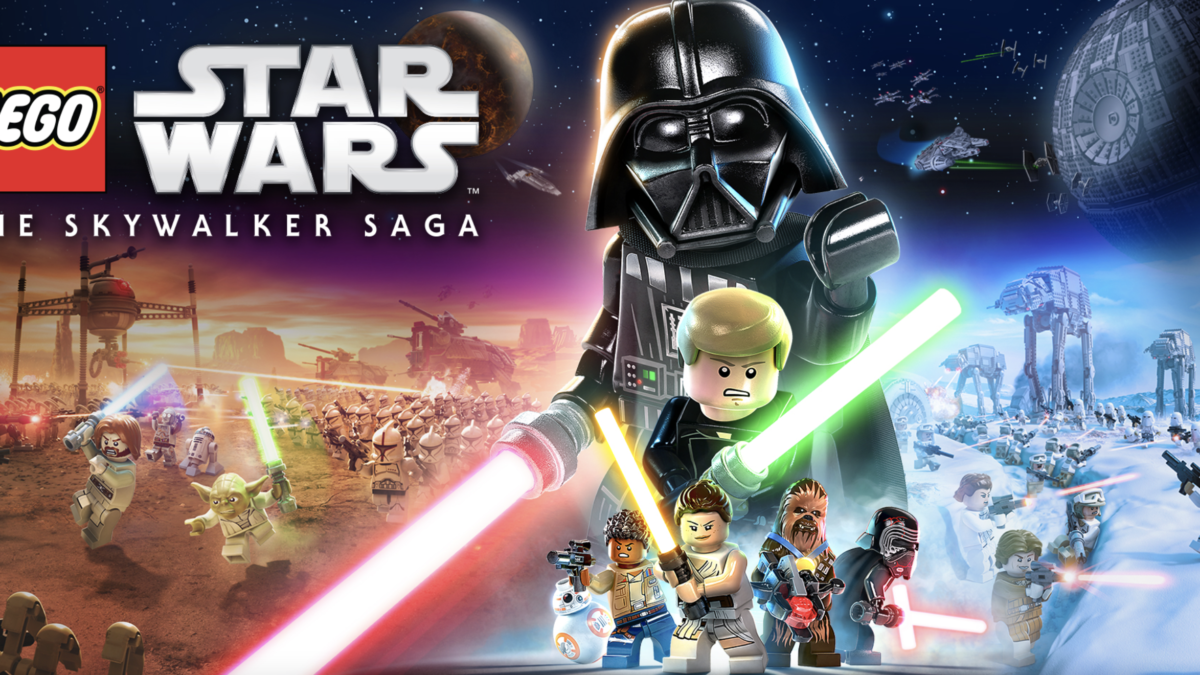 Lego Star Wars The Skywalker Saga (Mac)
Martina Nikolova, 1 year ago
0
12 min

read
Lego Star Wars: The Skywalker Saga on Mac
Lego Star Wars: The Skywalker Saga is a third-person adventure game that you can play on Mac using alternative methods like cloud gaming or by installing Windows. Lego Star Wars: The Skywalker Saga has no macOS version, so it can't be played natively on Mac.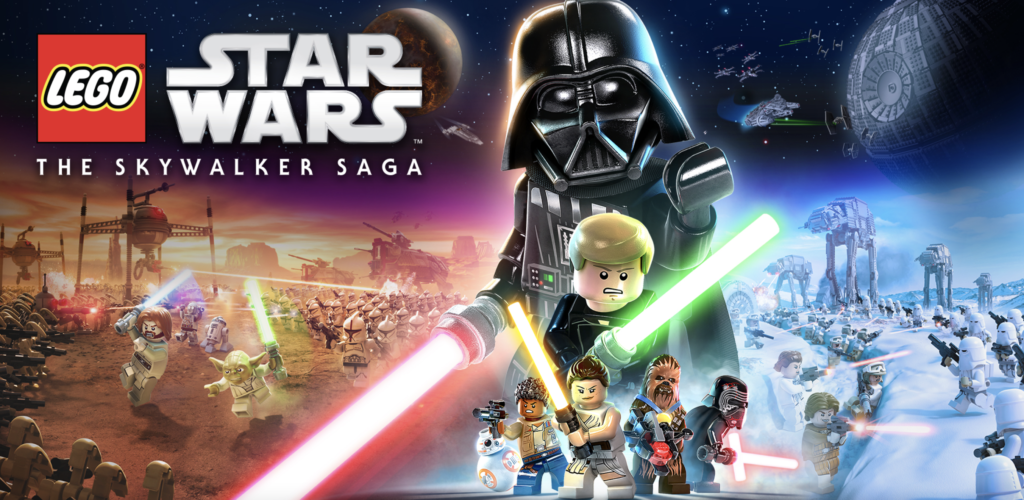 Lego Star Wars: The Skywalker Saga is the latest video game inspired by the beloved building bricks and the well-known Star Wars series. There have been quite a few previous Lego Star Wars games, based on different Star Wars films, but The Skywalker Saga covers all the main Star Wars movies (the three trilogies) and adds a ton of content and collectibles, resulting in a massive game full of fun, light-hearted content, but also one that's faithful to its source material without taking itself too seriously. Unfortunately, if you are a Mac user who wants to have some fun playing Lego Star Wars: The Skywalker Saga, you won't be able to natively run this game on your Mac, as it has no macOS version at the moment and will probably not get one in the foreseeable future. That said, there are still viable options for playing this game on Mac, that you can learn more about in the second half of this post. As for now, we wish to share with you our impressions of the game, so that you can get a better idea of whether you may like it yourself.
A decades-spanning adventure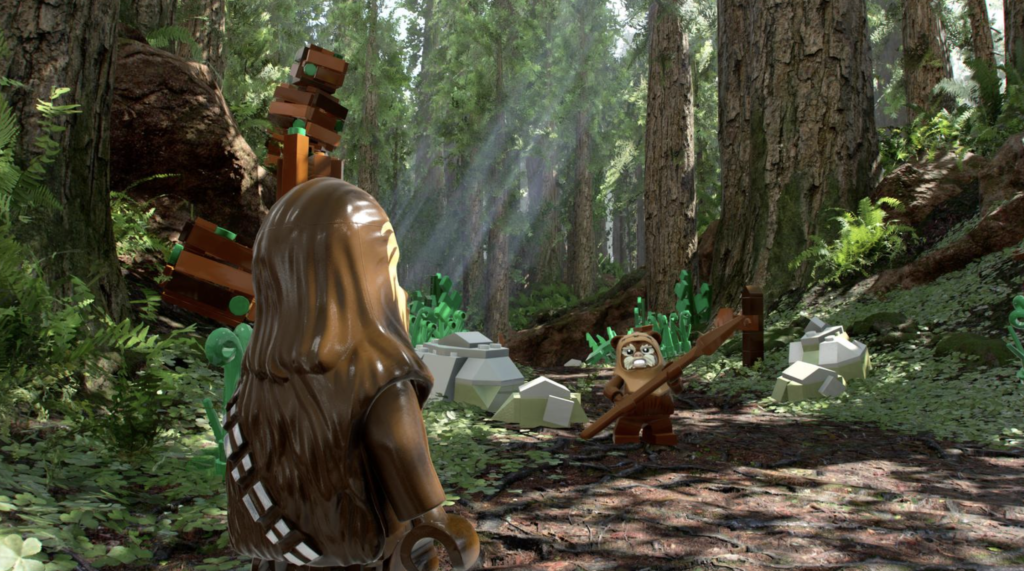 As we said in the intro, this game covers the story of all the nine main movies from the Star Wars saga – the original trilogy, the prequels, and the sequels. There have already been Lego Star Wars games on some of those films, but note that The Skywalker Saga doesn't simply bring back the same missions and campaigns from previous games. Instead, it reimagines the events of the films and provides new missions, quests, and campaigns, so even if you've played one of the previous Lego Star Wars games, this won't feel like you are playing those games all over again.
It is quite impressive how TT Games, the developers of The Skywalker Saga, have managed to include all nine main Star Wars movies and provide for each of them a lengthy and engaging campaign with tons of additional content and side quests. If you are a Star Wars fan and want to play through the events of the three trilogies, meet and play as your favorite characters, and visit and explore familiar places from each movie, all the while enjoying the light-hearted humor that the Lego video games are known for, this game would be just for you.
Gameplay for all ages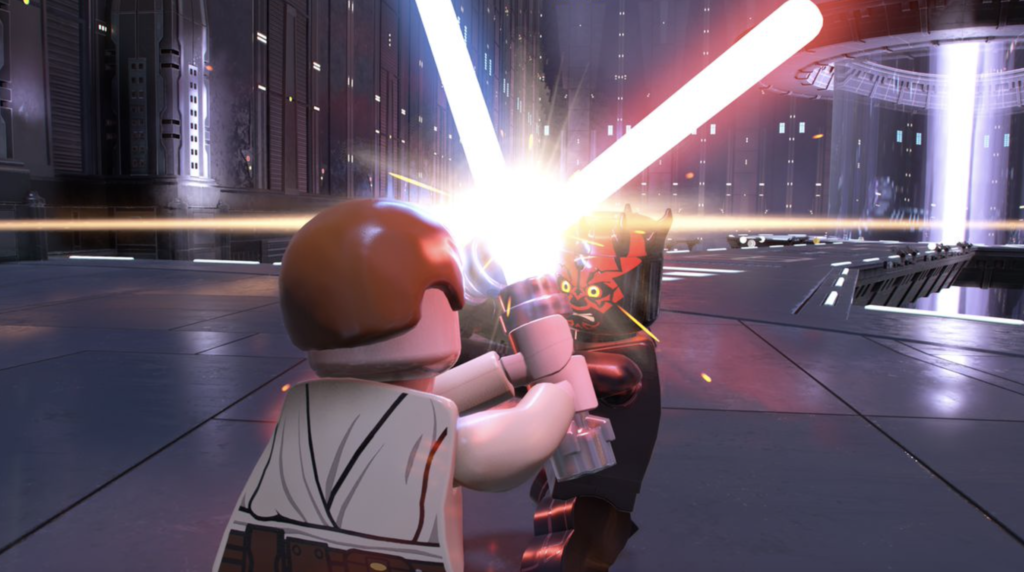 It should go without saying that a game based on a kid's building blocks toy would be kid and family-friendly, not only with its themes and narrative but also with its gameplay. The developers of Lego Star Wars: The Skywalker Saga have obviously tried to make the gameplay and controls of the game accessible and comprehensive to all age groups. Naturally, this necessitates some concessions at the expense of more in-depth gameplay.
For example, the game does feature fun melee combat with some cool-looking combos, but it's overall quite simplistic and unchallenging for an adult player. The same can be said about the gunplay/shooting combat. Something that was lacking in previous Lego Star Wars entries, that has been added into the Skywalker Saga, is the cover system, but that, too, is quite simplistic and doesn't always function as well as it should. Undeniably, there have been gameplay improvements and the sheer fun factor of playing a Lego game has been brought to even higher levels with The Skywalker Saga, but if you are looking for any sort of deep, mechanically challenging, and competitive gameplay, this game is probably not for you.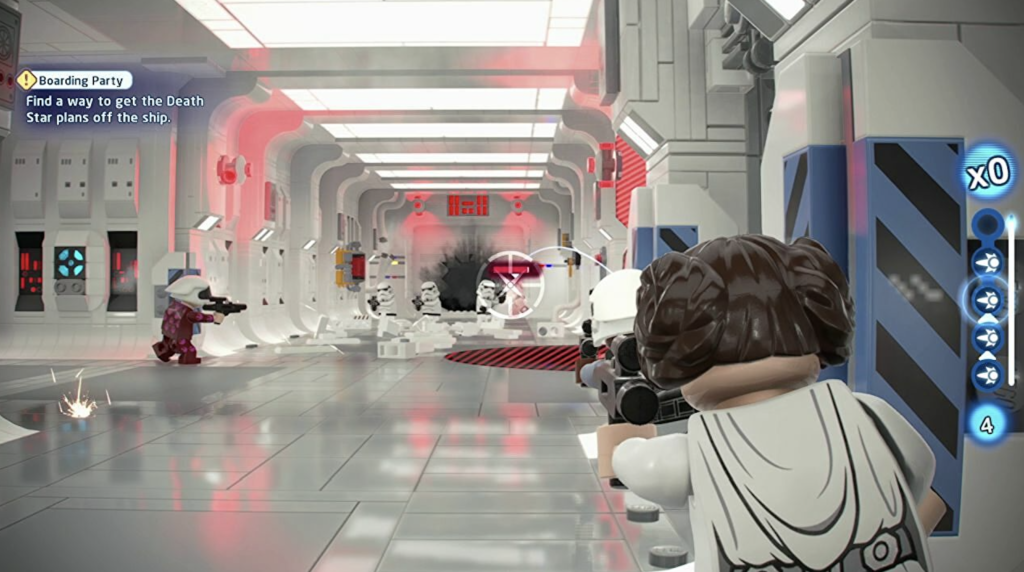 The only objective issue that we take with the gameplay in Lego Star Wars: The Skywalker Saga is that the friendly AI-controller characters that are accompanying you are often border-line useless, as they rarely contribute to the combat and often just stand there doing next to nothing, while you are taking on all of the enemies on your own. This can potentially be explained by the fact that this game is optimized for co-op play, but it would have still been nice to make the friendly AI a bit more useful.
A galaxy far away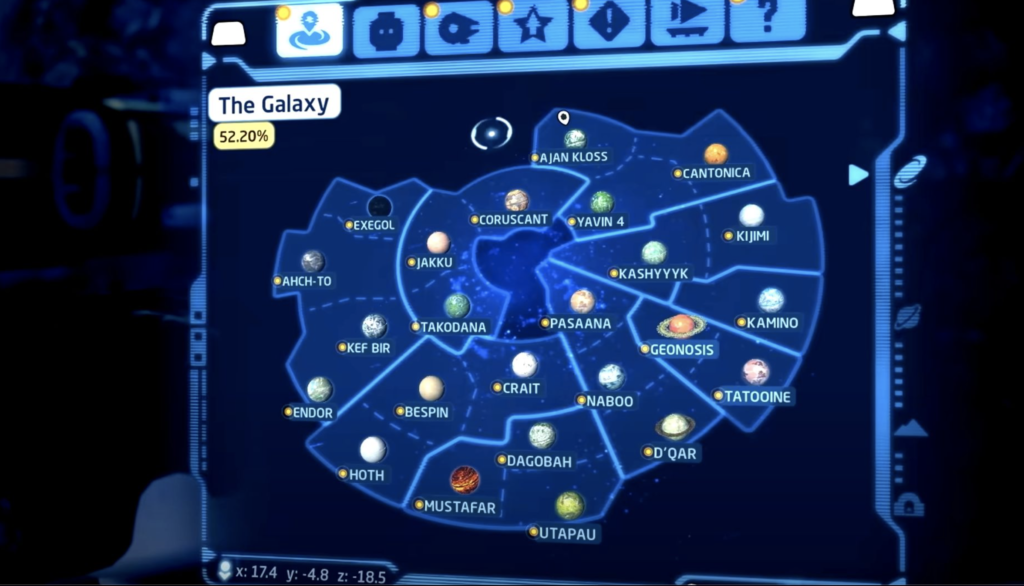 One cool thing about The Skywalker Saga is that it lets you free-roam throughout the different cities and planets that you visit while going through any of the campaigns. Unlike in previous Lego Star Wars games, here you have the opportunity to explore each place, take up side quests, and find a ton of hidden secrets, loot, and Easter eggs. The game is very expansive in that regard, often to the point of being overwhelming. There are just a ton of places to explore, and each of them feels large and full of stuff to discover. Now, it should be said that most of what you find will be collectibles that you don't really need to beat the game, but if you are the type of player who likes going on treasure hunts in games, then The Skywalker Saga would be perfect for you. It has so much content that you can spend days, weeks, or even months playing it, and you will still probably not be at 100% completion.
On a related note, Lego Star Wars: The Skywalker Saga features a whopping 300+ playable characters throughout its nine campaigns, which further adds to the abundance of content, and also comes to show how much effort and passion has been put into making this game.
Conclusion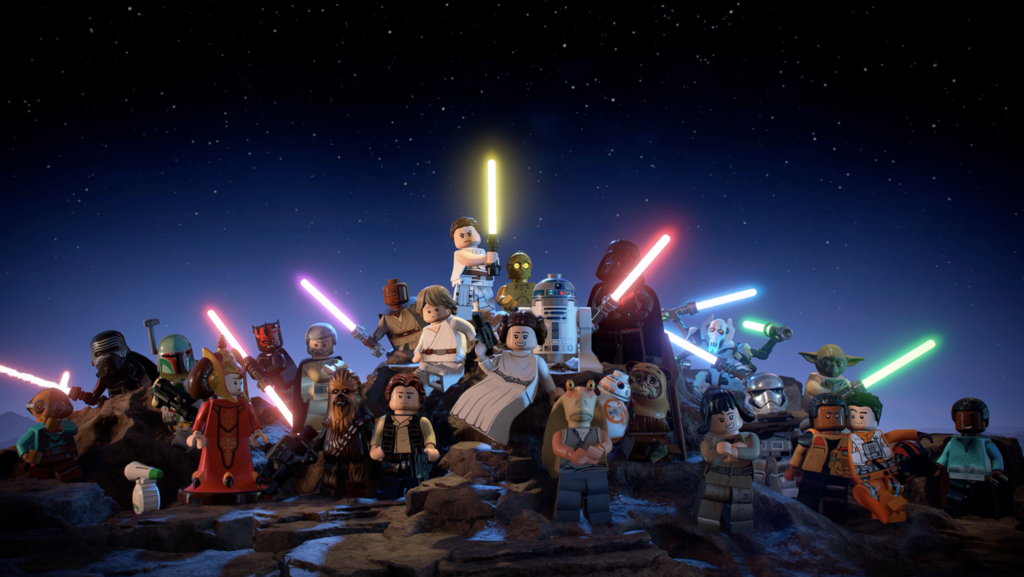 Lego Star Wars: The Skywalker Saga is a highly-ambitious game from developers who obviously care about the source material and the product that they deliver to their audiences. With a story mode covering the entire nine main Star Wars movies and an astonishing amount of extra content for treasure-hunters, this is a big game. And while its gameplay may not be the most complex or mechanically challenging, it nicely serves its purpose of making the game fun and relaxing, resulting in a gaming title perfect for playing with friends or with kids and having a great time.
Can you play Lego Star Wars: The Skywalker Saga on Mac?
You can play Lego Star Wars: The Skywalker Saga on Mac via Boosteroid – a service that will allow you to stream the game to your computer. Alternatively, you can also play Lego Star Wars: The Skywalker Saga on Mac after installing Windows.
Unfortunately for Mac users who want to be able to play this game on their computers, Lego Star Wars: The Skywalker Saga is not available for Mac systems. Despite this, there are several viable options that can allow you to enjoy the game on your Mac, and we will explain those methods in the next lines. Pick the method that you like the most, follow its instructions, and you should be able to play Lego Star Wars: The Skywalker Saga on your Mac, provided you already own the game.
How to play Lego Star Wars: The Skywalker Saga on Mac
To play Lego Star Wars: The Skywalker Saga on Mac, we recommend getting a Boosteroid subscription and streaming the game to your Mac. Another variant is to install Windows on your Mac, which will also allow you to play Lego Star Wars: The Skywalker Saga.
The reason we recommend using cloud gaming is that it's significantly easier to get everything ready for playing the game you want. With the other two methods (emulating/installing Windows), there are more steps that need to be completed before you could start playing, and both methods require quite a bit of storage space on the Mac. Therefore, we will first show you how to use Boosteroid to play Lego Star Wars: The Skywalker Saga on your Mac, and then we will also show you our instructions for the Parallels and the Boot Camp Assistant methods.
Lego Star Wars: The Skywalker Saga Set Up Methods
Methods
Advantage
Disadvantage
Cloud Gaming
– No set-up required – Register and Play
– Access to a Library of over 70 top-rated free Games
– Smooth performance
– Compatible with M1 and Intel Macs
– Monthly Fee
– Requires Decent Internet Connection
– No Free Trial
BootCamp
– Free to use any time
– Windows 10 Environment

– Painful Setup
– Mediocre Performance
– Only Compatible with Intel Macs

Parallels Virtual Machine
– Easy Set-up
– Adequate Performance
– Play almost any PC game
– Windows 11 environment
– Compatible with M1 and Intel Macs
– 14-day free trial
– Yearly Fee
How to Get Lego Star Wars: The Skywalker Saga on Mac:
First, you will need to purchase the game. Limited time offer on CD.Keys.com for a discount – 40% Lego Star Wars: The Skywalker Saga for $29.49
Now you will need to register for Boosteroid. This allows you to add Lego Star Wars: The Skywalker Saga to their Cloud Gaming Library. Once uploaded you can seamlessly play the game from your Mac, TV, or Mobile Device.
When Registered you will have additional access to more games for free. Pricing varies depending on the subscription plan.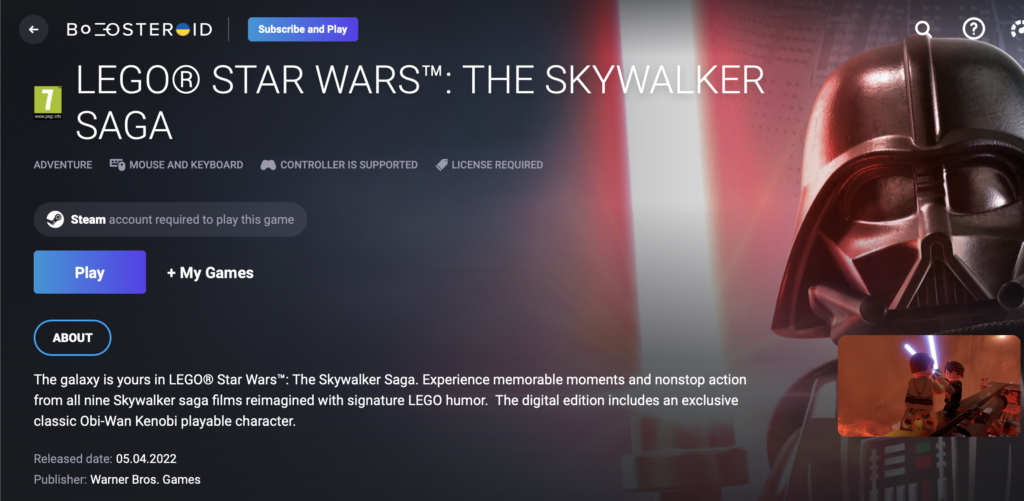 How to play Lego Star Wars: The Skywalker Saga on Mac with Boosteroid
Start by going to Boosteroid.com, registering there, and entering your newly-created account.
The next step is to click on your profile name (top-right) on the Boosteroid site and select the Subscribe option.

After that, choose one of the two subscription options, pick a preferred payment method, and provide the required payment details to begin your Boosteroid subscription.
Once you are subscribed to the service, click the magnifying glass/search icon from the top, type "Lego" in the search field, and click the game when you see it shown in the results.


Note that, currently, if you type in the entire name of the game or even only "Lego Star Wars", you will not see the game as a search result – the search in Boosteroid can be a bit finicky at times, and will sometimes show no results if you type the entire name of a game.

Once you are on the game's page, click Play, and then click OK in the prompt that appears. Shortly after, you will be required to enter your Steam details and log into your Steam account – do that, and Lego Star Wars: The Skywalker Saga will start in your browser, on the same Boosteroid page.


For optimal experience, it's best to put the browser you are using into Full-screen mode and also make its toolbar disappear when you are not hovering over it (this could normally be done through the View menu in the Menu Bar).
How to download Lego Star Wars: The Skywalker Saga on Mac
To download Lego Star Wars: The Skywalker Saga on your Mac, you must either emulate or install Windows on your Mac. You can use Boot Camp or Parallels to install/emulate Windows and then download Lego Star Wars: The Skywalker Saga on your Mac.
It is possible to get the game downloaded on your Mac and play it in this way instead of streaming it through Boosteroid, but to do that, you must first have Windows on your Mac, since the game is not available for macOS. There are two main ways of getting Windows on Mac – by installing it with the help of Apple's proprietary Boot Camp Assistant app and by emulating it, using virtualization software such as Parallels. The two options are quite different and either could be the better variant depending on a number of factors. Without going into any more detail, it's typically recommended that M1 Mac users opt for the Parallels variant and Intel Mac users go for the Boot Camp Assistant one. Below are two quick guides for the two methods, to get a general idea of how they are performed, followed by links to more in-depth instructions that we recommend you read if you want to perform the respective method.
Playing Lego Star Wars: The Skywalker Saga with Parallels
Download and install Parallels on your Mac.
Install Parallels on your computer by running the .dmg file and following the directions on the screen.
Once Parallels has been installed, open it and select the "Install Windows" option to begin the process of creating a Windows VM.
Create a Parallels profile or sign in to the virtual machine using one of the other available sign-up options.
Once you enter the VM, download the Steam or the Epic Games client and use it to install the game on the virtual machine.
If you need more in-depth steps for Parallels with screenshots, check out our Full Parallels Guide.
Playing Lego Star Wars: The Skywalker Saga with Boot Camp Assistant
Type Download Windows 10 ISO in Google, open the first result from Microsoft, and download a 64-bit Windows 10 ISO file (it's a free download).
Go to Finder > Applications > Utilities, start the Boot Camp Assistant tool, and load the ISO file in it.
Allocate enough space to both partitions, click Install, and after the Mac restarts, go through the prompts to start installing Windows.
After the installation process completes, personalize the new OS, create a user profile, log into Windows, and use the Boot Camp window on your screen to install any necessary Apple updates.
Finally, get the Steam app for Windows and use it to install Lego Star Wars: The Skywalker Saga on your Mac.
Lego Star Wars: The Skywalker Saga on Mac M1
You can play Lego Star Wars: The Skywalker Saga on Mac M1 by registering on Boosteroid and using the service to stream the game. You can also emulate Windows on your Mac using Parallels to download and play Lego Star Wars: The Skywalker Saga.
Due to incompatibility between the Windows 10 OS and the architecture of the M1 chips, it's not possible to use Boot Camp Assistant to install Windows 10 on an M1 Mac, so this method can't be used to play Lego Star Wars: The Skywalker Saga on M1 Macs. However, you can still use the Boosteroid variant without any difference in performance, and the Parallels option may even give better on an M1 Mac compared to an Intel Mac.
Martina Nikolova
Martina likes to get into nitty-gritty of tomorrow's tech, from product design across to security based solutions. A long time mac user and developer, she has the expertise and strives to give new insight