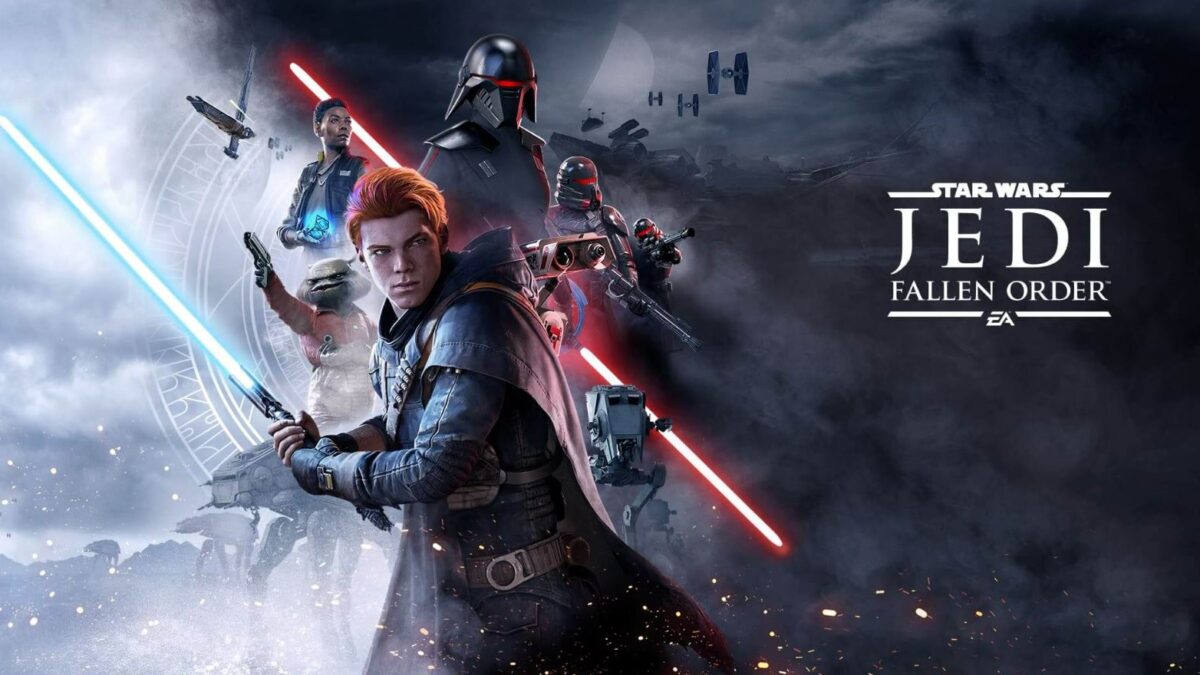 Star Wars Jedi: Fallen Order on Mac
Star Wars Jedi: Fallen Order is a single-player action-adventure game you can play on your Mac by streaming it through Boosteroid or another cloud gaming service. You can also play Star Wars Jedi: Fallen Order on Mac if you first install Windows on the computer.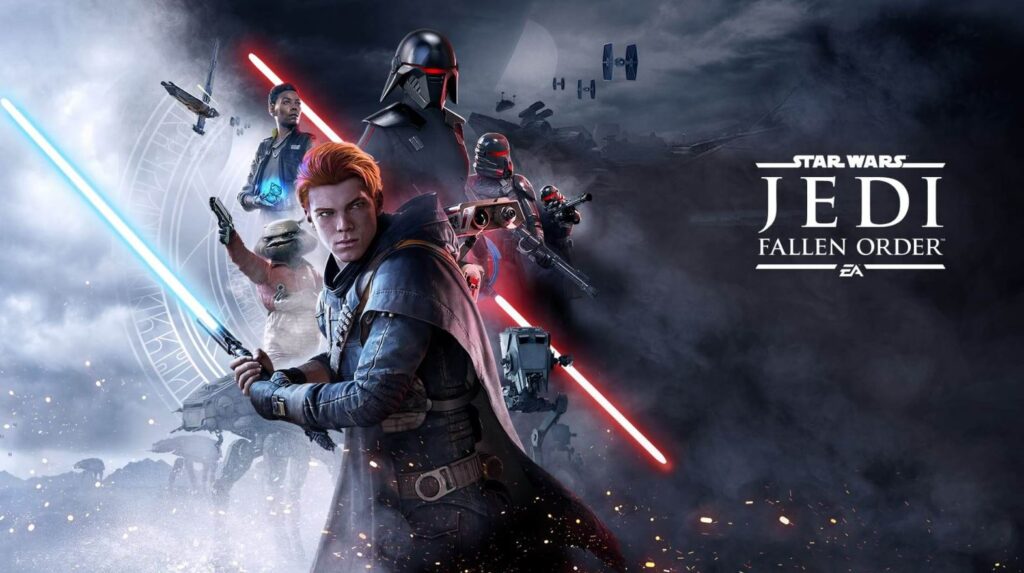 Star Wars media, in general, has been hit-or-miss in the past several years (some may even argue that it has always been like that), and that fully applies to gaming as well. While there have been some awesome, top-tier examples of great Star Wars games in the past, some of the more recent titles, such as the two Battlefront games by EA, have been divisive at best. This is why players could be excused for approaching Star Wars Jedi: Fallen Order with skepticism, especially considering it's yet another game published by EA – a company universally disliked for actively making its games worse by implementing micro-transactions and locking a lot of essential game content behind tons of DLC's. In other words, it wouldn't be a surprise if Fallen Order is yet another weak, mediocre, and frustrating game, created with the sole goal of bringing in more cash, rather than pleasing the player. Well, as it turns out, surprises do happen, and Star Wars Jedi: Fallen Order is actually a pretty great Star Wars game as well as a pretty great game in general. Below, we will tell you a bit more about our thoughts on the game, and after that, we will show you how you can play it on your Mac (despite it not having a Mac version).
Setting and premise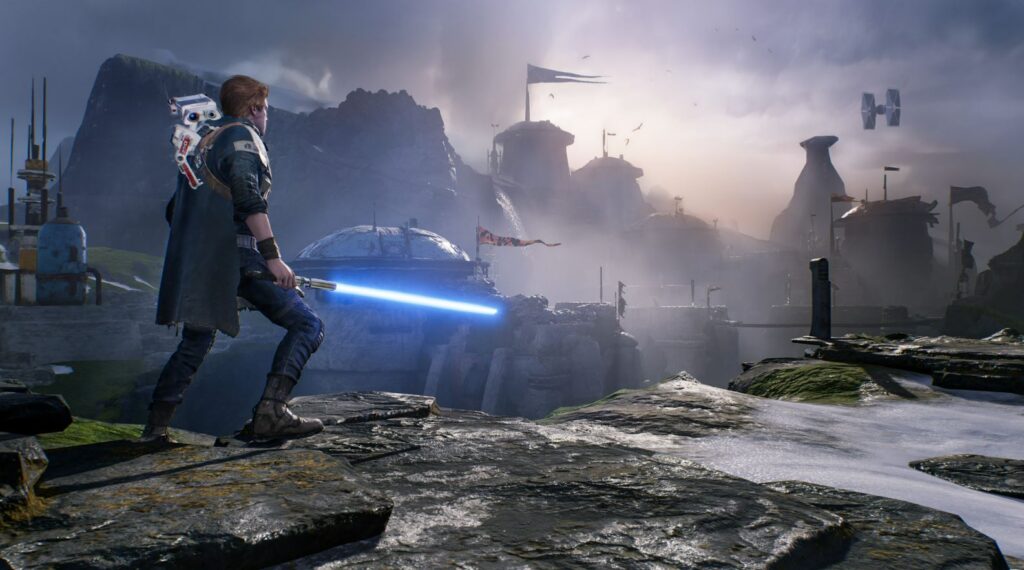 The setting of any game that has "Star Wars" in its title should already be familiar to most gamers – it's the well-known "Galaxy far away", but what we like about Fallen Order is that it doesn't stick only to planets and locations that Star Wars fans have already seen a dozen times in other Star Wars media. Instead, here you get to explore brand-new locations, which both further expand the Star Wars world and also make you feel like you are on a unique adventure, separate from everything else Star Wars-related that you've seen up to this point. Of course, you also do get to visit some familiar places, but those are used sparingly and are mostly there to remind you that you are, indeed, in the world of Star Wars.
As for the premise, you play the entirety of the game as Cal Kestis – a Jedi padawan, who managed to survive Order 66, the event in the Star Wars: Revenge of the Sith film that lead to the execution of the bulk of the Jedi order. Throughout the game, Cal is hunted by the Galactic Empire and Sith inquisitors, and his initial goal is to survive by staying ahead of the enemy. Along the way, Cal teams up with Cere, an ex-Jedi knight, Greez, a spaceship pilot, and a BD-1, a small druid side-kick (that is nicely integrated into the gameplay), and all of them begin to work together towards a common goal (which we will not spoil here).
Gameplay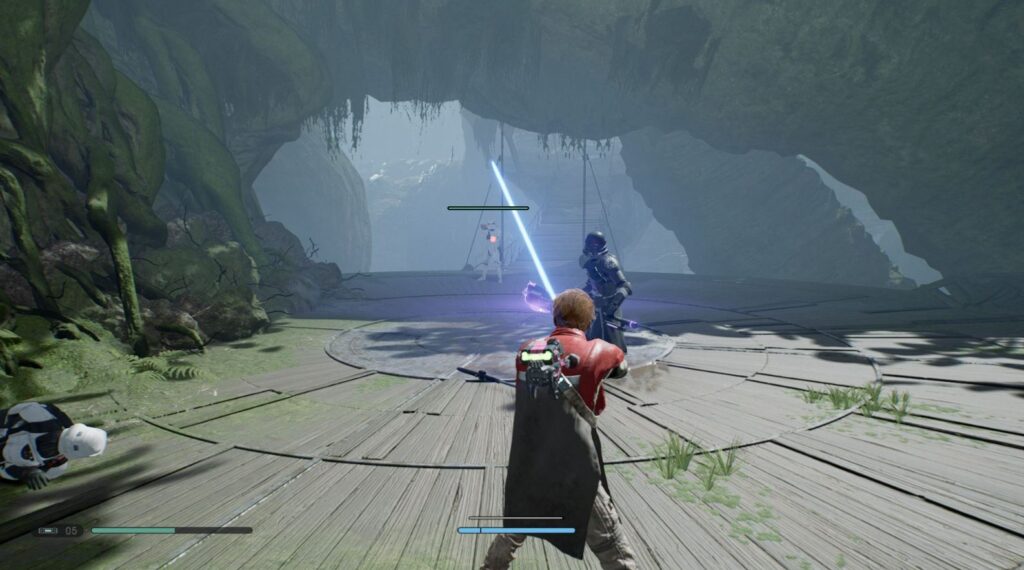 The gameplay of Fallen Order doesn't have anything surprising – it's the gameplay of an action-adventure game with a heavy focus on combat and some platforming sections. However, despite not introducing anything novel to the action-adventure formula, Jedi: Fallen order does a very good job at striking the right balance between several different types of approaching this type of gameplay. Its combat is reminiscent of Sekiro: Shadows Die Twice, with a heavy focus on well-timed parries and attacks, and good knowledge of the attack patterns of each enemy. The non-combat sections give off an Uncharted vibe, with lots of cool, large-scale set-pieces, where the main character needs to use his acrobatic skills to overcome obstacles or escape dangerous situations. There are also calmer, quieter segments, where you will need to solve puzzles or explore hidden areas, and then there are some platforming sections, which is one of the weaker parts of the gameplay, simply because a lot of people aren't fans of platforming in 3d person adventure games.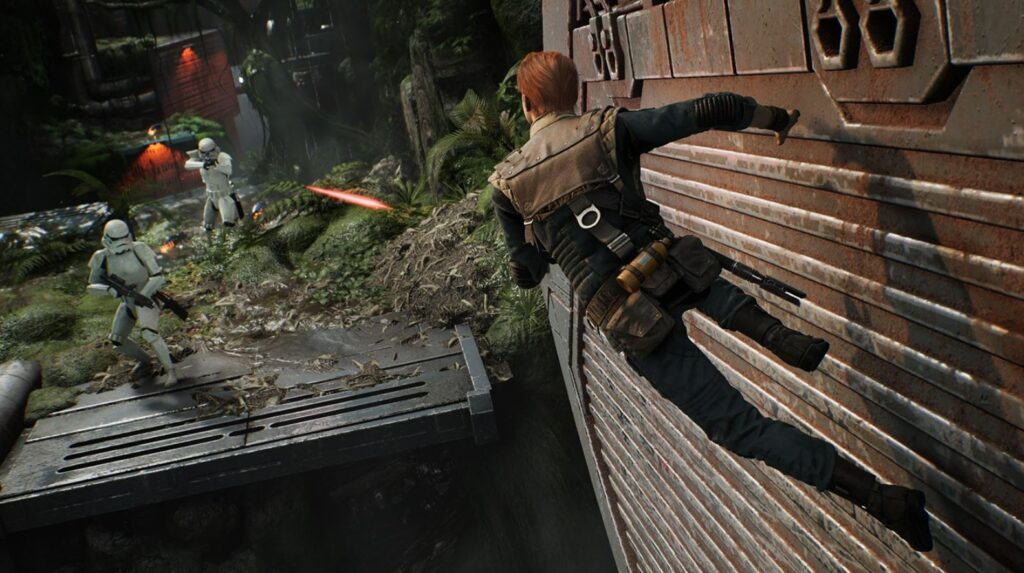 Overall, the gameplay of Star Wars Jedi: The Fallen Order is a lot of fun and offers a decent challenge, while never feeling unfair or overly difficult. The end result is an engaging and balanced game that will keep you entertained from start to finish, without ever getting stale, or overstaying its welcome.
Story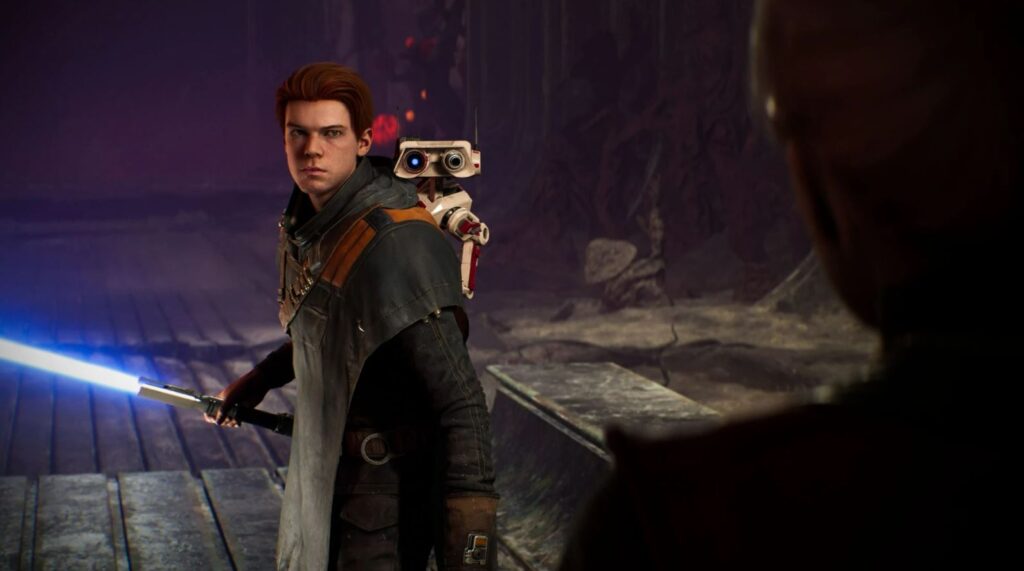 Without spoiling anything, we just want to say that Jedi: Fallen Order has a well-written, well-acted, and well-executed story with tons of emotional charge. While the game's story does have connections to other Star Wars media and there are some familiar faces, it's mostly separate from the Star Wars films and other Star Wars games, which is a good thing in our opinion, as it has given the game's writers the freedom to create a story that isn't restrained by anything that has come before it. If you enjoy single-player games with great stories and/or are a Star Wars fan, we believe that you will appreciate what Jedi: Fallen Order has in store for you.
Downsides
Other than the platform sections of the game that are a bit more common than what we would have liked, the only other potential downside is that Star Wars Jedi: Fallen Order is a rather short game. At a leisurely pace, you may get about 20-23 hours of gameplay time as a non-completionist, which is not much for a game that costs $39.99 when it's not on sale. Aside from those two gripes that we have with the game, there really isn't much else to point towards as an objective downside.
Verdict
Star Wars Jedi: Fallen Order isn't a perfect game, but it's certainly a very good game, and, by far, one of the best Star Wars games to have come in recent years, so it's something we can recommend to anyone who likes Star Wars and gaming. Its crisp and well-thought-out mechanics, diverse gameplay, and engaging story are sure to please any Star Wars fans, so it's definitely something that you should try if you like Star Wars and gaming. However, if you think that $39.99 is a bit too much for such a short game, then you may want to wait until it's discounted on Steam and get it then.
Can you play Star Wars Jedi: Fallen Order on Mac?
You can play Star Wars Jedi: Fallen Order on Mac, but only through the use of workaround methods, such as cloud gaming, Boot Camp, or Parallels. Native play for Star Wars Jedi: Fallen Order on Mac isn't possible because the game isn't supported for macOS.
Even though Fallen Order lacks a Mac version, Mac users reading this shouldn't be discouraged by that, as there are still options to play this game on a Mac and get decent performance. Of course, it wouldn't be the same as playing the game natively on a PC or on an Xbox, but you will still be able to get a good gameplay experience and have tons of fun.
There are several viable methods of playing Star Wars Jedi: Fallen Order on Mac, and they will be shown and explained to you below so that you could pick the one you think will be best in your case, and use it to play the game.
How to play Star Wars Jedi: Fallen Order on Mac
To play Star Wars Jedi: Fallen Order on Mac, the recommended method is to subscribe to a cloud gaming service that supports it. Two such services you can use to play Star Wars Jedi: Fallen Order on your Mac are Boosteroid and GeForce Now.
Nowadays, there are a lot of cloud gaming platforms that allow Mac users to play unsupported games on their computers, without the need for employing other, more complex workarounds. A cloud gaming service allows you to stream the game you want to play to your Mac from a gaming server that has the desired game installed on it. Basically, imagine a platform such as Netflix or Apple TV, but for games – as long as you have a stable and fast Internet connection, you will be able to stream to your Mac and play any game available in the service's library. The only thing we must note here is that you need to already own the specific game to be able to play it in this way. Below, we've shown you how to use two popular cloud gaming services, Boosteroid and GeForce Now, that support Star Wars Jedi: Fallen Order.
Star Wars Jedi: Fallen Order Set Up Methods
Methods
Advantage
Disadvantage
Cloud Gaming
– No set-up required – Register and Play
– Access to a Library of over 70 top-rated free Games
– Smooth performance
– Compatible with M1 and Intel Macs
– Monthly Fee
– Requires Decent Internet Connection
– No Free Trial
BootCamp
– Free to use any time
– Windows 10 Environment

– Painful Setup
– Mediocre Performance
– Only Compatible with Intel Macs

Parallels Virtual Machine
– Easy Set-up
– Adequate Performance
– Play almost any PC game
– Windows 11 environment
– Compatible with M1 and Intel Macs
– 14-day free trial
– Yearly Fee
How to Get Star Wars Jedi: Fallen Order on Mac?
First, you will need to purchase the game.
Now you will need to register for Boosteroid. This allows you to add Star Wars Jedi: Fallen Order to their Cloud Gaming Library. Once uploaded you can seamlessly play the game from your Mac, TV, or Mobile Device.
When Registered you will have additional access to more games for free. Pricing varies depending on the subscription plan.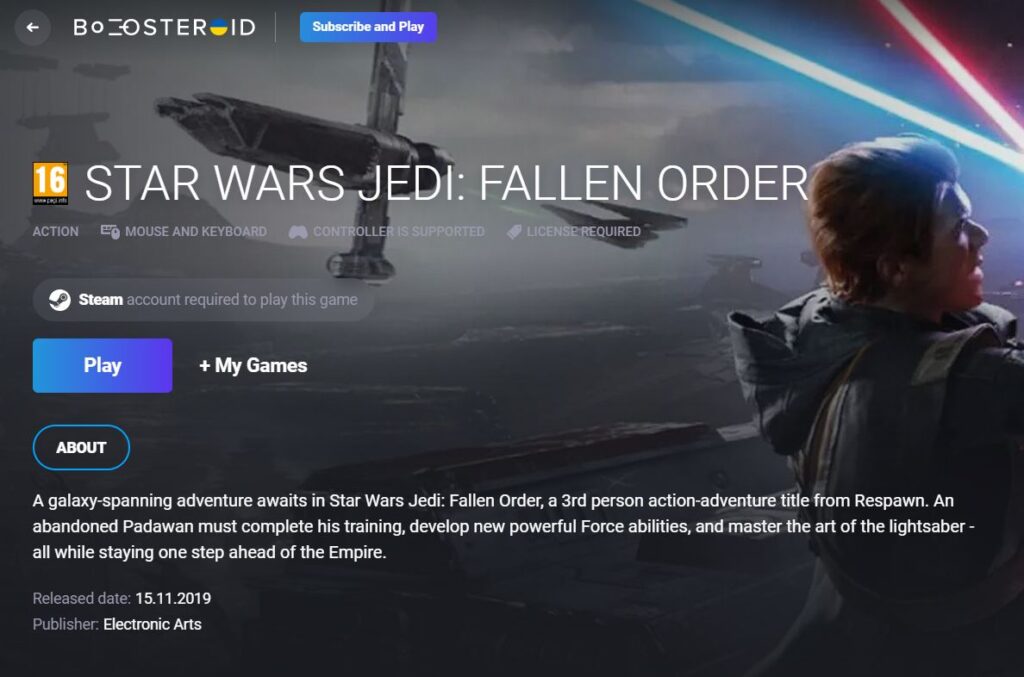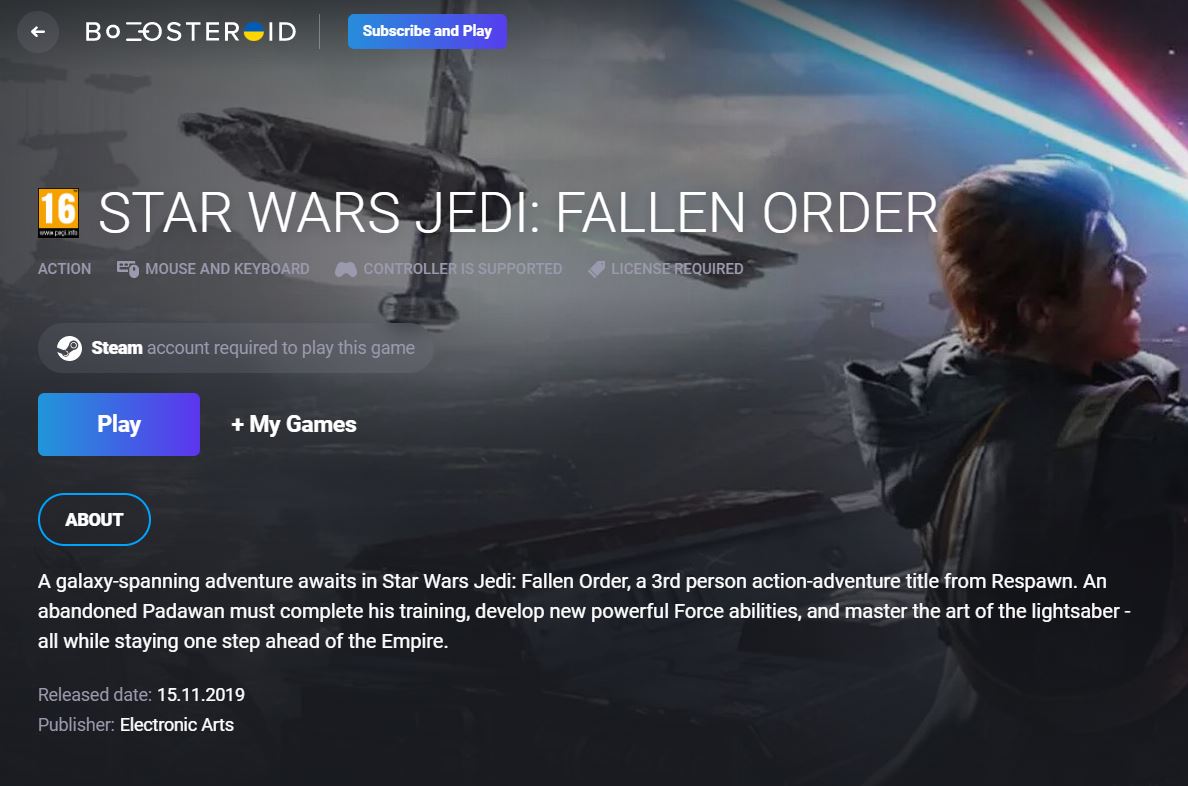 Play Star Wars Jedi: Fallen Oder on Mac using Boosteroid
First, you will need a Boosteroid account, so go to the service's site and get one.
Go into your account, open the Profile page, and there, click the Subscribe option.

Get a paid subscription to the Boosteroid service to be allowed to use it for playing games.
Search for Star Wars Jedi: Fallen Order in the search bar at the top, and click the game, when it shows up in the results.

Select the Play button, provide confirmation that you agree to connect to Steam, and after the initial loading process finishes, enter your Steam details, and log in.

Wait for the game to start in your browser – once it does, you can begin playing it on your Mac. We recommend turning on the Full-Screen mode of your browser and hiding its toolbar for the best gameplay experience.
Play Star Wars Jedi: Fallen Oder on Mac using GeForce Now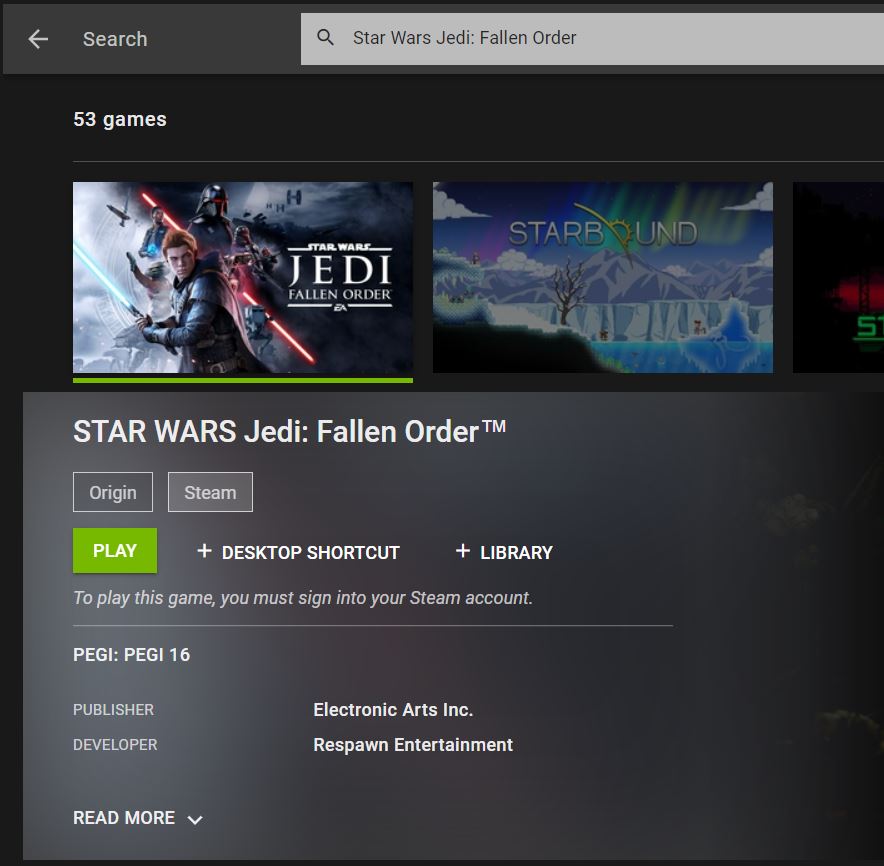 Visit the site of GeForce Now and register there.
Open your profile, go to the Downloads section, download from there the GeForce Now client for Mac, and install it on your computer.
Launch the app, log in, and search for Star Wars Jedi: Fallen Order.
Choose between Steam and Origin (depending on where you've purchased the game), click Play, and then click Continue.
After GeForce Now loads the game, enter your Steam logins to proceed, and the game will start.
Click here for a detailed GeForce Now guide.
How to download Star Wars Jedi: Fallen Order on Mac?
To download Star Wars Jedi: Fallen Order on Mac, you must first have Windows installed or emulated on your Mac. To install or emulate Windows and to download Star Wars Jedi: Fallen Order on your Mac, you can use Boot Camp or Parallels, respectively.
The only significant downside of playing games via cloud gaming is that the gameplay performance would be heavily dependent on the strength and speed of your Internet. If your Internet isn't good, there would be lots of lag and stuttering, making a game such as this one, where timing and precision are essential, nearly unplayable. Since this is a single-player game, playing it without having a good Internet connection is perfectly possible, so long as you have the game downloaded and installed on your Mac. To be able to download, install, and play Star Wars Jedi: Fallen Order, however, you will first need to get Windows on your Mac, as the game has no macOS version. There are two ways you could do that – by installing Windows on the computer with the help of Boot Camp Assistant, or by emulating it with the help of Parallels. Generally, the first method is recommended for Intel Mac users, while the second is the option that M1 Mac users would need to use. Here is a quick rundown of each method:
Play Star Wars Jedi: Fallen Oder on Mac using Parallels
Download the Parallels app and install it on your computer.
Install Parallels on your computer by running the .dmg file and following the directions on the screen.
Once Parallels has been installed, open it and select the "Install Windows" option to begin the process of creating a Windows VM.
Create a Parallels profile or sign in to the virtual machine using one of the other available sign-up options.
Once you enter the VM, download the Steam or the Epic Games client and use it to install the game on the virtual machine.
If you need more in-depth steps for Parallels with screenshots, check out our Full Parallels Guide.
Play Star Wars Jedi: Fallen Oder on Mac using Boot Camp Assistant
To perform the Windows installation, you will need to download a Windows 10 ISO file (64-bit variant) from Microsoft (it's a free download).
Next, launch the Boot Camp Assistant app from your Utilities folder, then go to load the ISO file in it, and make changes to the storage space distribution between the partitions if needed.
Click Install, wait for your Mac to restart, and go through the various prompts to start the installation.
After installing Windows 10, set up its settings, install any required drivers, and then download Steam and use it to download Star Wars Jedi: Fallen Order.
Full guide on how to use Boot Camp Assistant
Star Wars Jedi: Fallen Order on Mac M1
You can play Star Wars Jedi: Fallen Order on Mac M1 by getting a Boosteroid or GeForce Now subscription and then streaming the game via the chosen platform. The other way to play Star Wars Jedi: Fallen Order on Mac M1 is to use Parallels.
Of the four methods of playing Star Wars Jedi: Fallen Order on Mac that we've shown on this page, three of them can be used on M1 Macs: You can easily stream the game to your M1 Mac with the help of Boosteroid or GeForce Now, and you can also use Parallels to create a Windows 11 VM and then download and play the game through that VM. Only the Boot Camp Assistant method is not usable on M1 Macs due to incompatibility of the Windows 10 OS and the M1 chip architecture.
Martina Nikolova
Martina likes to get into nitty-gritty of tomorrow's tech, from product design across to security based solutions. A long time mac user and developer, she has the expertise and strives to give new insight