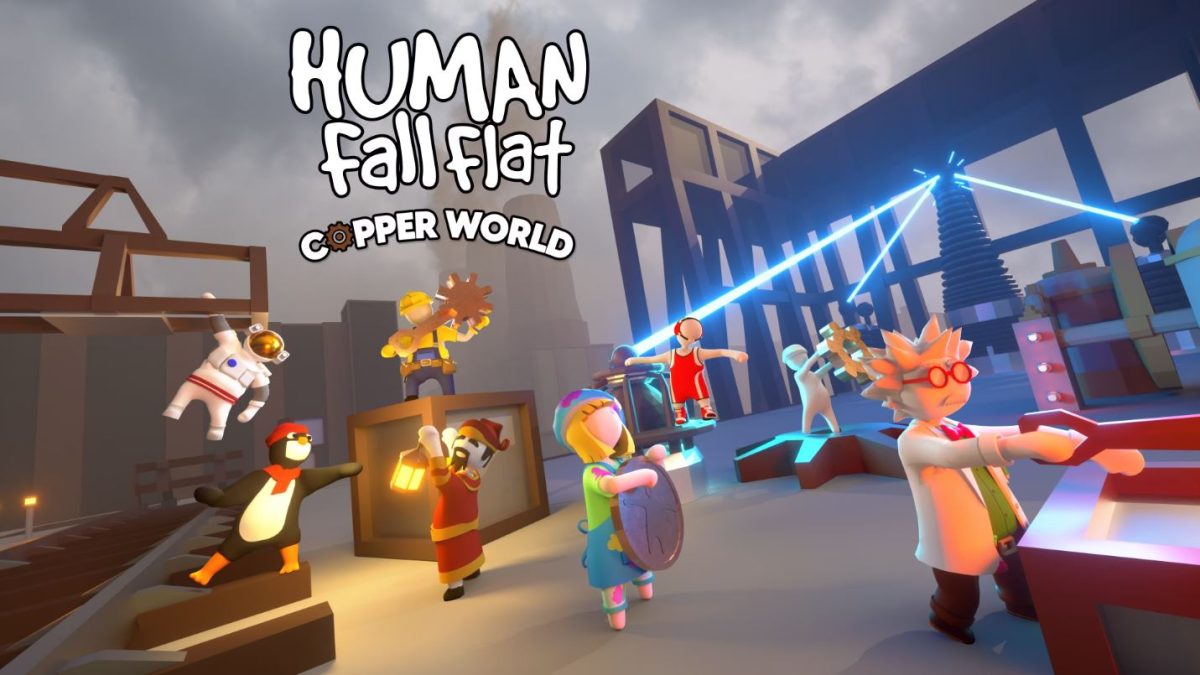 Human Fall Flat (Mac)
Martina Nikolova, 4 months ago
0
9 min

read
Human Fall Flat on Mac
Human Fall Flat is available on Mac through its Steam version, so you can easily download and play it on your Apple machine. A PC version of the game is also offered in the Xbox Game Pass Ultimate monthly subscription plan, which also grants access to many other games. This PC version of Human Fall Flat can be played on Mac through alternative methods such as Parallels and Boot Camp.
Can you play Human Fall Flat on Mac?
It's very easy to play Human Fall Flat on Mac – just get the game on Steam, download it through the Steam client, and start playing. On the other hand, if you have access to the game through the Xbox Game Pass Ultimate plan, you'll first need to install Windows on your Mac to play it or stream it through the Xbox Cloud gaming service, if it's currently available there.
And what about Human Fall Flat on Mac M1
There shouldn't be an issue with playing Human Fall Flat on Mac M1 – the Rosetta 2 emulation software that comes with all Apple Silicon Macs should provide you with smooth performance and gameplay experience. You don't need to do anything extra to install Rosetta 2 – once it is required to start the game, you'll get a prompt to install it and all you have to do there is accept the installation and the game will start shortly.
How to download Human Fall Flat on Mac
To download Human Fall Flat on Mac, just purchase the game on Steam, get the Steam client, and download it through the app. If you want to download the Xbox Game Pass Ultimate version of the game, you'll first need to use Parallels or Boot Camp to install Windows on your Mac, since this version of Human Fall Flat is incompatible with macOS.
How to play Human Fall Flat on Mac
To play Human Fall Flat, buy the Steam version of the game and then download it through the Steam client. An alternative option is to get the game with the Game Pass Ultimate plan on the Xbox site. The Human Fall Flat version available there is compatible only with Windows, but this plan will also grant you access to a huge library of freely accessible games, most of which can be streamed through Xbox's proprietary cloud gaming service (as of the moment of writing this post, Human Fall Flat is also available in that service). In other words, even though a particular game may not be supported for macOS, you can still stream it and play it on your Mac through the cloud gaming service that you get with the Game Pass Ultimate subscription. Besides, there are also the options to install/emulate Windows on your Mac using methods such as Parallels virtualization or Boot Camp.
Play Human Fall Flat with Xbox Game Pass Ultimate
Here's the deal: with the Xbox Game Pass Ultimate subscription, you can stream the majority of the included games right to your Mac through the magic of the Xbox Cloud Gaming service. At this moment, Human Fall Flat is cloud-supported and ready to be beamed straight to your screen.
But what if, for some unforeseen reason, the game loses its cloud support? Don't fret! You've still got Parallels and Boot Camp techniques up your sleeve to keep the game running on your Mac. I've included a little how-to on those methods below for you.
Step 1: Let's get you started. Simply hit the button we've provided below, then click 'Join' on the Xbox page, and enter your details to get your subscription to the Game Pass started. If you're new to the Microsoft family, you'll first be prompted to create an account while you're subscribing.
Step 2: Once you've signed up, head over to the Game Pass page. Search for Human Fall Flat and prepare yourself for a fun-filled journey. If cloud gaming is your thing (and it's available), click 'Play with Cloud Gaming'. If you're more of a download and install type, hit 'Install To'. Just remember, you'll need Windows on your Mac for this.

Step 3: Opting for cloud gaming? We recommend using Microsoft Edge or Google Chrome browsers for the best experience. And, you'll need a Mac-compatible controller for Xbox Cloud Gaming. But, if you're a keyboard and mouse aficionado, there's a handy extension for Chrome or Edge. Enable it, click the center of your screen when the game starts, and you're all set.
So there you have it! You're now ready to experience the hilarious physics of Human Fall Flat through your Xbox Game Pass Ultimate. Happy gaming!
If you want to be able to download the game and run it locally on your Mac, the ways to do that are through Parallels and Boot Camp. Both method allow you to get a Windows environment on your Mac, in which you can run compatible software, but note that the Boot Camp option is only for Intel-based Macs.
Also, if you want to get Human Fall Flat separately and not as a part of the Game Pass plan, here are several places where you can purchase it:
About Human Fall Flat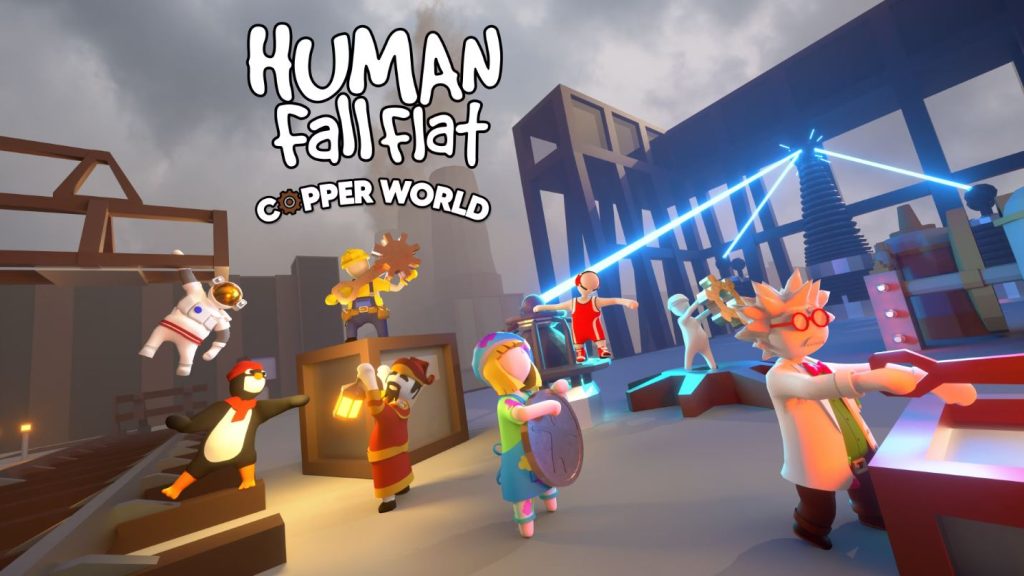 Prepare to dive headfirst, quite literally, into a world of slapstick hilarity and physics-defying puzzles in the unique and utterly charming platformer, Human: Fall Flat. It's an experience that, quite fittingly, falls flat on its face at times, but always gets back up with a smile and a belly full of laughs.
The first thing you'll notice about Human: Fall Flat is its charmingly minimalistic aesthetic. The world is formed of simplistic but attractive environments, from medieval castles to snowy mountainsides, each filled with puzzles requiring a blend of ingenuity, physics, and sometimes pure, dumb luck to solve.
But, let's talk about the star of the show: our lovable protagonist, Bob. He's a wobbly, boneless humanoid who, despite his total lack of muscle definition, is surprisingly versatile. Bob can jump, grab, and climb his way around the environment. And while his movements are about as graceful as a toddler taking its first steps, it's this very clumsiness that forms the heart of the game's humor and charm.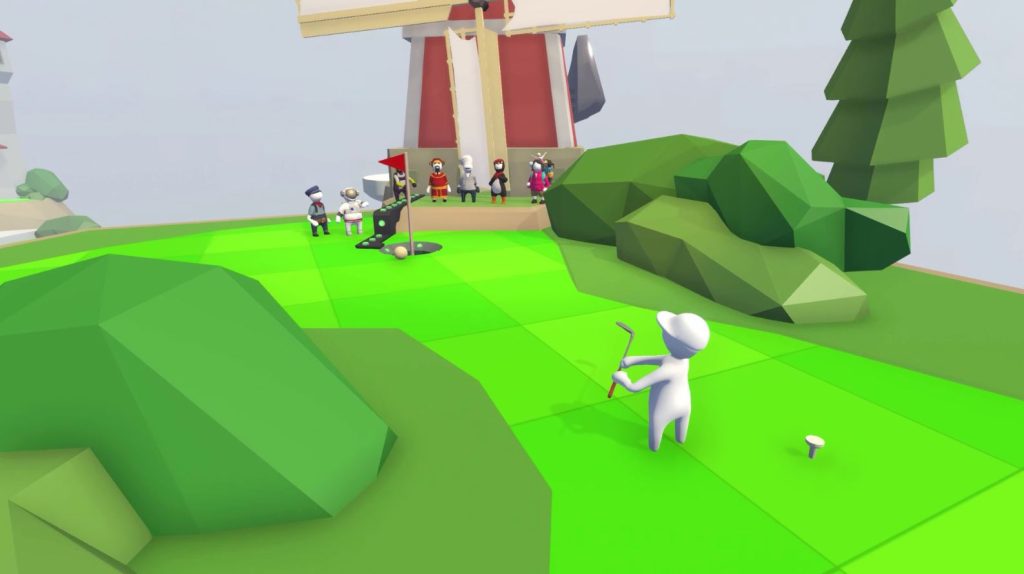 The controls, much like Bob himself, are initially as slippery as a buttered eel. But it's this element of unpredictability that makes every successfully navigated obstacle feel like a triumph. It's frustrating, yes, but it's also incredibly satisfying when things go right.
Co-op is where Human: Fall Flat truly shines. The sight of multiple Bobs fumbling and tumbling over each other as they attempt to navigate the game's levels is nothing short of comedic gold. The game promotes teamwork, but more often than not, you'll find yourself engaging in impromptu bouts of king-of-the-hill or engaging in other shenanigans, and that's where the true fun lies.
The game's physics system is both its greatest strength and its biggest weakness. There's undeniable joy in seeing your floppy avatar interact with the world in unpredictable ways, but there can be moments of frustration when the physics don't quite play ball. But even these moments often end up being more amusing than irritating.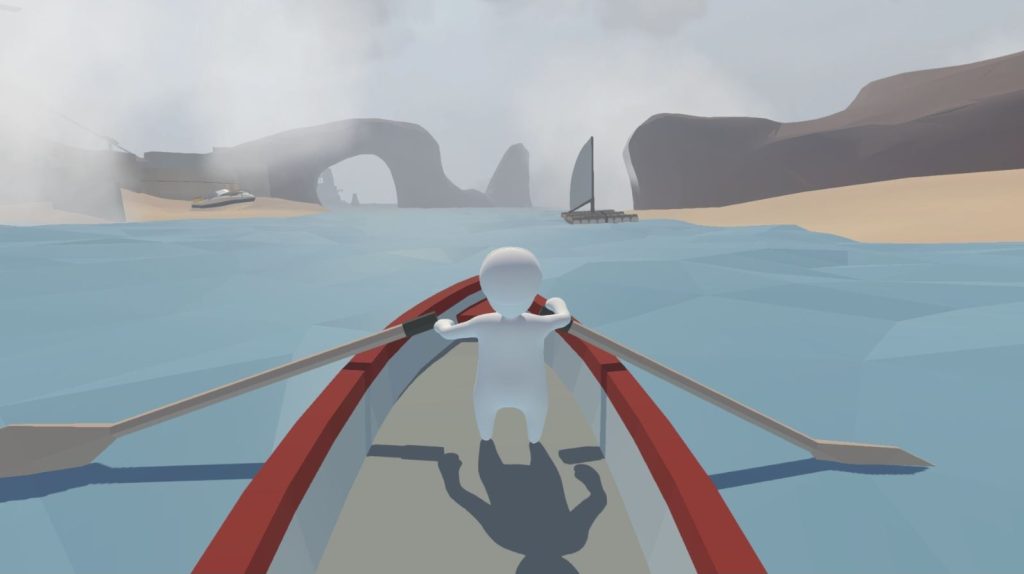 One of the most appealing aspects of Human: Fall Flat is its openness to creativity. There are multiple solutions to nearly every problem, and the game encourages players to think outside of the box – or just throw the box off a cliff, if that's what tickles your fancy.
But let's not sugarcoat it; Human: Fall Flat is not perfect. The camera can be a bit temperamental, and the lack of a concrete storyline might deter those seeking a narrative-driven experience. Yet, somehow, these shortcomings seem to add to its charm. The game doesn't pretend to be anything more than it is: a fun, silly, and entertaining physics-based platformer that can provide hours of laughter-inducing gameplay.
In terms of its audio, the game keeps it simple. The sound effects are comical and fitting, and the music, while sparse, serves to enhance the mood without becoming overbearing or repetitive.
The bottom line? Human: Fall Flat is a bundle of joy that, despite a few minor hiccups, delivers a uniquely entertaining experience. It's a game that invites you to laugh at every blunder and celebrates the silly and the absurd. Whether you're playing solo or with friends, it's a perfect pastime for those who love a blend of puzzle-solving and slapstick comedy.
And yes, it's worth mentioning that Human: Fall Flat has a penchant for customization. Want to dress Bob up in a dog costume or a traffic cone? Go right ahead! The game encourages you to express yourself, and these customizations add another layer of amusement as you see your uniquely dressed Bob fumble around the levels.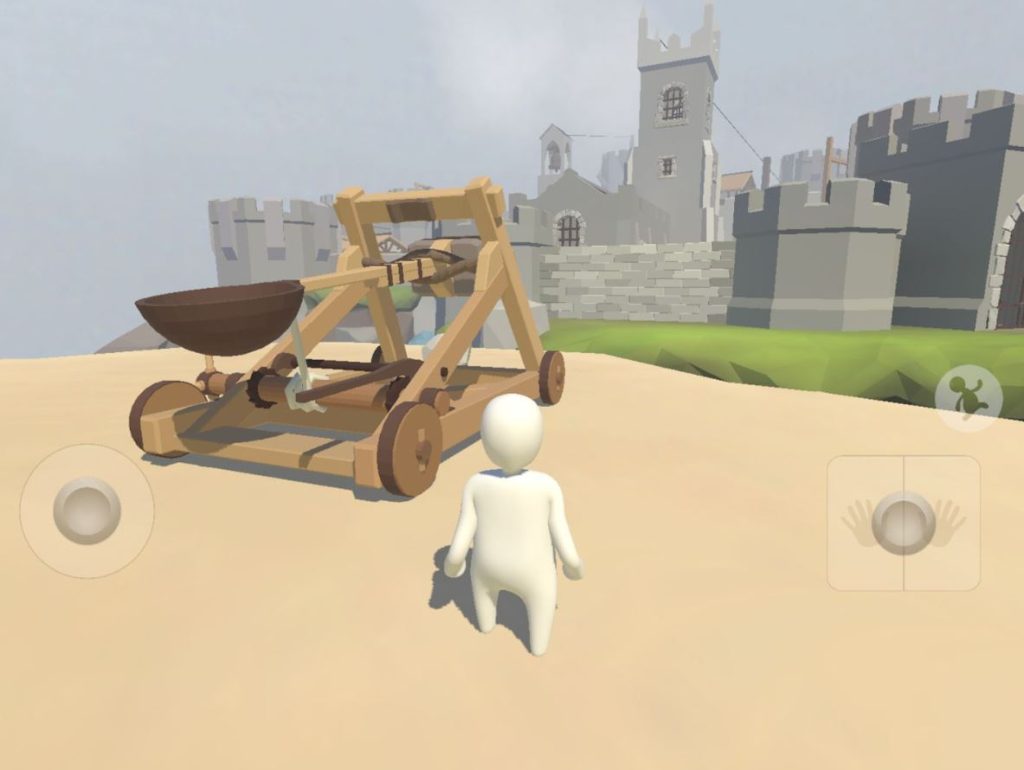 The puzzles themselves are diverse and often require a good degree of lateral thinking. You'll find yourself pulling levers, pushing boxes, swinging from ropes, and even driving vehicles to navigate through the levels. The game's physics-oriented nature means that the environment is as much a part of the puzzle as the objects within it.
Yet, despite its seemingly simple premise, the game does require a fair bit of patience. Trial and error are the names of the game here, and while some players might find this frustrating, others will enjoy the challenge it presents. It's not a game to be rushed through, but rather a game to be savored and laughed at, preferably with a group of friends.
To wrap it up, Human: Fall Flat is an endearing tumble into a world of hilarity and physics-based puzzles. It's a game that doesn't take itself too seriously, and neither should you. It's a game that invites you to embrace the chaos, to laugh at your failures, and to celebrate your successes, no matter how clumsily achieved they may be.
Sure, it may not be the most polished or refined game out there, but it's one that understands the heart of gaming: having fun. And that's something Human: Fall Flat delivers in spades. It's a game that will make you laugh, cheer, and, most importantly, keep you coming back for more. Because, let's face it, watching Bob fall flat on his face never gets old. And, honestly, that's a pretty impressive feat for any game to achieve.
In short, Human: Fall Flat is a jiggly, joyous jaunt that's sure to put a smile on your face. So, if you're looking for a game that provides as many laughs as it does puzzles, then this might just be the game for you. Embrace the silliness, the chaos, and the sheer unpredictability that is Human: Fall Flat. You won't regret it.
Martina Nikolova
Martina likes to get into nitty-gritty of tomorrow's tech, from product design across to security based solutions. A long time mac user and developer, she has the expertise and strives to give new insight