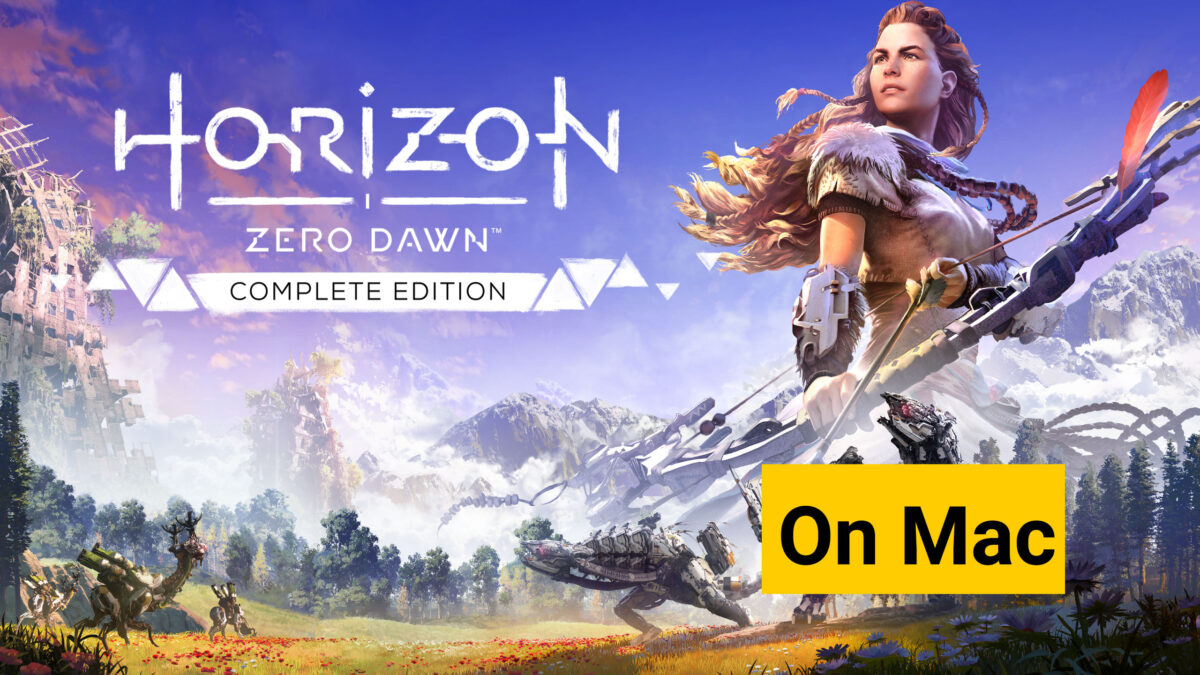 Play Horizon Zero Dawn on Mac
Martina Nikolova, 1 year ago
0
13 min

read
About Horizon Zero Dawn on Mac
Horizon Zero Dawn is not supported on Mac so, in order to get it running on a Mac computer, you would need to use a workaround method. A possible way to play Horizon Zero Dawn on Mac is to first install Windows on the computer.
Horizon Zero Dawn is a single-player action RPG game developed by Guerilla Games, with Sony Entertainment as its publisher. The game was released in 2017 for Windows and PS and received generally favourable reviews from critics and players. The game is praised for its captivating narrative and action-oriented gameplay, as well as for its focus on exploration and discovery that gets better and better as the player progresses through the game.
The player is put into the shoes of the game's protagonist – an outcast female hunter named Aloy. Aloy lives in a post-apocalyptic world that's inhabited and ruled by robotic creatures, and her goal is to uncover the mysteries of her past. Throughout the game, the player controls Aloy from a third-person perspective and can use her many abilities to kill or fight off the numerous enemies that may attack her. The majority of those enemies include the different robotic creators that inhabit the world of Horizon Zero Dawn, but there are also human enemies that the player can encounter.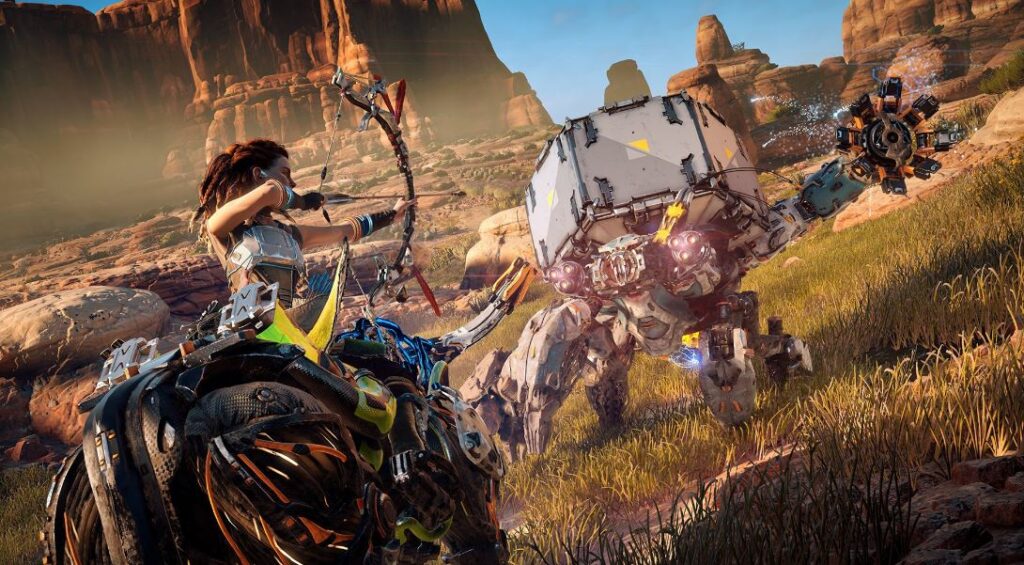 Like other similar RPG games, the player is encouraged to explore the gameplay world and collect different items and resources in order to survive, attain experience, and improve their gear and abilities.
Aloy has a variety of ways to deal with enemies, including facing them head-on with the use of melee weapons, fighting them from afar by shooting arrows or other projectiles at them, setting traps, using explosives, and more. Aloy also has a unique item called Focus, which is a small headpiece that lets her scan robotic enemies when she looks at them and thus learns about their susceptibilities, which is very important in order to be able to fight off a new enemy type that you are not familiar with yet.
The player is also given a wide selection of movement options – Aloy can dodge, slide, roll, and sprint in order to evade incoming attacks and to gain a better angle for her own attacks. She can also ambush her enemies and perform immediate takedowns that remove the need for a direct confrontation. When the player is traversing mountainous terrain, they can also use parkour moves and zip lines in order to overcome obstacles.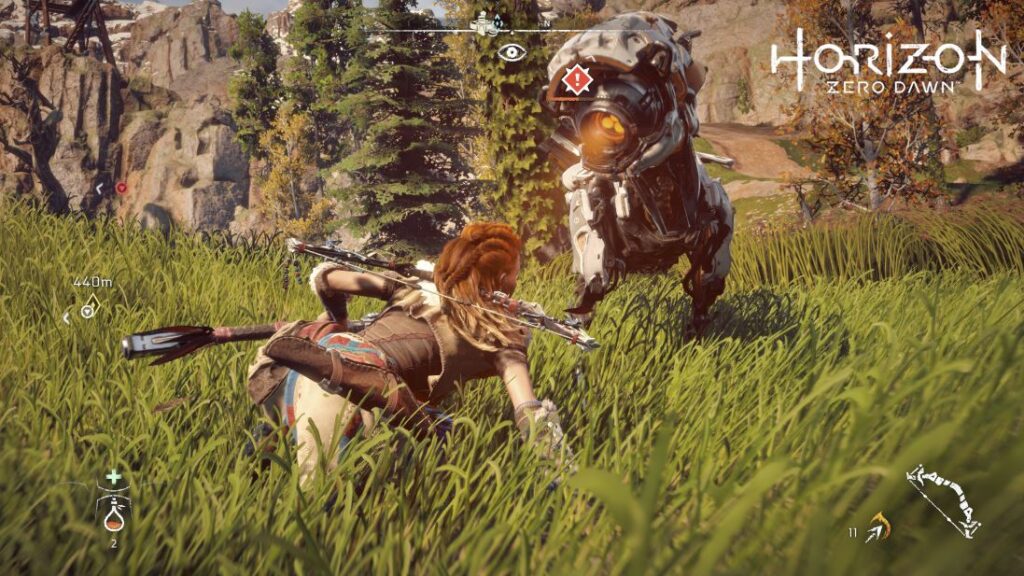 The world of Horizon Zero Dawn is set in a fictional version of the 31st century United States, where access to technology for humans is scarce. The game's environments range from forests, mountainous regions, jungles, swamps, and deserts. One of the best aspects of Horizon Zero Dawn is exploring those different regions, learning their secrets, and facing the unique sets of obstacles that they put in front of the player.
Impressions
Overall, Horizon Zero Dawn offers an immersive and engaging single-player experience, and its open-world nature lends it tons of replayability. However, if you are a Mac user and don't own a PC or a PlayStation, you may find it difficult to play Horizon Zero Dawn. The game doesn't have a Mac version, and it's unlikely that it ever will, so are there any viable options that can still enable you to play it? Unfortunately, for the time being, the game isn't available on any cloud gaming services, so this option is out of the window. The only other variant is to install Windows on your Mac and play the Windows version of the game. There are two main ways to do this – with the help of Parallels or using Boot Camp Assistant. Both methods have their pros and cons, and both of them have been described in detail down below, alongside instructions on how to use them. Before you get to the instructions part of this post, however, first make sure to check out the requirements for the game – if your Mac doesn't meet them, unfortunately, there would be no way for you to run the game on it.
MINIMUM:
OS: Windows 10 or 11 64-bits
Processor: Intel Core [email protected] or AMD FX [email protected] or equivalent
Memory: 8 GB RAM
Graphics: Nvidia GeForce GTX 780 (3 GB) or AMD Radeon R9 290 (4 GB) or equivalent
DirectX: Version 12
Storage: 100 GB available space
RECOMMENDED:
OS: Windows 10 or 11 64-bits
Processor: Intel Core [email protected] or Ryzen 5 [email protected] or equivalent
Memory: 16 GB RAM
Graphics: Nvidia GeForce GTX 1060 (6 GB) or AMD Radeon RX 580 (8 GB) or equivalent
DirectX: Version 12
Storage: 100 GB available space
HZD Set Up Methods
Methods
Advantage
Disadvantage
Cloud Gaming
– No set-up required – Register and Play
– Access to a Library of over 70 top-rated free Games
– Smooth performance
– Compatible with M1 and Intel Macs
– Monthly Fee
– Requires Decent Internet Connection
– No Free Trial
BootCamp
– Free to use any time
– Windows 10 Environment

– Painful Setup
– Mediocre Performance
– Only Compatible with Intel Macs

Parallels Virtual Machine
– Easy Set-up
– Adequate Performance
– Play almost any PC game
– Windows 11 environment
– Compatible with M1 and Intel Macs
– 14-day free trial
– Yearly Fee
HZD with Cloud Gaming
HZD is now available to play on cloud gaming servers. This assures NO
compatibility issues while playing on your Mac as well as top-notch performance.
Step 1. Get HZD
Before playing HZD make sure you get the game through the official websites. For the moment only Steam Platform is compatible with cloud gaming services such as Boosteriod and Geforce.
Step 2. Register and Add HZD To Boosteroid Cloud Gaming Library
All you need to do now is register for Boosteroid. This allows you to add HZD to their Cloud Gaming Library. Once uploaded you can seamlessly play the game from your Mac, TV or Mobile Device.

When Registered you will have additional access to more than 70 top-rated games for free. Pricing varies depending on the subscription plan.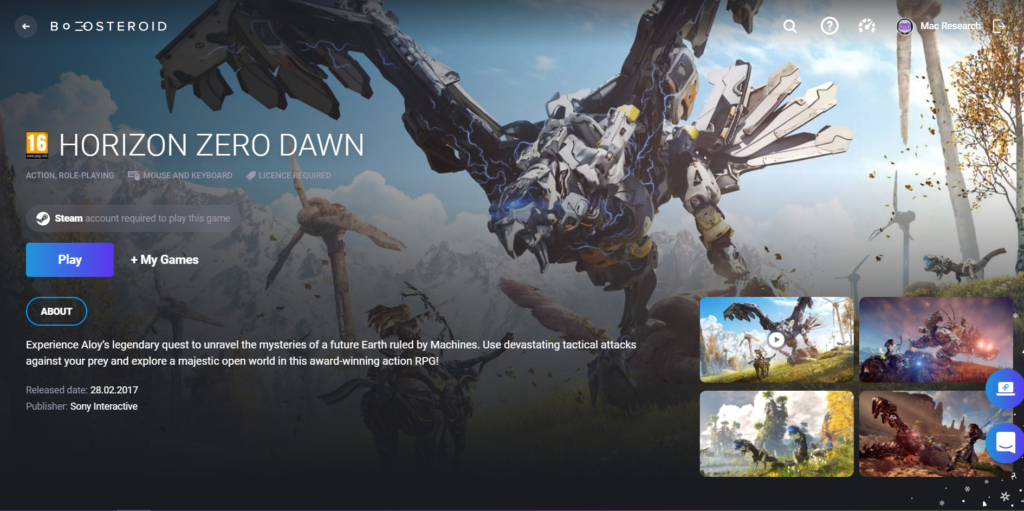 Play Horizon Zero Dawn on Mac M1
Horizon Zero Dawn could potentially be played on Mac M1 through a Parallels virtual machine, but only after Parallels gets updated to support DirectX 12. Once DirectX 12 support becomes available in Parallels, you will be able to play Horizon Zero Dawn on Mac M1.
Parallels is a virtualization program that allows Mac users to create Windows 10 and 11 virtual machines on their computers. A Windows virtual machine is basically an app that simulates the environment of a Windows computer. When you are using the app, your Mac would behave and function as a Windows computer and this would allow you to download, install, and use Windows software, including video games. Using a Parallels virtual machine is a popular way of playing Windows games on Mac computers. However, there are several caveats.
One such caveat is that you'd need a Mac that meets the recommended system requirements of a given game, and not only its minimum ones. This is because you cannot allocate all of your Mac's hardware resources to the Windows VM – some of your Mac's RAM and CPU cores would need to be left for your macOS since it would still be running while the virtual machine is active. For this reason, if your Mac only covers the minimum requirements of a given game, you will not be able to run that game through Parallels.
Another potential downside is the current lack of DirectX 12 support in Parallels, which is why, unfortunately, at the moment, it may not be possible to run Horizon Zero Dawn on a Mac M1 due to the game's requirement for having DirectX 12 installed on the computer. As of the time of writing, the latest Parallels update, which is from the 14th October 2021, doesn't seem to provide DirectX 12 support (or at least it isn't mentioned in the update log). For this reason, it's likely that you won't be able to run Horizon Zero Dawn on your Mac using Parallels.
That said, you can still give it a try, especially if you own a powerful M1 Mac with 16 GB of RAM or more. Installing Parallels and setting up a Windows virtual machine takes less than half an hour and, although Parallels is a paid program, its 14-day free trial is perfect for testing the program and figuring out if it lets you run a particular Windows game. Below, we've provided a detailed guide with instructions on how to set up a Windows 11 virtual machine on an M1 Mac using Parallels.
Go to the Parallels website and download the program's installation file.
Install Parallels on your computer by running the .dmg file and following the directions on the screen.
Once Parallels has been installed, open it and select the "Install Windows" option to begin the process of creating a Windows VM.
Create a Parallels profile or sign in to the virtual machine using one of the other available sign-up options.
Once you enter the VM, download the Steam or the Epic Games client and use it to install the game on the virtual machine.
If you need more in-depth steps for Parallels with screenshots , check out our Full Parallels Guide for solutions.
How to play Horizon Zero Dawn on Mac Intel
To play Horizon Zero Dawn on Mac, we recommend using Boot Camp Assistant to install Windows 10 on your Mac. Once Windows 10 is installed, you'll be able to play Horizon Zero Dawn on your Mac as if you were playing it on a PC.
Like with the Parallels method shown above, the idea is to get Windows on your Mac and then download the Windows version of the game and run it in Windows 10/11 environment. The difference here is that Windows and macOS won't be running parallel (no pun intended) to one another, and so your Mac will be able to use all of its resources for whatever's happening in its Windows partition. The downside is that the Boot Camp method cannot be used on M1 Macs since they don't have the Boot Camp Assistant app. Another downside is that this method requires a significant amount of free storage space on your Mac in order to accommodate both the entire Windows 10 OS as well as the actual game (which is quite sizeable).
That said, if you have an Intel-based Mac that meets the technical requirements of Horizon Zero Dawn and has enough free storage space (preferably 250 GB or more), you should be able to get the game running on your Mac. Instructions on how to perform the Windows 10 installation using Boot Camp Assistant are available below.
To start, you must first download the 64-bit ISO file for Windows 10 from this page – confirm your Windows 10 edition of choice and your language, and then click the download button to start downloading the file.

After the file is downloaded, open Spotlight (the magnifying glass icon in the top-right), type Boot Camp Assistant, and open the app.
Click Continue, then click Choose, find the Windows ISO file, click it, and click Open.


Next, drag to the left the dot between the two partitions until you've given the Windows 10 partition 200 GB of space. Note, however, that there must still be at least 40-50 GB of free storage space for your macOS partition. If your Mac doesn't have that much free space right now, free up some by deleting files and apps you don't need or that have been backed up, and then continue. If you cannot free up enough space, you shouldn't proceed with the next steps.

Once the ISO file is selected and the storage space between the two partitions is redistributed according to our instructions, click on Install, wait for the Boot Camp Assistant to prepare for the installation, then enter your password, and click OK.
This will cause your Mac to restart and when it boots back up, you will see a screen with the Windows logo. There, you must select a location and a preferred language and then click Next.
On the following screen, you will be asked to enter your product key for Windows 10 – do not worry if you don't have one, you can still install Windows 10 for free, simply click the Skip/I don't have a product key option.
If asked to, choose which Windows 10 version you prefer – the Home or the Professional one. We recommend opting for the Home edition, as you don't really need the Pro one for gaming.
After that, agree to the Terms and Conditions and click on the Next button to start installing Windows 10. Keep your Mac turned on and plugged in (if it's a MacBook) while the installation is underway.
After Windows 10 installs, you will have to customize its settings. You can also use the default ones, but we strongly recommend spending a couple of minutes to configure the Windows 10 settings in accordance with your preferences and turn off any unnecessary features that may just get in your way.
Next, you can choose to activate and configure the Cortana virtual assistant. You can also skip this step – there's no need to do this now.
After that, Windows 10 should finally load, but before you can start using your Mac with its Windows OS, there are a couple of things left to do. First, you will likely see the Boot Camp Assistant open in Windows – click Next, then give your agreement for the installation of Apple updates for Windows, and click Next again to initiate the installation. Give your Admin approval and enter your password if/when required to, and after the installation finishes, restart your Mac.
This last step is optional, but we still recommend completing it in order to get optimal gaming performance. There are two things that need to be done here:

First, search for Apple Software Update in the Windows Start Menu (bottom-left), open it, and install any updates that may be available there, after which you need to restart the computer.
Secondly, in the Start Menu again, open Settings > Update & Security, then select the Windows Update section, and install whatever updates are available. After this process finishes (it might be awhile), click on Restart Now, and once your Mac boots back into Windows, everything should be ready for you to finally install and play Horizon Zero Dawn.


Installing Horizon Dawn Zero
Once you've created the Windows 10/11 virtual machine using Parallels or have installed Windows 10 in a separate partition on your Mac, you can proceed with downloading and installing Horizon Zero Dawn:
Open the Parallels VM or restart your Mac and boot it into Windows 10.
Create a Steam account (if you don't have one) and download Steam for Windows.
Install Steam by opening the downloaded file and following the prompts to complete the installation.



Open Steam and log into your account.
Select Store from the top of the client, then type Horizon Zero Dawn in the search bar, and click on the game's tile.

Scroll down, select Addto Cart, then click on Purchase for myself, choose what payment method you want to use, and purchase the game after providing your payment details.



On the game's page in Steam, click on Play Now, and proceed to download and install Horizon Zero Dawn on your Mac.
Once the installation finishes, use the newly-created desktop shortcut to start the game or launch it from its page in the Steam client.
Martina Nikolova
Martina likes to get into nitty-gritty of tomorrow's tech, from product design across to security based solutions. A long time mac user and developer, she has the expertise and strives to give new insight