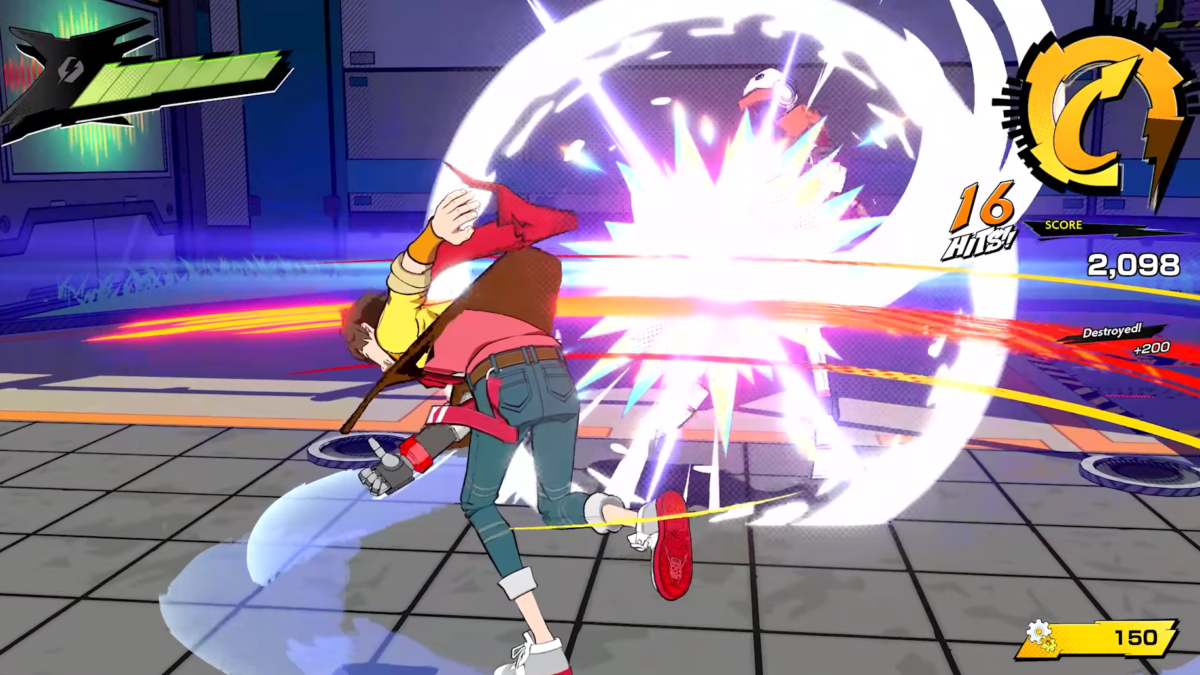 Hi-Fi RUSH (Mac)
Martina Nikolova, 7 months ago
0
6 min

read
Hi-Fi RUSH on Mac
Hi-Fi Rush is an action game that puts strong emphasis on the player's sense of musical rhythm. The game features licensed music from bands like The Black Keys and Nine Inch Nails, and blends together an intensive combat with the rhythm-based gameplay of a music game. In order to be a winner in it, you need to synchronize your moves with the game's beats in a fun and challenging experience.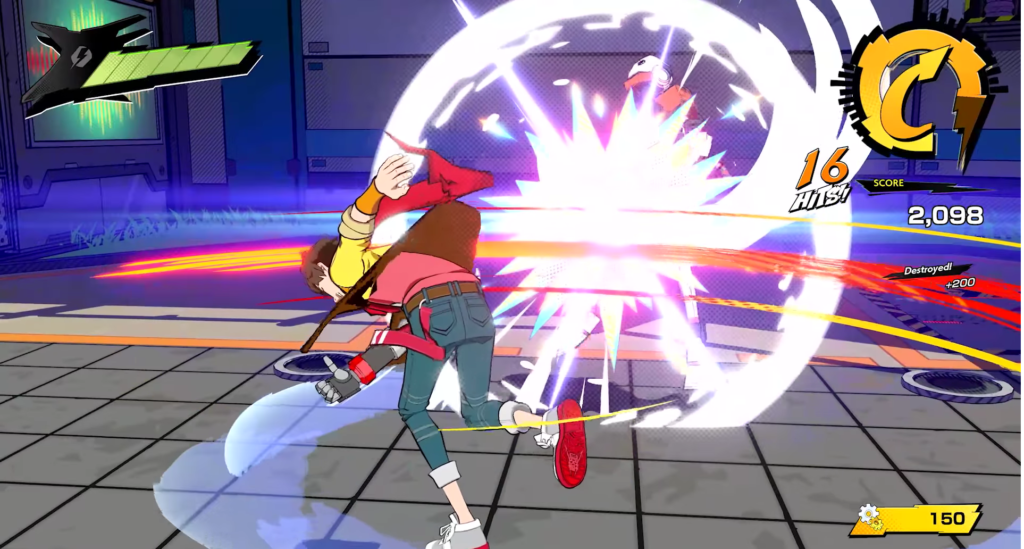 Hi-Fi RUSH does not have official support for macOS, thus players on that platform will need to find workarounds in order to enjoy the game. The good news is that it's not too difficult to run a game on a Mac that wasn't made for macOS. Software like Parallels and Boot Camp Assistant allow Mac users to run Windows applications and games, and in the next paragraphs you will find detailed explanations on how you can do that.
Story
Chai is a 25-year-old boy with a disability in his right arm who wants to be a rock star. He signs up to participate in Project Armstrong, a test program for cybernetic limb replacement launched by Vandelay Technologies. Just before the limb replacement procedure begins, Chai's musical player falls into his chest and becomes embedded with it in the process. This accident gives him a heightened awareness of the rhythm in his surroundings, but because of the mishap that was created, Chai is considered flawed and is being pursued by the facility's robotic security officers.
Gameplay
In Hi-Fi Rush, the protagonist Chai, his foes, and even some of the surroundings all move in sync to the game's music. The gameplay mechanics require players to time their moves with the tracks that are played to gain an advantage over their opponents. Attacks automatically synchronize to the beat, but players can increase their damage output and the effectiveness of combo finishers by carefully timing their button presses.
The game is divided into different levels, each with its own track. At certain levels there are bosses that the players need to fight by carefully timing their moves and actions to match the beat.
Aside from the main action parts, the game also has rhythm-based minigames where players must either hit buttons in a certain order or repeat on-screen prompts in a call-and-response format.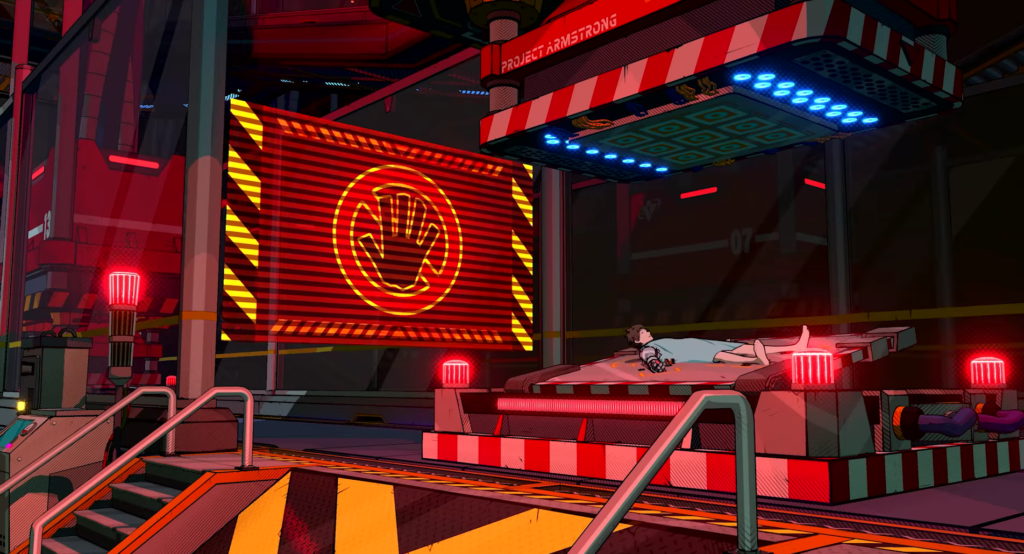 The gameplay consists mostly of fighting, but there are also aspects reminiscent of platformers. Players have access to a system of upgrades that allows them to unlock new moves, abilities, and features, which can be purchased with an in-game currency that is obtained via winning in combat or through exploring the levels. There are also collectible health and special meter upgrades that become accessible at certain levels of the game.
After beating the game the first time, you'll get access to a new difficulty setting, a previously inaccessible section, and a survival mode called Rhythm Tower.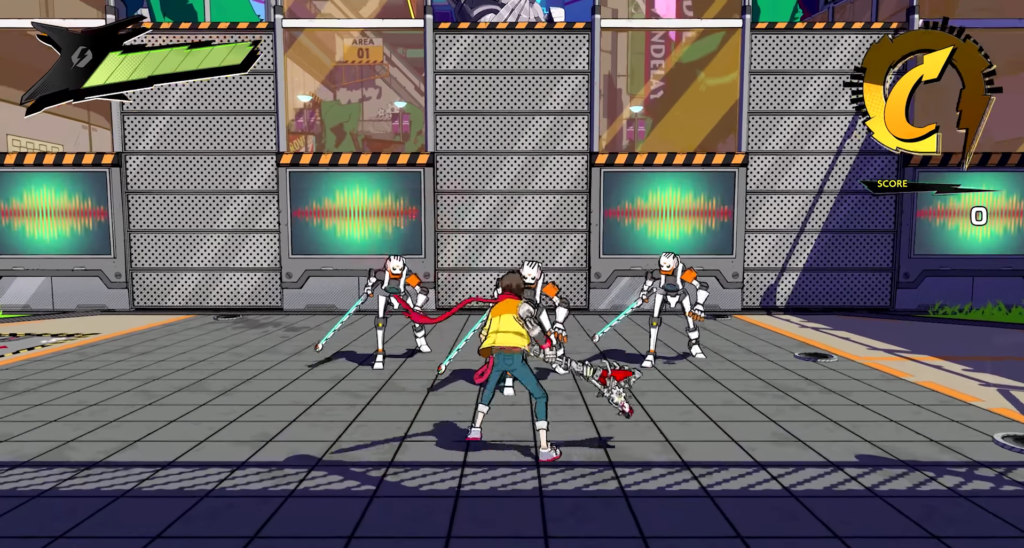 Graphics and music
Since music is the inspiration for the design of Hi-Fi Rush, each element that syncs to the beat heard in-game is also reflected visually. Incoming hits leave Area-of-Effect (AoE) marks on the ground, while strong combo finishers (called Beat Hits) use colored circles to indicate their timing. In addition, a visual metronome can be activated by the player at any moment to make it easier to keep up with the rhythm.
The animation in Hi-Fi Rush is also impressive. The game features engaging cutscenes, that reveal the characters' personalities. There are also camera cuts during tandem special moves that add more immersion to the game.
The soundtrack features high-energy and upbeat music. The sound effects are seamlessly integrated into the gameplay, creating a highly immersive experience.
Conclusion
Hi-Fi Rush is a memorable adventure game that follows its own unique style and story, and deserves a place next to the all-time greats of the rhythm-based action game genre. The game offers an engaging gameplay, immersive music, and stylish visuals. So, if you're a fan of rhythm games or looking for a unique and enjoyable gaming experience, this title may be worth checking out.
Can you play Hi-Fi RUSH on Mac?
Since Hi-Fi RUSH does not have official support for the MacOS platform, it is impossible to play the game in its native form on a Mac. The good news is that, with a little of effort, you can run this and other Windows games on a Mac. Parallels, for instance, is a tool that provides a virtualization solution that allows you to run Windows applications on Mac OS. With its help, you can play Windows games like Hi-Fi RUSH in a virtual machine.
You can also use Boot Camp to get the game working on your Mac by creating a dedicated Windows partition. Once you do that, just boot your machine, load Windows, and begin playing your game of choice. Compared to Parallels, however, Boot Camp requires a lot of space on your hard disk and is not compatible with the newest Apple Silicon-based Macs, thus, you can only use it on Mac with an Intel processor.
How to download Hi-Fi RUSH on Mac
Hi-Fi RUSH can be download on macOS if the user has Microsoft Windows installed on the system. If you have an Intel-based Mac, you can use Boot Camp Assistant to set up a Windows partition on your hard drive. If you have an M1/M2 mac, you can use a Windows virtualization tool like Parallels to run Windows inside of your macOS. Both of these programs allow you to run Windows software on your Mac, and play games like Hi-Fi RUSH as if you were using a genuine Windows PC.
How to Play Hi-Fi RUSH on Mac
To play Hi-Fi RUSH on Mac you need to install a Windows OS on it. The easiest way to do that is with the help of tools like Parallels or Boot Camp Assistant.
First, however, you will need to get the game.
Next, you need to choose a method to play:
Methods
Who is it for?
BootCamp
For those who don't mind sacrificing visual fidelity and performance to get a native experience.

Parallels Virtual Machine
For those willing to let their mac run hot in order to get adequate performance in a native experience
How to play Hi-Fi RUSH on Mac M1
Although the official release of Hi-Fi RUSH does not support the Mac M1, there is a workaround that will enable you to play the game on your machine. You can use an emulator like Parallels to install Windows inside MacOS and play Windows-compatible games on a Mac M1. Parallels does not require some special computing skills and once you have the Windows Virtual Machine up and running with its help, installing and playing Hi-Fi RUSH on a Mac is much like doing it on a Windows PC.
Play Hi-Fi RUSH on Mac with Parallels
You can play Hi-Fi RUSH on Mac (M1 and Intel models) by installing Windows on your Mac with Parallels. Read our detailed guide.
Hi-Fi RUSH on Mac with Boot Camp Assistant
You can play Hi-Fi RUSH on Mac (Intel models only) by installing Windows on your Mac with Boot Camp Assistant. Read our detailed guide.
Martina Nikolova
Martina likes to get into nitty-gritty of tomorrow's tech, from product design across to security based solutions. A long time mac user and developer, she has the expertise and strives to give new insight