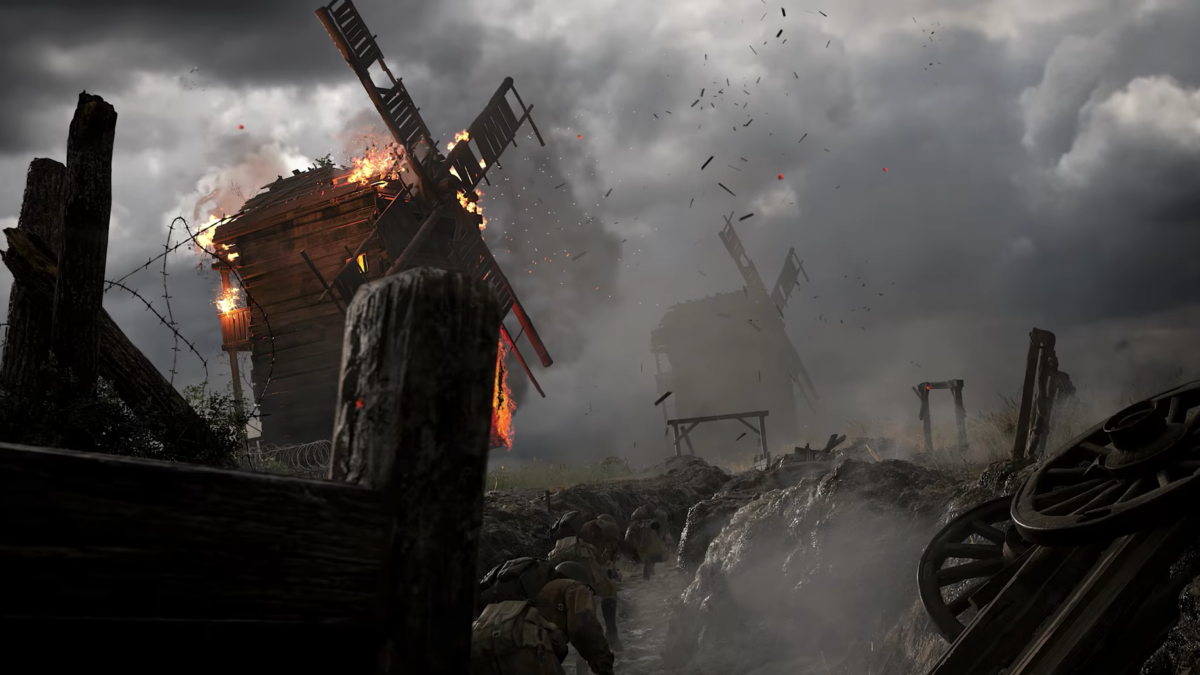 Hell Let Loose (Mac)
Martina Nikolova, 10 months ago
0
12 min

read
Hell Let Loose on Mac
Hell Let Loose is a first-person shooter video game with a focus on cooperation, that offers a great multi-player tactical experience.
The primary game mode is combat with one side attacking and the other defending. Two teams participate in 50 vs 50 combined armies matches where each team has several smaller rifle squads of six people, armored squads of three, or recon squads of two soldiers.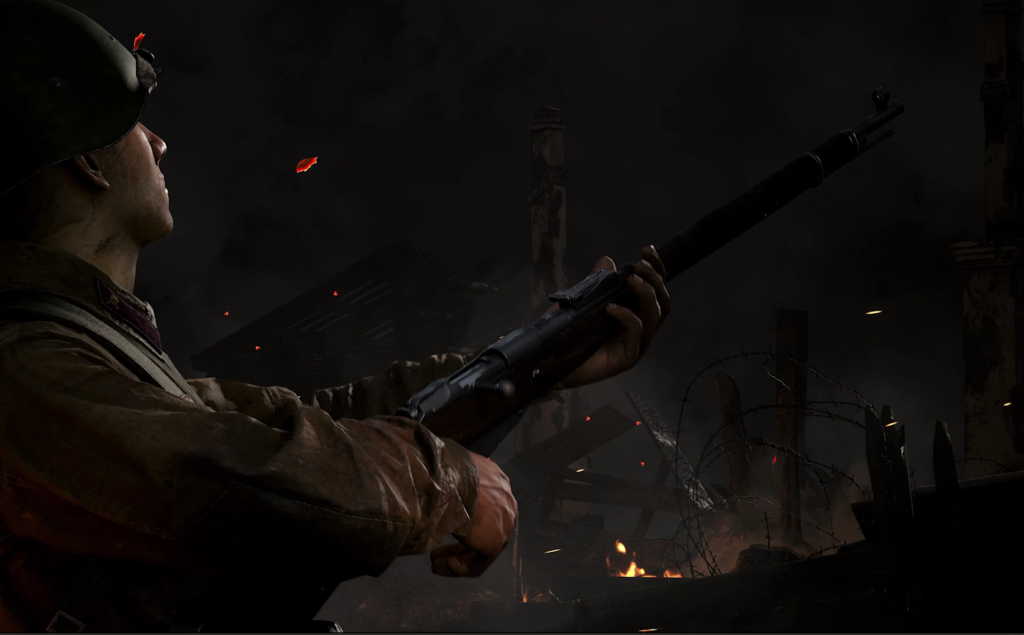 Warfare and Offensive are the game's two current game modes. The Map in both modes is separated into sections that each team aims to dominate and conquer.
If you play in the Warfare mode, the game goes by a "capture-the-flag" scenario where the winning team is the one that gains control of all sectors at a given moment or manages to control the majority of them when the timer expires.
Offensive mode begins with a defense team in control of all sectors, and the goal of the opposing team is to regain control of them all before the countdown expires.
One or two shots are enough to kill in this game, and it's as cruel as you would expect. You'd die before you ever knew who shot you, and the only way to be revived is if there's a physician nearby.
Respawning to the same squad every time you die is not an option. Outposts and bigger Garrisons that have to be established from scratch are the only places where you may respawn. If your Garrison is overtaken by the enemy, you'll have to flee almost a kilometer back to the battlefield.
The game's developers see communication as a major part of the gaming experience in Hell Let Loose. The officer in charge of each unit may interact with other officers and the Commander using a "leadership voice channel". Other channels for communication are unit-only or proximity voice channels. Text chat is also available to players as an alternative to voice communication.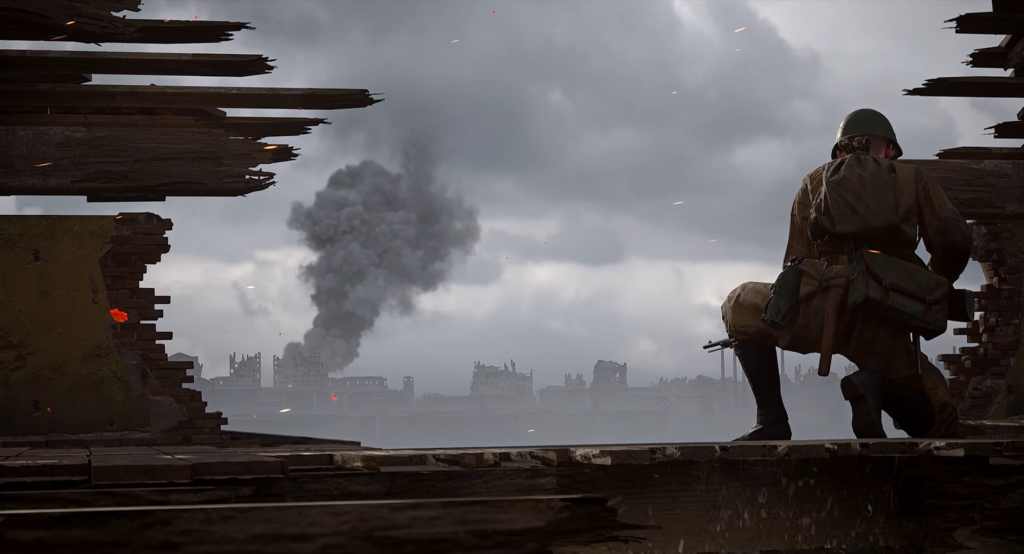 Each six-person unit has a different role assigned to it, whether it's medical, engineering, attack, or support. Unlockables may be found in each and every one of them. During the game, everyone has to be able to think on their feet quickly and take up the slack of other players and this is precisely where a lot of the thrill of Hell Let Loose comes from. When your team's mettle is put to the test by unpredictable obstacles, you will either get drowned or swim together.
An RTS-inspired resource-based strategic meta-game is also included in Hell Let Loose. Every team and squad will be given a commander, who will be in control of everything from tank deployments to air strikes to commands, but these orders will cost resources to carry out.
Trucks don't have to be used to transport building materials or ammunition. Instead of that, a real-time strategy game-like approach may be taken by tasking specific classes to place nodes that automatically generate resources for the rest of the team.
Engineers may use supplies to build resource nodes in order to boost resource production and increase the number of tanks, air strikes, and orders that can be sent on the battlefield, but these nods can be torn down by the opposing team if they are discovered.
Dilapidated fences, partially-incinerated homes, and other horrors of war litter the landscapes in this richly textured and realistic video game. While this is more realistic than loading each map with a variety of interesting locations, it can also make long stretches of gameplay feel a bit dull as you will be spending a significant portion of your time traversing large swaths of the map. This is especially true if you're trying to get to a new location quickly.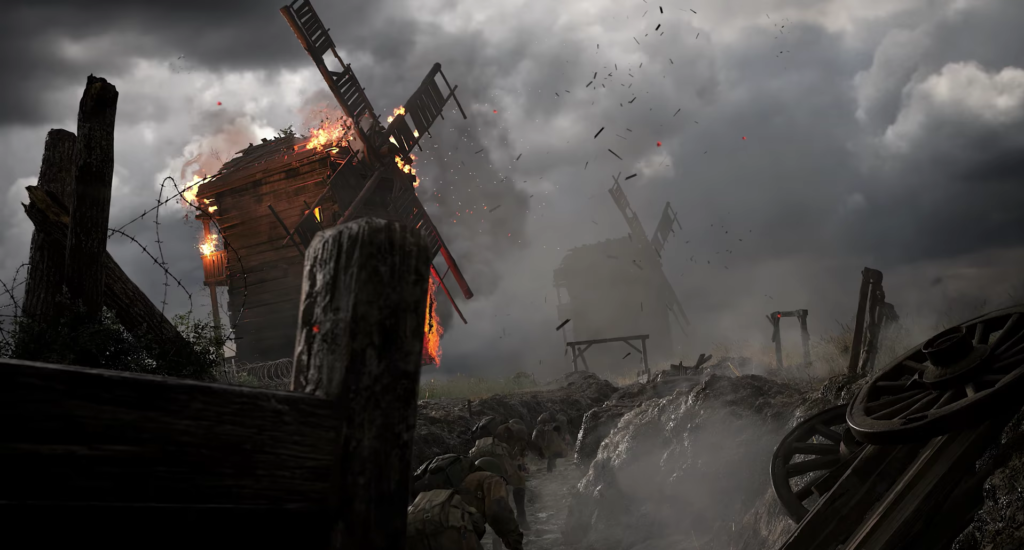 In Hell Let Loose, up to one hundred players may engage in open battles with troops, tanks, and artillery on a constantly moving front line. There is an investment of time and effort required to get comfortable with the game's mechanics, UI, and team structures, and it's absolutely not for everyone. However, Hell Let Loose does an excellent job of reminding us how vital collaboration, communication, and reliance on others can be, in a realistic World War II setting that you've never seen before.
Can you play Hell Let Loose on Mac?
There is no version of Hell Let Loose for Mac OS that can be played natively at this time. Nonetheless, despite the fact that the game is not officially supported, there are various methods in which it is still possible to play Hell Let Loose on a Mac.
Using a cloud gaming service such as Boosteroid or GeForce Now is one of the options available to you. You may also play the game by running Windows on your Mac using software such as Boot Camp or Parallels, and then download the Windows version of the Hell Let Loose game onto your Mac. This is a more elaborate method that may take a bit more effort and time from your side, but, despite that, it may still provide you with a close-to-native feel and immersion in the game. To get more information about each of the methods and choose the one that is most suitable for you, read the next paragraphs and follow the instructions.
How to play Hell Let Loose on Mac
Using Boosteroid or GeForce Now to stream the game straight to your computer is the simplest and the quickest way to play Hell Let Loose on a Mac that doesn't require any special computer skills. All you need to do is download and install the Boosteroid app or the GeForce Now app, and sign in for a subscription plan. If you have a Mac and want to download and play Hell Let Loose on your computer, your options are to either install Windows or to use a virtual machine to play the Windows version of the game.
Each of the methods comes with its own set of pros and cons and may provide you with a unique experience and different outcomes depending on the model of your Mac, the specifications of its hardware, and the strength of your Internet connection. For this reason, we suggest that you take a look at the instructions below and pick the one that is the easiest for you.
Hell Let Loose Set Up Methods
Methods
Advantage
Disadvantage
Cloud Gaming
– No set-up required – Register and Play
– Access to a Library of over 70 top-rated free Games
– Smooth performance
– Compatible with M1 and Intel Macs
– Monthly Fee
– Requires Decent Internet Connection
– No Free Trial
BootCamp
– Free to use any time
– Windows 10 Environment
– Painful Setup
– Mediocre Performance
– Only Compatible with Intel Macs
Parallels Virtual Machine
– Easy Set-up
– Adequate Performance
– Play almost any PC game
– Windows 11 environment
– Compatible with M1 and Intel Macs
– 14-day free trial
– Yearly Fee
How to Get Hell Let Loose on Mac?
To get Hell Let Loose all you need is to purchase it. Limited time offer on CD.Keys.com for a discount – 32 % Hell Let Loose for $20.89
Now you will need to register for Boosteroid. This allows you to add Hell Let Loose to their Cloud Gaming Library. Once uploaded you can seamlessly play the game from your Mac, TV, or Mobile Device.
When Registered you will have additional access to more games for free. Pricing varies depending on the subscription plan.
Play Hell Let Loose on Mac using Boosteroid
Our first suggestion for you is to use the Boosteroid cloud gaming service to play Hell Let Loose without having to download it. One of the primary benefits of using this method is that the performance of the game will not be significantly affected by the technical specifications of your Mac. Besides, using cloud gaming is quick and does not require any downloads, which means that Hell Let Loose may be played on your Mac in a matter of minutes provided that you have a reliable internet connection and a subscription to the Boosteroid service. Instructions on how to stream Hell Let Loose to your Mac via Boosteroid can be found below:
Note: Please note that if you want to get the most out of your Boosteroid streaming experience, the web browser that we suggest you use is Google Chrome.
As a first step, you will need to register for an account on Boosteroid.com.
Once you have successfully logged in with your new account, go to your profile by clicking on the profile icon located in the top-right corner of the screen.
On your profile page, you will be able to choose a subscription plan and a method of payment. After you are done with that, you will need to fill out the necessary information to start your subscription.
After that, go to the Boosteroid search area, type the name of the game, and then click on it.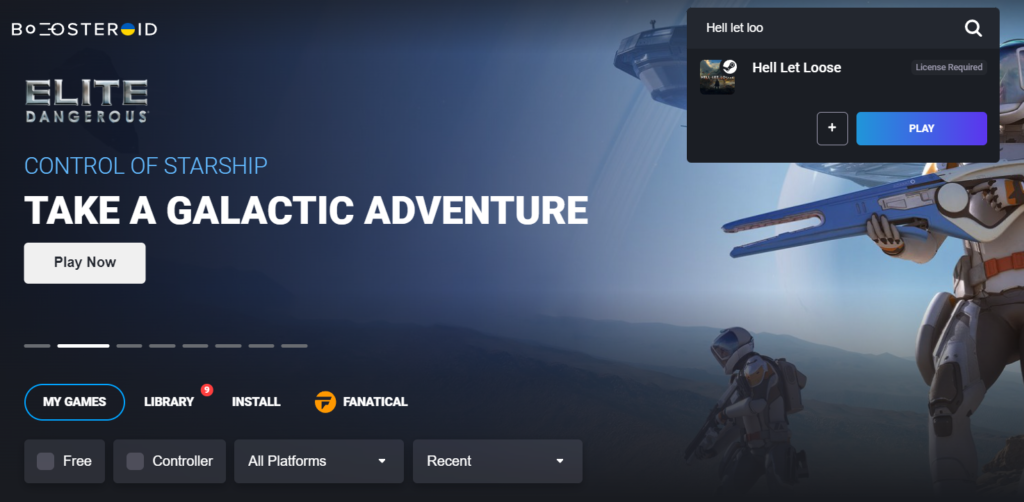 Go to the Boosteroid page for the game, click the Play button, and then confirm that you are willing to connect your Boosteroid account with the Steam Store account.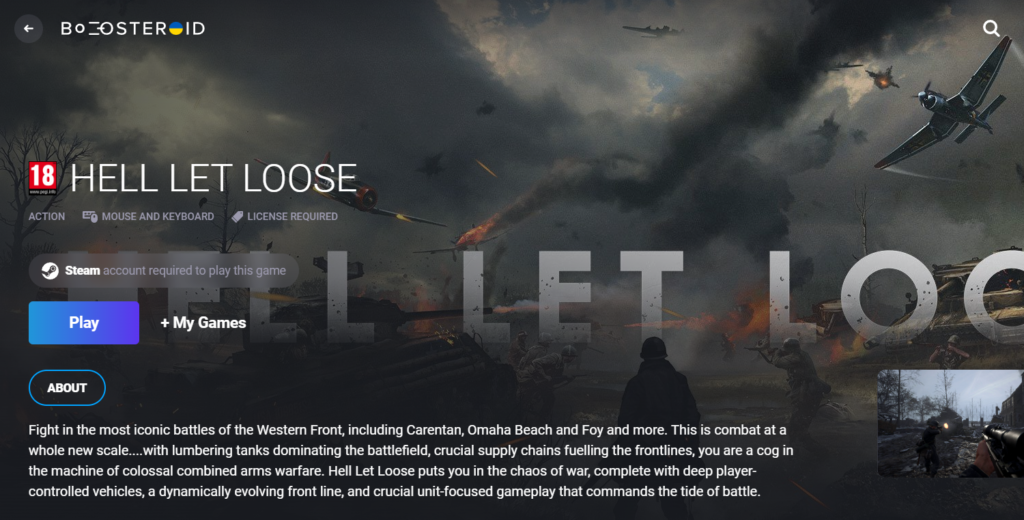 To use the game's browser-based client, you will need to log in using the credentials for your Steam account.
As soon as the game finishes loading in the browser, you may immediately begin playing.
Play Hell Let Loose on Mac with GeForce Now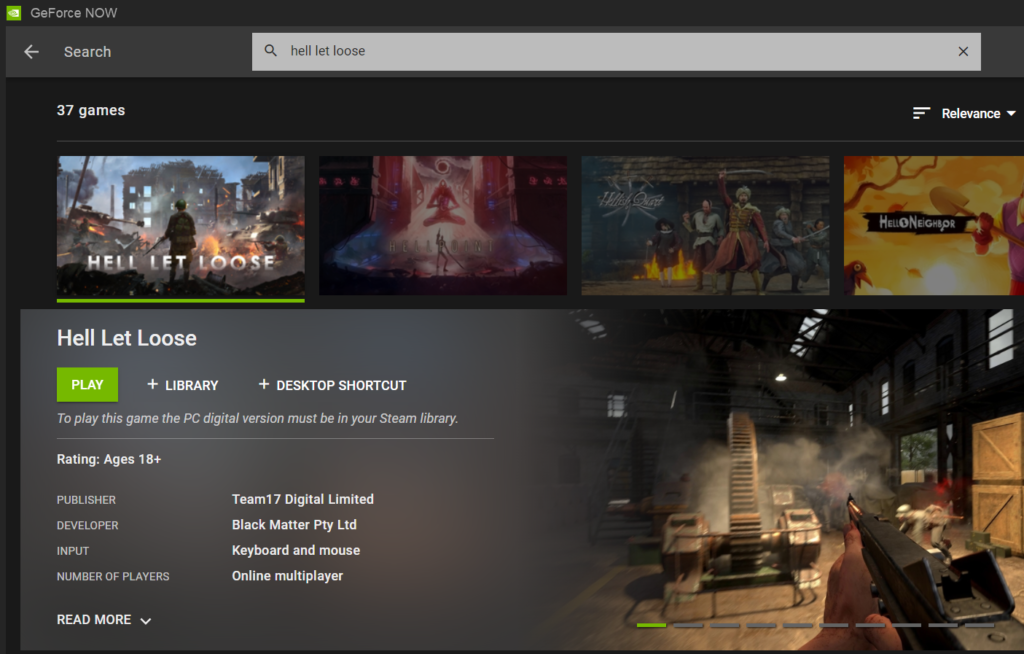 Visit the GeForce Now website and either log in to your existing GeForce Now account or create a new one in order to play the Hell Let Loose game.
After that, go to the GeForce Now downloads page on your web browser, and then install the GeForce Now Mac client.
Once the client has been installed, log in and search inside the client for the "Hell Let Loose" game in the library.
Select the game's version from the Steam Store, and then click the Play button.
After that, go to the Steam Store and login in. A prompt will ask you to confirm that you agree to link your GeForce account with your Steam account. Once this is done, Hell Let Loose should start in GeForce Now.
How to download Hell Let Loose on Mac?
If you want to physically download Hell Let Loose on your Mac and store it on your hard drive to play it whenever you want, you will first need to install Windows on your Mac operating system. You can run Windows on a Mac with the assistance of popular software solutions like Boot Camp and Parallels.
If you own a Mac with an Intel-based processor, we suggest that you use Boot Camp, but, if your Mac has an M1 chip, Parallels is the piece of software that will serve you best.
To learn more about each software and the steps to run Windows on your Mac with it, please take a look at the instructions that are described below or check out the links with detailed guides that are included at the end of the instructions.
Play Hell Let Loose using Parallels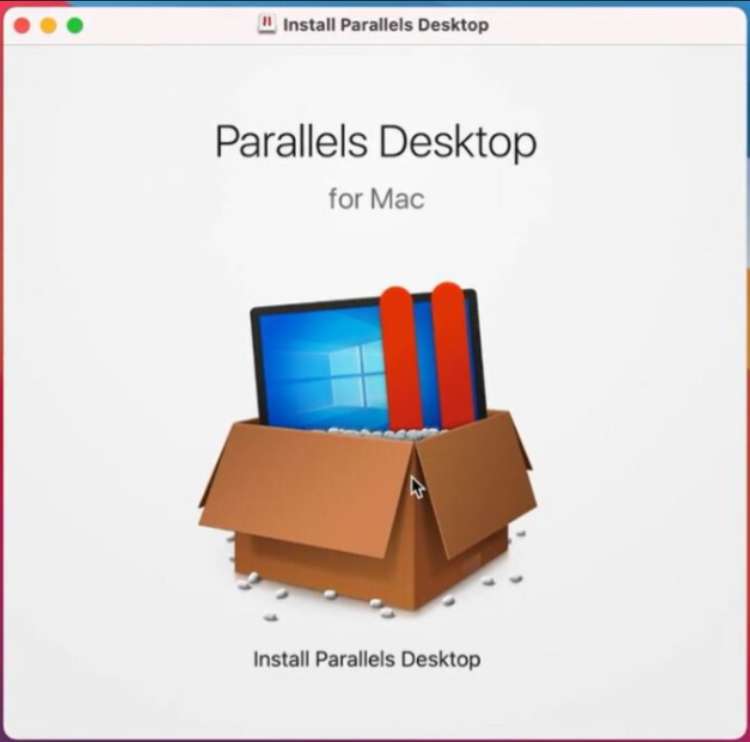 You can download the Parallels software by going to Parallels.com,
Install Parallels on your computer by running the .dmg file and following the directions on the screen.
Once Parallels has been installed, open it and select the "Install Windows" option to begin the process of creating a Windows VM.
Create a Parallels profile or sign in to the virtual machine using one of the other available sign-up options.
Once you enter the VM, download the Steam or the Epic Games client and use it to install the game on the virtual machine.
If you need more in-depth steps for Parallels with screenshots, check out our Full Parallels Guide.
Play Hell Let Loose on Mac using Boot Camp Assistant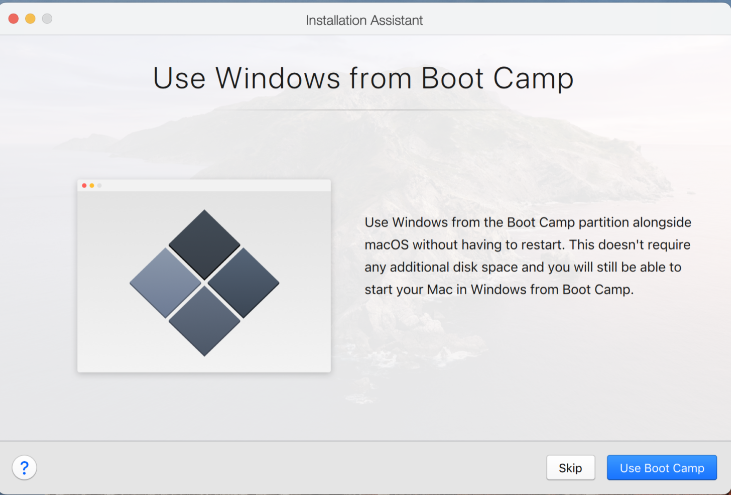 To get started, search for the Microsoft website on google and download the 64-bit Windows installation file (ISO) to your Mac.
Next, on your Mac, open Boot Camp Assistant by going to Applications > Utilities.
Follow the on-screen prompts, click on Continue and import the ISO file into the software.
Check that there is enough space for your macOS and Windows disk partitions, click the Install button, and then wait for your Mac to restart.
Once the machine has been restarted, proceed with the installation of Windows 10 by following the instructions that appear on-screen.
As soon as Windows has been installed, make the Windows personalization settings, install the necessary drivers and then download the Hell Let Loose game using the Steam client on your computer.
Downloading Hell Let Loose on Mac from Steam
Both, Boot Camp and Parallels require a Steam account and a Steam client for playing Hell Let Loose. That's why, in this step, we will show you how to get Hell Let Loose on Steam: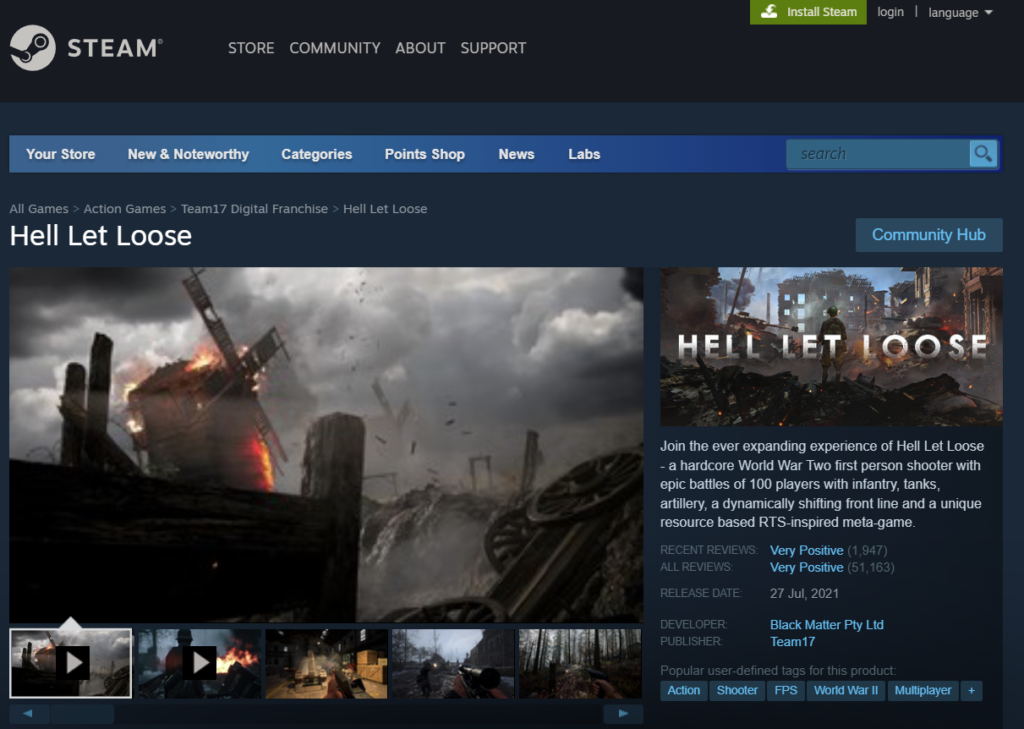 Sign up for a Steam account or log in to your existing one. After that, go to the Steam website and look for the green Install Steam button in the top-right hand corner of the page.
After downloading the installation file, launch the installation process to add the Steam client to your Mac.
After the client has been successfully installed, start it up and log in using your Steam account information.
Inside the Steam client, use the search bar to look for "Hell Let Loose", then choose the result from the list.
On the Hell Let Loose game page on Steam hit the Play Game button, and then click the Next button to play the game on your Mac.
After completing the required payment information for the purchase, download the game.
Once the download is finished, you should find a shortcut to the game on your desktop or in the library of your Steam client. Open the game once it has been completely downloaded and start to play.
Hell Let Loose on Mac M1
You may play Hell Let Loose on a Mac M1 by using Boosteroid or GeForce Now, which both stream the game to the computer in real-time rather than requiring a download and an installation of the game on the system. Downloading and playing Hell Let Loose on a virtual Windows PC on a Mac is another option that is possible with the Parallels program.
Boosteroid, GeForce Now, or Parallels are the three methods that can help you play Hell Let Loose on Mac computers powered by either Intel or M1 CPU. Please note, however, that Windows 10 does not support the M1 architecture, therefore, the Boot Camp software can only be used on Macs that use the Intel architecture. Cloud gaming services such as Boosteroid and GeForce Now, though, are always a fantastic solution if you have a good and stable Internet connection. These services help M1 customers to easily play games that are not officially supported on their Macs.
Martina Nikolova
Martina likes to get into nitty-gritty of tomorrow's tech, from product design across to security based solutions. A long time mac user and developer, she has the expertise and strives to give new insight