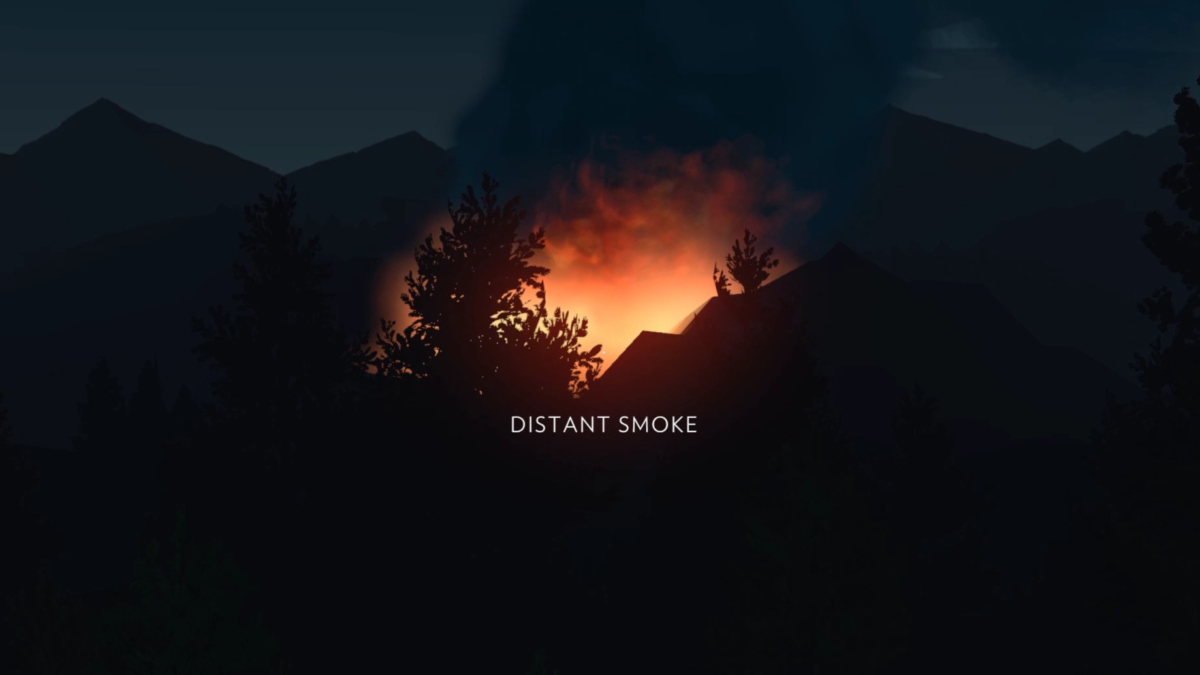 Firewatch (Mac)
Martina Nikolova, 1 year ago
0
8 min

read
Firewatch on Mac
Firewatch is a single-player first-person mystery video game that takes place in the Wyoming wilderness.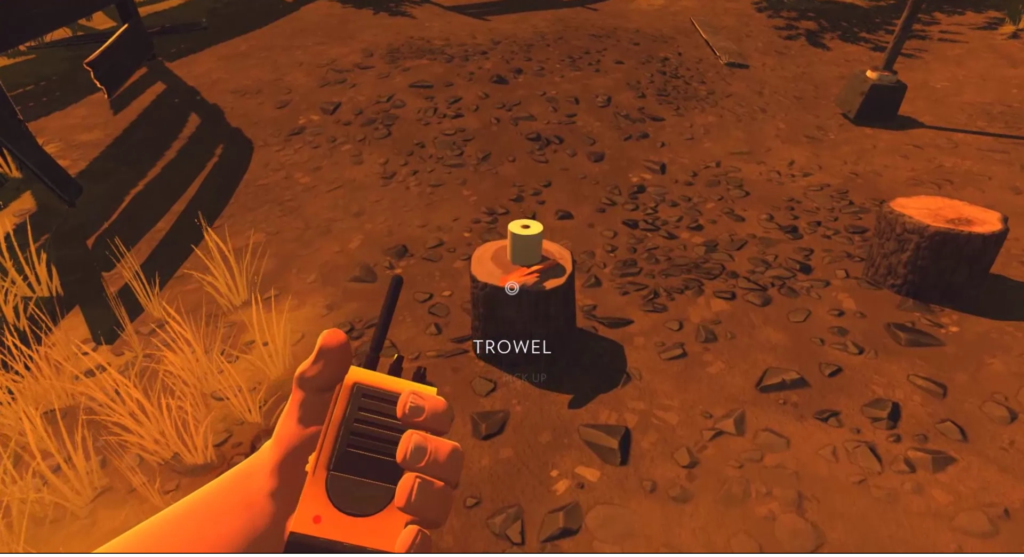 The story brings you back to 1989 as you take on the role of Henry, a former firefighter who has retired to the Wyoming wilderness to serve as a fire lookout. You're perched atop a mountain, and it's your mission to keep the wilderness safe by looking for smoke. Everyone is on edge due to this summer's unusually hot and dry weather. Your sole link to the outside world is a tiny, portable radio that connects you to your boss, Delilah. When you leave your observation tower and go into the wilderness to explore, you are constantly faced with the challenges of the unknown environment and difficult choices.
Every day of the summer is a chapter in the story that takes place at various times of the day and night, making up a whole summer's worth of events. The visuals of the game only add up to the experience representing the vivid hues of a fictitious Wyoming forest and letting you explore it from the first-person point of view.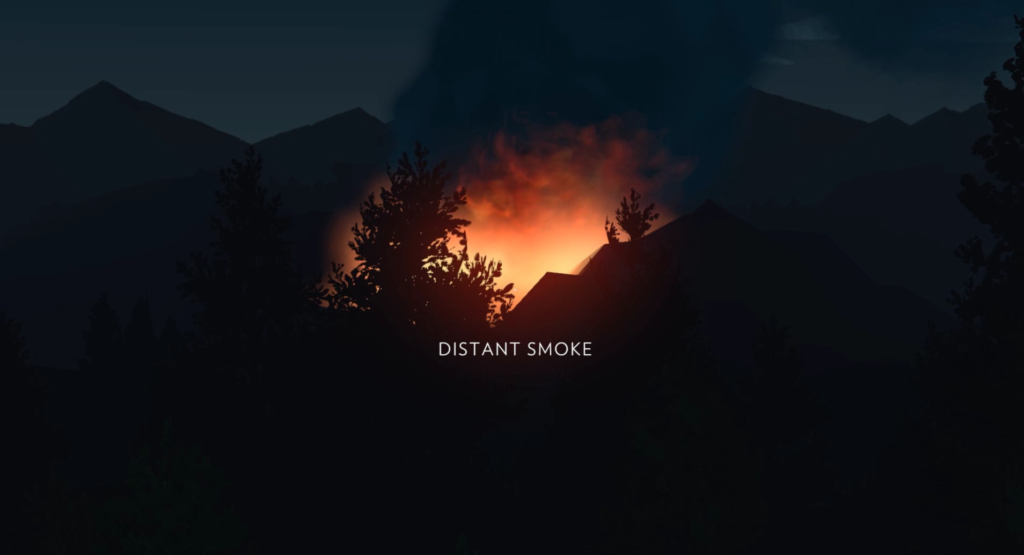 At times, traversing the Two Forks Woods might be a challenge. The lookout tower that serves as your summer residence is your base of operations for rappelling, climbing, and exploring. While these early explorations of your new surroundings are fun, as the story unfolds, Henry's first-person view takes on an almost nightmarish quality as he encounters more ominous threats. Alone in the woods, there are times in the game where you may really consider going back.
This being said, Firewatch, in a way, is a game about the discovery on both, the physical and the mental level. Accepting a position at a forest watch post, the only human that Henry talks with is his boss Delilah through a walkie-talkie. Henry's task is to do what Delilah says. If a plume of smoke is seen, or a group of children is playing with fireworks, he goes there to check it out. Henry is a hiker. He leaps over fallen trees, climbs steep, rocky slopes, carries things around, and more.
On the rare occasions when he sees other people, he only has a few limited options for conversation. Most of the time, Henry uses more intricate conversation trees to relay his findings to Delilah.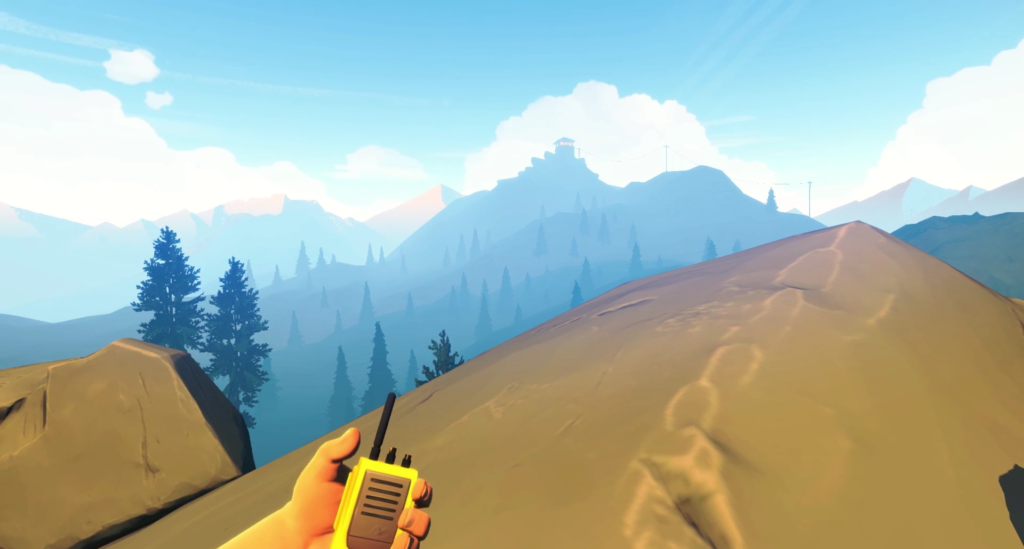 Henry's quests take on a life of their own when he encounters unexpected obstacles that make the duties more than simple errands. Eventually, he and Delilah begin to suspect they're being watched. People disappear. Perhaps Henry is being framed for a really terrible crime.
Firewatch is a game for adults that deals with difficult topics and have dialogues that are suited for that audience. And it deals with those difficulties in the same way that real adults would: with laughter, fury, and despair. If you're looking for a great example of first-person narrative storytelling in a video game, go no further than this game. The game's open-world free-roam mode is available to players once they've completed the story.
Can you play Firewatch on Mac?
You can play Firewatch natively on a Mac or stream the game straight to your Mac with a chosen streaming service. By installing Firewatch through Steam, you may play the game on your Mac and enjoy the optimized version for Macs. Just keep in mind that a dedicated graphics card is required for the game to run smoothly. Also, please note that Mac Mini models are not officially supported at the time of this writing.
Mac users who want to play Firewatch don't have to go through any complex or time-consuming hacks since the game is compatible with Mac OS. Simply purchase the macOS version of the game on Steam and you'll be able to play it on your Mac.
If you don't have enough storage space to download the game, you may play it on your Mac using Boosteroid or another cloud gaming service.
In the following paragraphs, we'll go through both the native and the streaming options for playing Firewatch on your Mac, so stay with us till the end.
How to play Firewatch on Mac
You can download and play Firewatch on your Mac computer by using your Steam client. If you want to stream Firewatch to a Mac and not install lit, try Boosteroid or GeForce Now, which are two reputable streaming services that currently offer the game in their library.
In the next paragraphs, we'll guide you through the process of setting up and playing Firewatch on your Mac, to save you some time and effort. If your Mac isn't powerful enough for gaming or you don't have a lot of free space in it, you may want to stream the game instead of downloading it. By using a streaming service, you'll be playing on a remote gaming machine that's being streamed to your Mac, as the term "streaming" suggests.
Since the game doesn't need to be downloaded, this method not only saves space on your computer but also doesn't rely on the hardware capabilities of your Mac to provide optimal performance. The only drawback of the streaming method is that you'll need a stable Internet connection in order to prevent issues with latency and other performance problems.
Below, there are instructions for using Boosteroid and GeForce Now to stream Firewatch on your Mac. A bit further down the page, you can find also instructions on how to download and play Firewatch on your computer's hard disk.

Firewatch Set-Up Methods
Methods
Advantage
Disadvantage
Cloud Gaming
– No set-up required – Register and Play
– Access to a Library of over 70 top-rated free Games
– Smooth performance even on old Macs
– Monthly Fee
– Requires Decent Internet Connection
Native Version
– No Compatibility issues
– Optimized for Mac
– Slow Performance on old Macs
How to Get Firewatch on Mac:
First, you will need to purchase the game.
Now you will need to register for Boosteroid. This allows you to add Firewatch to their Cloud Gaming Library. Once uploaded you can seamlessly play the game from your Mac, TV, or Mobile Device.
When Registered you will have additional access to more games for free. Pricing varies depending on the subscription plan.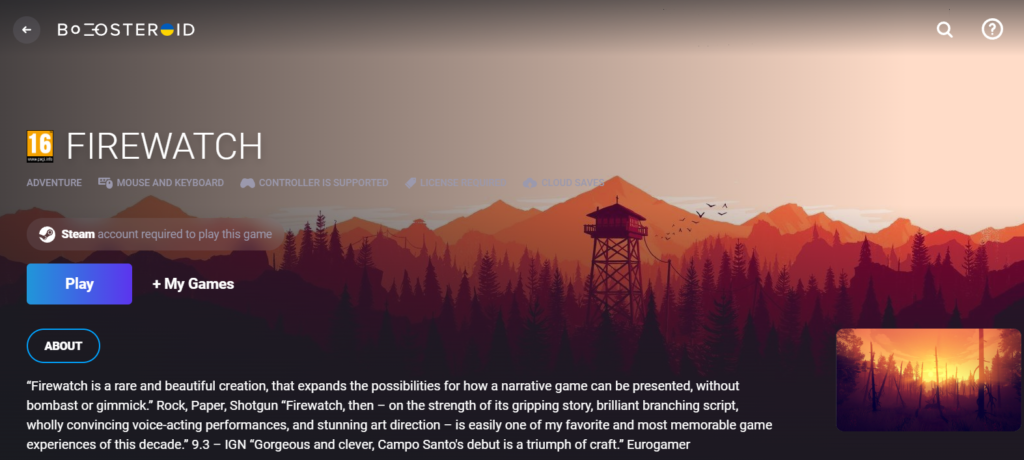 Play Firewatch on Mac with Boosteroid
As a first step, you'll need to create an account on the Boosteroid website.
When you're on your profile page, click on your username and choose Subscribe.
Next, select a subscription plan, select a payment method, and input your payment information to start your Boosteroid subscription.
After you've activated your subscription plan, type "Firewatch" in the search field and click the game's search result.
Click Play on the Firewatch page, then click OK let's go, and wait a few seconds for Boosteroid to load.
Finally, enter your Steam account information and start the game.
Play Firewatchon Mac with GeForce Now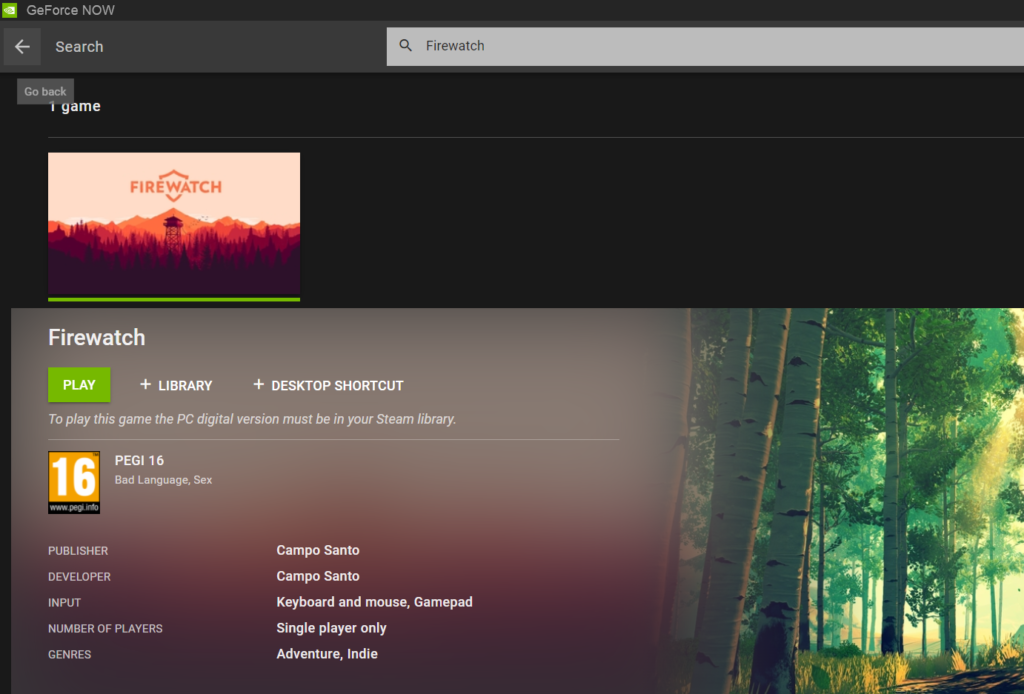 To play Firewatch with GeForce Now, sign in to your GeForce Now account or go to the website and create one if you don't have one already.
Download the GeForce Now Mac client from the GeForce Now downloads page.
After logging in, search for Firewatch in the client.
Click Play after selecting the Steam Store version from your library.
Then, at the game store, sign in and confirm that you want to connect your GeForce and Steam accounts. As soon as this step is complete, Firewatch will begin in the GeForce Now client.
Click for our detailed GeForce Now guide
How to download Firewatch on Mac
If you want to download and install Firewatch on your Mac, you need to download the macOS version of the Steam client on your Mac and then search for Firewatch on Steam to purchase it.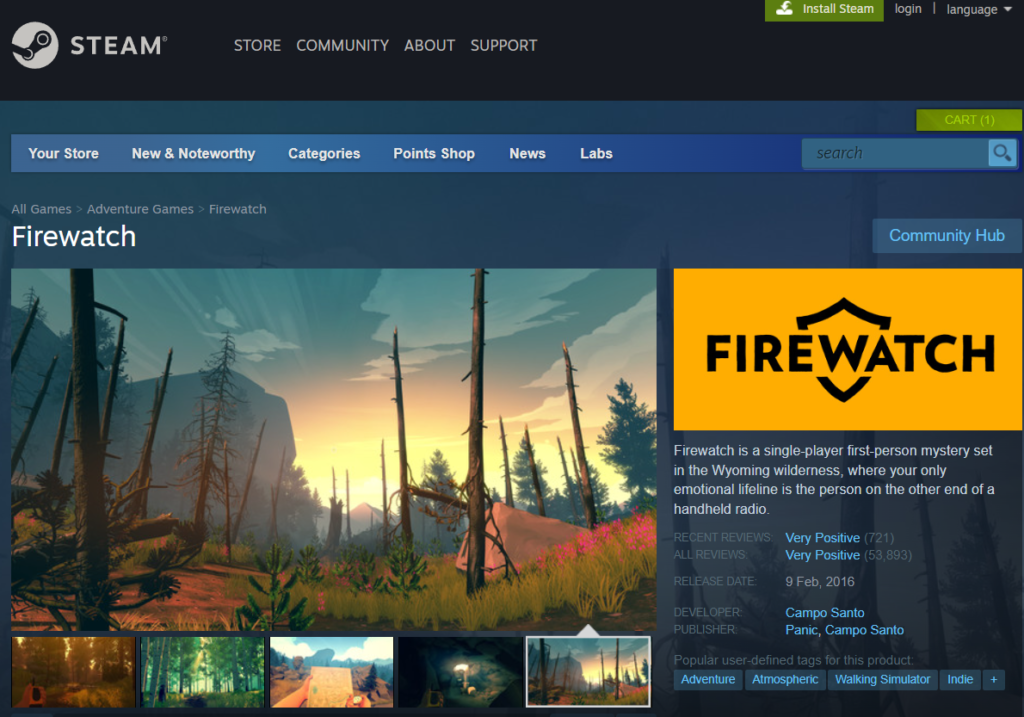 You can take advantage of the fact that Firewatch is officially supported on Mac, and look at the detailed instructions on how to download the game right here.
To begin, you'll need to sign up for a Steam account if you do not already have one.
Install Steam on your Mac by clicking the Install Steam button on the Steam website and then follow the on-screen directions.
Log in to your account by launching the client and entering your login credentials.
Search for "Firewatch" in the client's search box and click on the search result.
You'll be able to purchase the game after clicking Add to Cart on the game's page and entering your payment information.
After you've purchased it, you may find Firewatch in your Steam library by heading to the Library section and clicking on it.
To begin the installation process, select Install and then Next, Have some patience as this may take some time to install the game completely.
In your Steam library, click on the game you just downloaded, and then click Play to begin playing.
Firewatch on Mac M1
You can play Firewatch on Mac M1 with the help of Apple's proprietary emulation tool Rosetta 2. To play Firewatch on Mac M1, just accept the Rosetta 2 installation window and follow the on-screen prompts.
The first time you use an Intel Mac program or application on your Mac M1, you'll need to install Rosetta 2. If you agree to the installation, the emulation application will be instantly installed on your Mac. After this initial installation, Rosetta 2 will automatically activate and adapt to the M1 chip the next time a program is not natively available for M1 Macs. The emulator will start immediately when you launch Firewatch, providing a native-like performance.
Martina Nikolova
Martina likes to get into nitty-gritty of tomorrow's tech, from product design across to security based solutions. A long time mac user and developer, she has the expertise and strives to give new insight