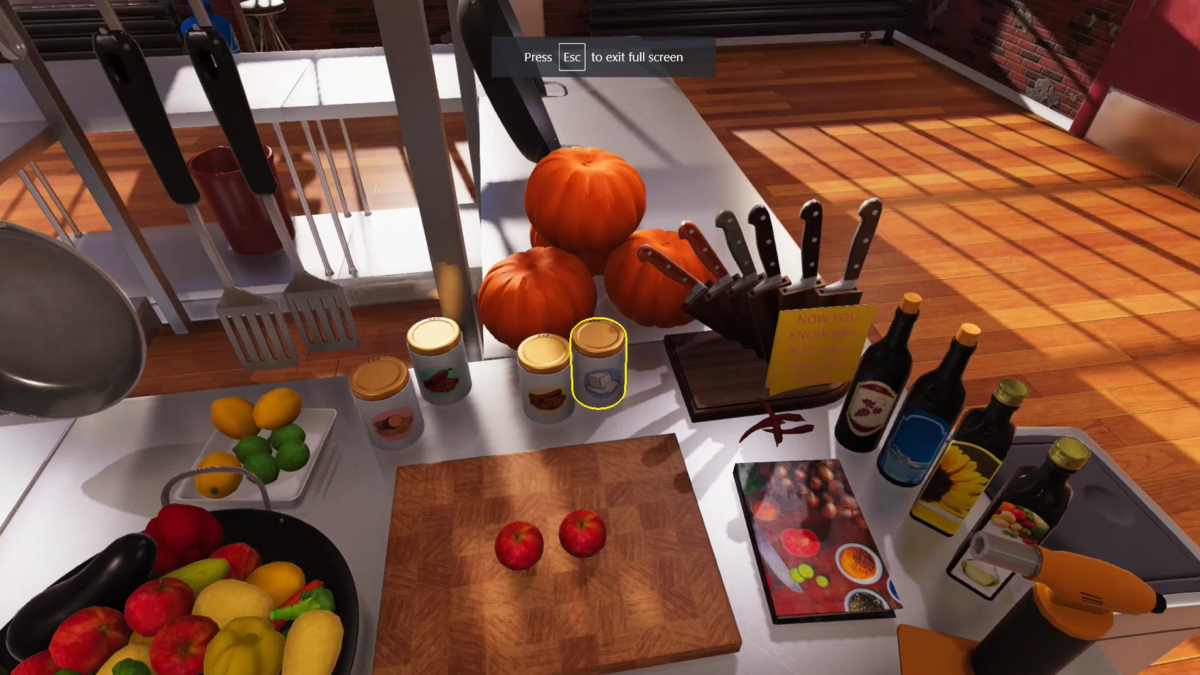 Cooking Simulator (Mac)
Martina Nikolova, 8 months ago
0
5 min

read
Cooking Simulator on Mac
Cooking Simulator is a simulation game that features realistic cooking experience. In it, players take control of a fully functional kitchen with all kinds of equipment and are tasked with unlocking and mastering over 80 recipes that use a wide variety of ingredients.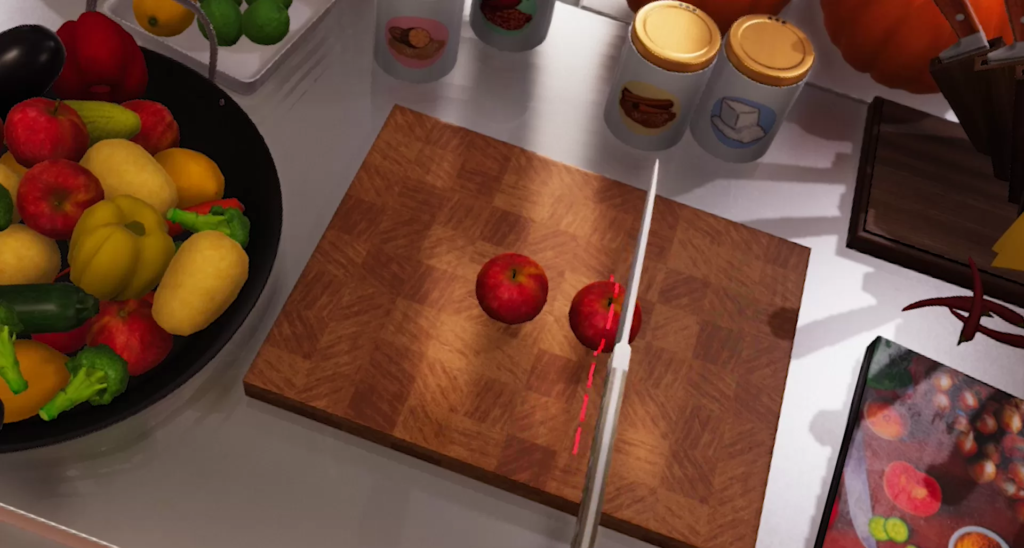 If you're using a Mac and want to play Cooking Simulator, you'll have to resort to a workaround because a native macOS version of this game is not available. The good news is, the game can be played on a Mac by use of Windows emulation software.
For those who own an Intel-based Mac or an Apple Silicon M1 or M2 model, below there are links with instructions for installing and playing Cooking Simulator that explain the process in detail.
Keep in mind that if a game isn't optimized for macOS, running it on a Mac won't be the same as running it on a Windows PC.
Mac gamers, however, can run Windows games by installing a Windows OS emulation program like Parallels or Boot Camp Assistant (only for Intel Macs).
Gameplay
In Cooking Simulator, players play from a first-person perspective in a virtual kitchen setting. They prepare dishes for customers and get rated based on the flavor, appearance, and general preparation of the dish.
The game's mechanics can be learned via a series of lessons called "Cooking School". Players can use these lessons to get a feel for their kitchen at the start of the game and learn the locations of the items they might need during the cooking process.
The virtual kitchen is equipped with all the tools necessary for cooking. There are grills, stoves, gas ranges, ovens, and a plethora of cooking utensils, including bowls, spatulas, whisks, and spoons.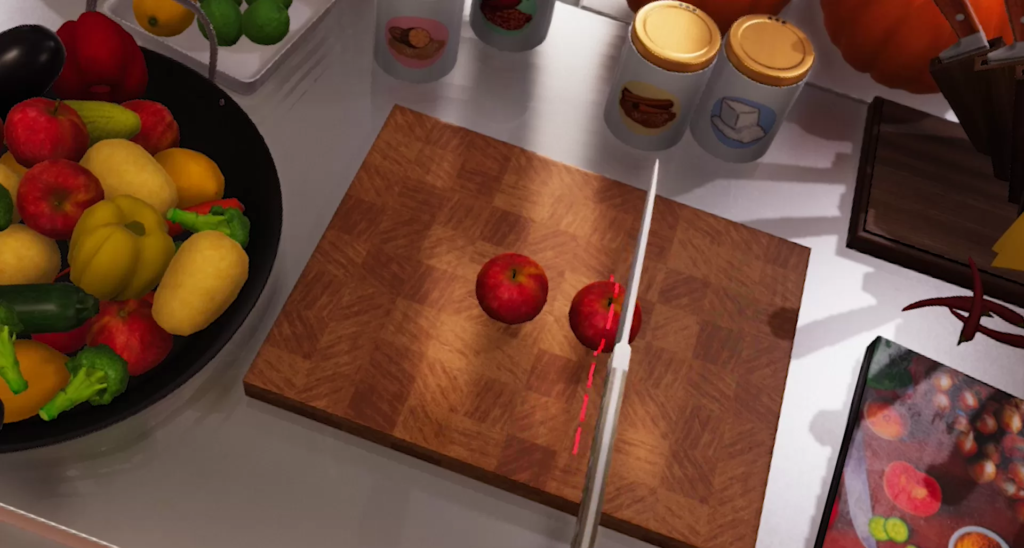 The player has access to more than 140 different types of food ingredients, including meat, fish, fruits, vegetables, dairy products, and liquids, which can be found in the fridge and the pantry. A full set of herbs and spices is also included to make the cooking experience more real.
The simulation of a real cooking process in the game is impressive. Players can cut, chop, peel, fry, boil, and flip with convincing movements that resemble those in real life. The temperature, look, and flavor of all the ingredients adapt and change based on the players' actions.
There is also a radio with a selection of channels for those who want to listen to music as they cook.
Game modes
Cooking Simulator offers several game modes to choose from, and each of them has its own rules and settings.
A Career Mode allows players to embark on a culinary adventure with the goal of making a name for themselves and their virtual restaurant. As the player's reputation and experience grow, they are able to serve more customers and access more advanced menu options. When they have mastered the basic cooking processes and recipes, they can have access to new cooking skills.
Leaderboard Challenge is a game mode in which players compete to make a single dish according to a given recipe, with separate leaderboards for each dish.
Winter Holidays is a game mode where players get access to a brand new kitchen setting where they have to prepare meals for a large group of people using only ingredients the customers specifically desire.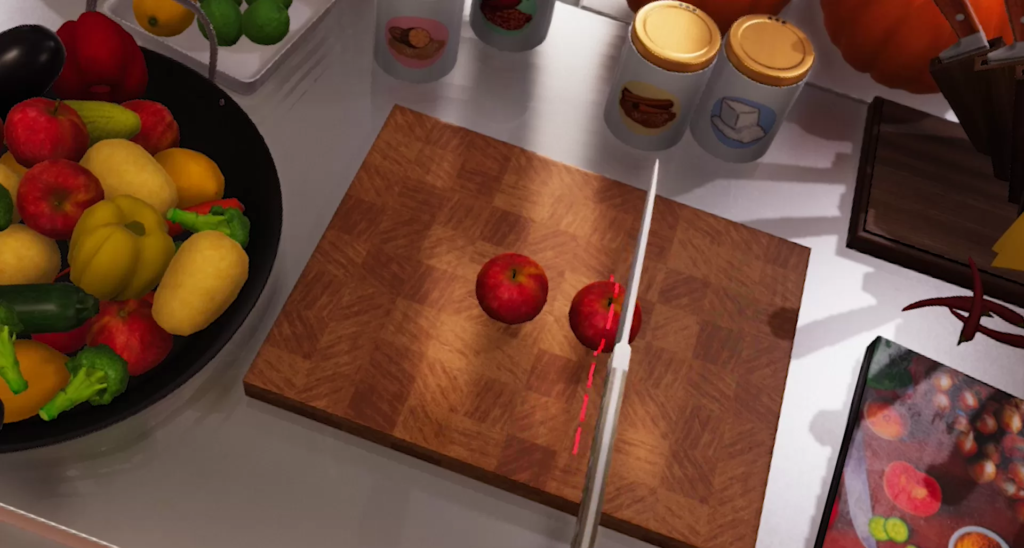 The SUPERHOT Challenge is a mode that features a new mechanic that slows down time while the player isn't moving and modifies the look of products and utensils.
Those who want to have complete control over their kitchen and cook anything they choose can select to play in Sandbox mode. There isn't much of a story in it, and each dish that players prepare is just given a rating out of five stars.
Conclusion
Cooking Simulator is a fun game that features realistic physics and uses different recipes to test the player's skills in the kitchen. The process of cooking is fun, and remembering all the ingredients you need to make a highly rated dish is a great challenge for anyone who wants to get better at cooking in real life.
Can you play Cooking Simulator on Mac?
Cooking Simulator can be played on a Mac with a little bit of creativity despite not having a native Mac OS version. What you will need is Windows emulation software like Parallels or Boot Camp Assistant in order to run Cooking Simulator on a MacOS. Playing the game through this method is very similar to playing on a Windows PC and you can read more about the exact steps in the links below.
How to download Cooking Simulator on Mac
Users who want to play Cooking Simulator on Mac will need to first install Windows OS. The easiest way to install Windows OS is by using a virtual machine (with a tool like Parallels) or by creating a dedicated hard drive partition (using Boot Camp Assistant). Only then the game can be downloaded and installed just like any other Windows game on the Mac.
How to Play Cooking Simulator on Mac
To play Cooking Simulator on Mac you have to install a Windows OS on your Mac with programs like Parallels or Boot Camp Assistant.
First, however, you will need to get the game.
Next, you need to choose a method to play:
Methods
Who is it for?
BootCamp
For those who don't mind sacrificing visual fidelity and performance to get a native experience.

Parallels Virtual Machine
For those willing to let their mac run hot in order to get adequate performance in a native experience
How to play Cooking Simulator on Mac M1
Cooking Simulator can be played on a Mac M1 with the help of a Windows emulation program like Parallels. This program creates a Windows Virtual Machine which allows games designed for Windows to be launched on a Mac.
The Boot Camp Assistant application requires an Intel-based CPU, thus, the program is not compatible with Macs with M1 processors.
Play Cooking Simulator on Mac with Parallels
You can play Cooking Simulator on Mac (M1 and Intel models) by installing Windows on your Mac with Parallels. Read our detailed guide.
Cooking Simulator on Mac with Boot Camp Assistant
You can play Cooking Simulator on Mac (Intel models only) by installing Windows on your Mac with Boot Camp Assistant. Read our detailed guide.
Martina Nikolova
Martina likes to get into nitty-gritty of tomorrow's tech, from product design across to security based solutions. A long time mac user and developer, she has the expertise and strives to give new insight