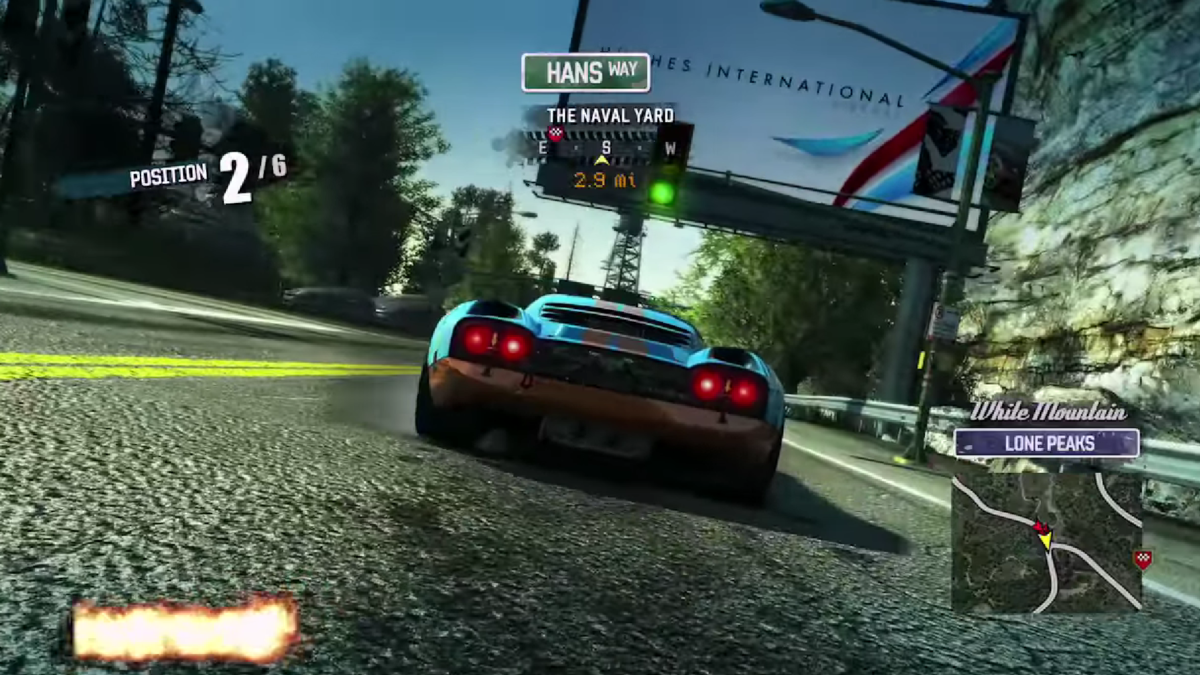 Burnout Paradise (Mac)
Martina Nikolova, 8 months ago
0
7 min

read
Burnout Paradise on Mac
Burnout Paradise is a racing video game released in 2008 as part of the Burnout series. The game features an open world and is set in a fictional "Paradise City", in which players can compete in different types of high-speed car races. Over the years, a number of features have been added to the game in the form of free updates and paid DLCs that improve its gameplay.
A remastered version of Burnout Paradise is available to players on Steam and Electronic Arts (formerly Origin). It has better graphics and comes with eight add-ons, rebuilt with amazing accuracy.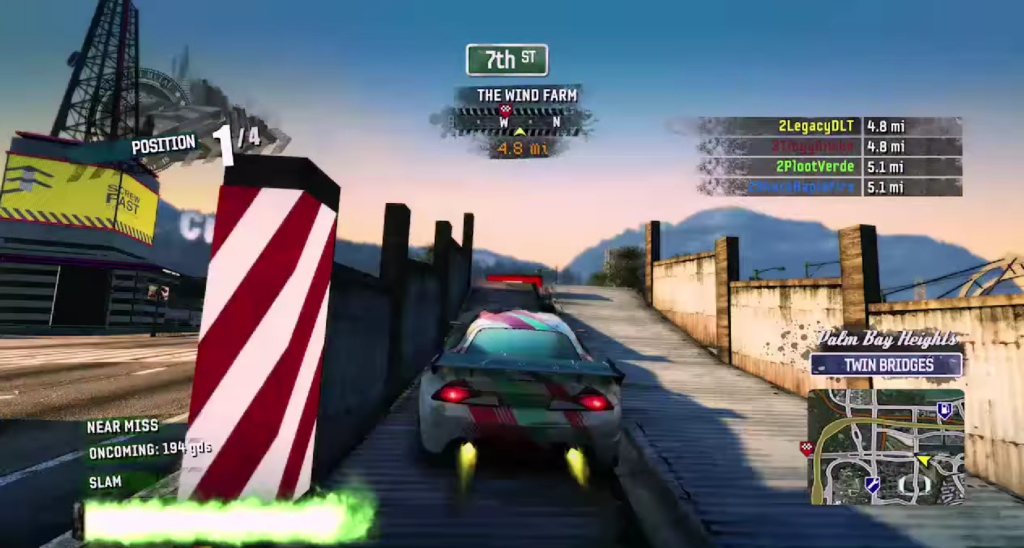 Since Burnout Paradise does not have native support for macOS, Mac users who are interested in playing the game will have to find other ways to do so. The good news is that Burnout Paradise can be played with the help of Windows emulation software on Macs with Intel, Apple Silicon M1, or Apple Silicon M2 processors.
It is important to point out that the gaming experience on a Mac will differ from that on a Windows PC if the game has not been natively supported for macOS. However, Mac users can play Windows games and have adequate gaming experience with the help of emulation software like Parallels or Boot Camp Assistant (only for Intel Macs).
Gameplay
Players take on the role of high-speed street racers and select from a wide range of in-game vehicles. In contrast to other games in the series, however, Burnout Paradise does not force them to advance through its levels at a predetermined rate. Instead, they are given the chance to set their own pace and explore the open world of Paradise City as much as they want. Day and night cycles give players a more realistic and challenging driving experience.
The gameplay includes collecting discoverables, participating in racing events, testing your skills in online challenges, and having the opportunity to drive different vehicles. Completing racing events earns players experience and gives them a higher driver rank, which in turn allows them to unlock more powerful vehicles.
The "Crash Mode", featured in previous Burnout installments, which challenged players to create the most spectacular crash possible in a variety of different environments, has made a return in Burnout Paradise under the name "Showtime". Apart from the name, what is new about this game mode is that in it, players can initiate car crashes at any time and in any place throughout the game. Another change is that, in contrast to Crash Mode, the objective in Showtime is to keep the vehicle bouncing for as long as possible while racking up points rather than smashing into a busy junction and watching the crash unfold.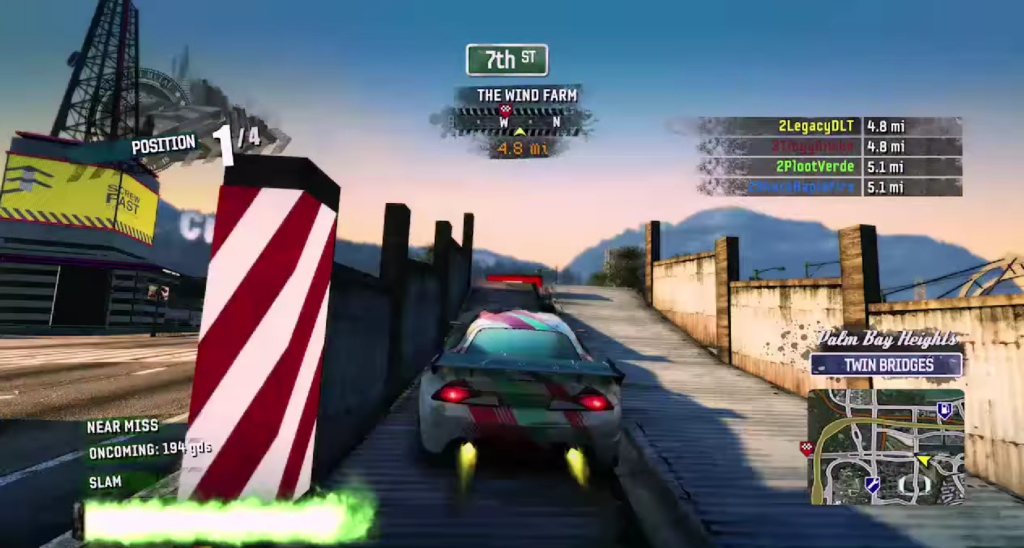 Another change in the gameplay is that in Burnout Paradise it is allowed for players to use whatever legal means to reach the finish line of a race, which wasn't the case in previous installments. The player's driving records, as well as metrics such as fastest time and highest crash on each street, are now saved in a drivers' license.
A welcome addition is that the game gives the players the ability to adjust the settings of the race, like the route, the traffic, and the type of vehicles that are allowed to race depending on their boost type.
A new damage system has also been implemented in Paradise. Accidents can now be classified into two groups: one for mild damage and another for severe damage. If the player's vehicle keeps all four wheels and the chassis is not damaged, the player can "driveaway" from the incident and continue playing.
A player's automobile is considered "wrecked", and the player must wait until their car is reset if any wheels fall off, the engine is severely damaged by an accident, the car crashes on its side or roof, or the player lands outside of the game's map.
A lot of attention has been paid by the designers to the realism of the crashes. When vehicles crash into obstacles, they dynamically deform.
Manufacturer and model names have been added to the cars so they can resemble their real-world counterparts.
Cars cannot be "tuned up" or personalized except for the color, which can be changed in real time by stopping at a paint shop or during the vehicle selection process.
Driving through the parking lot of a gas station will replenish your car's boost meter, and driving through the parking lot of a repair shop will automatically fix your vehicle, all in real time.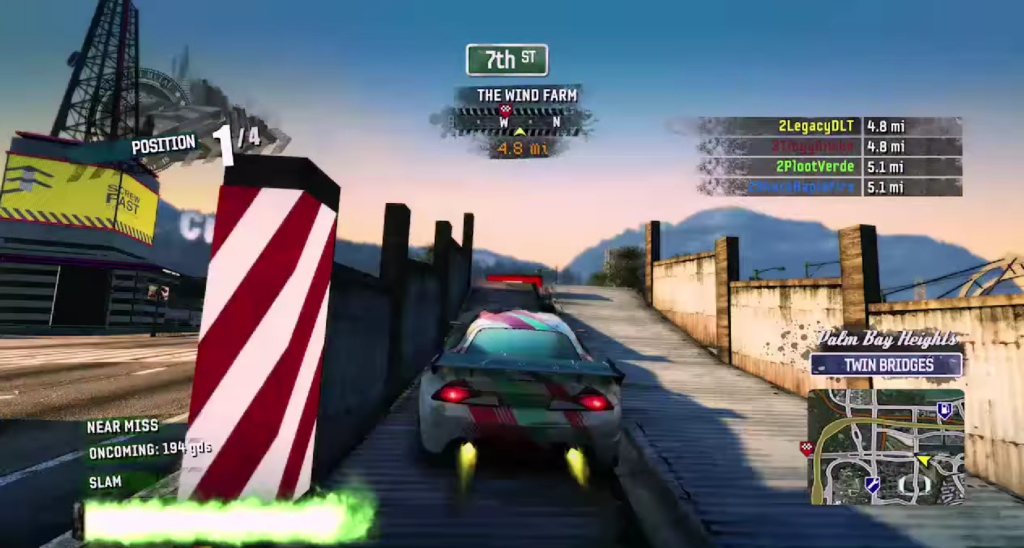 Multiplayer
In multiplayer, players can compete online and select between several game modes. A simplified "Easy Drive" menu is featured in the game. Thanks to it, when the player is behind the wheel, they can access the Easy Drive options and send invitations to other players in their friends list. After inviting players to a game, the host can choose which event to play.
Conclusion
Burnout Paradise is a fast-paced game that emphasizes exploration and discovery. The game features an open world that offers players an exciting car racing experience that does not rely on predetermined tracks. The remastered version of the game offers high-definition graphics and a number of expansion packs that include things like additional vehicles, maps, and game modes.
Can you play Burnout Paradise on Mac?
Although there is no official macOS support for Burnout Paradise, it is possible to play the game with a few tweaks. For instance, a quick and convenient way to play Burnout Paradise on a Mac is by installing Windows emulation software like Parallels or Boot Camp Assistant. Using these programs, you can install the game on your Mac in the same manner you would on a Windows PC.
How to download Burnout Paradise on Mac
Burnout Paradise can be downloaded and played on Macs that have a Windows OS emulated on them with the help of a Windows emulation program. If you haven't done that before, you should know that you can run Windows in a virtual machine or on a different partition of your Mac's hard drive by using third-party applications like Parallels (for all Macs) or Boot Camp Assistant (for Macs with an Intel CPU only). Once Windows has been booted up, installing the game is as simple as installing any other Windows game.
How to Play Burnout Paradise on Mac
To play Burnout Paradise on Mac you first need to have a Windows OS installed on your Mac. This can be done with the help of a program like Parallels or Boot Camp Assistant.
Before you scroll down to learn more, however, you will need to get the game.
Next, you need to choose a method to play:
Methods
Who is it for?
BootCamp
For those who don't mind sacrificing visual fidelity and performance to get a native experience.

Parallels Virtual Machine
For those willing to let their mac run hot in order to get adequate performance in a native experience
How to play Burnout Paradise on Mac M1
Owners of Mac with M1 chip can play Burnout Paradies by using a Windows emulation application like Parallels. This program makes it simple to run Windows games on a Mac, and the experience the players get while playing are generally satisfying.
Sadly, Macs powered by the M1 CPU cannot run Boot Camp Assistant. Keep in mind that this app is only compatible with Macs that use Intel CPUs.
Burnout Paradise on Mac with Parallels
You can play Burnout Paradise on Mac (M1 and Intel models) by installing Windows on your Mac with Parallels. Read our detailed guide.
Burnout Paradise on Mac with Boot Camp Assistant
You can play Burnout Paradise on Mac (Intel models only) by installing Windows on your Mac with Boot Camp Assistant. Read our detailed guide.
Martina Nikolova
Martina likes to get into nitty-gritty of tomorrow's tech, from product design across to security based solutions. A long time mac user and developer, she has the expertise and strives to give new insight