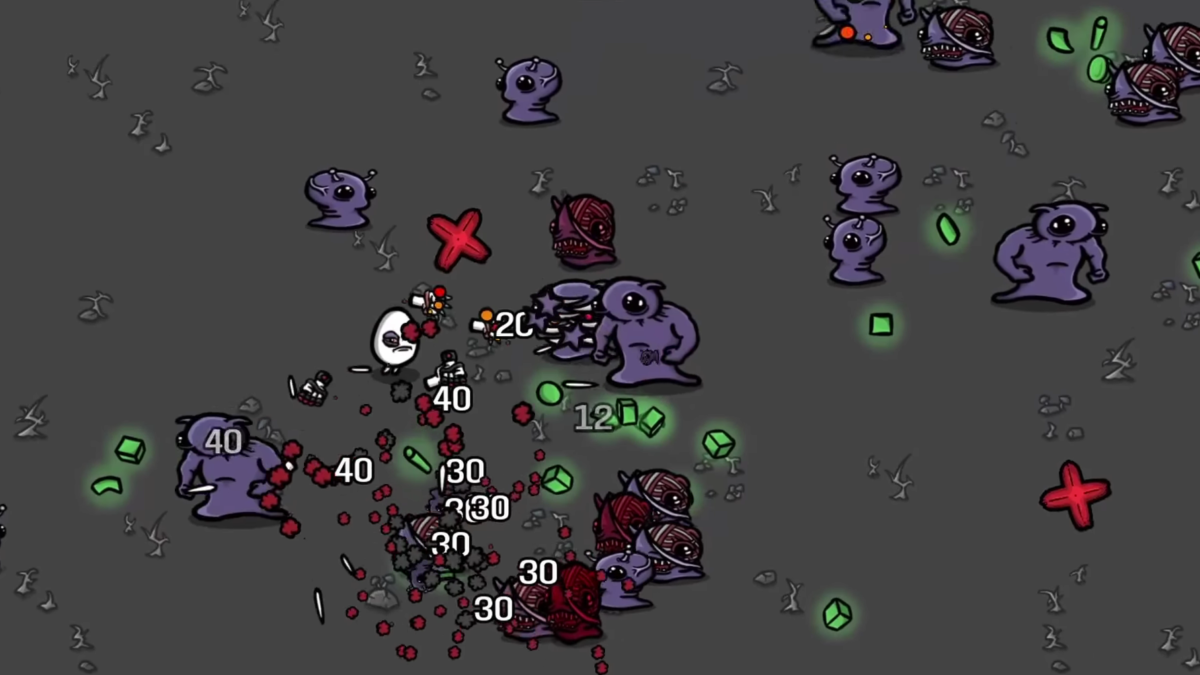 Brotato (Mac)
Martina Nikolova, 11 months ago
0
4 min

read
Brotato on Mac
Brotato is a rogue-like arena shooter game played from a top-down perspective.
The game is about a spaceship that has crashed onto an alien planet. The only survivor is Brotato, a potato coming from Potato World that must survive the attacks of the aliens while waiting to be rescued. He can handle six weapons simultaneously and can engage in fast-paced battles.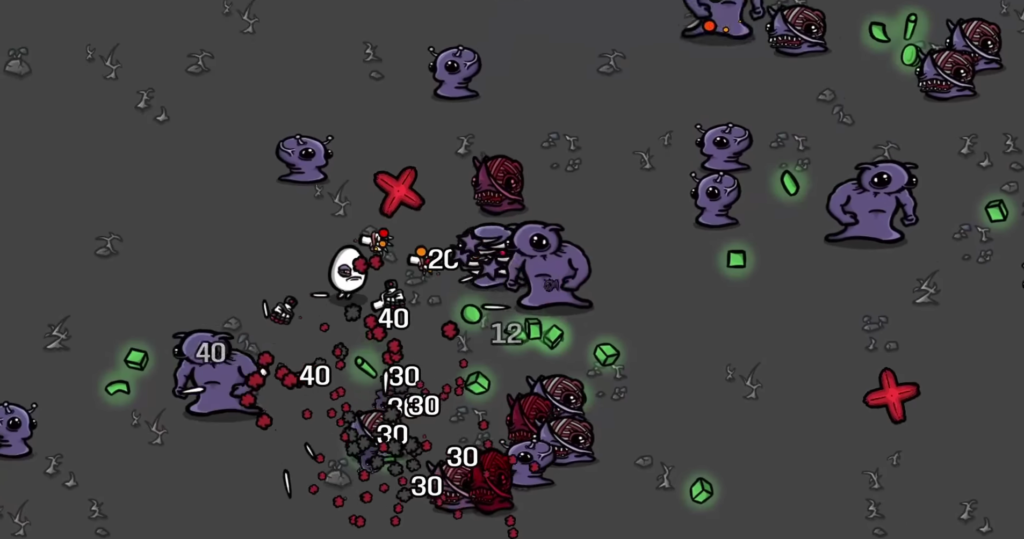 Characters
The player can choose from a variety of characters to assist them in surviving the waves of alien attacks. They must be unlocked as you advance, which adds a layer of challenge and excitement to the gameplay. All the characters have their own traits and abilities. The real challenge is to find the character that works for your play style. Selecting between them makes the game replayable without giving it a chance to become boring after a few rounds.
Builds
There's a good amount of depth to the build options. Some of the builds give the player the ability to use more powerful weapons at the expense of taking more damage.
There are a lot of upgrades, and each of them changes the visual design of the characters, which initially look like funny-faced heads.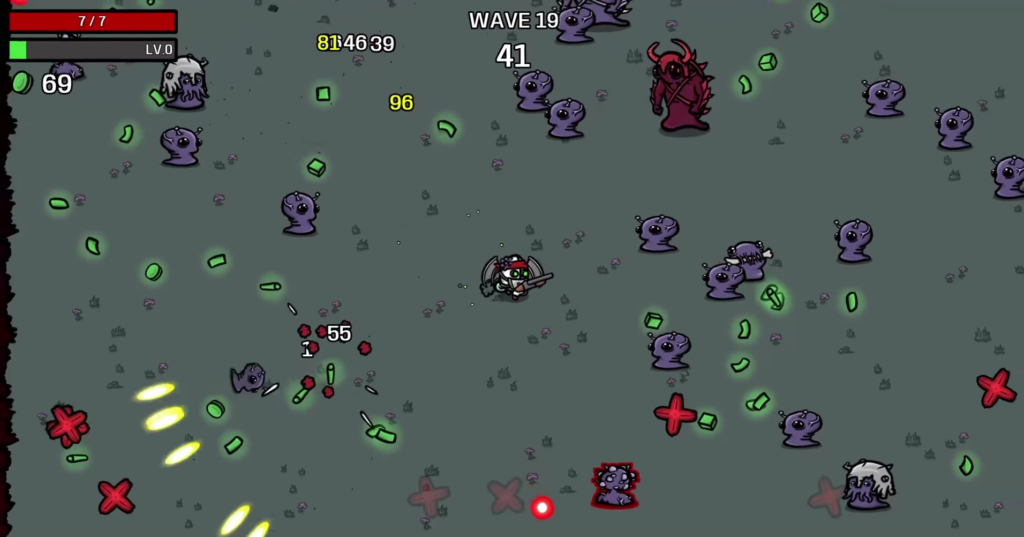 Weapons
The gameplay is very well-balanced and straightforward. There is a wide variety of weaponry, from machine guns to shotguns, pistols, knives, maces, spears, wands, and a lot more.
The soundtrack is mostly made up of the sounds of shooting and banging melodies, which fit the survival arena setting perfectly.
Those who have played roguelike games before will know what to expect in Brotato. You can easily kill a few hours of shooting enemies, and just when you think you've seen everything, a new character or combo will appear.
Can you play Brotato on Mac?
While there isn't official Mac support for Brotato, you can still play it on your Mac machine. If you're using a Mac and want to play games that aren't made specifically for it, the quickest and most convenient option is to subscribe to a cloud gaming service. Brotato is a new release, which you can find on the Boosteroid cloud gaming platform. To play the game, just create a Boosteroid account, subscribe to their service, and stream Brotato directly in your browser.
As another solution for playing Brotato on a Mac, we recommend installing Windows on your Mac and playing the Windows version of the game.
Tools like Parallels and Bootcamp Assistant can help you set up Windows on a Mac and run Windows applications and games in no time.
How to download Brotato on Mac?
For Mac users, downloading and playing Brotato is possible with the use of third-party software that creates a virtual Windows environment. In order to play Brotato on an Intel-based Mac, you will need to use either Boot Camp Assistant or Parallels to install Windows OS.
If your Mac has an M1 chip, you can run Windows on a virtual computer with Parallels. There are some differences between the two apps, but once everything is set up, you'll have access to Windows games just as if you were using a PC.
How to play Brotato on Mac
You can play Brotato on Mac by streaming the game with Boosteroid or by installing Windows on your Mac via Parallels or Boot Camp Assistant.
First, you will need to get the game.
Next, you need to choose a method to play:
Methods
Who is it for?
Cloud Gaming
(Boosteroid)
For those who want smooth performance with the ability to casually play all games with the highest visual quality in a matter of minutes.
BootCamp
For those who don't mind sacrificing visual fidelity and performance to get a native experience.

Parallels Virtual Machine
For those willing to let their mac run hot in order to get adequate performance in a native experience
How to play Brotato on Mac M1?
To play Brotato on Mac M1, you can subscribe to Boosteroid and stream the game in your browser without downloading or installing anything.
A Mac M1 becomes suitable for playing Brotato also after installing a Windows virtual machine on it. Parallels is an excellent program for creating a Windows environment on a Mac. Installing Windows on your Mac M1 is quick and simple, and once it's done, you may use it like any other program.
Play Brotato on Mac with Boosteroid
You can play Brotato on Mac (M1 and Intel models) with Boosteroid. Read our detailed guide.
Play Brotato on Mac with Parallels
You can play Brotato on Mac (M1 and Intel models) by installing Windows on your Mac with Parallels. Read our detailed guide.
Brotato on Mac with Boot Camp Assistant
You can play Brotato on Mac (Intel models only) by installing Windows on your Mac with Boot Camp Assistant. Read our detailed guide.
Martina Nikolova
Martina likes to get into nitty-gritty of tomorrow's tech, from product design across to security based solutions. A long time mac user and developer, she has the expertise and strives to give new insight