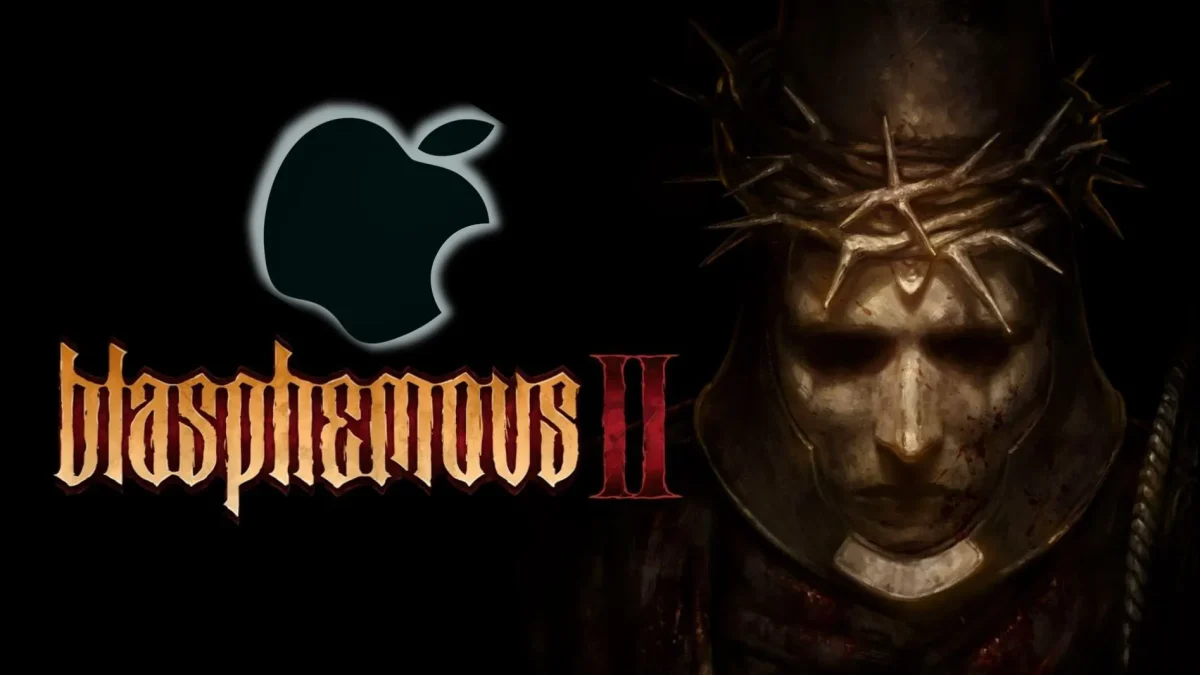 Blasphemous 2 (Mac)
Martina Nikolova, 3 weeks ago
0
10 min

read
Is Blasphemous 2 on Mac?
Blasphemous 2 is not on Mac, yet we can show you several great workarounds that will let you play this game on your Apple machine. Like many other titles, the sequel to the praised indie game Blasphemous, hasn't been ported to macOS (even though the first game is available for Apple computers). Despite this, however, there are several creative ways to play Blasphemous 2 on Mac, and we are about to show you and explain the best ones on this page. From the use of cloud gaming platforms and Windows translation layers, to literally installing Windows on your Mac to play the game, there are more than enough options to pick from!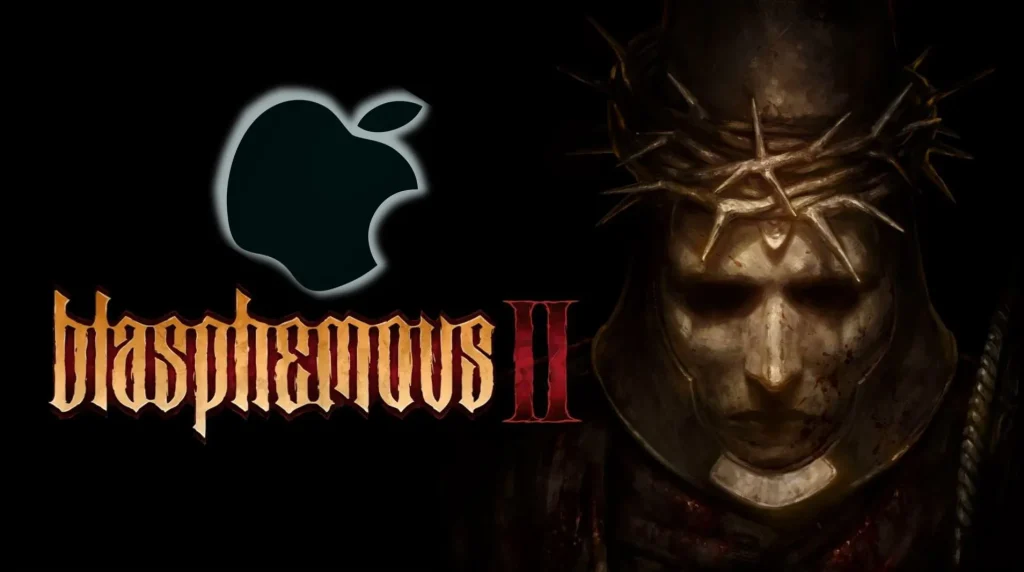 Blasphemous 2 on macOS
For the time being, we there isn't a version of Blasphemous 2 on macOS, yet, with the workarounds we are about to give you here, you'll be able to play this game on pretty much any Mac! First, we'll tell you about CrossOver, a powerful tool that's at the forefront of Mac gaming, always pushing the limits of what Windows games can be played on an Apple computer. Then there's the cloud gaming option with the popular GeForce Now platform which lets you directly stream the game without downloading it. The next method is to play Blasphemous 2 on macOS by creating a Windows virtual machine with Parallels Desktop, and finally, there's the tried and tested Boot Camp method, available for Intel Macs users.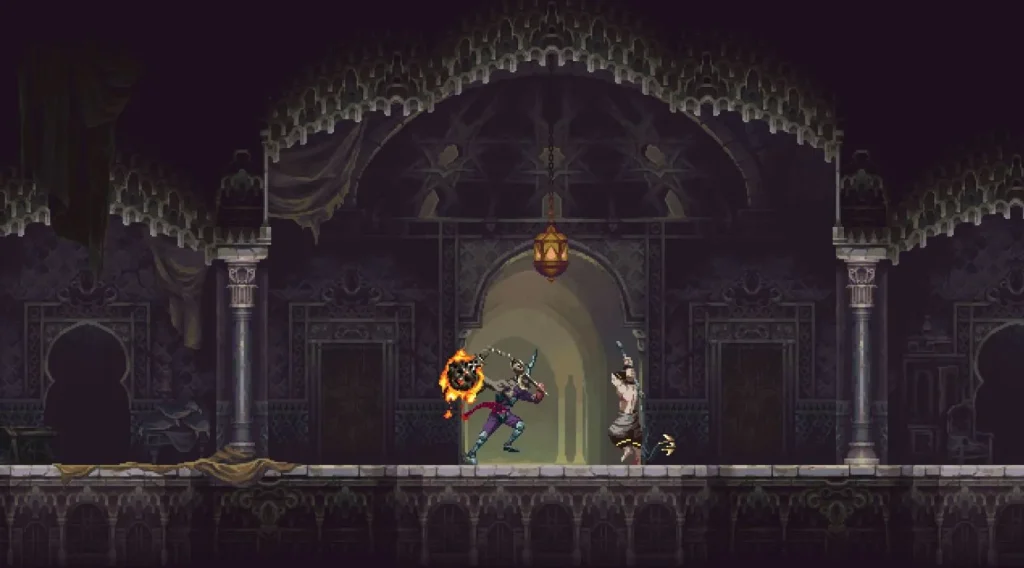 Can you play Blasphemous 2 on Mac M1?
You can most definitely play Blasphemous 2 on Mac M1 through almost all of the methods mentioned above. GeForce Now, Boosteroid, CrossOver, and Parallels Desktop all provide very good options for enjoying the game on a MacBook or a Desktop Mac. The only exception is Boot Camp, which is reserved for the older Intel-based models. With each of the other options, you'll should be able to play Blasphemous 2 on Mac M1 machines without a problem as long as you follow the proper instructions provided for the respective methods down below. Just make sure to choose the method that's best for your specific setup so that you get the best possible gameplay experience.
In general, we recommend the two cloud gaming options – Boosteroid and GeForce Now – because of how easy they are to use. The CrossOver and Parallels methods are also good for users who want to play the game locally and own Apple Silicon Macs. The newer M1 and M2 machines are efficient and powerful enough to run the game without any issue. For Intel Mac owners, Boot Camp is a good option for playing Blasphemous 2 on a Mac, but those users, too, can make use of cloud gaming and stream the game instead of downloading it.
Can you download Blasphemous 2 on MacBook?
You can download Blasphemous 2 on MacBook in a couple of different ways. The first and simplest one is to download the game directly in your macOS and play it through the CrossOver translation layer. Next, you can also use Parallels Desktop to create a Windows virtual machine and download and play the game through it. Finally, you can install Windows in a separate partition on an Intel Mac using Boot Camp and then download the game there. Just remember that there's also the option to not have to download Blasphemous 2 on your MacBook at all if you choose to stream the game via cloud gaming.
How to play Blasphemous 2 on Mac?
To play Blasphemous 2 on Mac, first choose the method you think is best for you based on the information we gave you above and then follow the respective instructions for it that we've provided below. If you are looking for the easiest methods, we recommend Boosteroid and GeForce Now, as they are very easy to set up and use. Parallels and CrossOver, too, have relatively straightforward setup processes. The only method to play Blasphemous 2 on Mac that takes a bit more time to prepare is the Boot Camp Assistant one. With it, you may even need to first free up some space on your hard drive to be able to install Windows.
Just remember that, since this isn't a free game, you'll first need to purchase it in order to play it on you rMac, regardless of which method you pick:
Play Blasphemous 2 with Boosteroid
1. To kick off with Blasphemous 2 on Boosteroid, hit the button below to set up your Boosteroid account. You have the option to register via email or opt for the 'Sign up with Google' for an easy start.
2. Up next, decide on a subscription. Navigate to your profile by tapping on your username in the top-right corner. Then, hit 'Subscribe'. Choose the subscription that works best for you and input the necessary payment details to begin your game experience.
3. Time to prep Blasphemous 2 for gameplay. Find the game by entering its title in the search bar at the top. Once the game pops up, press the Play button.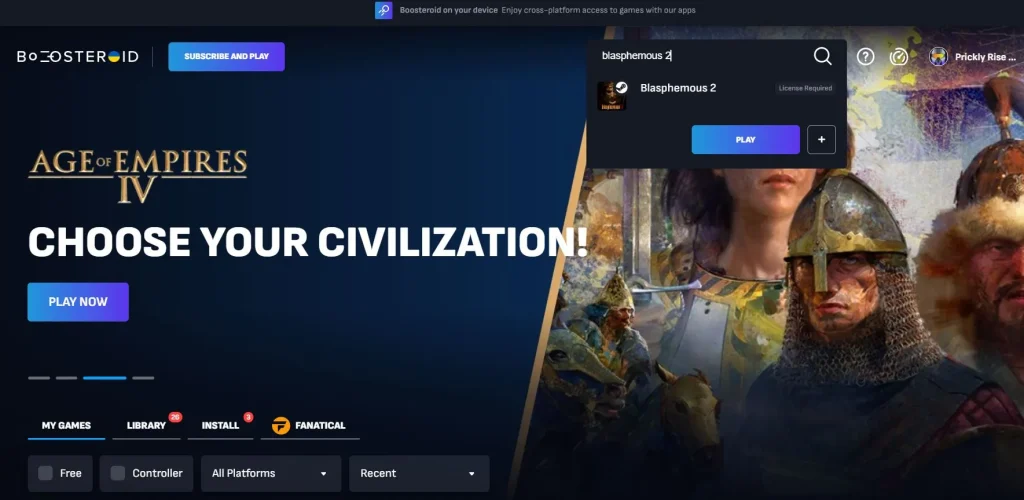 4. A dialog box will show up. Just hit OK. After a short load time and a login page, you'll be set to jump in.
Play Blasphemous 2 with GeForce Now
GeForce Now is probably the most popular cloud gaming service at the moment, and it lets you pick from a vast catalogue of games, including Blasphemous 2, and play them on your Mac. For it, we've created a dedicated guide, where we explain the service in detail and provide instructions on how to set it up and use it for gaming on a Mac:
Play Blasphemous 2 with CrossOver
1. Visit the CrossOver site by clicking the button below, and download and install CrossOver.
2. Open CrossOver and create a new Bottle from the Bottle menu.
3. Right-click the newly-created bottle, click Install Software in Bottle, and then search for and install Steam (or another game launcher if you own the game elsewhere).
4. Download the latest DXVK version from here, open the ZIP file and go to the x64 folder. Then open the Steam bottle's C: drive, go to windows > system32 and copy-paste everything from the ZIP file's x64 folder into the system32 folder.
5. Make sure that DXVK is enabled, then launch and log into Steam, find the game in your library, install it, and click Play.
If you want to check out a more detailed CrossOver + Game Porting Toolkit Guide, please click the button below:
Play Blasphemous 2 with Parallels
Parallels basically lets you simulate a Windows environment within your macOS, in which you can download and run a wide variety of Windows apps and games, and albeit there are some limitations as to what can be run, Blasphemous 2 is indeed playable through Parallels. Since the app and the Windows virtual machine requires you to complete several steps to set everything up, we've created a separate guide where we give you detailed instructions on what to do to get it ready on your Mac:
Play Blasphemous 2 with Boot Camp
Finally, the Boot Camp workaround is the lengthiest of the methods mentioned on this page, and it also takes quite a lot of storage space on the Mac hard drive because it requires the whole Windows OS to be installed (with Parallels, the Windows VM takes significantly less space). However, this is still a perfectly viable method to play Blasphemous 2 on Mac (if your machine is Intel-based), and in some cases may even yield better results than Parallels. Here is our in-depth guide on how to use Boot Camp:
Blasphemous 2 reviewed by a Mac user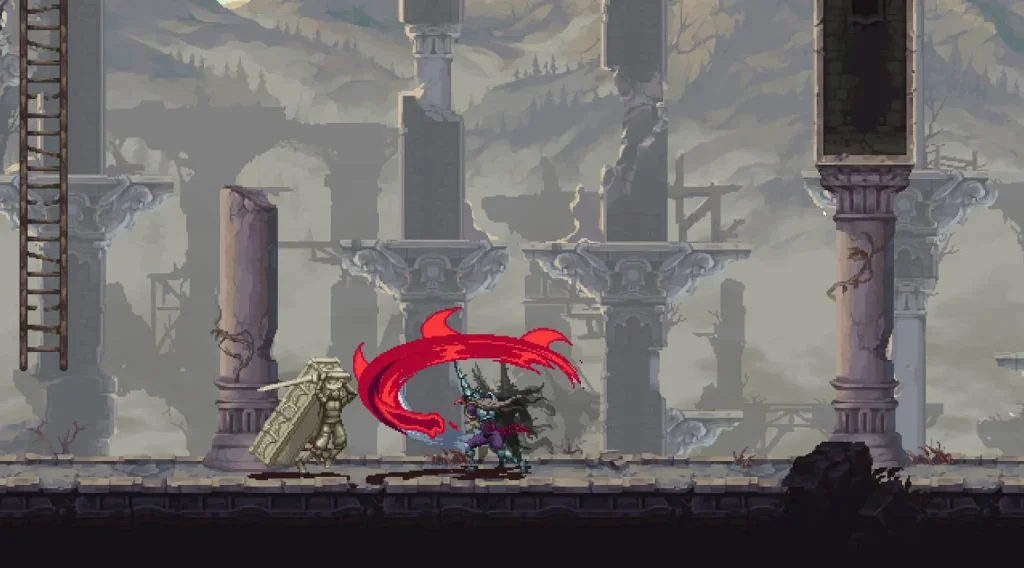 As game enthusiasts, we have journeyed through countless worlds, but few leave an impression as lasting as the one in Blasphemous 2. Crafted meticulously by The Game Kitchen, this sequel seeks to unravel the complexities of faith, divine will, and the resilience of humanity. But while the game excels in several aspects, there are moments when it stumbles, unable to find a perfect balance.
At its heart, Blasphemous 2 is a blend of 2D platforming and adventurous exploration. Fans of titles like Hollow Knight and Dead Cells will find familiar territory, yet the game's core experience derives from its unique spiritual setting, heavily influenced by religious imagery. Central to this narrative is the Miracle, an omnipresent divine force governing the fate of every being.
In Blasphemous 2, you resume the role of the Penitent One, a silent but persistent protagonist from the inaugural game. With a daunting history of confronting the Miracle, you rise once more, prepared to challenge the divine's dominance. Adding a layer of challenge, the game adopts a Soulslike difficulty, tasking players with combat scenarios that range from captivating to daunting, especially when dealing with certain formidable bosses.
But Blasphemous 2 is more than just combat; it's an expedition into a universe brimming with mystery and enigma. This world feels alive, bustling with inhabitants deeply rooted in their faith, seeking salvation despite their land's evident decline. It's a testament to how societal habits, even those proven detrimental, can perpetuate over time.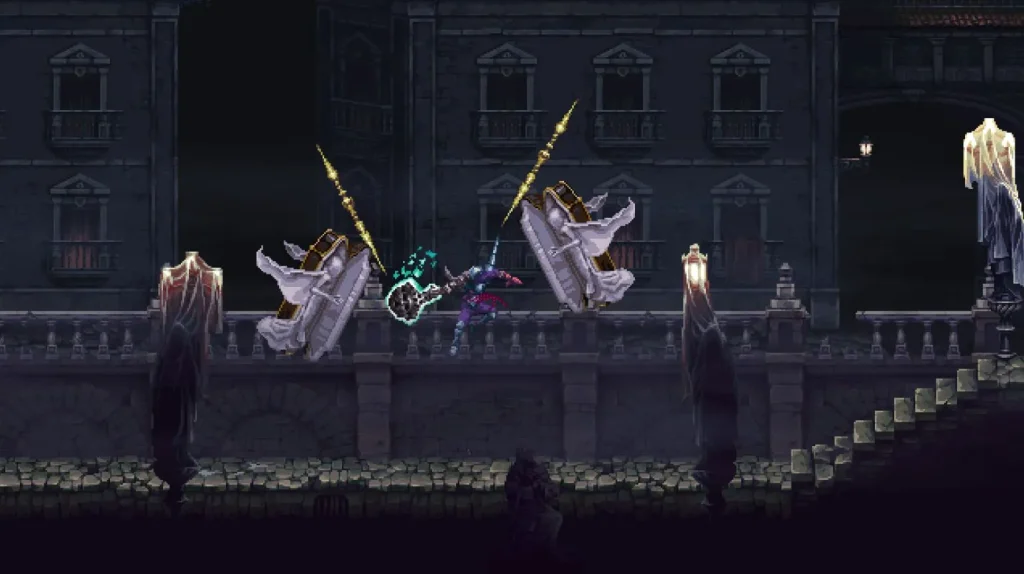 The Penitent One's arsenal expands in this sequel. While the iconic Mea Culpa blade remains a staple, the introduction of new weapons in Blasphemous 2 – each narratively tied to significant adversaries – makes exploration more engaging. These weapons are more than just tools; they offer insights into the foes you must confront, creating an intertwining dance of lore and combat.
Incorporating thematic elements into gameplay mechanics is where Blasphemous 2 truly shines. The Penitent One's interactions with figures such as Montañés showcase how the themes of piety and divine purpose seamlessly blend into the game's systems. From trading fervent kisses to wielding spiritually charged trinkets, these mechanics personify the game's deeper message.
Navigating expansive 2D landscape of Blasphemous 2 is a treat. While hazards lurk in every corner, from menacing adversaries to treacherous environmental traps, they never deter the urge to explore. The teleportation system is a godsend, making the otherwise daunting task of backtracking feel like a breeze. Moreover, Blasphemous 2 each zone, be it the sun-scorched Sacred Entombments or the eerie Palace of the Embroideries, captivates with its distinct ambiance and aesthetic.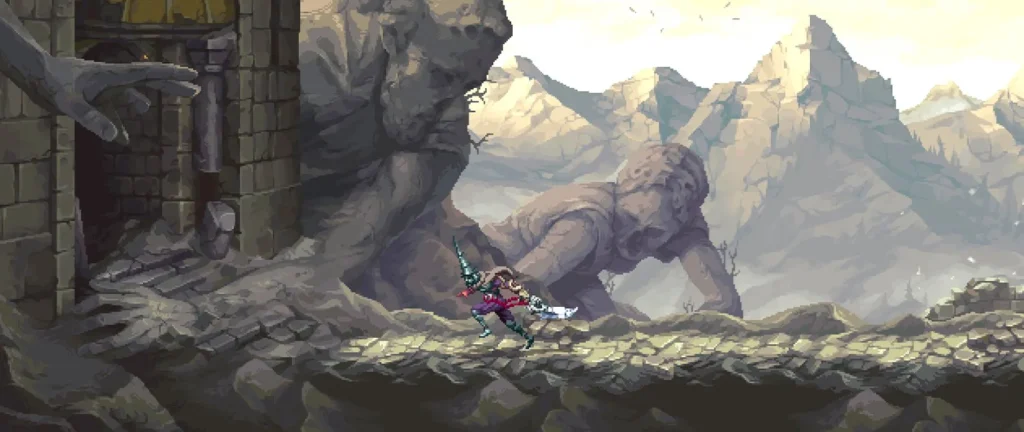 However, Blasphemous 2 is not without its flaws. While the narrative blends seamlessly with the gameplay in many sections, the handling of major adversaries feels disjointed. Introducing a group like The Archconfraternity feels more like a video game trope than a genuinely innovative story element. Although some of these figures boast rich backstories, the overall group dynamic diminishes the game's otherwise somber tone. The boss encounters too, which should be the epitome of challenge and storytelling, often fall flat, lacking the innovation expected from a sequel of this caliber.
Summing it up, Blasphemous 2 is an intricate tapestry of profound storytelling and polished mechanics. It invites players into a universe steeped in lore, challenging them not just in combat but also to ponder deeper existential themes. While certain elements might not resonate with everyone, the overall package is a testament to The Game Kitchen's dedication to crafting a unique experience. Blasphemous 2 weaves a compelling narrative of faith, challenge, and exploration that is well worth the plunge for those seeking a blend of action and introspection.
Martina Nikolova
Martina likes to get into nitty-gritty of tomorrow's tech, from product design across to security based solutions. A long time mac user and developer, she has the expertise and strives to give new insight