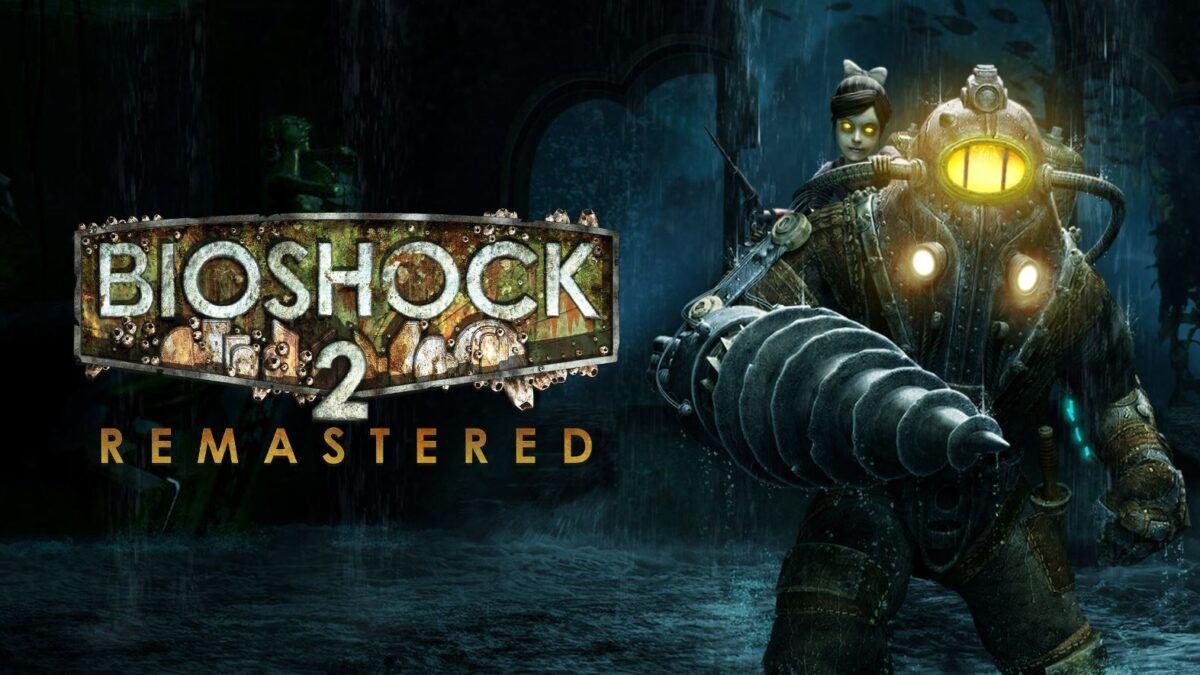 BioShock 2 Remastered (Mac)
Martina Nikolova, 1 year ago
0
13 min

read
BioShock 2 Remastered on Mac
BioShock 2 Remastered is a single-player FPS game, the sequel to the highly-popular BioShock game, and it can be played natively on Mac. You can play BioShock 2 Remastered on Mac by downloading from Steam or from the App Store, or by using Boosteroid.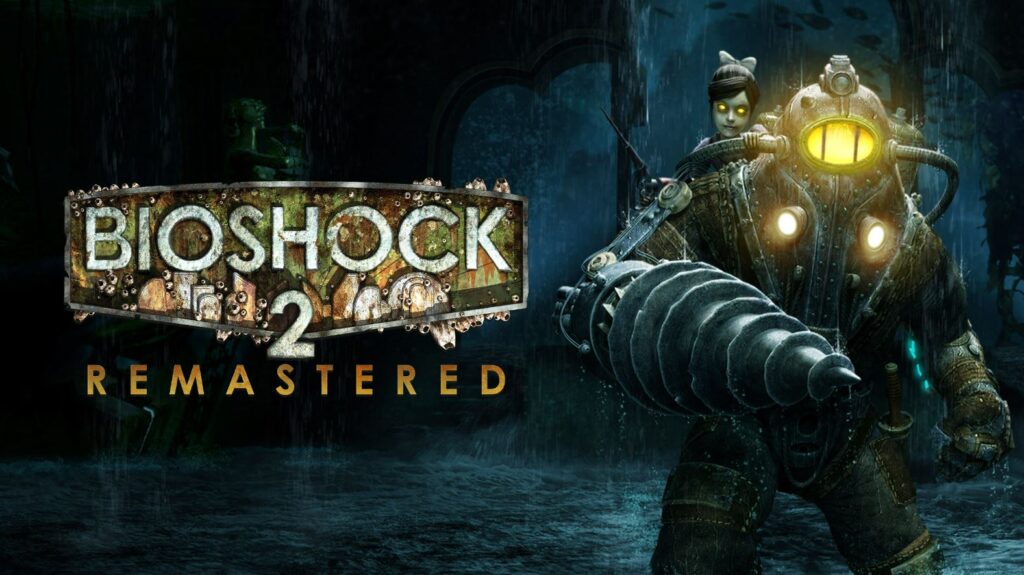 BioShock 2's remastered version isn't about making any huge changes to the original BioShock 2 game, but rather about making slight improvements to give the game an updated look and better performance on modern systems. Also, the remaster gives the game an official macOS version that can run without a problem on newer macOS releases, such as Big Sur, Monterey, or the upcoming macOS Ventura.
As for the game itself, it is the second one in the universally-acclaimed BioShock single-player FPS series with RPG elements, and it brings the player back into the depths of the North Atlantic, to the infamous underwater city of Rapture, located at the ocean's floor. This time, however, the player is given the opportunity to experience the world of Rapture through the eyes of the first-ever Big Daddy, which is a type of tough and intimidating enemy featured in the first game.
If you want to play BioShock 2 Remastered on your Mac right now, head down to the second half of this article to learn about the different ways you can do so. On the other hand, if you want to first find out more about the game itself, stay with us, as we share with you throughout the following lines our thoughts about BioShock 2 Remastered.
A return to Rapture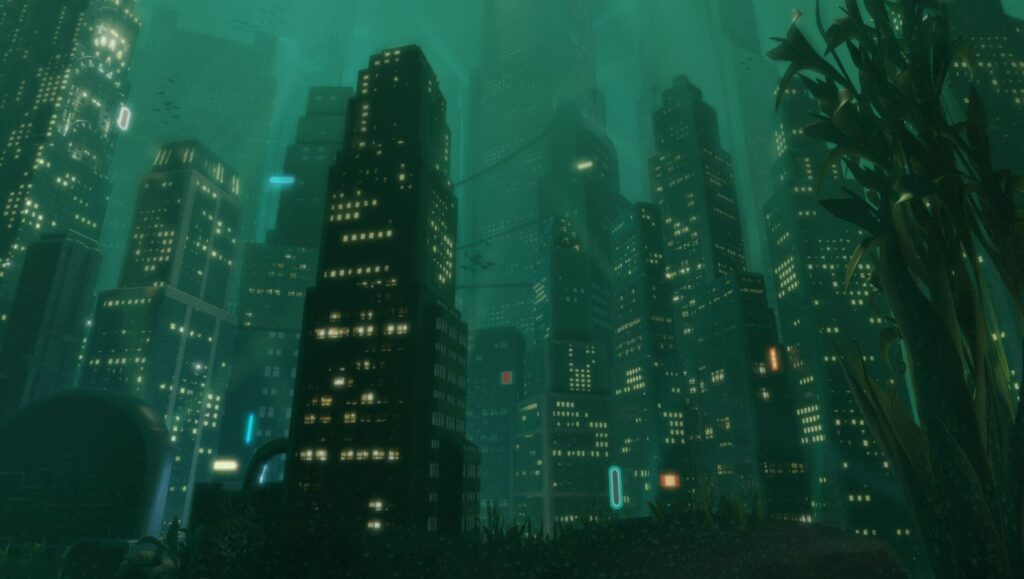 As we said, like the first game, BioShock 2 takes place in the city of Rapture. The game is set some ten years after the events that took place in BioShock 1, and the underwater city now looks even more decrepit and run-down than ever. The first game's antagonist and founder of Rapture, Andrew Ryan, is long gone in BioShock 2 and now the city's leader and antagonist of the second game is a woman named Sofia Lamb, who is just as dastardly, if not more so, as Ryan himself.
If you liked the setting of the first game – the dark and mysterious underwater city of Rapture – there's more of that in BioShock 2. A lot of what's on offer in the second game will look and feel familiar if you've already played the first game. Of course, the locations are different, but the retro-inspired style of the city stays the same, with the difference being that now everything looks even more dilapidated and neglected. If the first game felt like you were exploring a dying city, now it feels like you are trudging through its ruins. This feeling is further accentuated by the fact that you get to visit some of the poorer parts of Rapture, which look significantly different from the brightly lit and luxurious-looking areas that you may be used to from the first game. The end result is that BioShock 2 feels even darker and gloomier compared to the first game, but if you liked the setting of the original, you will get plenty more of that with the sequel.
Powered-up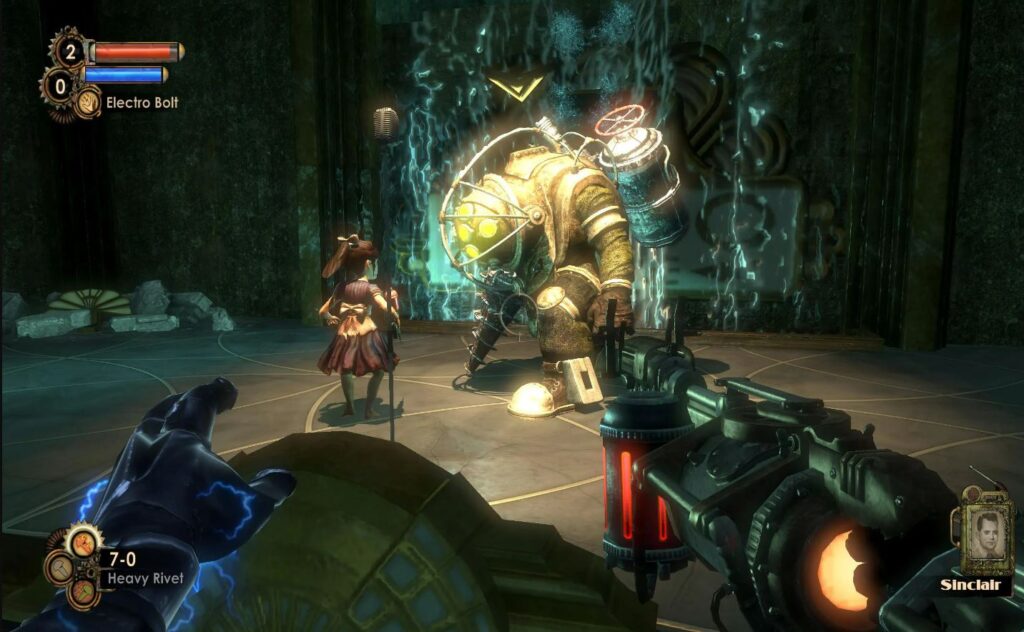 In the first game, you played as Jack, a regular person who finds himself in Rapture and is suddenly forced to fend off hordes of mutated Rapture citizens, robotic adversaries, and, of course, the infamous Big Daddies – genetically-engineered men, fitted into enormous diving suits, equipped with heavy weaponry, and tasked with protecting small female children called Little Sisters. In BioShock 2, you are no longer a regular person, and instead, you take on the role of one of those Big Daddies – the first one, in fact. The premise of the game is that, after being hypnotically manipulated by Sofia Lamb to shoot yourself in the head, you wake up many years later, having survived the shot, and your goal is to find and reunite with the Little Sister that you were originally tasked with protecting.
Playing as a Big Daddy feels quite different – you are much tougher and able to take on multiple enemies and endure more damage. Whereas in BioShock 1, at the start of the game you feel severely underpowered and weak, BioShock 2 makes you feel like a real juggernaut. Of course, this also means that the enemies are stronger, faster, tougher, and more numerous in order to keep the game balanced, but, nevertheless, the different perspective is a nice and welcome change that spices things up and helps set the two games apart.
Gameplay improvements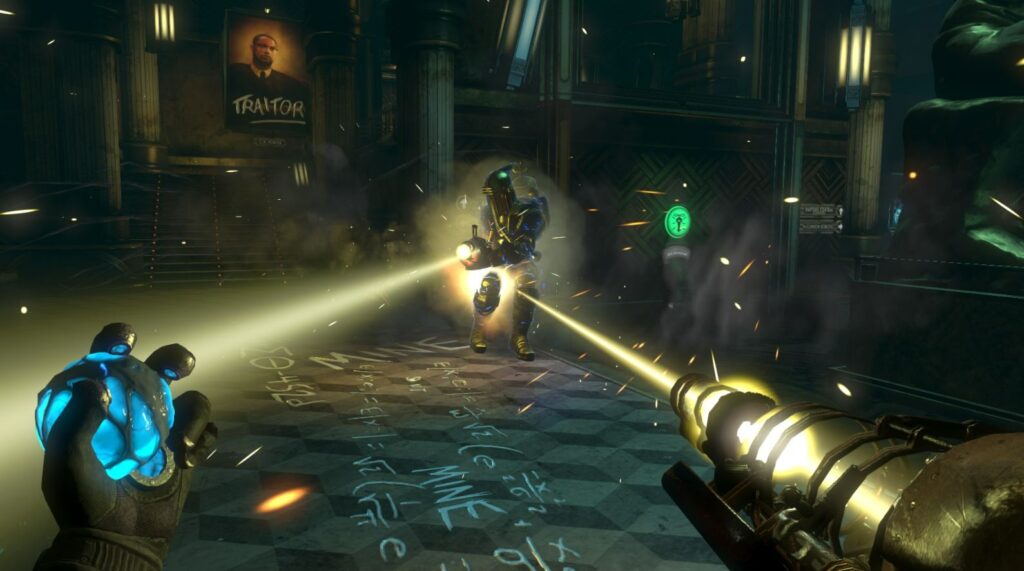 While BioShock 1 has good FPS mechanics, especially once you get into the later stages of the game, there were some aspects of its gameplay that could have been better, aspects that BioShock 2 has addressed and improved.
One such improvement is the ability to dual-wield a weapon and a plasmid. Plasmids are special powers such as telekinesis, pyrokinesis, cryokinesis, the ability to shoot electric blasts, and more. In BioShock 1, you were forced to switch between your plasmid powers and your weapons and cannot use them at the same time, which, while not being a particularly big problem, messed with the pace and dynamics of a fight. In BioShock 2, you can, at all times, have a plasmid equipped in your left hand and a weapon in your right one, giving you the ability to use them both at the same time, which greatly ramps up the pace of fights and makes the combat that much more dynamic.
A similar welcome gameplay change is the hacking minigames – in the first BioShock, the game would pause when you were hacking a turret or a security drone, even if you are in the middle of a heated battle, which greatly interrupted the pacing. This has been changed in the sequel, and now hacking is done in real-time with a different type of minigame that doesn't require the action to be paused. This raises the stakes and fits well into the rest of the gameplay, thus improving it over that of BioShock 1.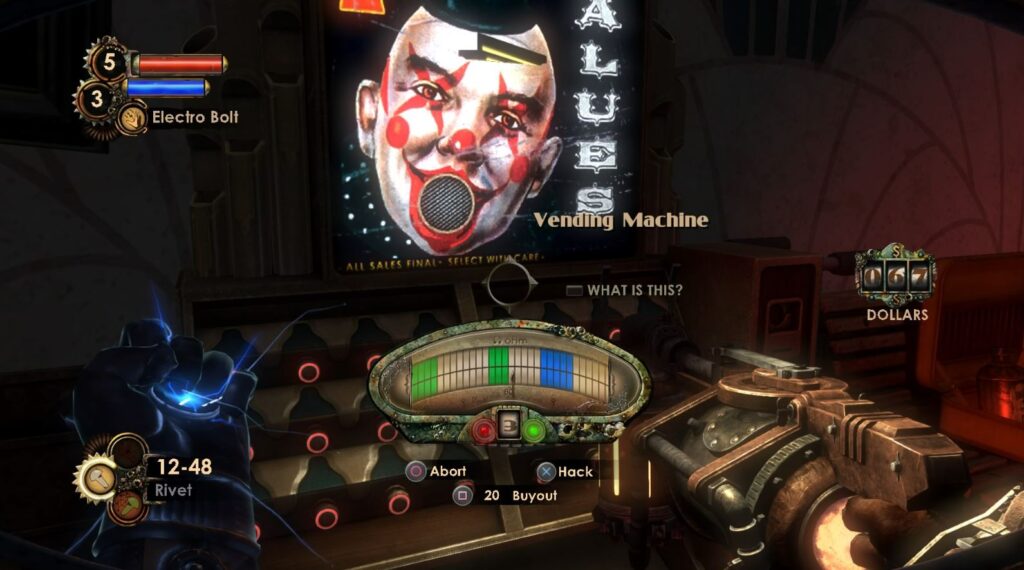 A third improved aspect is the research camera. In BioShock 1, you'd take pictures of different enemies with a camera to gain research points for those enemies and thus improve your attacks against them. This gameplay mechanic was quite clunky and, yet again, messed with the overall pacing, so it has been improved upon in BioShock 2, allowing the player to instead film their fights to acquire research points and even gives bonus points if different methods are used to defeat the same enemy.
Is it worse than the first one?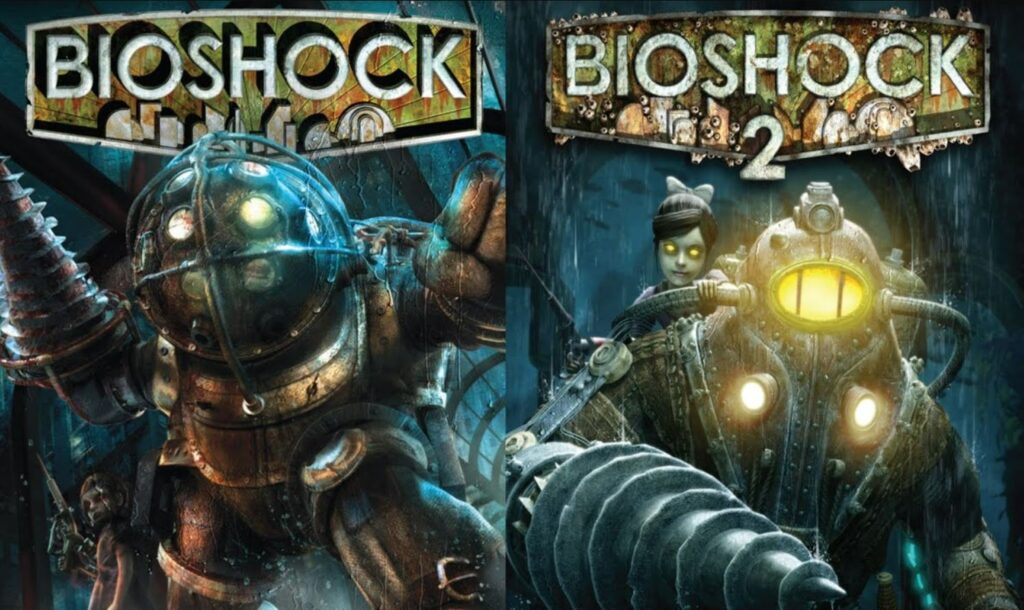 From what we've said thus far about this game, one would think it is better in every way compared to the already great BioShock 1. However, it seems that the collective opinion is that BioShock 2 is slightly worse than its predecessor, mainly due to a weaker story. In our opinion, both games are great, but the sequel introduces some much-needed mechanical improvements, making the overall gameplay more cohesive, streamlined, and snappy, which is why we think that BioShock 2 has the better gameplay. As for the story, both games have great stories and here, it's more about personal preference when determining which story is better. Either way, we can absolutely recommend BioShock 2, especially since it's so easy to get it running on a Mac.
Can you play BioShock 2 Remastered on Mac?
You can play BioShock 2 Remastered on Mac in several ways, both natively and via cloud gaming. The main way to play BioShock 2 Remastered is to download it from Steam or the App Store, but you can also stream it using Boosteroid.
The remastered version of BioShock 2 has a native macOS version that is compatible with newer macOS releases, so you shouldn't have any problem running this game in macOS Big Sur, Monterey, or the upcoming Venture release. Additionally, thanks to Rosetta 2, the game should run on M1 Macs just as smoothly as it does on Intel Macs.
The Mac version of BioShock 2 Remastered can be downloaded from Steam as well as from the Apple App Store. Depending on which one you prefer, you simply need to purchase the game in the respective store and download it from there.
One additional way of playing BioShock 2 Remastered on Mac is to simply stream the game via a game streaming service such as Boosteroid, which will allow you to play the game without even downloading it.
How to play BioShock 2 Remastered on Mac
To play BioShock 2 Remastered on Mac, simply purchase the game on Steam or on the Apple App Store and download it. If you want to save storage space, you can also play BioShock 2 Remastered on your Mac through the Boosteroid game streaming service.
Downloading and installing BioShock 2 Remastered on Mac is a quick, streamlined, and easy process, but what's even quicker is starting the game without even needing to download it. This is done with the help of cloud streaming services, such as Boosteroud. If you are short on storage space on your Mac or simply want to save your space for more important data, using Boosteroid, or another such service that supports BioShock 2 Remastered, is a great option. Here is how you can use this service to play BioShock 2 Remastered on your Mac without even needing to have the game on your Mac.
BioShock 2 Remastered Set Up Methods
Methods
Advantage
Disadvantage
Cloud Gaming
– No set-up required – Register and Play
– Access to a Library of over 70 top-rated free Games
– Smooth performance even on old Macs
– Monthly Fee
– Requires Decent Internet Connection

BootCamp
Method not needed



Parallels Virtual Machine
Method not needed
Native Version
– No Compatibility issues
– Optimized for Mac
– Slow Performance on older Macs
To play BioShock 2 Remastered with Cloud Gaming:
First, you will need to purchase the game.
Now you will need to register for Boosteroid. This allows you to add BioShock 2 Remastered to their Cloud Gaming Library. Once uploaded you can seamlessly play the game from your Mac, TV, or Mobile Device.
When Registered you will have additional access to more games for free. Pricing varies depending on the subscription plan.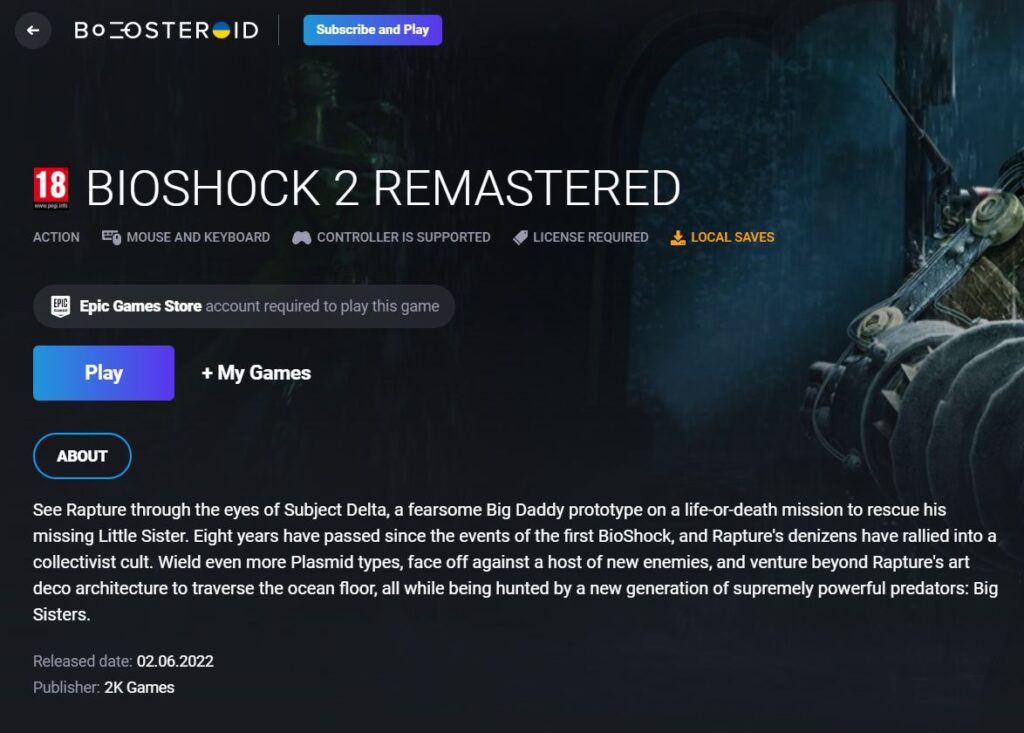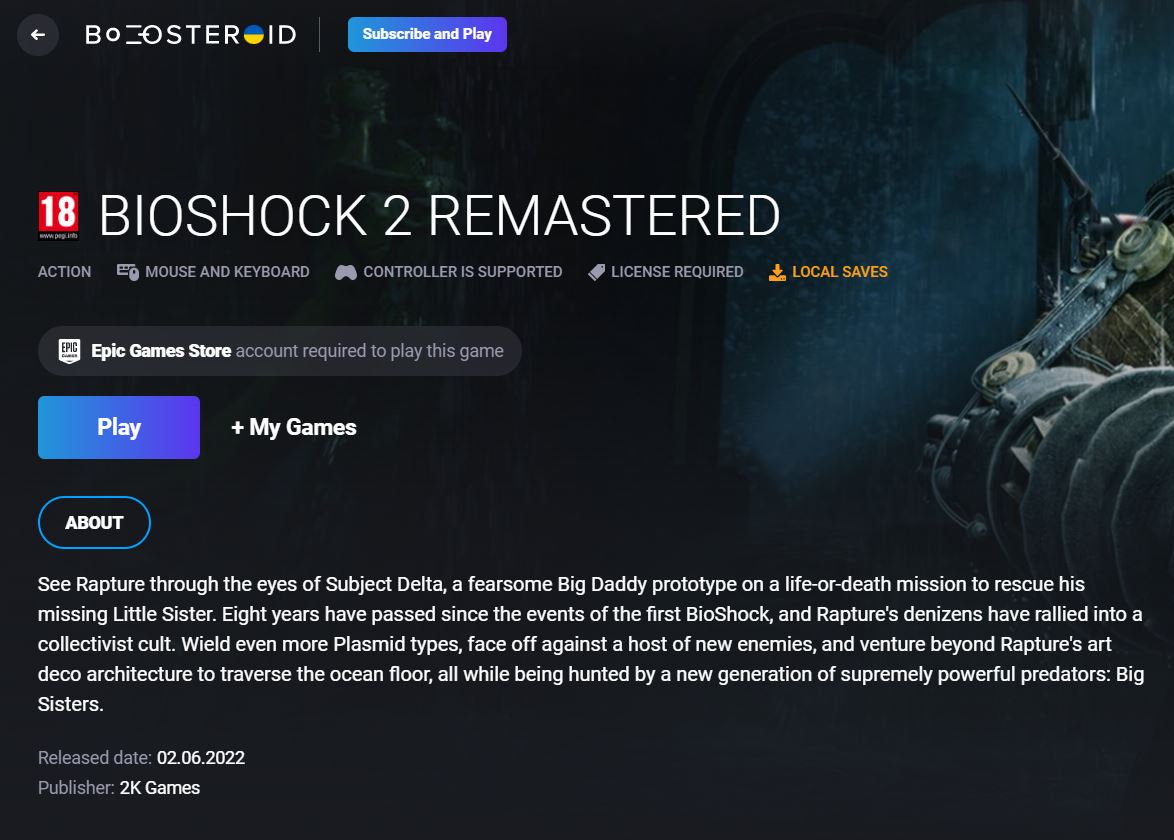 Play BioShock 2 Remastered on Mac with Boosteroid
Note 1: At the moment, only the Epic Games Store version of BioShock 2 Remastered is available in Boosteroid, so if you own the Steam or the App Store version, you won't be able to play the game through Boosteroid, until those versions become available in the service's library.
Note 2: You will need a fast and stable Internet connection to play games through Boosteroid.
Note 3: It's recommended to use Boosteroid through Google Chrome and Opera. Other browsers, such as Safari, work too, but the two we mentioned should provide you with the best performance.
Go to Boosteroid.com and create a new account or sign up using your Google account.
Once you log in, go to your account page by clicking your profile name in the top-right.
Select the Subscribe option and start your paid Boosteroid subscription by selecting a payment plan and method, and entering your details.

After signing up for Boosteroid, use the site's search field in the upper right to type the game's name. Note: be careful which store version you choose depending on where you own the game.

5. Then click the Install & Play button. After that you will be transported to a loading screen where you will install the game in a virtual machine supplied for you by Boosteroid. Click "Next" and "Accept" where it is needed. Nothing will be installed on your computer – this is just for the virtual machine.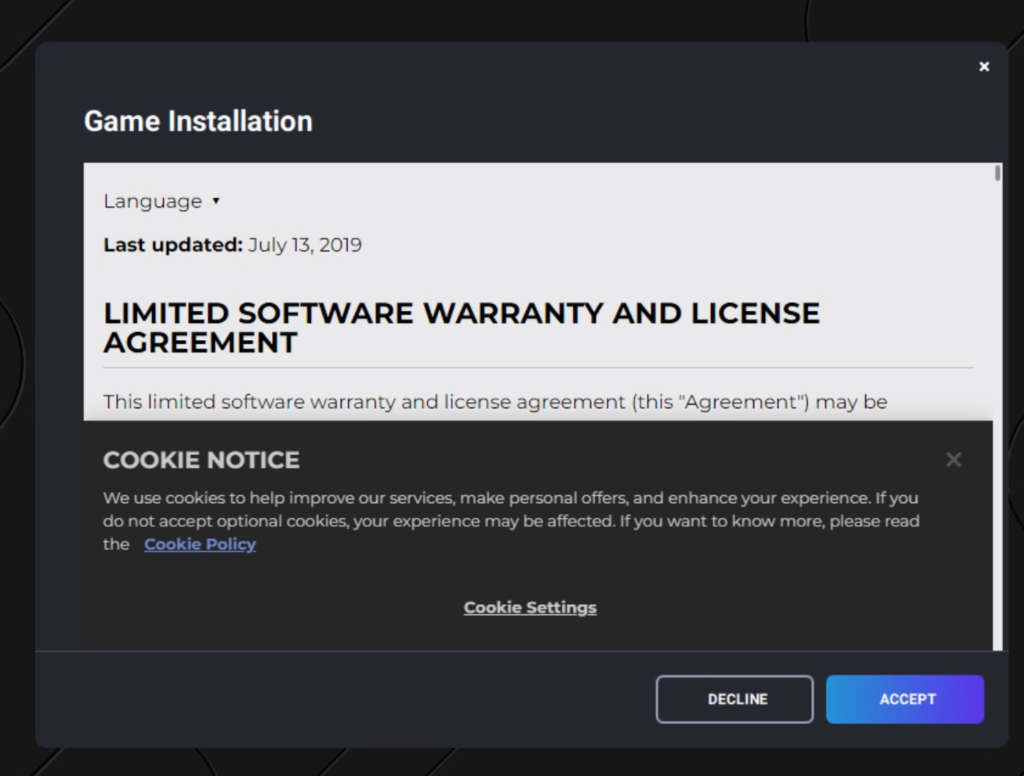 6. After the installation is complete, you will be transported to a virtual instance of the platform you chose. The important thing to note is that you will need to navigate to your game Library and choose Bioshock 2 Remastered. The game will then start in the same screen.
How to download BioShock 2 Remastered on Mac
To download BioShock 2 Remastered on Mac, the first method is to purchase the game on Steam, install the Steam client on your Mac, and download the game through it. The other way to download BioShock 2 Remastered on Mac is through the App Store.
The two ways of downloading BioShock 2 Remastered on your Mac equally good, so it pretty much doesn't matter which one you pick – it all comes down to personal preference. We prefer getting the game from Steam because of Steam's achievements system, but getting it from the App Store is just as valid of an option. Here are two brief guides on how to get the game from either gaming store.
Downloading BioShock 2 Remastered on Mac from Steam
First, you will need to get a Steam account in case you don't have one – you can directly follow this link to register on Steam.
Next, click the Install Steam option on the Steam site or simply go to this page, and download and install the Steam client for Mac.

Open the client app, log in, go to the Store section/tab, type BioShock 2 Remastered, and click on the game from the results.

On the BioShock 2 Remastered page, click Add to Cart, then select Purchase for Myself on the next page, pick a payment method, and provide the necessary details to buy the game.

Return to the game's page, click Play Now, and then click Next to download and install BioShock 2 Remastered on your Mac.
Once the game is installed, go to the Library section of the Steam client, find and click on the game, and then click Play.
Downloading BioShock 2 Remastered on Mac from Apple App Store
Go to Finder > Applications and open the Apple App Store.
Search for BioShock 2 Remastered in the App Store, and click on the game's tile.
Click on Buy, then enter your password, and purchase the game.
Once you purchase BioShock 2 Remastered, the game should automatically start downloading and installing. Since this game takes about 22 GB of storage space once installed, the downloading and installation process may take a while.
Once the game is installed on your Mac, simply go to the Applications folder and use the BioShock 2 Remastered icon that should have been created there to launch the game.
BioShock 2 Remastered on Mac M1
You can play BioShock 2 Remastered on Mac M1 once the Rosetta 2 emulation software gets installed on the computer. Once you try to launch and play BioShock 2 Remastered on your Mac M1, you will get a prompt to install Rosetta 2.
Most macOS apps and games, including BioShock 2 Remastered, don't have a native version for the architecture of M1 chips, which necessitates the use of emulation software to run such apps/games on an M1 Mac. Fortunately, Apple took care of that a while ago by releasing a proprietary emulation tool called Rosetta 2. With its help, you can easily and seamlessly run Intel Mac apps on your M1 Mac. You don't need to do anything to install Rosetta 2 – as soon as you launch an app that requires the emulation tool in order to run on your Mac, you will get a prompt to install Rosetta 2. All you need to do is agree to the installation and once the emulator is installed, the app/game will start. From then on, every time Rosetta 2 is needed for a given app or game, it will activate automatically.
Martina Nikolova
Martina likes to get into nitty-gritty of tomorrow's tech, from product design across to security based solutions. A long time mac user and developer, she has the expertise and strives to give new insight