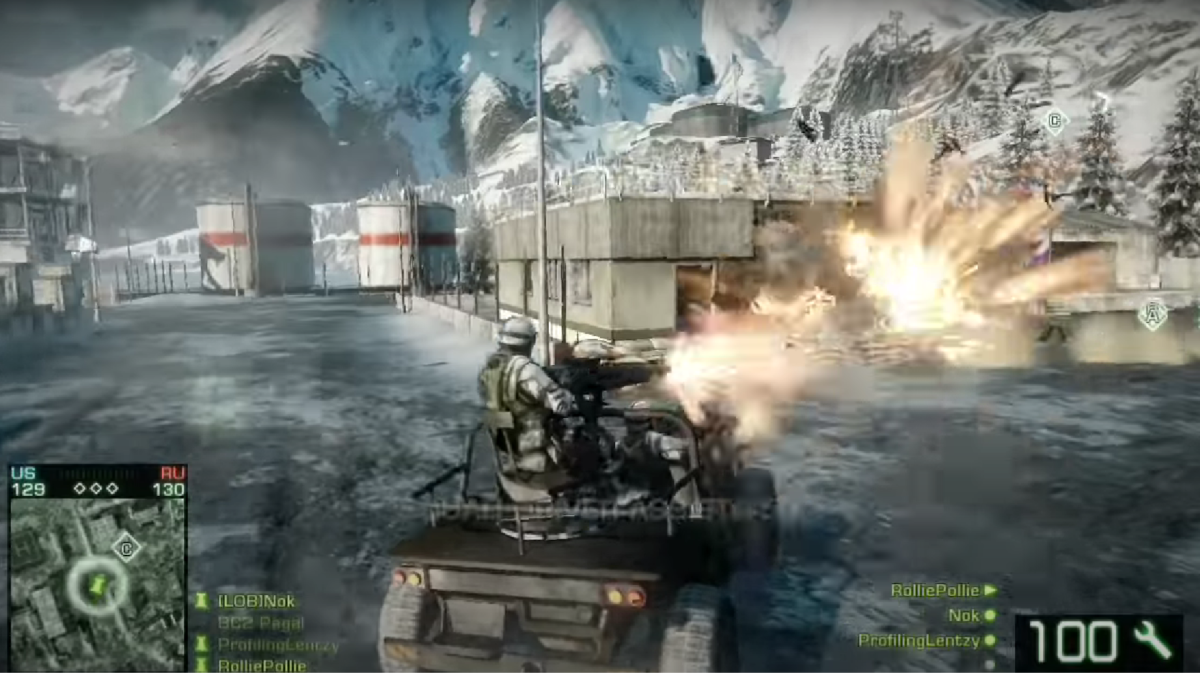 Battlefield Bad Company 2 on Mac
Battlefield: Bad Company 2 is a first-person shooter released in March 2010 as a direct sequel to Battlefield: Bad Company. The game features innovative vehicle combat and a destructible environment that gives players surprising battlefield moments. The events in the game are set in the near future and revolve around a fictional war that happens between the United States and Russia.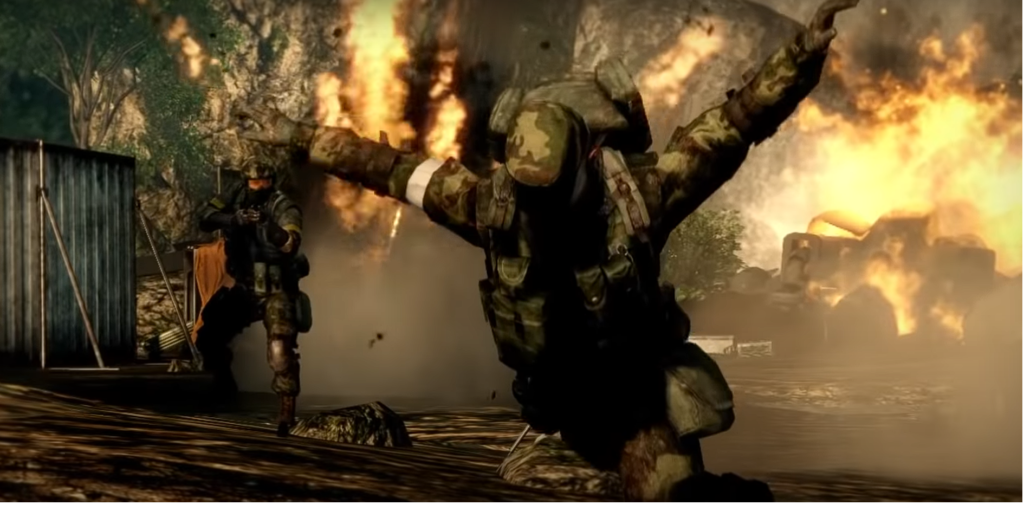 Mac users who are interested in playing Battlefield: Bad Company 2 will need to resort to some alternative solutions, since the game does not have native support for macOS. The good news is that if you own a Mac with an Intel, Apple Silicon M1, or Apple Silicon M2 processor, you can play Battlefield: Bad Company 2 with the help of Windows emulation software.
Here is the place to note that if a game hasn't been optimized for macOS, playing it on a Mac won't be the same as playing it on a Windows PC. However, owing to emulation software like Parallels or Boot Camp Assistant (only for Intel Macs), Mac users are able to play Windows games quickly and with adequate gaming experience.
Gameplay
The gameplay focuses on squad-based first-person shooting in a modern warfare setting. There is also a single-player campaign where players can play as Preston Marlowe, the game's protagonist.
Like previous entries in the series, Battlefield: Bad Company 2 lets you take the wheel of various vehicles, including armored personnel carriers and tanks. However, there are now a lot more ways to fight tactically thanks to the addition of ATVs and cargo helicopters in the game.
When on foot, players have the ability to crouch, run, and leap. They also have access to a wide selection of authentic weapons, such as assault rifles and machine guns.
In multiplayer, players are limited to carrying just one main weapon and a handgun, however, in single-player, they are allowed to bring two primary weapons, as well as grenades and other equipment.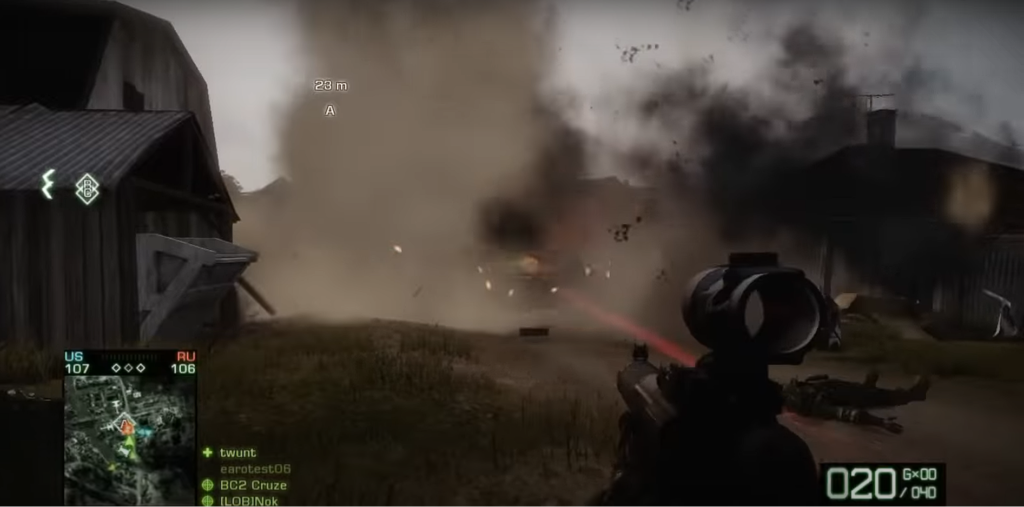 Shooting "from the hip" is possible, but players have considerably more success when they zoom in and use iron sights, reflex sights, or telescopic sights (depending on the weapon) in order to make a precise shot.
Destructible environments play a significant role in Bad Company 2's gameplay. Players can tactically destroy whole structures and open up new fire positions, weaken opponent cover, and knock down fortifications that are housing opponent forces.
As opposed to previous entries in the Battlefield series, which awarded players with health points, this installment makes use of a "regenerating health" mechanism. For this reason, the "Medic" equipment now has the secondary effect of speeding up health regeneration rather than replenishing health. When taking damage, the player should seek cover to heal.
Throughout the game, players are progressing in a linear fashion, completing different tasks. The majority of the missions take place in locations with challenging set-ups and include jungle expeditions and crossing winter terrain.
Single-player
Single-player fans can find a story-based campaign in Bad Company 2, where they can assume control of Preston Marlowe, a member of a Special Activities Division squad, who embarks on missions that consist of a set of goals. The other members of Bad Company make an appearance in cutscenes and in combat in the form of computer-controlled allies. They cannot be killed, but they can't complete missions either. Therefore, it is up to the player to accomplish the mission goals and eliminate the majority of the adversaries in the game.
The combat features fighting on foot, but there are also a number of missions in which players pilot a vehicle or shoot with a gun while a teammate drives.
Each weapon in the story-driven campaign can be collected, and upon first using it, the player will get a "Collectable Unlocked" notification. There are also hidden sensor stations that can be located and destroyed by the player for an additional boost to their campaign's stats.
Crates labelled "Supply Drop" can be found throughout missions, allowing the player to swap out weapons and restock ammunition.
Multiplayer
Like in previous games in the series, in Battlefield: Bad Company 2, there are four playable classes in the multiplayer mode: Assault, Engineer, Medic, and Recon. Different classes specialize in different tasks during battle and are equipped with different weapons and gear. Every class has its own system for gaining levels and experience.
Earning experience points, which may be done by killing enemies, healing allies, and capturing or defending locations of interest, grants access to new items in the game's inventory. Bonus points can be added to the player's total number of experience points under some conditions, such as killing an enemy with a shot in the head, for example.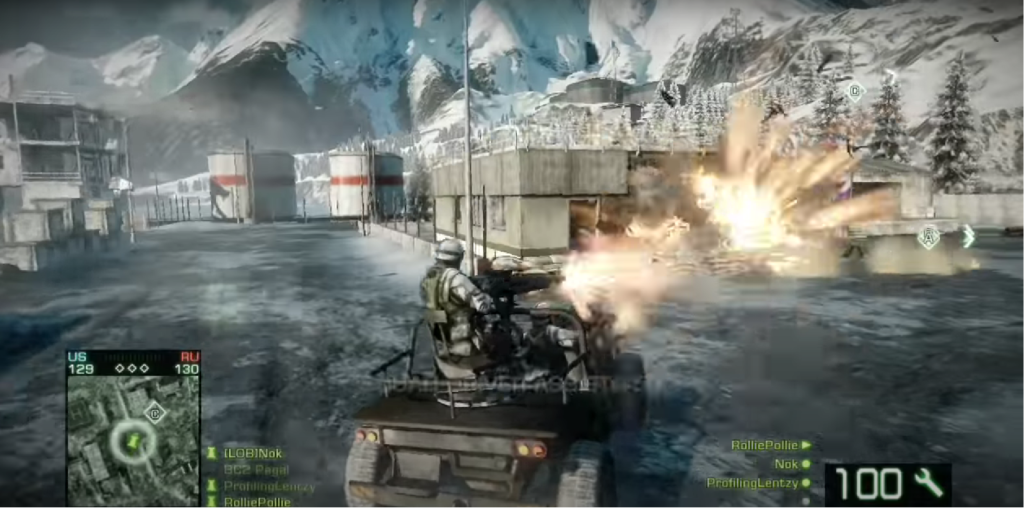 In multiplayer, there are 15 vehicles to choose from, and some of them are brand new to this installment.
The maps are easy to use and show a wide range of landscapes, such as South America and Alaska near the border with Russia.
In the same vein as Battlefield 2142 and Battlefield: Bad Company, a dog tag system is featured in this game. It awards the player with the dog tag of their opponent if they defeat them in a knife duel.
The multiplayer mode features several game types—Conquest, Onslaught, Rush, Squad Deathmatch, and Squad Rush—and each of them has different game conditions for winning. Depending on the game type you select, you and up to 31 other players can compete in a variety of ways, (including solo and in teams of four), and unlock special in-game rewards.
Visuals and sound
Battlefield: Bad Company 2's visuals and audio do not disappoint and stay true to the series' standards. The game has many impressive explosion scenes where there is usually a lot of smoke and debris falling from the sky.
An HDR lighting system is used to create visual contrast and make the different environments look more realistic.
Realistic simulations are used to show how parts of buildings are demolished after explosions and how walls and fences fall down after heavy gunfire.
The designers have paid attention to details like cuts and scrapes on the guns, which add more authenticity to the whole visual experience.
The sound design is also of good quality. Gunfire and explosions reverberate off nearby walls and buildings, creating an immersive echo experience. In-building battles are also impactful thanks to the buildings' acoustics and the enemies' yells that echo off the walls.
Conclusion
No lover of first-person shooters should skip out on Bad Company 2, particularly if they play games online. The sequel improves upon its predecessor in every aspect and offers exciting combat that is full of unexpected challenges.
Can you play Battlefield: Bad Company 2 on Mac?
Battlefield: Bad Company 2 can be played on Mac with a little bit of tweaking, despite the fact that there is no official macOS support for the game. Our suggestion if you want to play Battlefield: Bad Company 2 on a Mac is to use Windows emulation software like Parallels or Boot Camp Assistant. With the help of these programs, you can install the game on your Mac in the same way you would on a Windows PC.
How to download Battlefield: Bad Company 2 on Mac
Once a Windows OS has been installed on a Mac, Battlefield: Bad Company 2 can be downloaded and played there with relatively good quality. To emulate Windows on MacOS is a simple matter. You can run Windows on your Mac by creating a virtual machine or a separate partition of your hard drive using specialized software like Parallels or Boot Camp Assistant (for Macs with an Intel CPU only). Installing the game is as easy as installing any other Windows game after Windows itself is up and running.
How to Play Battlefield: Bad Company 2 on Mac
To play Battlefield: Bad Company 2 on Mac you have to install a Windows OS on your Mac with the help of a program like Parallels or Boot Camp Assistant.
First, however, you will need to get the game.
Next, you need to choose a method to play:
Methods
Who is it for?
BootCamp
For those who don't mind sacrificing visual fidelity and performance to get a native experience.

Parallels Virtual Machine
For those willing to let their mac run hot in order to get adequate performance in a native experience
How to play Battlefield: Bad Company 2 on Mac M1
Battlefield: Bad Company 2 can be played on a Mac M1 by using a Windows emulation program like Parallels. Playing games designed for Windows on a Mac is now easy thanks to this software, and the gaming experience is usually satisfactory.
The Boot Camp Assistant program is not compatible with M1 processor-based Macs, therefore you can't use it with them. Only Macs with Intel processors can run this program, so keep that in mind.
Play Battlefield: Bad Company 2 on Mac with Parallels
You can play Battlefield: Bad Company 2 on Mac (M1 and Intel models) by installing Windows on your Mac with Parallels. Read our detailed guide.
Battlefield: Bad Company 2 on Mac with Boot Camp Assistant
You can play Battlefield: Bad Company 2 on Mac (Intel models only) by installing Windows on your Mac with Boot Camp Assistant. Read our detailed guide.
Martina Nikolova
Martina likes to get into nitty-gritty of tomorrow's tech, from product design across to security based solutions. A long time mac user and developer, she has the expertise and strives to give new insight