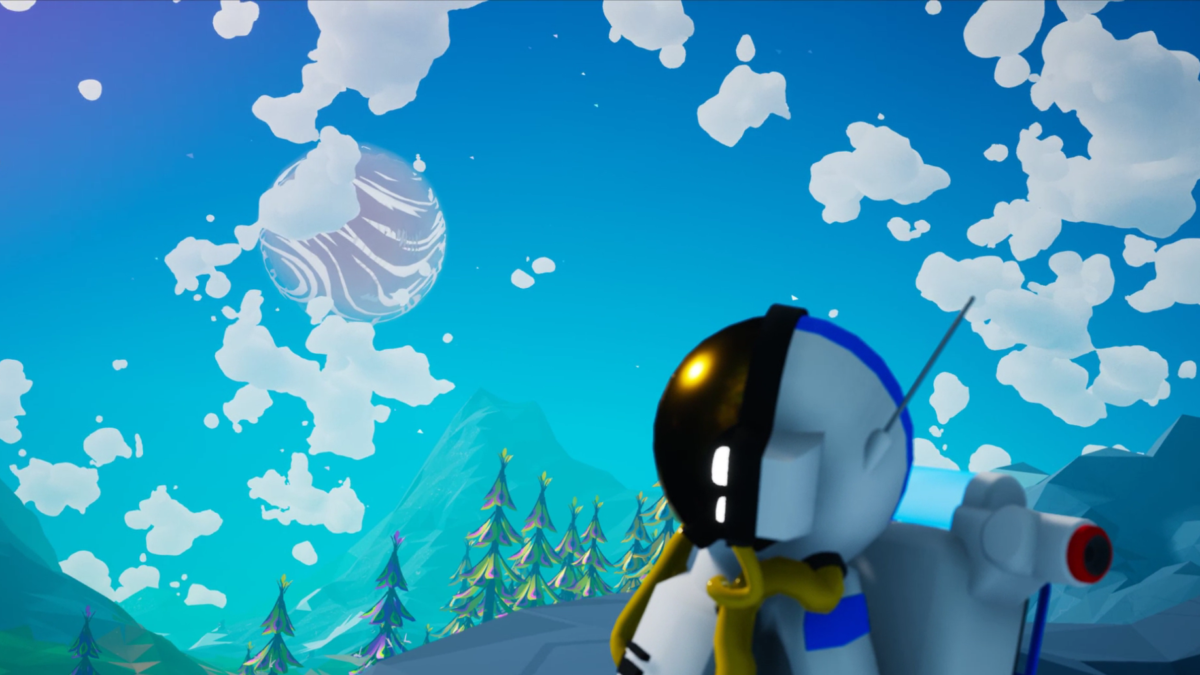 ASTRONEER (Mac)
Martina Nikolova, 6 months ago
0
6 min

read
ASTRONEER on Mac
Astroneer is a third-person sandbox adventure game where the player has to explore planets, build structures, and collect resources. He controls a character called an Astroneer and has to visit seven planets, complete certain missions on each of them, and collect the rewards.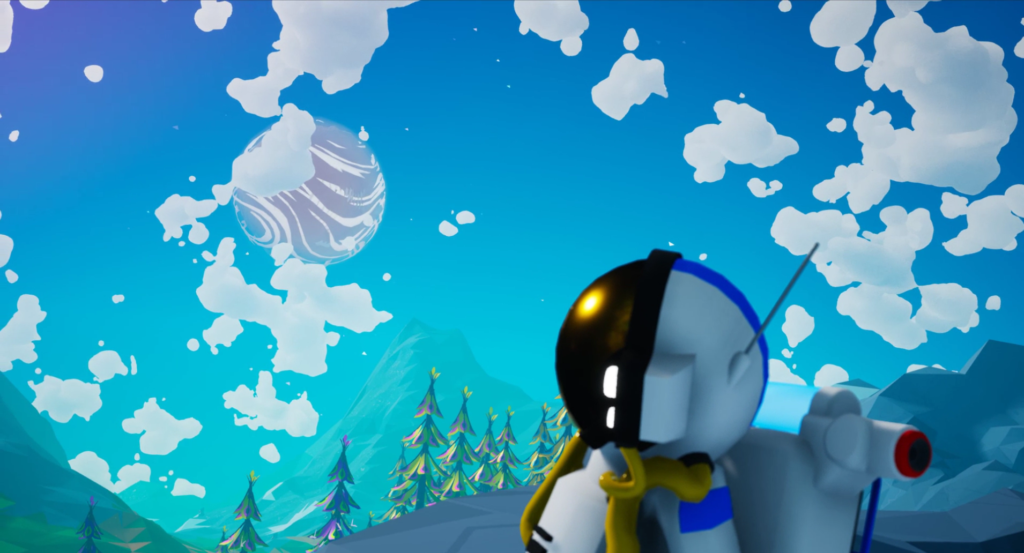 Gameplay
The gameplay is mainly about resource collection and crafting. Right from the start of the game, the player has to search for various materials and use them to craft structures, vehicles, batteries, generators, turbines, solar panels, and other items that allow him to research and conquer each new planet he visits.
The character can travel the planets on foot, in a rover, by teleportation, or in a spaceship.
Rare resources can be found via planetary research, or they can be created in laboratories or atmospheric condensers by smelting and combining other resources the player comes across.
New technologies that allow for the crafting of advanced items can be unlocked by collecting "bytes".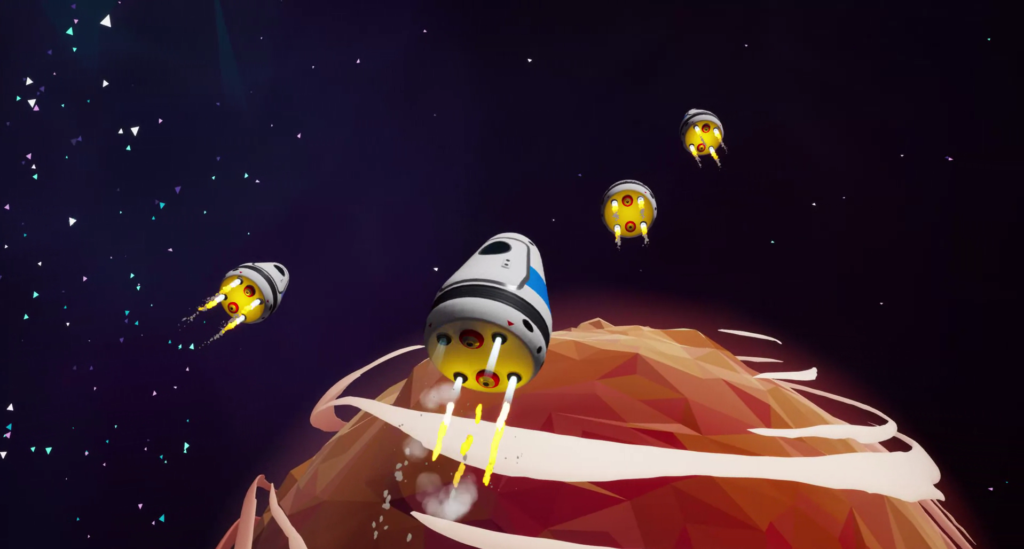 A special terrain tool can be used by the player to easily stack resources like wood, quartz, lithium, ammonium, and resin. These stacks can be stored in designated slots in a backpack found on the Astroneer's back.
The backpack serves as the player's inventory and HUD. It contains two quick-use slots, eight storage slots for resources, a simple 3D printer, a tiny internal power source, an oxygen tank, and a Research Catalog, which is used to get access to new crafting plans.
There is no predetermined plot in the game, but completing tasks and missions can unlock in-game cutscenes and data logs that provide background information and a narrative arc.
Multiplayer
A multiplayer mode allows players to cooperate with other players and join efforts in constructing bases above or below ground, designing vehicles to traverse the game's world, and exploring everything the planets can offer.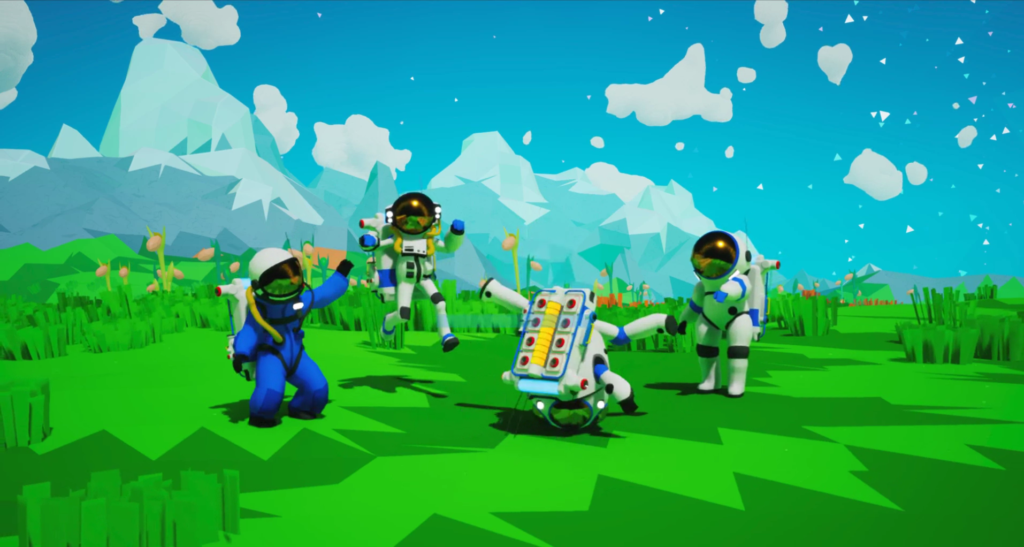 Game design and sound
Astroneer is a game that impresses with vibrancy and colors. The art team has adopted a low-poly art style that uses curved geometric shapes to create the environment and give it a cartoon vibe. Quiet ambient music is used to play in the background to give players an immersive feeling as they traverse the game's world.
Conclusion
Astroneer combines a colorful visual style, a simple interface, and open-ended sandbox freedom. The game is relaxing and enjoyable, and the developers have devoted a lot of time and effort to make it fun for both, solo and group play. So, if you're looking for gameplay where you can focus entirely on interplanetary exploration, Astroneer is a great title to try.
Can you play ASTRONEER on Mac?
Yes, you can play Astroneer on your Mac. However, this takes some resourcefulness due to the lack of official MacOS support for the game.
Playing Astroneer using a cloud gaming service is the easiest and the most time-saving way to run this game on a Mac. And speaking of cloud gaming, Astroneer can be played in your browser through GeForce Now without the need for a download or installation.
If you'd rather not use a cloud service, Astroneer can be played locally on a Mac with the help of a Windows virtualization application like Parallels or Boot Camp Assistant.
How to download ASTRONEER on Mac?
You will need to install Windows on your Mac before you can download Astroneer and play it on your Mac. While this may seem daunting at first, using Windows emulation software like Parallels or Apple's Boot Camp Assistant makes installing Windows on a Mac a breeze. The links below will take you to pages that explain how to use these two applications in more depth.
After you have set up your Windows OS, you can get a copy of Astroneer from the Steam shop and install it just like any other Windows game.
How to Play ASTRONEER on Mac?
You can play Astroneer on Mac with GeForce Now, or you can install Windows on your Mac via Parallels or Boot Camp Assistant and then run the game on the Windows OS.
First, however, you will need to get the game.
Next, you need to choose a method to play:
Methods
Who is it for?
Cloud Gaming
(GeForce Now)
For those who want smooth performance with the ability to casually play all games with the highest visual quality in a matter of minutes.
BootCamp
For those who don't mind sacrificing visual fidelity and performance to get a native experience.

Parallels Virtual Machine
For those willing to let their mac run hot in order to get adequate performance in a native experience
How to play ASTRONEER on Mac M1?
Astroneer can be played on a Mac M1 via cloud gaming or through the installation of a Windows Virtual Machine using Parallels and the subsequent download of the game. Due to incompatibilities with the M1 CPU architecture, Boot Camp cannot be used to install a Windows OS on a Mac M1.
A local Mac gaming environment through Windows virtualization has some benefits. For instance, the speed of your internet connection will not impact your gaming experience. However, there are benefits to using a cloud gaming service as well. For instance, you won't have to download and install each game individually, which can save you time and space. The links below provide more details on each of the methods, so feel free to check them out and decide for yourself.
Play ASTRONEER on Mac with Xbox Cloud Gaming
Astroneer is now available on Mac devices through the Xbox Cloud Gaming service, included in the Xbox Game Pass Ultimate. This subscription-based service offers access to a vast and diverse collection of games, including numerous recent releases, at a monthly fee of $14.99. With the Game Pass, gamers can enjoy unlimited access to Astroneer and many other titles without having to make individual purchases.
To begin playing Astroneer through the Xbox Cloud Gaming service, you'll need to start by following the link provided above. Once you're on the website, click on the Join button and select the Ultimate subscription plan.
If you haven't already, create a Microsoft account and enter any necessary payment details to get started with your subscription.
For optimal performance, use Microsoft Edge or Google Chrome browsers when accessing the XCloud service.

If you're not using a controller, be sure to install the necessary extension in the Chrome/Edge browser to ensure that you can play the game smoothly.

To begin playing Astroneer, simply type the game's name in the search bar and select it. Click the Play button and wait for the game to load. If you've installed the keyboard and mouse extension, click in the center of the screen to activate it and start playing.

Play ASTRONEER on Mac with GeForce Now
You can play ASTRONEER on Mac (M1 and Intel models) with Geforce Now. Read our detailed guide.
Play ASTRONEER on Mac with Parallels
You can play ASTRONEER on Mac (M1 and Intel models) by installing Windows on your Mac with Parallels. Read our detailed guide.
ASTRONEER on Mac with Boot Camp Assistant
You can play ASTRONEER on Mac (Intel models only) by installing Windows on your Mac with Boot Camp Assistant. Read our detailed guide.
Martina Nikolova
Martina likes to get into nitty-gritty of tomorrow's tech, from product design across to security based solutions. A long time mac user and developer, she has the expertise and strives to give new insight