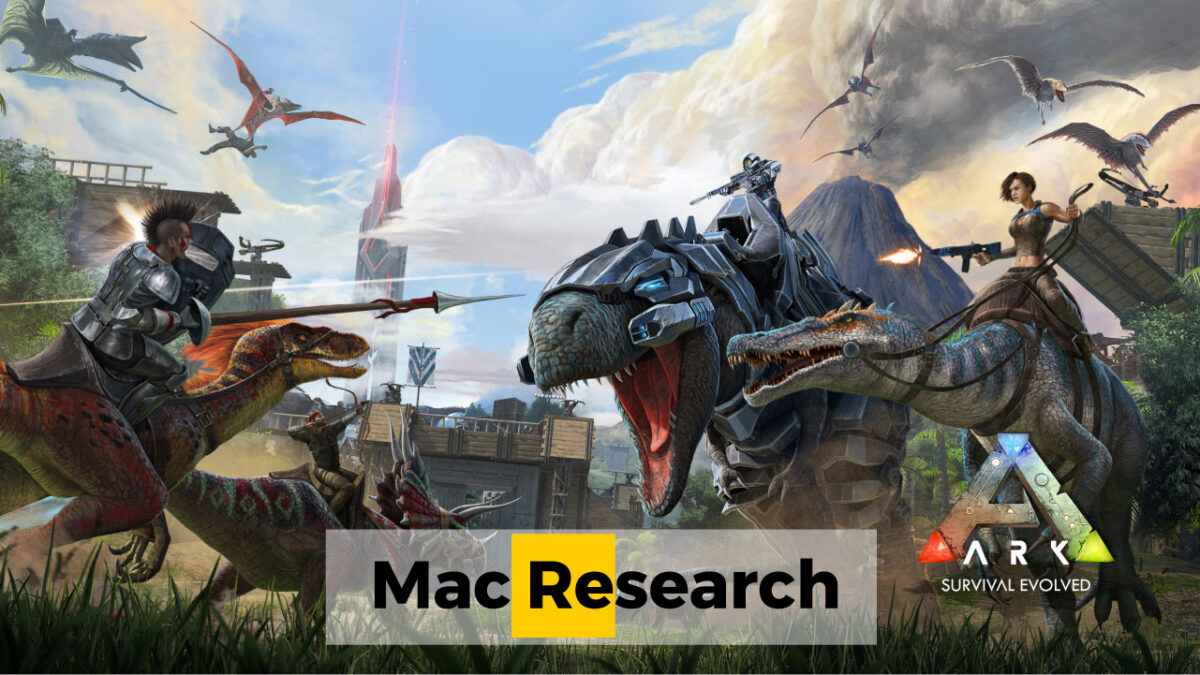 About Ark Survival Evolved on Mac
Ark Survival Evolved can be played on Mac, but if your Mac is running on Catalina 10.15 or later, you will need to resort to workaround methods. Ark Survival Evolved has an official OS X version, but it isn't compatible with newer macOS releases.
Ark Survival Evolved is an action-adventure survival game developed by Studio Wildcard. The game's premise is that the player finds themselves on a large mysterious island in the middle of nowhere with nothing but some modest clothing on their backs and the initial task of finding a way to survive. There, however, is a twist – the island is inhabited by all sorts of prehistoric animals that are extinct in the real world.
While traversing the gameplay world and struggling to survive, the player would encounter dinosaurs, woolly mammoths, saber-toothed tigers, and other beasts of the past that pose a great danger to the player but could also be tamed and used as a means of transport and protection.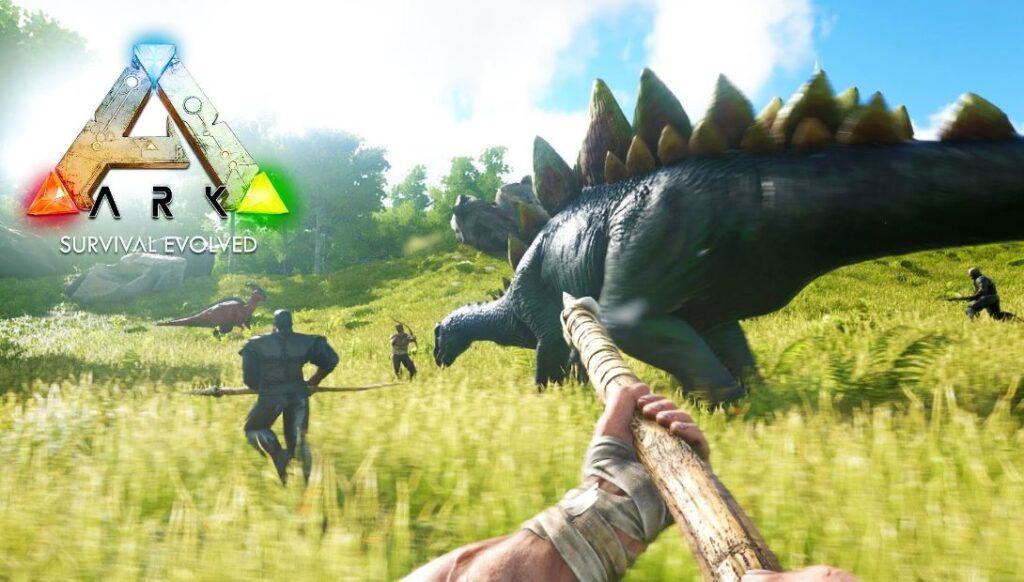 RPG Game Machanics
The game is played from a third-person and first-person perspective and it employs a lot of typical survival RPG mechanics, such as base-building, resource-gathering, crafting items and weapons, and improving the technology available to you. While at the start of the game you may only have access to crude weapons and tools such as clubs and primitive spears, once you progress through the tech tree, you could get to use rifles, machine guns, tranquilizer darts, and more. This, however, is one of the aspects of this game that gets the most criticism.
The Grindy Bit
While it's nice to have such steady progression during your game play experience, both critics and regular players have noted that Ark Survival Evolved tends to hit a point where it becomes way too grindy for the liking of most people. Just as you are getting to the good stuff – the more advanced tools, weapons, and technology, you are likely to find yourself needing to spend entire in-game days just to gather enough ammunition needed for a certain weapon.
This can really bog down the gameplay experience and turn the otherwise fun and enjoyable progression mechanics into a chore, which is a shame because Ark Survival Evolved has a well-thought-out and realized flow of technological progression that feels meaningful and logical instead of being a simple increase in player stats.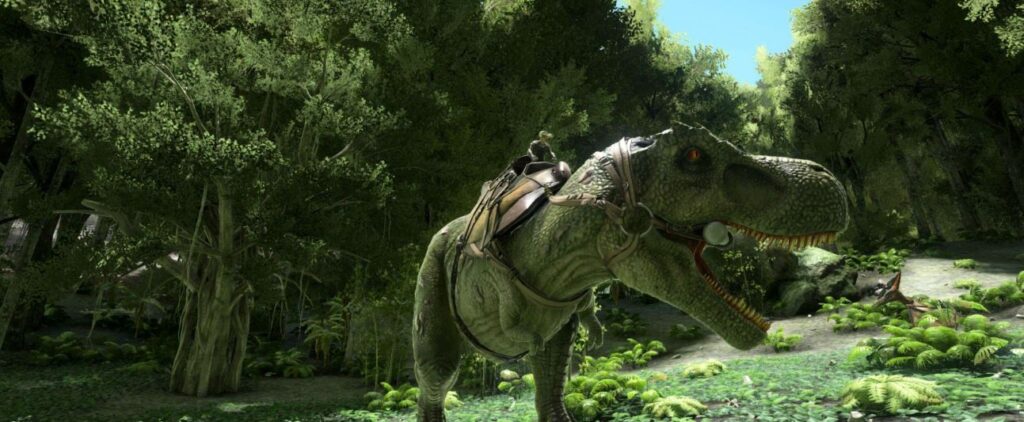 One of the main gameplay mechanics of Ark is the ability (and usually necessity) to tame the various types of animals that you encounter. Most of the animals in the game can be tamed with only a few exceptions. Depending on the specific animal, the method of taming it varies. There are two main taming methods – violent taming and passive taming.
Tame Those Dinos
Most animals can only be tamed through the violent method, which involves knocking the animal out using blunt weapons or tranquilizer projectiles and then feeding the animal its preferred food until it is tamed. A lot of animals need to be kept sedated, using narcotics extracted from plants, until they are tamed. Once tamed, a dinosaur or another animal can be ridden by the player in order to get around quicker. Larger animals can also be used used for protection or offense.
Similar to lots of other survival RPGs, Ark has an experience system that allows you to level up your character and thus increase their stats. There are different stats in the game: max hitpoints, oxygen, food meter, water meter, carry weight, movement speed, melee damage, crafting speed, and stamina. With each level gained, you get to choose which of those stats you are going to improve, which would then affect how you progress further through your playthrough.
Storyline
As mentioned, Ark is both a single-player and a multiplayer game. In single-player, the game offers an extensive campaign with a concrete storyline that the player gradually unravels as they progress through the game. While playing through the campaign, you'd need to explore various caves in order to acquire different artifacts and eventually summon three bosses that you must defeat.
The boss battles are both engaging and challenging, but they tend to overuse the "summoned minions" cliche/trope in order to become more difficult. Once all of the three bosses have been defeated, an end-game dungeon gets unlocked and exploring it reveals to the player a lot about the Ark world and its lore. This attention to story greatly elevates the single-player campaign into something more than just a grind to obtain the equipment and tools needed to finally tame that T-Rex and ride it into the sunset.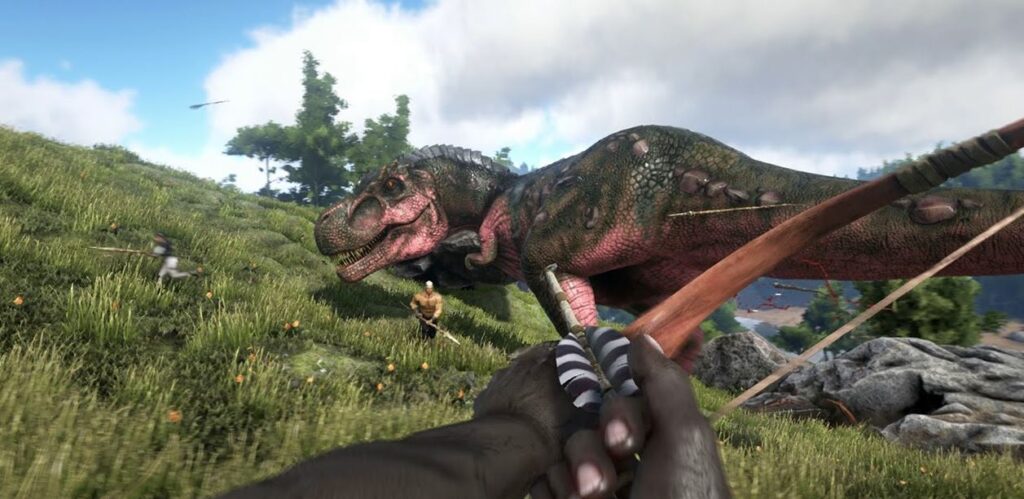 Multiplayer
In multiplayer, more than a hundred players can populate a single server, where they can form tribes and work together to advance quicker through the technology tree. This is where the grinding element of the game is both more and less noticeable, depending on whether you have buddies to work with you or not. If you are on your own, progress would be even more of a struggle compared to the single-player experience. If, however, you have other people working with you, you would be able to get much further, much faster, especially if there is always someone from your tribe who is online, protecting your base from potential looters. Overall, both the single- and the multiplayer of Ark offers a charming experience that leaves you wanting more, that is if you can ignore the grinding and the bugs.
The Bugs
Speaking of bugs, being an indie game, Ark has quite a lot of them. Even though the game was released back in 2017 (and has been in early access since 2015), and a lot of improvements have been made since then, there are still quite a few annoying bugs, such as animals getting stuck on random terrain, shadows popping in and out, and sudden frame rate drops.
The most annoying glitch has to be the one where the AI of larger hostile animals fails to find the right pathing to the player and gets stuck. This largely trivializes the process of hunting down those animals and takes away a lot of the challenge. Admittedly, none of those are game-breaking bugs, but it can still be unpleasant when you encounter them.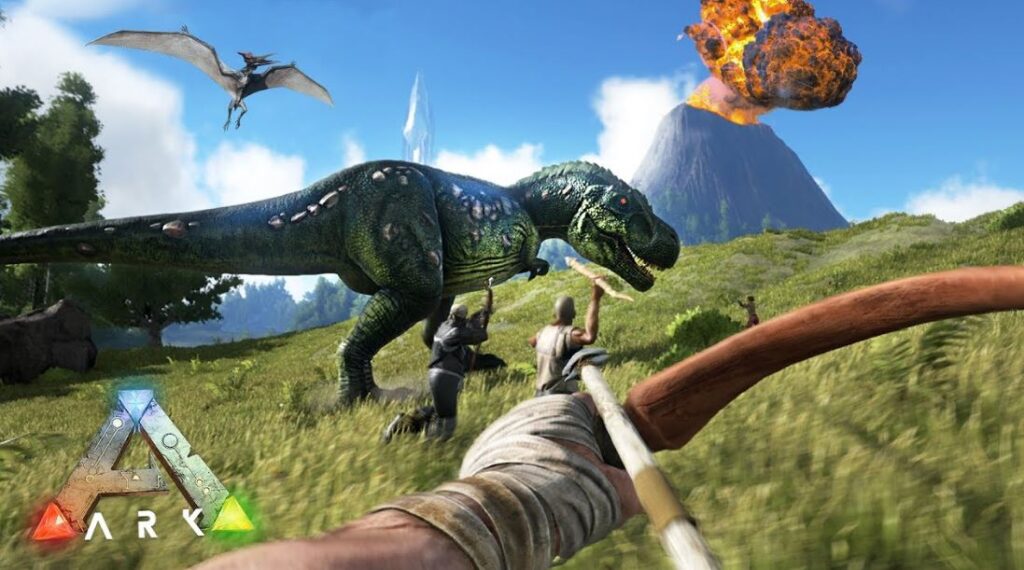 If what's been said about the game thus far interests you, you can install Ark Survival Evolved on your Mac right now from Steam or Epic Games Store. The game has been available for OS X since its release, so you won't need to resort to any time-consuming resort methods, such as installing Windows on your Mac, in order to play it. Furthermore, being released back in 2017, Ark Survival Evolved isn't a particularly demanding game (see system requirements down below), so even if you don't have the latest Mac model, you should still be able to run it on your machine. On the other hand, if you think that your Mac may not provide you with particularly good performance, you can also use the Google Stadia gaming service to play it on a remote gaming rig without even needing to install it on your Mac (more on that in a bit).
System Requirements for Ark Survival Evolved
OS: Windows 10,11 or OS X 10.9 to 10.15
Processor: Intel Core i5-2400/AMD FX-8320 or better
Memory: 4 GB RAM (minimum) 8 GB RAM (recommended)
Graphics: NVIDIA GTX 670 2GB/AMD Radeon HD 7870 2GB or better
DirectX: Version 10
Storage: 20 GB available space for the Mac version; 60 GB for the Windows version
Additional Notes: Broadband internet connection required for multiplayer
Playing Ark: Survival Evolved Lost Island on Mac
Ark Survival Evolved: Lost Island can be played on Mac, but, like the base game, isn't compatible with macOS 10,15, or later. To play Ark Survival Evolved: Lost Island on a Mac with a newer macOS release, you'll need to resort to installing Windows.
The Lost Island expansion map is the first DLC for the game developed by the Ark Survival Evolved community and as such it is free for download. Of course, in order to play it, you need to have already purchased and installed the base game. The expansion features three new creatures and a brand new map with its unique terrain, biomes, caves, and challenges. The new map is huge – approximately 150 sq km. In comparison, the map of the base game is around 50 sq km.
Note that the expansion is quite large in size – it's around 20 GB, so be sure that your Mac has enough space to accommodate it before you attempt to download it.
Ark Set Up Methods
Methods
Advantage
Disadvantage
Cloud Gaming
– No set-up required – Register and Play
– Access to a Library of over 70 top-rated free Games
– Smooth performance
– Compatible with M1 and Intel Macs
– Monthly Fee
– Requires Decent Internet Connection
– No Free Trial
BootCamp
– Free to use any time
– Windows 10 Environment

– Painful Setup
– Mediocre Performance
– Only Compatible with Intel Macs

Parallels Virtual Machine
– Easy Set-up
– Adequate Performance
– Play almost any PC game
– Windows 11 environment
– Compatible with M1 and Intel Macs
– 14-day free trial
– Yearly Fee
Ark with Cloud Gaming
Ark is now available to play on cloud gaming servers. This assures NO
compatibility issues while playing on your Mac as well as top-notch performance.
Step 1. GetArk: Survival Evolved Lost Island
Before playing ARK make sure you get the game through the official websites. For the moment only Steam and Origin are compatible with cloud gaming services such as Boosteriod and Geforce.
Step 2. Register and Add Ark To Boosteroid Cloud Gaming Library
All you need to do now is register for Boosteroid. This allows you to add Ark to their Cloud Gaming Library. Once uploaded you can seamlessly play the game from your Mac.

When Registered you will have additional access to more than 70 top-rated games for free. Pricing varies depending on the subscription plan.
Play Ark Survival Evolved on Mac M1
Ark Survival Evolved is playable on Mac M1 only through the use of virtualization software such as Parallels. With Parallels, you can create a Windows virtual machine on your Mac and then play Ark Survival evolved on your Mac M1 through that virtual machine.
Editors' Choice: Play Genshin Impact on Mac
M1 Macs come with the latest macOS release available, and since the Mac version of Ark isn't playable on anything past Catalina, you will need an alternative way to play the game, such as using Parallels.
Parallels is a virtualization tool that allows you to simulate the Windows experience on your Mac without actually having to install Windows in a separate partition. This happens by creating a Windows virtual machine in which you can download, install, and run Windows programs and games, all the while your Mac stays booted in macOS. Instructions on how to use this tool to create a virtual machine on your Mac are available below. Note that the program is paid, but has a two-week free trial. We recommend trying out the free trial to see if the game runs smoothly on your Mac through Parallels.
To set up a Parallels VM (virtual machine), you will first need a Microsoft account.

Next, go to this Microsoft page, click Register, and sign in with your Microsoft account.


Click Flight Now on the following page, and then go here and if you don't see a Windows Client ARM 64 download button, click the sign in button in the top-right to sign in with your Microsoft account.

Next, click the download button that should appear on your screen and start downloading the file.

While the ARM file is being downloaded, go to the Parallels site and download the free trial version of the program.

Start the .dmg installation file of Parallels and then double-click on Install Parallels Desktop.

Click Open if macOS asks you if you are sure you want to run this program and then wait for the required files to download.

Next, enter your password, click Next, and then click OK on all of the permission prompts.
After that, select Finish, click on Continue Trial, and then click Continue.
Now, you must wait for the ARM file download to complete (don't close Parallels). Once the file is downloaded on your Mac, click on Install Windows or another OS from a DVD or an image file in Parallels, and select Continue.
Drag and drop the ARM file in the Parallels window and click Continue to begin the installation process.
On the next page, select the Games Only option, select Continue, then check the Customize settings option, and click on Create.
When the Configuration window appears, open its Hardware tab, click on CPU & Memory, and if those settings aren't unlocked, click the Padlock and enter your password to unlock them.
Next, select Manual and give the Parallels Virtual Machine the maximum amount of RAM and number of CPU cores that you are allowed to.


Note that to go beyond 8 GB of RAM, you will need to be subscribed to Parallels Pro.

Close the Configuration window and select Continue.
Click OK whenever Parallels requests a permission from you and wait for the installation to complete.
Once the VM is installed, wait as it automatically installs available Windows updates or if the update installation doesn't start automatically, go to the Start Menu > Settings > Update & Security > Windows Update, and install the updates manually.
Restart the VM, wait as Parallels installs the tools it needs to operate, restart the VM again, and by this point everything should be set up and ready for gaming.
Play Ark Survival Evolved on Mac Intel
To play Ark Survival Evolved on Mac, you can download its macOS version from Steam if you are running on macOS 10.14 Mojave or earlier. Otherwise, you can Ark Survival Evolved through Google Stadia or by installing Windows on your Mac.
All of those methods are viable, so it's up to you to decide which one better suits your needs. If your Mac is running on an OS X release earlier than 10.15, then playing the game should be a simple matter of downloading it from Steam and installing it on your Mac (see below). However, if you are using a newer macOS version, the only way to install and play the game would be through Boot Camp Assistant or with the help of virtualization software. Alternatively, you can try playing the game with the help of Google Stadia – you can learn more about this cloud gaming service down below.
Using Google Stadia to play Ark Survival Evolved on Mac
As mentioned, Google Stadia is a cloud gaming service, which means that, when you are playing games through it, the game would really be running on a remote gaming rig, with you being in control of the gameplay from your Mac and the gameplay being streamed in real-time to your screen – think of it as an interactive and much more advanced version of screen share. The advantage of this is that, as long as your Mac meets the requirements for using the Stadia service, it doesn't really matter if it meets the requirements of the game itself. In other words, you can play any game at very high resolution and display settings even from a much weaker machine. However, one downside is that, since all of this is happening over the Internet, you need a very good and fast Internet connection in order to get a smooth gameplay experience. Furthermore, if you are playing online, your Internet would need to be even better so as to minimize lag.
Another thing that should be noted is that Google Stadia is a paid service that has no free subscription plan, so not only would you have to pay for the game itself, but you'll also need to pay the monthly subscription fee for the gaming service. Obviously, you can end and renew your subscription at any time, but it's still something to keep in mind. Also, though there isn't a free plan, there's one month free trial period, so you can use that to play any game that you own, including Ark Survival Evolved, for free for a month through Google Stadia.
If you want to learn how to set up and use Google Stadia, please, visit this page.
Using Boot Camp Assistant to play Ark Survival Evolved on Mac
Visit this Microsoft page, confirm the Windows edition and language that you prefer, and click on the 64-bit Download button to start downloading the Windows 10 ISO file.


After the ISO file is downloaded, go to Applications > Utilities, open the Boot Camp Assistant app, and click Continue.

Click on Choose, find the Windows file, click it, and select Open.

Redistribute the space between the two partitions (using the small dot between them), giving the Windows one at least 200 GB, but leaving no less than 50 for the macOS partition.

Click Install and after the initial loading process finishes, enter your password to continue, after which your Mac will restart.
When your Mac boots back up into a Windows logo screen, select a language and location and continue.
Next, provide your product key, or if you don't have one, click the Skip or I don't have a product key button.
You may be asked to specify which Windows 10 edition you prefer – we recommend picking the Home edition, unless there's a specific reason you may need the Pro one.
On the next page, agree to the Terms and Conditions and select Next to begin installing Windows. If you are on a MacBook, ensure that it is plugged into a power outlet to keep its battery from running out before the installation finishes.
When Windows installs, go through the customization process of its settings, then create a Windows profile by typing a preferred username and password, and then choose whether to activate and customise Cortana or do this at a later time.
After that, you should enter Windows 10 on your Mac and you will probably see the Boot Camp Assistant open on your screen. Click Next in it, then select the Agree button, and click Next again. An installation process of Apple drivers will start – click OK whenever your permission is required and after everything installs, restart your Mac.
Next, use the Windows Start Menu to search for Apple Software Update, open it, and install whatever updates are available there, after which restart the Mac again.
Finally, from the Start Menu, go to Settings > Update & Security > Windows Update, install any updates that are pending, restart again, and now everything should be ready for gaming.
Installing Ark Survival Evolved on Mac
Whether your Mac is running on macOS 10.14 or earlier and you want to install the OS X version of the game or you have installed Windows on your Mac and now want to download the Windows version of Ark Survival Evolved, the steps to do this are nearly the same:
If you want the Windows version of the game, first boot your Mac into Windows (if you have installed Windows using Boot Camp Assistant) or start the Windows VM (if you have used Parallels to create a Windows VM). If you are running on OS X 10.14 or earlier and want to download the Mac version of Ark Survival Evolved, directly go to the next step.
If you don't have a Steam account and don't have the Steam client downloaded on your Mac, you must first go to the Steam site and create a new account.

After that, you must download the installation .dmg file of Steam for macOS.

Next, open the downloaded .dmg file (for macOS) or .exe file (for Windows) and perform the installation of the Steam client by following the prompts.

If you are installing the macOS version of Steam and get a warning that the app you are trying to open is downloaded "from the Internet", simply click Open and proceed with the installation.

Next, start the Steam app and log in with your account.
When you enter your account, click on Store and then use the search tab to search for Ark Survival Evolved.

Next, click on the game, scroll down a bit on the game's page, and click on Add to Cart.

Select Purchase for Myself on the following page, and then select the payment method that you prefer.
Provide your payment details and carry out the purchase.
Return to the Ark Survival Evolved page in the Steam client and select Play.
Follow the prompts that show on your screen to start downloading and installing the game.
Wait for the process to finish and do either of the following to start the game:

If you have installed the macOS version, go to the Applications folder, and start the game from there.
If you have installed the Windows version, start the game from the shortcut on your Desktop.
 Alternatively, you can also start the game from its page in the Steam client for both versions.

If you want to install the Lost Island expansion or any other expansion for the game, just open Steam again, search for the expansion that you want, and click on Download. Just be sure that the download location for the expansion is the same as the location of the base game. The Lost Island expansion is free, so you won't need to pay anything in order to download it.
Martina Nikolova
Martina likes to get into nitty-gritty of tomorrow's tech, from product design across to security based solutions. A long time mac user and developer, she has the expertise and strives to give new insight