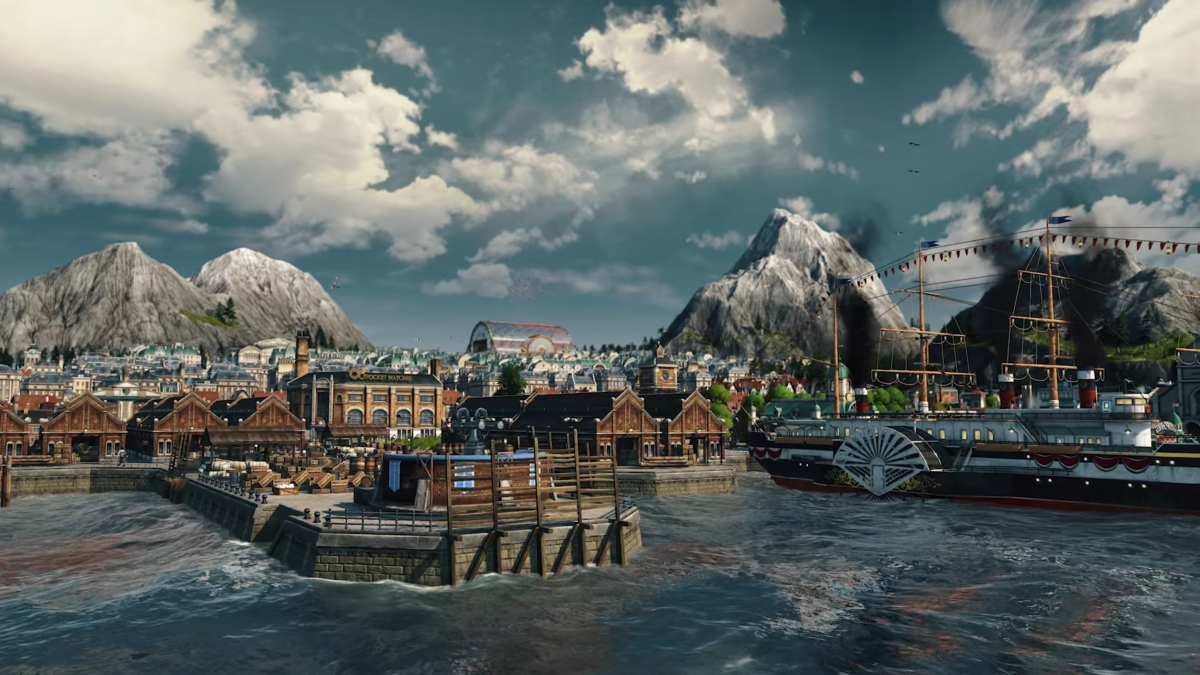 Anno 1800 (Mac)
Martina Nikolova, 1 month ago
0
5 min

read
Anno 1800 on Mac
Anno 1800 is a simulation and strategy video game where players engage in building and running an ever-growing city. The game is the seventh installment in the Anno series and invites you into the setting of the Industrial Revolution of the 19th century.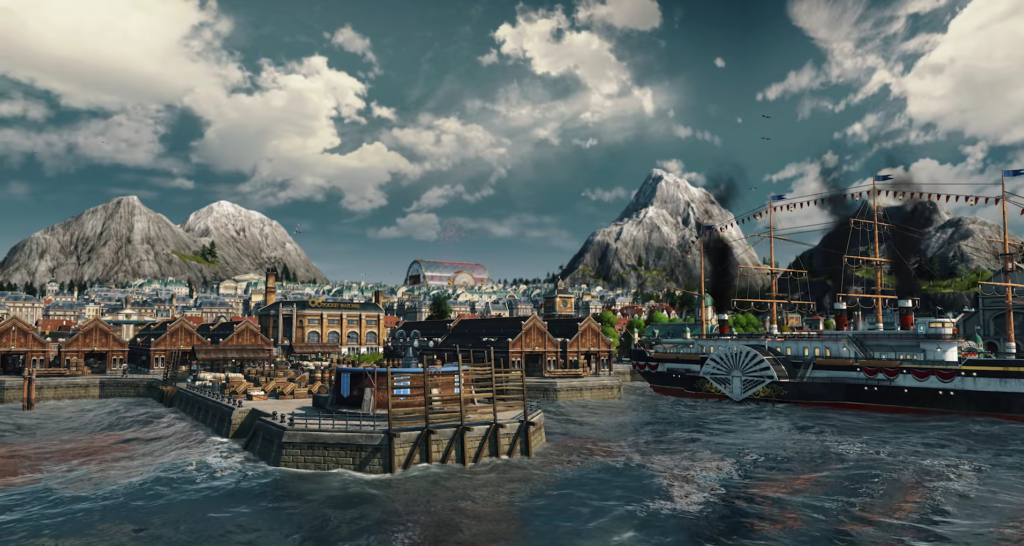 Gameplay
In Anno 1800, the gameplay revolves around construction, economy, and diplomacy, as well as naval battles, just like in previous games from the series.
However, there are some new elements, like Tourism, which contributes to the city's income, and Blueprinting, which helps players plan out their city.
A new workforce feature makes managing your factories more realistic than ever before. There is also a feature called Expeditions that lets players explore the world in search of new locations to settle in.
As the game progresses and the city expands, players are tasked with the management of a growing list of resources, including food and commodities. They need to make some difficult decisions about where to invest their resources and what to construct in order to keep their city functioning properly.
Trading is a returning gameplay element that adds a strategic aspect to the game. It calls for a careful selection of products to manufacture and sell in order to optimize the city's economy.
Like in previous games in the series, Anno 1800 features artificial intelligence (AI) opponents that can build on the same map as the player and compete with him for resources, land, and dominance.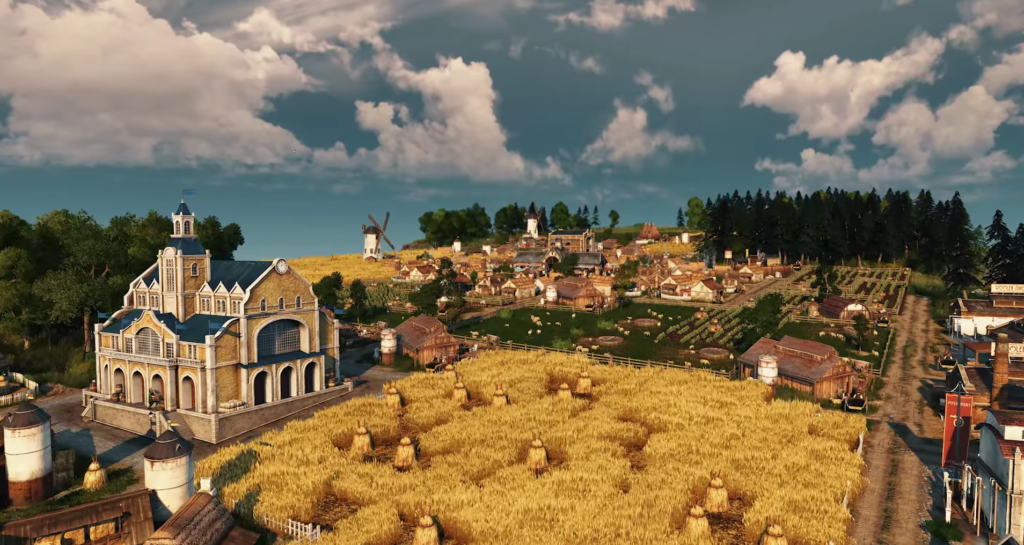 The multi-session feature from Anno 2205 also makes a return, allowing players to connect several separate maps and transfer goods between them.
Multiplayer
Players can invite other players and share the fun in multiplayer mode, where each of them can fulfill different roles. For example, one player can be tasked with building the city, another one can explore the world, and so on. There is also an option where players can be divided in up to four factions that compete with each other.
Visuals and sound
The game's aesthetics are one of its many strengths. There is a lot of detail put into the visual representation of the buildings and the landscapes. This makes the environment seem more authentic like you've stepped back in time. The music and the sound effects add to the atmosphere and immerse players in the game.
Summary
Anno 1800 is a graphically beautiful game with complex and engaging gameplay, and a multiplayer mode that expands the experience in exciting ways. Anyone who likes simulations of urban planning would have hours of fun with this title.
Can you play Anno 1800 on Mac?
Anno 1800 can be played on Mac. However, since the game has no official support for Mac, playing it requires some creative workarounds.
The best time-saving method of playing this game on a Mac is via a cloud gaming service. As of today, you can play Anno 1800 in your browser with GeForce Now without downloading or installing the game.
If you don't want to use a cloud service, you can play Anno 1800 on your Mac locally, but you'll need a Windows virtualization program like Parallels or Boot Camp Assistant to do so.
How to download Anno 1800 on Mac?
In order to download Anno 1800 and play it on your Mac, a Windows operating system must first be installed on your Mac OS. Installing Windows on a Mac may initially sound like something that requires professional help, but really is rather easy with the help of Windows emulation software such as Parallels or Apple's Boot Camp Assistant. Below you will find links with detailed explanations of how to use these two programs.
Once you are done with setting up your Windows OS, you can download Anno 1800 from a gaming store and install it like any other Windows game.
How to Play Anno 1800 on Mac?
You can play Anno 1800 on Mac with GeForce Now, or after you install Windows on your Mac via Parallels or Boot Camp Assistant.
First, however, you will need to get the game.
Next, you need to choose a method to play:
Methods
Who is it for?
Cloud Gaming
(GeForce Now)
For those who want smooth performance with the ability to casually play all games with the highest visual quality in a matter of minutes.
BootCamp
For those who don't mind sacrificing visual fidelity and performance to get a native experience.

Parallels Virtual Machine
For those willing to let their mac run hot in order to get adequate performance in a native experience
How to play Anno 1800 on Mac M1?
To play Anno 1800 on a Mac M1, you can either set up a Windows Virtual Machine using Parallels and download the game, or you can stream it using GeForce Now and play it in the browser. Boot Camp cannot be used to install a Windows OS on a Mac M1 because of incompatibility with the architecture of the M1 CPUs.
There are certain advantages to playing games locally on a Mac. For instance, your gaming experience will not be affected by the speed of your internet connection, which is a major factor for some users. The cloud gaming service, on the other hand, also has its advantages. It is convenient and quick and can save you disk space since it does not require you to download and install every game that you want to try. Check the links below to learn more about each of the methods and select the one that works best for you.
Play Anno 1800 on Mac with GeForce Now
You can play Anno 1800 on Mac (M1 and Intel models) with Geforce Now. Read our detailed guide.
Play Anno 1800 on Mac with Parallels
You can play Anno 1800 on Mac (M1 and Intel models) by installing Windows on your Mac with Parallels. Read our detailed guide.
Anno 1800 on Mac with Boot Camp Assistant
You can play Anno 1800 on Mac (Intel models only) by installing Windows on your Mac with Boot Camp Assistant. Read our detailed guide.
Martina Nikolova
Martina likes to get into nitty-gritty of tomorrow's tech, from product design across to security based solutions. A long time mac user and developer, she has the expertise and strives to give new insight