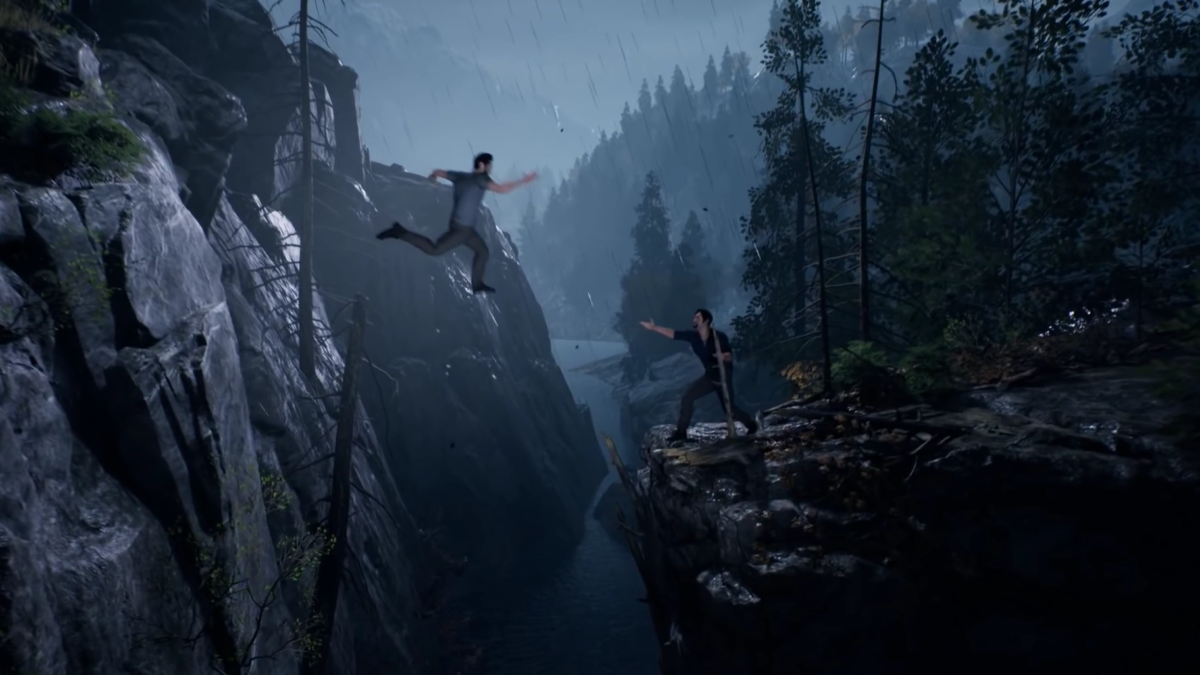 A Way Out (Mac)
Martina Nikolova, 1 year ago
0
9 min

read
A Way Out On Mac
A Way Out is a cooperative action-adventure game where there is only one way to play – with a partner. The single-player mode is absent from A Way Out's gameplay, which isn't common among other games in the same genre.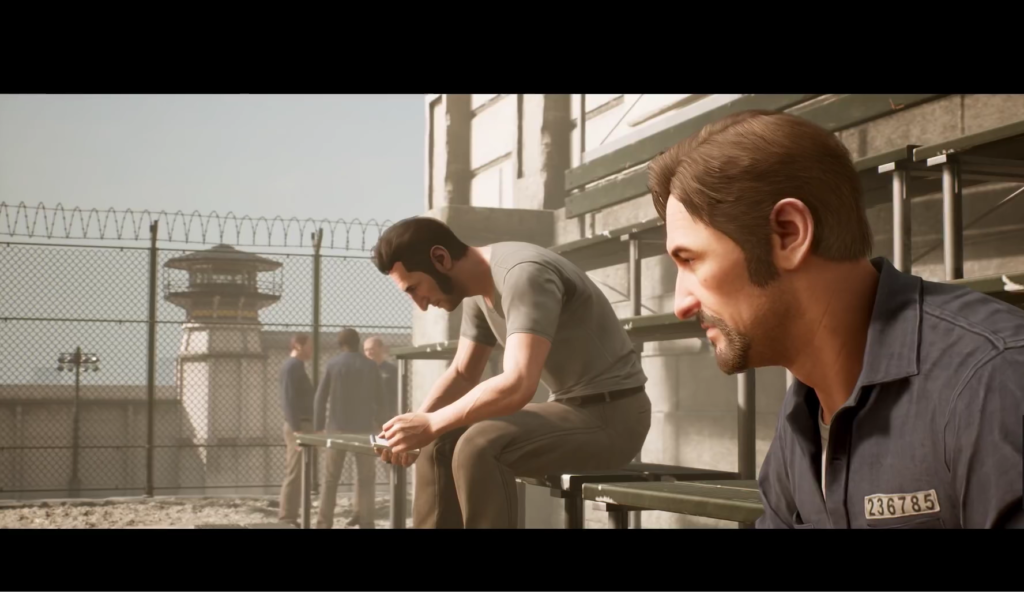 At the start of the game, one of the two available characters must be selected by the players. The story begins with Vincent and Leo, who both have just recently arrived in jail. Shortly after they meet, it is immediately learned that they share an enemy. When Vincent's brother was killed, a strange criminal called Harvey seemed to have set him up. Meanwhile, Leo was a victim of the same man's treachery during a previous crime. The two become friends in prison and hatch a scheme to escape and seek revenge for themselves. There are numerous movie-like elements in A Way Out, but it's a slow-burning roller coaster of a plot.
Gameplay
A Way Out has a distinctive style of play. Split screen co-op between two players is possible both locally and online.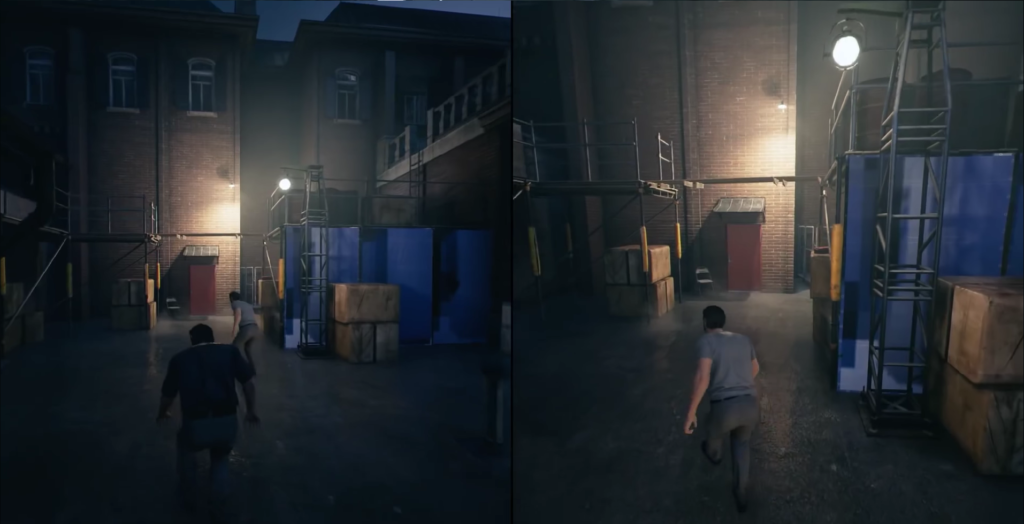 Quick-time events and simple button instructions are the primary means through which players collaborate to solve problems. Throughout the game's story, the characters are placed in a variety of locations. Everything from being imprisoned to attempting a daring escape and finally living on the run is covered here. For the most part, the action takes place in large-scale shootouts and car chases, but there are also stressful stealth sections in which players must work together to avoid being discovered.
Solutions to various situations should be taken in a variety of ways by both players who are working in a team. Each of the characters has his unique personality. For instance, in most of the time, Leo takes a more brash approach while Vincent adopts a more measured one. The game seems to be linear to the majority of players, however, if a certain route or conversation choice is picked rather than another, additional dialogue options or gameplay features may be revealed. NPC personalities, mini-games, and primary goals may be found in each location of the game. That may seem like a typical cooperative experience, but we found ourselves becoming more competitive and taking breaks from the main route to play horseshoes, baseball, and some button-mashing match in arm wrestling. During the gameplay, you and the other player really form a connection.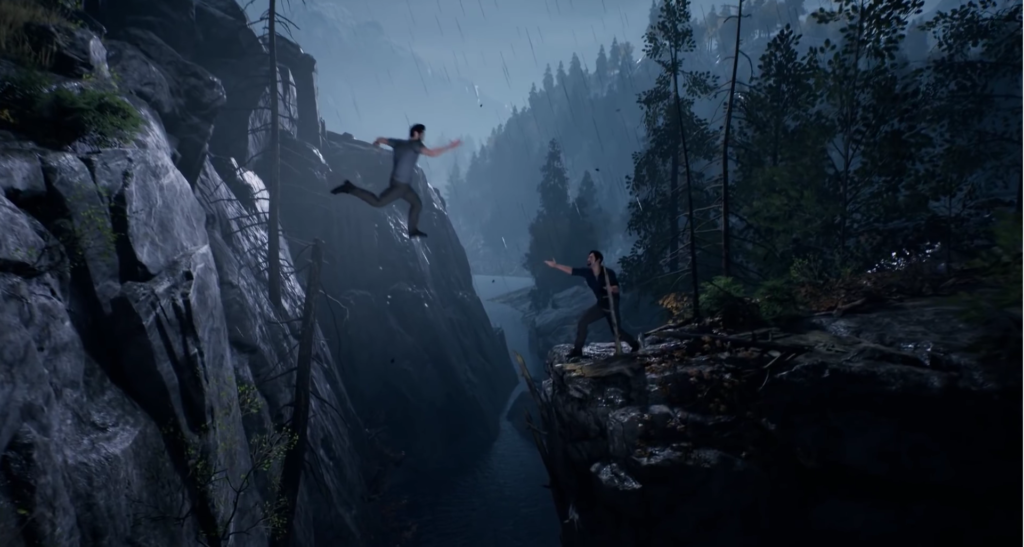 One of the positives is that the player you want to invite to join you in the game does not have to own A Way Out in order to play with you. It is enough for you to purchase the game, and you can add anyone on your friend list to play with. So, as long as you are playing with someone who owns the game, you may download it and play it with them.
If you want to know whether A Way Out is worth your time, there's just one thing you need to ask yourself. Are you a fan of two-player cooperation games and do you have a partner in crime to play with? If yes, then A Way Out is a must-have "buddy game" with an unforgettable narrative.
Can you play A Way Out on Mac?
You can play A Way Out on a Mac, but since the game doesn't have a macOS version, native play isn't possible. If you want to play A Way Out on your Mac, you can either stream it via Boosteroid or install Windows on your computer.
Unfortunately, A Way Out isn't available for Macs at this moment and isn't likely to receive one in the near future either. However, this does not rule out the possibility of playing the game on a Mac, and we will demonstrate three different methods to do so in the next section of this article. Boosteroid, a cloud gaming service, may be used to stream the game to your Mac. The second and third solutions both need installing or emulating Windows on the Mac in order to play A Way Out on Windows.
How to play A Way Out on Mac
With the Boosteroid cloud gaming service, you don't need to download the game in order to play A Way Out on a Mac and just live-stream it instead. Installing (emulating) Windows on a Mac with the help of specialized software is another option to play A Way Out.
There are three ways to play A Way Out on a Mac, the easiest of which is to use Boosteroid, followed by two more time-consuming methods that you can read about below.
The method we offer for playing A Way Out on Mac with Boosteroid is the quickest and easiest to set up. Your Internet speed and stability are the only important requirements here (apart from having a paid membership to the service) in order to have decent in-game performance.
A Way Out Set Up Methods
Methods
Advantage
Disadvantage
Cloud Gaming
– No set-up required – Register and Play
– Access to a Library of over 70 top-rated free Games
– Smooth performance
– Compatible with M1 and Intel Macs
– Monthly Fee
– Requires Decent Internet Connection
– No Free Trial
BootCamp
– Free to use any time
– Windows 10 Environment
– Painful Setup
– Mediocre Performance
– Only Compatible with Intel Macs
Parallels Virtual Machine
– Easy Set-up
– Adequate Performance
– Play almost any PC game
– Windows 11 environment
– Compatible with M1 and Intel Macs
– 14-day free trial
– Yearly Fee
How to Get A Way Out on Mac:
First, you will need to purchase the game.
Now you will need to register for Boosteroid. This allows you to add A Way Out to their Cloud Gaming Library. Once uploaded you can seamlessly play the game from your Mac, TV, or Mobile Device.
When Registered you will have additional access to more games for free. Pricing varies depending on the subscription plan.
Play A Way Out on Mac using Boosteroid
Create a new account at Boosteroid.com and complete the signup process there.
Go to the account part of the site by clicking on your profile name (top-right) and then click Subscribe.
You may choose between a one-month or one-year Boosteroid subscription and begin using it by entering the necessary information for the payment method you've selected.
Search for A Way Out in the search results, and click on it.

Wait for the Boosteroid service to load the A Way Out Boosteroid page, click Play > Continue.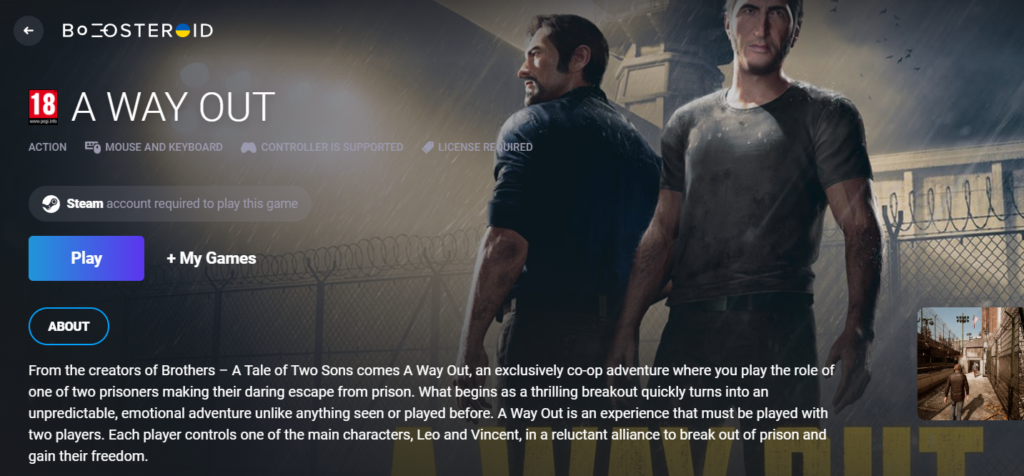 Once you've logged into your Steam account, the game will begin loading in your browser window. Use the browser's Full-Screen mode and hide the browser's toolbar for the best experience (the View menu from the browser's menu bar).
How to download A Way Out on Mac
To play A Way Out on a Mac, you must have Windows 10 or 11 installed on your computer as a virtual machine.
You can install Windows via Boot Camp Assistant or Parallels. For a more in-depth look at how to do both of these tasks, check out the instructions in the next paragraphs.
Installing the Steam Store client on your Mac is the other required step toward downloading and playing A Way Out on your Mac. After that, all you have to do is search for and download A Way Out in the client.
In the next section, we'll teach you how exactly to install Windows on a Mac and download the game from Steam by following the respective directions.
Play A Way Out on Mac using Parallels
The first step is to download the Parallels Mac program from the Parallels.com website and install it on your computer.
Playing Risk of Rain 2 on Mac with Parallels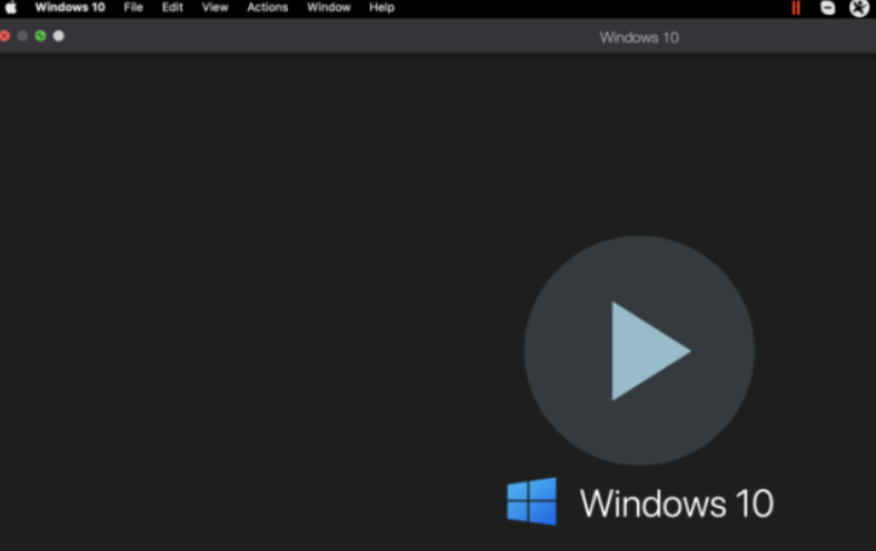 Getting Parallels installed on your Mac is as simple as going to Parallels.com and downloading the appropriate file.
Install Parallels on your computer by running the .dmg file and following the directions on the screen.
Once Parallels has been installed, open it and select the "Install Windows" option to begin the process of creating a Windows VM.
Create a Parallels profile or sign in to the virtual machine using one of the other available sign-up options.
Once you enter the VM, download the Steam or the Epic Games client and use it to install the game on the virtual machine.
If you need more in-depth steps for Parallels with screenshots, check out our Full Parallels Guide.
Play A Way Out on Mac using Boot Camp Assistant
Go to Microsoft's website to get a 64-bit version of Windows 10.
Secondly, open the Boot Camp Assistant from the Utilities folder and load the ISO file in it.
Install Windows after setting aside enough space on your hard drive for it.
As soon as your Mac has restarted, follow the on-screen instructions to install Windows 10.
You may then use the Boot Camp Assistant to install the drivers your Mac requires to run Windows once Windows has finished installing.
Install A Way Out in the Windows partition of your Mac by downloading the Steam client from Steam and using it to install the game.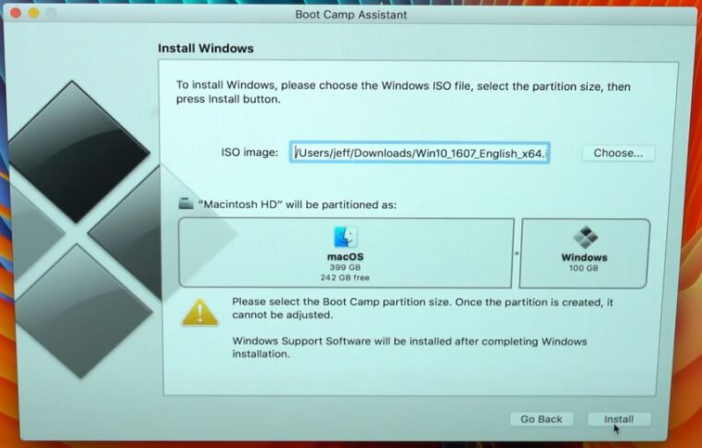 Our in-depth guide on using Boot Camp Assistant
Downloading A Way Out on Mac from Steam: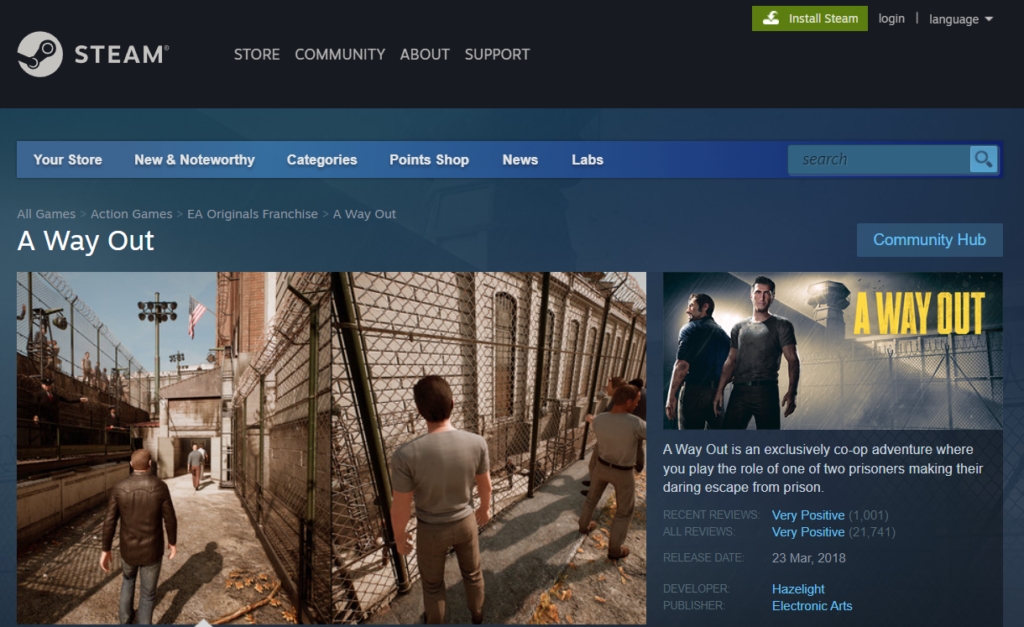 If you don't have a Steam account, you'll need to create one and log in to begin.
Install Steam on your Mac by visiting the official site, and clicking on the Install Steam link at the top of the page.
Open the client, log in, and search for "A Way Out" in the Store section.
To buy the game, open the game's Steam page, click on Buy Now, then choose Purchase for myself, select the desired payment option, and enter the necessary payment information.
Afterward, go to the Library area of the client, select A Way Out, and click on it. Then, click Install on the game's page.
The installation will begin after you click Next in the prompt box that displays. To play the game, you'll need to go to your Steam library and select A Way out.
A Way Out on Mac M1
Cloud-gaming services such as Boosteroid, allow you to play A Way Out on your Mac M1. Parallels may also be used to play A Way Out on a Mac M1 by downloading and installing a Windows virtual machine and downloading the game after that.
With Boosteroid, you can play this game on an M1 Mac by streaming it to your Mac, and with Parallels virtualization software, you can create a Windows 11 virtual machine, install it, and play the game in the VM from there. Both of these methods have been described in detail above. The usage of Boot Camp Assistant, the third way of playing A Way Out on Mac that we've presented on this website, isn't possible for M1 Macs since Windows 10 and the M1 chip architecture are incompatible.
Martina Nikolova
Martina likes to get into nitty-gritty of tomorrow's tech, from product design across to security based solutions. A long time mac user and developer, she has the expertise and strives to give new insight