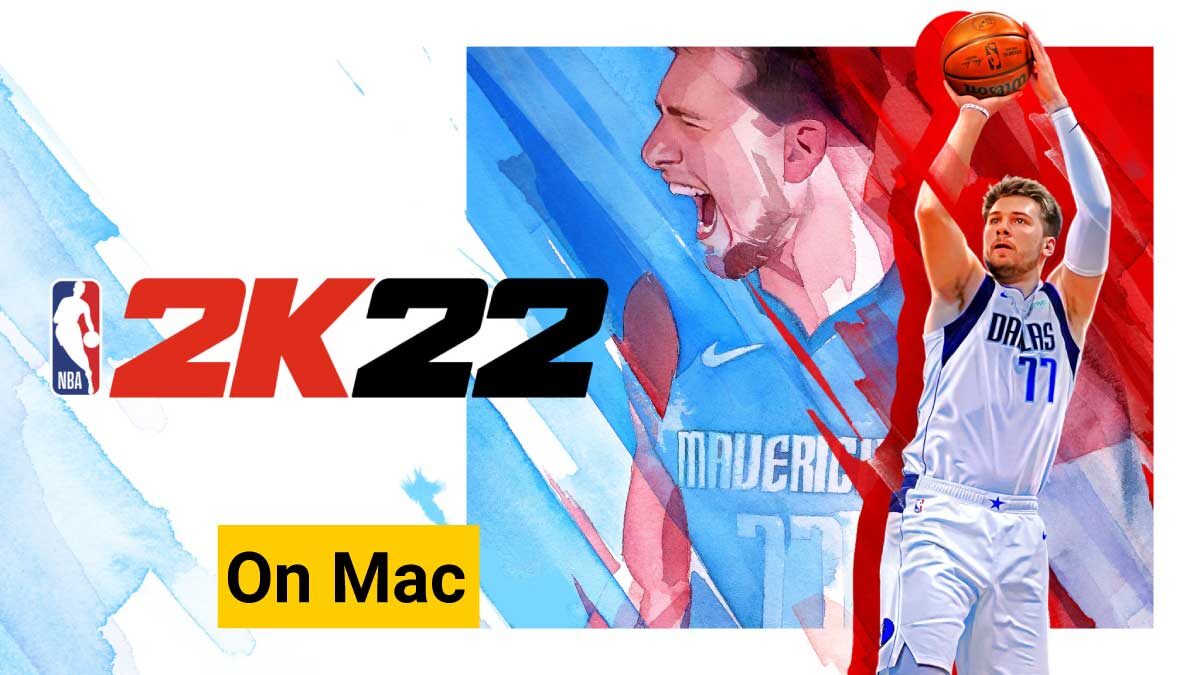 NBA 2k22 Mac
Martina Nikolova, 2 years ago
1
8 min

read
About NBA 2k22 on Mac
NBA 2k22 is not officially playable on Mac due to it not having a Mac version. However, is a possible workaround method that may still allow you to play NBA 2k22 on Mac, and that method is by installing Windows 10 on your Mac.
NBA 2k22 is the latest installment in the NBA 2k gaming series, and it is a basketball sports simulator. The game is developed by Visual Concepts and its publisher is 2k Sports. NBA 2k22 is available for PS4, PS5, Xbox One, Xbox Series X and S, Nintendo Switch, and Microsoft Windows (for which it can be downloaded from Steam). However, there's no official macOS version and, unfortunately, unlike NBA 2k21, the latest NBA 2k installment will probably not be available on Google Stadia (at least for the time being). Google Stadia would have been the perfect option to get to play this game on Mac, but since it isn't an option (and probably won't ever be), the only other feasible way to get this game running on your Mac would be by installing Windows 10 on the computer. The process isn't too difficult, but can take time and doesn't guarantee the best performance while playing the game. Still, it's worth giving it a try if you really want to play the game.
Editors' Choice: Play Genshin Impact on Mac
As for the game itself, it seems that the players' consensus is that its Windows version (which is the one you'd be installing on your Mac) is vastly inferior to its console counterparts. Unfortunately, it seems that PC players are dissatisfied with what it has to offer and their gameplay experience with it has been subpar for the most part. According to many, the PC version of 2k22 doesn't make use of next-gen graphics (as was advertised by its developers), doesn't add any significant improvements compared to 2k21, and comes with many bugs, errors, and other problems that may or may not get fixed in the future.
Available on the Mac Store
The latest 2K games that are available directly on the mac store are mobile first, in other words its as if your playing from your phone. The latest game on the mac store is 2K21 arcade edition.
In order to be able to play 2k22 on your Mac, in addition to having Windows installed on the computer, the machine would also need to meet the following system requirements:
MINIMUM:
OS: Windows 7 64-bit, Windows 8.1 64-bit or Windows 10 64-bit
CPU: Intel® Core™ i3-2100 @ 3.10 GHz/ AMD FX-4100 @ 3.60 GHz or better
RAM: 4 GB RAM
GPU: NVIDIA® GeForce® GT 450 1GB/ ATI® Radeon™ HD 7770 1 GB or better
DirectX: Version 11
Network: Broadband Internet connection
Storage: 110 GB available space
Sound Card: DirectX 9.0x
RECOMMENDED:
OS: Windows 7 64-bit, Windows 8.1 64-bit or Windows 10 64-bit
CPU: Intel® Core™ i5-4430 @ 3 GHz/ AMD FX-8370 @ 3.4 GHz or better
RAM: 8 GB RAM
GPU: NVIDIA® GeForce® GTX 770 2GB/ ATI® Radeon™ R9 270 2GB or better
DirectX: Version 11
Network: Broadband Internet connection
Storage: 110 GB available space
Sound Card: DirectX 9.0c
How to play NBA 2k22 on Mac?
To play NBA 2k22, you will need to use Bootcamp Assistant in order to install Windows 10 on your Mac in a separate partition. Once you have a Windows 10 partition, you can play NBA 2k22 on your Mac by installing it in that partition.
This method can be quite time-consuming and will require quite a lot of free space on your Mac, so if you don't already have at least 250 GB of free storage space on the computer, it may not be the best idea to try this method. Also, note that this is not an official way to play the game, and this means there could be performance issues and unexpected bugs that are unlikely to ever get fixed. Still, if your Mac meets the hardware requirements for the game, has enough free HDD space, and you are willing to append the necessary time and effort to set everything up, here's how to do it:
Playing NBA 2k22 on Mac by installing Windows on your Mac
Before you begin, make sure that your Mac meets the hardware requirements for the game – preferably the recommended ones because playing the game through a Windows partition in your Mac would likely put additional strain on the machine's hardware. Also, be sure to have no less than 250 GB of free space on your Mac. The game requires 110 GB of storage space, but you'd also need an extra 64 GB for the Windows 10 installation as well as some leftover space for the two partitions that must remain unoccupied or else the system may become unstable (at all times there must be some free space left on your Mac).
How to Install Windows 10 on Mac
Open Google, perform a Google search for "Windows 10 for Mac", open the first result that's from the official Microsoft site, and choose the regular "Windows 10" edition.

Pick your preferred language on the next page and select Confirm.

Opt to download the 64-bit version of the Windows 10 and select your Desktop as a download location if asked to pick a location. If not, the Windows 10 ISO file will most likely be downloaded in the Downloads folder on your Mac, so that's where you must search for it later.

After the download completes, open the Go menu, click Applications, open Utilities, and open the Bootcamp Assistant utility.


Click Continue in the Bootcamp Assistant, then drag the dot between the two partitions to the left in order to assign at least 200 GB of storage space to the right (Windows 10) partition.
Then select Choose a Windows 10 ISO file, click Choose, navigate to the ISO file you just downloaded, select it, click Open, and then click Install.

This will initiate the first part of the installation and at a certain point you will be required to provide your Admin password for the Mac – type it in, click Next/OK, and wait for your Mac to restart.
When the machine restarts, you will first see the Windows 10 logo on your screen, and then you'll be asked to pick a language – do that and continue.
On the next page, if you have a product key, type it in and click Next. If you don't have a key, click on Skip/I don't have a product key.

If you are given the option to choose which Windows 10 edition to install – Home or Pro – our recommendation is to opt for the Home version unless you need Windows for more advanced tasks besides playing games.

Lastly, select I Agree, then click Next, and the installation will start – wait for it to finish, at which point your Mac will restart again.
After your Mac restarts, it will boot into Windows and you will have the option to use the default settings for Windows 10 or to customize those settings according to your preferences – we recommend customizing the settings.
On the next page, create a Windows 10 account by typing a username and a password – you can skip creating a password, but we recommend creating one anyway, for improved security.
Next, choose whether you want to activate and customize Cortana or skip this step for now.
After this, you should finally enter Windows 10 on your Mac and there should be the Bootcamp Assistant opened on your screen. Click Next in it, then select I Accept, and select Next again. Doing this will initiate the installation of driver updates that your Mac needs in order to use all of its features from within Windows 10. If you get asked at a certain point for permission to install something, click Yes to install it. Finally, after the installation completes, click Finish, and wait for your Mac to restart.
Once the computer restarts, click the Start Menu in the bottom-left, open Apple Software Update, wait a couple of moments for the system to find available software updates, then check everything it has found, and click Install. Again, click Yes if asked for permission about the installation of a given update and when the installation is over, click Yes to restart your Mac once again.
Finally, after your Mac boots back up, open the Start Menu once more, click the Gear icon (Settings), go to Update & Security > Windows Update and Windows will automatically scan for available updates and will begin to install them. After it is finished with the installation (will probably take a while), a Restart option will appear – click it to Restart your Mac for one final time before you can start playing NBA 2k22.
Now that Windows 10 is installed on your Mac, you must know how to switch between its partition and the macOS one. To get from Windows 10 to macOS, find a small slanted square icon in the bottom-right, click it, and select Restart in macOS, and select OK. If that icon isn't shown there, select the small arrow pointing up, and a box with icons will show up, and you should see the slanted square icon in it.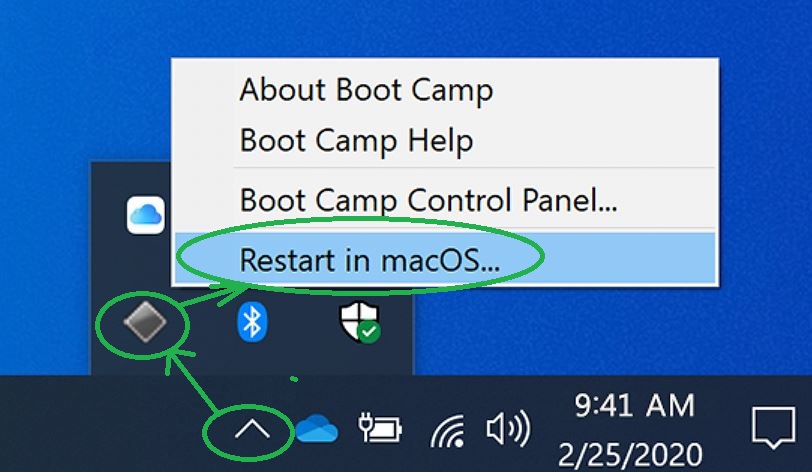 To switch from macOS to Windows 10, open the Apple Menu, go to Preferences > Startup Disk, click the padlock icon, type in your password, and click Unlock. After this, click the Bootcamp Windows icon, and select the Restart option.
How to Install NBA 2k22 in the Windows 10 partition on your Mac
The installation of the game itself is rather simple – just go to Steam, log in with your Steam account or create an account if you don't already have one, and search for the game. On the game's Steam page, add NBA 2k22 to your shopping cart, then click Purchase for myself in the cart, and purchase the game. After this, download the game and install it following the on-screen cues. Once the installation completes, you should be able to play it without a problem.
Martina Nikolova
Martina likes to get into nitty-gritty of tomorrow's tech, from product design across to security based solutions. A long time mac user and developer, she has the expertise and strives to give new insight