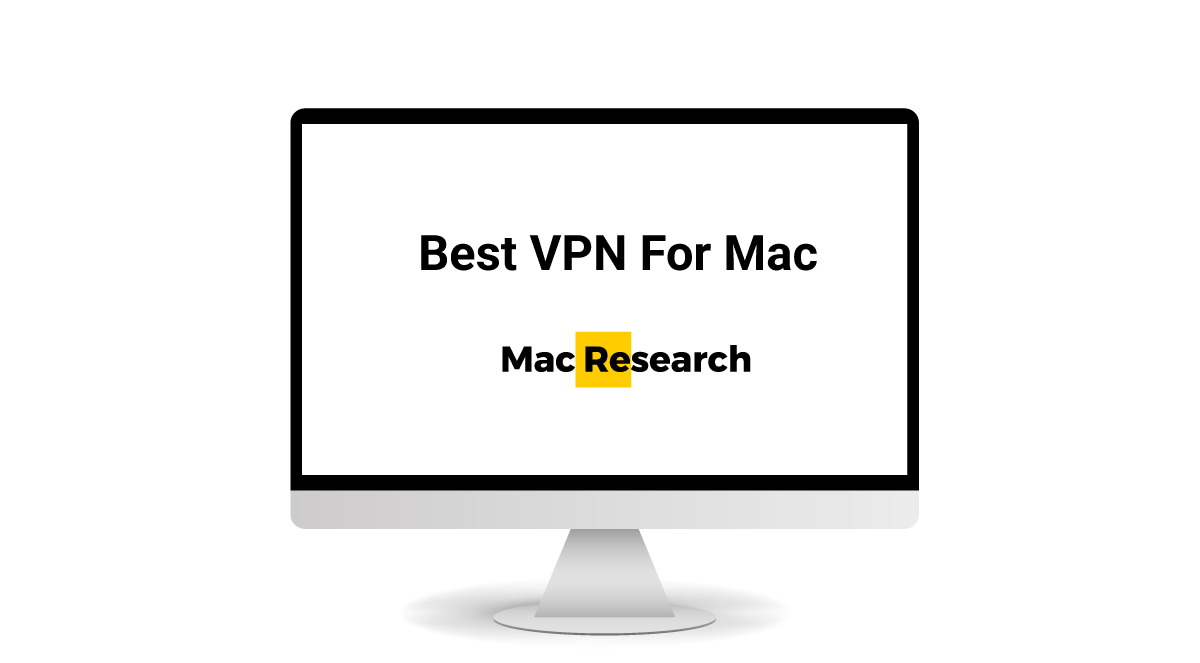 Best VPN for Mac
Martina Nikolova, 2 months ago
0
17 min

read
Best VPN for Mac in 2021
The best VPN for Mac would be a VPN that strikes a balance between functionality, security, privacy, and reliability. While there are many VPN options out there, to pick the best VPN for Mac, you need to take into account all of the aforementioned characteristics.
To be as transparent and unbiased as possible in making reviews. We DO NOT offer links to these products with affiliate commissions in order to make money. Feel free to find the best prices online in your local area.
With this in mind, we've tried to put together a list of the Mac-compatible VPN services that we consider to be the best at the moment. Of course, some of the entries from this list will be better than others in certain areas, which is why we will make sure to point out both the strengths and weaknesses of each service so that you'd get a good overall picture of what each VPN has to offer. Also, there's always the subjective factor of who would be using the service – for example, a user who has never before tried a VPN service would probably not need anything with overly advanced features that would just get in the way. On the other hand, if you already have some experience with different VPNs and are simply looking for something that would better fit your needs, you would also find entries in this list with a nice selection of advanced features that are better suited for experienced users.
If you are totally new to what VPNs do, then the most important thing you should know about this type of service is that it basically makes it much more difficult (though technically not impossible) for anyone to intercept any incoming or outgoing Internet traffic to and from your Mac. This is done by rerouting the traffic through a series of servers spread across the globe. This changes the IP of your Internet traffic and hides both the sender and the receiver of the transferred data. There are many benefits to that, including increased online security and privacy, and even the ability to access sites and resources that are geo-restricted and can't be accessed from where you live. The specific reason you need a VPN is also a major determining factor with regard to which specific VPN service would be best suited for you.
Now, without further ado, here are our picks for the top VPN services for macOS systems – some of them have free versions and some have a free trial option or a money-back guarantee for unsatisfied users. Getting a VPN service for free is nice, but considering the nature of this type of service, it may sometimes be better to go for the paid option so that you'd know you are getting quality. Note that the lists' entries aren't shown in any particular order – the VPNs suggested below all have their pros and cons, and after we tell you about what those are, you'd hopefully be able to figure out which one would be the best VPN for you.
Windscribe
Pros
Can reliably unblock Netflix
Enough advanced features for power users to enjoy
Good pricing options
Cons
Some limited data logging
Speeds could be better in some locations
Windscribe may not have the largest network of servers, with only 600 servers across 59 countries, but it makes up for it with strong security and a wide range of bonus features that would satisfy even power users.
Its R.O.B.E.R.T. feature is a great tool that significantly enhances your online security and privacy – it blocks ads, trackers, and even malware. It protects you from clickbait content, fake news, crypto mining sites, and more.
Windscribe also provides extensions for different browsers including Firefox, Opera, and Chrome, but not Safari for now.
One thing that some users who highly value privacy may not like is the minimal amount of data logging performed by Windscribe, but the company is transparent about it and the data that gets logged is your username, the duration of the connection, and the used bandwidth, so it's nothing to be concerned about.
As for pricing options, it has two main ones – a monthly and a yearly plan – and there's also a third option that allows you to "build" a custom plan for yourself.
For those of you who want to gain access to locked streaming services, Windscribe has got you covered – it unblocks Netflix, Disney +, BBC iPlayer, and other popular streaming platforms. Additionally, there's P2P support with Windscribe so torrenting is an option with this VPN service.
Pricing
Monthly subscription: $9/month
Yearly subscription: $4/month
Hotspot Shield
Pros
Offers a free plan
Great performance and speeds
Strong security
Bonus apps in the main paid package
Unblocks popular streaming platforms (Netflix, BBC iPlayer, etc.)
Cons
Headquarters in US (bad implications regarding privacy)
Keeps some logs
Hotspot Shield is another VPN service that offers an actual free plan but, again, with severe limitations, such as one server location, 5000 MB bandwidth per day, a maximum speed of 2 MB, and a maximum of one connected device at any time. Still, despite the limitations, it provides your browsing experience with enhanced security and privacy, so if that is what you are after, the free version of this VPN should do a fine job.
As for the paid options, there are two of them, with the main difference between them being that the more expensive one covers 5 user accounts and up to 25 connected devices.
Hotspot Shield promotes itself as one of the fastest VPNs out there and impartial tests confirm this claim – its performance is top tier, and with the addition of its special Catapult Hydra protocol, which is optimized for speed without sacrificing safety, performance gets even better.
Hotspot Shield supports torrenting, and it unblocks Netflix, Hulu, Amazon Prime Video, and other popular streaming services.
This VPN also provides high levels of security for your browsing with its strong encryption and protection against malware and data leaks. However, the service's kill switch feature is currently exclusive for Windows users, so you won't have access to it from your Mac.
In terms of privacy, though, there are surely VPNs that are better options if this is what you are after. The first issue here is that the headquarters of Hotspot Shield is in the US – a country that's one of the founding members of the 5/9/14-Eyes organization. Also, although it doesn't keep usage logs, a lot of other data is being logged by the VPN including, but not limited to username, email address, operating system version, and "network information". None of this is a particularly big deal, but people who value privacy more than anything else in a VPN should probably try another option.
Pricing
Basic – Free
Premium – $7.99/month
Premium Family – $11.99/month
ExpressVPN
Pros
Fastest VPN available
A big number of servers, server locations, and servers
24/7 customer support
One year free cloud backup storage
30-day money-back guarantee
Cons
Rather pricey subscription plans
ExpressVPN is one of the top VPNs out there, period. With its good number of servers (3000) spread across 160 locations 2ithin 94 countries, you are almost guaranteed to always have nearby ExpressVPN servers, allowing you to use the VPN without any serious decrease in your connection speed. In general, this service has some of the best connection speeds as a whole, so if you are looking to keep your online traffic secure without sacrificing speed, ExpressVPN would be a very good choice.
The service, of course, comes with all the necessary features you might expect from a high-quality: It has the mandatory kill-switch function that stops your Internet connection in case the VPN stops working to prevent your traffic from potentially getting traced while unprotected by the VPN. The service also has a split-tunneling feature that allows you to pick which traffic to reroute through the VPN servers and which to keep unprotected – this is helpful when you don't want all of your traffic to be secured by the VPN as it further increases the speed of your connections. This feature, however, is not available for macOS Big Sur at the moment of writing.
In terms of unblocking, ExpressVPN can grant you access to most of the major geo-restricted streaming services, including Netflix, Hulu, BBC iPlayer, and more.
If you are interested in torrenting, Express VPN does support P2P connections, although it doesn't have any servers specifically optimized for P2P.
What makes ExpressVPN particularly good for Mac users is that it offers an iOS app and a Safari extension, covering all bases.
In terms of pricing, VPN has three subscription options and all of them have a 30-day money-back guarantee if you are not satisfied with the service. While this isn't the same as a 30-day free trial, you can still get your money back after using the VPN for a month if you didn't like it. Also, if you go for the 12-month subscription plan, you'd get three extra months for free.
Pricing
12-month subscription – $6.67 per month
6-month subscription – $9.99 per month
1-month subscription – $12.95 per month
NordVPN
Pros
Great security and privacy
Unlocks most geo-restricted streaming platforms
A huge number of servers with more than enough countries and locations
Accepts Bitcoins for subscription payments (enhanced privacy)
Great performance and connection speeds
A good fit for both inexperienced users and power users
Cons
P2P support is limited to a small number of servers that support P2P
It's one month subscription is more expensive compared to competitors
Even people who have no idea what a VPN really is, have probably heard about NordVPN. This is probably the most all-around VPN service there is and should satisfy most types of users. Its massive network of 5241 servers across 60 countries ensures top performance and high speeds no matter where you are located.
Another great thing about NordVPN is the focus on privacy and the company's transparency. The VPN has already undergone two privacy policy audits, confirming that the company indeed doesn't keep its promise of not logging user information. Something that puts NordVPN above the rest in terms of privacy is the option to purchase subscriptions for the service using the Bitcoin cryptocurrency so that no one would know that you've purchased a VPN subscription.
As far as security is concerned, the double-VPN option further boosts the security of your connection and the top-of-the-line encryption used by NordVPN ensures that nobody can see what data you are transferring.
For those who want to access locked services such as Netflix, Amazon Prime, Hulu, etc., NordVPN will give you this option. As for torrenting, this service supports P2P connections, but only on a limited number of servers, so NordVPN may not be the best pick if you want to use a VPN solely/primarily for torrenting.
The pricing of NordVPN is another big draw of the service – considering the array of features that it comes with and the top-notch security and privacy, its pricing options are more than adequate. The only pricing downside is the rather expensive one-month subscription option when comparing it to competing VPNs.
Pricing
1-month plan – $11.95/month
12-month plan – $3.93/month
2-year plan – $3.30/month
ProtonVPN
Pros
User-friendly interface perfect for inexperienced users
Heightened security due to malware and tracker-blockers
Superb speeds
Has a free version with unlimited bandwidth.
Cons
Lacks WireGuard protocol integration
Sometimes won't unblock Netflix
ProtonVPN is yet another fast VPN service for Mac that would be a good fit for newer users who don't need too many advanced features (which is not to say that ProtonVPN lacks such features whatsoever).
One factor that is likely to draw more users to this VPN is the presence of a full-fledged free version. However, this version is severely limited in its functionality – with it, you can use only servers that are in three countries, and the servers that you use would be slower. Also, none of the advanced features come with the free version, and you'd be limited to only one connection at any time. The good news here is that there's no bandwidth limit with the free version – something that's very common among other VPN services that offer free packages.
As for the paid options, the number of servers and countries for the tier 2 package is 350+ and 40 + respectively and for the tier 3 package, it is 1200+ and 55+. In other words, this isn't the VPN with the largest network, but it's still perfectly adequate in terms of size. Also, as we mentioned, ProtonVPN is a very fast VPN service, so you are unlikely to experience any connection speed problems.
In terms of features, this VPN comes with its kill switch, AES-256 encryption, and a number of connection protocols. However, it lacks the popular WireGuard protocol, though it may get added in the future.
For those seeking to unlock Netflix or other geo-restricted streaming services, ProtonVPN is capable of doing that, but may sometimes struggle with Netflix. Note, however, that the unblocking of streaming services comes only with the Tier 3 pricing plan. ProtonVPN also supports torrenting and there's even an appeal on its site that discourages users from using its P2P support for downloading illegal and/or pirated content.
Pricing
Tier 1 – Free
Tier 2 – $4/month
Tier 3 – $8/month
Surfshark
Pros
Great pricing
30-day money-back guarantee
One subscription covers multiple devices and operating systems
Cons
Power users may find it a bit too basic
Surfshark offers an adequate number of servers (3200) with 65 server locations, which should be enough for most users to get good connection speeds regardless of what country they live in.
Surfshark also has the ability to unblock Netflix as well as other geo-restricted services that are sought-after by many users, and it also supports P2P.
If security is what you are after, Surfshark doesn't disappoint with its selection of communication protocols, including the high-speed WireGuard, and with its AES-256 encryption. A kill-switch is also available to keep your connections secure in case the VPN encounters a problem that forces it to temporarily stop working.
However, the main draw of Surfshark is its pricing and its one-subscription-covers-all policy. With a single subscription, you'd be able to use the service not only with your Mac but also with Windows, iOS, Android, and Linux devices without paying extra. The only thing that some users may not like is that it doesn't have the same number of advanced features as some of the other suggestions on this list.
Tor Browser
Pros
Best online anonymity possible
Absolutely free
Cons
Very slow
Bad for torrenting and streaming video/audio content
Putting the Tor browser in this list may seem like a cop-out, but the fact of the matter is that, if privacy is what you are after, there's hardly a better option than using Tor. Of course, you can always combine it with a VPN, and then the chances of anyone snooping on your traffic become minimal.
If you are unaware of what the Tor browser actually is, it is a browsing program based on Firefox that is optimized for user privacy above anything else. On the surface level, it may seem like Tor operates as a VPN, but there are major differences that (arguably) make Tor the better option if you are looking to stay anonymous while online. The system that the Tor browser uses to keep your traffic anonymous is quite complex and involves the use of a decentralized network of nodes through which the transferred data is rerouted while in an encrypted state. Due to this elaborate method of keeping your traffic anonymous and untraceable back to you, the speed of the connection gets impacted. In other words, if you are going to use the Tor browser, be prepared for some slow speeds, which make the Tor browser not the best option for streaming video or downloading stuff and torrenting.
If you are trying to get the highest possible level of online anonymity and privacy, using the Tor browser, especially if paired with one of the VPNs we already told you about, would give the best results. However, as we said, Tor is very slow, so you must keep this limitation in mind when deciding what you want to do with it.
Pricing
The Tor browser is free to use and requires no subscriptions or registration.
Best Free VPN for Mac Conclusion
The best free VPN for Mac is, in our opinion, a tie between Hotspot Shield and ProtonVPN, depending on your individual preferences. Another candidate for the best free VPN for Mac would be TunnelBear, though its free version is very limited. We have in in-depth article on the best free VPNs available for mac in 2021
Obviously, if you are looking for a free VPN, your options would be much more limited, and you'd have to make a lot of compromises. First of all, not all VPN services offer an actual free subscription plan and even fewer of them work with Mac. Secondly, the ones that do have free plans and are Mac-compatible tend to have severe limitations to their free versions' functionality. We already told you about what the free versions of Hotspot Shield and ProtonVPN have to offer. The main choice you'd have to make when deciding which one to pick is between speed and unlimited bandwidth. The free plan of ProtonVPN comes with unlimited bandwidth, but you'd be sacrificing speed and performance. With Hotspot Shield, on the other hand, you'd still be getting an okay connection speed of 2 Mbps, which isn't great but is still workable. However, your bandwidth would be limited to 5000 MB per day (which is actually not bad for a free VPN).
There's also the option to use the TunnelBear VPN – another popular VPN service that has a free version. However, the free version limitations here are pretty severe – it offers only 500 MB bandwidth per day (10 times less compared to Hotspot Shield) and the VPN itself has several significant downsides that have led us to exclude it from our list of the best VPN services for Mac. Among those are it being stationed in Canada (a member of the 5/9/14-Eyes alliance we mentioned earlier), its subpar content-unblocking abilities (can't unblock Netflix), the small number of countries where its servers are located (only 20), and the fact that it doesn't support torrenting. Still, if you are looking for a free VPN that offers you good privacy and security while online, and you only need it for some light browsing, TunnelBear is still a viable option.
One last thing we wish to mention is that the Tor browser shouldn't be overlooked – as we said above, it's totally free and can give you very high levels of privacy and online anonymity if that is what you are primarily looking for. However, as was already pointed out, it's not a good option for content streaming and torrenting since it is very slow, so keep in mind its limitations and intended uses if you are thinking about giving it a try as a free option for boosting your online privacy.
Final Thoughts
The VPNs suggested here are all good options and would do a fine job of keeping your online traffic secure and hidden from prying eyes. However, it's still important to pick the one that would be the best for you and to be aware of the good and bad sides of each option. If you are a user who's new to this, we suggest starting with a more basic and user-friendly VPN after making sure that it will provide you with the exact features and functionality that you seek.
Lastly, we should also note that although using a VPN would indeed significantly boost the level of security and privacy that you have online, it would still not remove the need to stay careful and to keep away from potentially harmful content. Prevention and the use of common sense are always the best tools you have in order to stay safe on the Internet, so don't forget this.
Martina Nikolova
Martina likes to get into nitty-gritty of tomorrow's tech, from product design across to security based solutions. A long time mac user and developer, she has the expertise and strives to give new insight